ImagineIF hires security guard in response to escalating incidents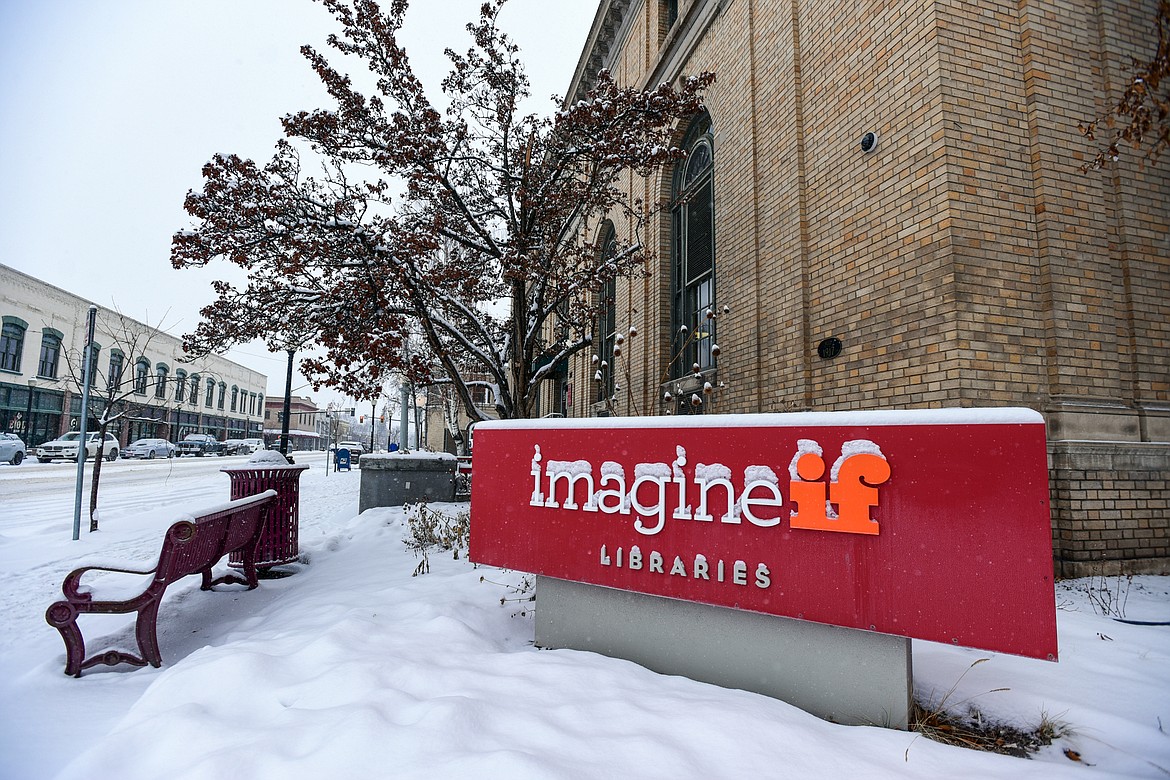 ImagineIF Library Kalispell on Tuesday, Jan. 31. (Casey Kreider/Daily Inter Lake)
by
TAYLOR INMAN
Daily Inter Lake
|
February 1, 2023 12:00 AM
The ImagineIF Board of Trustees on Monday approved the hiring of a security guard to monitor the Kalispell library after escalating incident reports.
The branch has had around 52 incidents as of noon Monday so far this year and staff recently told the board that they are becoming more frequent and more violent in nature.
Library Director Ashley Cummins and Public Services Librarian Tony Edmundson brought the suggestion to hire a security guard to the board at their regular meeting last week and the board called a special meeting to address the issue. They said though staff are better trained to handle unruly patrons, they still need more assistance.
An incident report is what staff file when there is a disturbance in the library. Oftentimes, staff will ban patrons from returning if the behavior warrants it. In 2022, the ImagineIF system saw 263 incident reports filed — two of those occurred at the Bigfork branch, seven at Columbia Falls and the remaining 254 took place in Kalispell. In 2019, the library system had 101 incidents in total.
The rise in incident reports appear to be related to a growing homeless presence.
The board unanimously approved hiring Alert Security and Investigations to provide a security guard Monday through Saturday from 3 to 6:30 p.m. The hiring was done on a monthly basis to give staff the opportunity to evaluate if the security guard is effective in reducing incident reports.
Cummins recommended hiring Alert Security and Investigations because they have previously worked with Flathead County. The cost estimate for hiring the security guard is $35 per hour, Cummins previously told the board.

The timeframe for monitoring the library came from Cummins, who said that is when the library has the least amount of staff working and the highest amount of incident reports. It would also provide the opportunity for the security guard to walk staff to vehicles if needed and do a sweep of the building after closing.
An unarmed guard, which is one that carries handcuffs and a baton but not a firearm, was recommended by Alert Security and requested by members of the public, according to Cummins.
The board debated between hiring a security guard or creating a modified use library card that would track who uses the computers. Occasionally, a patron will break library rules and staff have no way of knowing what their name is to tell law enforcement or trespass them from the library.
Board Chair Doug Adams asked staff present on Monday if tracking computer usage would help solve the issue of rising incident reports.
Collection Services Librarian Kat Wilson said a security guard is a more preventative measure.
"I think going with the security guard and starting with that — and then if we're still noticing a lot of issues and we're noticing an uptick of people using computers in that way, then we revisit. But doing anything with the computers right now, I don't think it's going to be a big help," Wilson said.

Cummins said she also believes hiring security is the best way to address the issue at hand.
"We just want to try to be more proactive in our approach so that we're not having so many incidents and so they don't continue to get worse," Cummins said.
In regards to security, the board also discussed restricting access to the basement after 5 p.m. and on Saturdays. This was based on a recommendation from Edmundson and Cummins, who said there are not enough staff members present in the basement to adequately monitor the basement during those times.
Trustees are expected to address the policy regarding the downstairs meeting room at their next regularly scheduled board meeting set for Feb. 23.
Recent Headlines
---