Flathead rallies past Sentinel for first win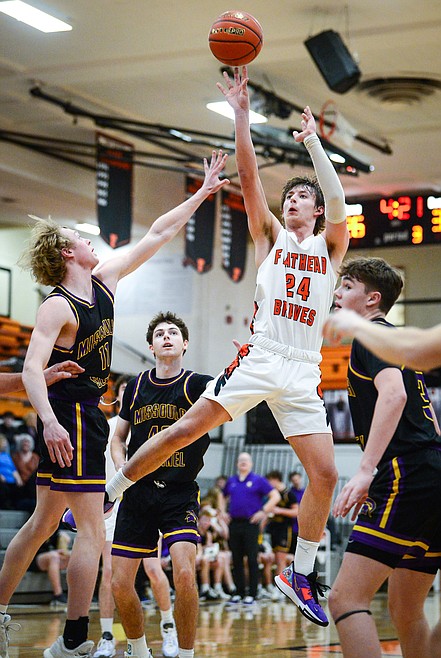 Flathead's Lyric Ersland (24) pulls up for a shot in the lane in the third quarter against Missoula Sentinel at Flathead High School on Friday, Feb. 3. (Casey Kreider/Daily Inter Lake)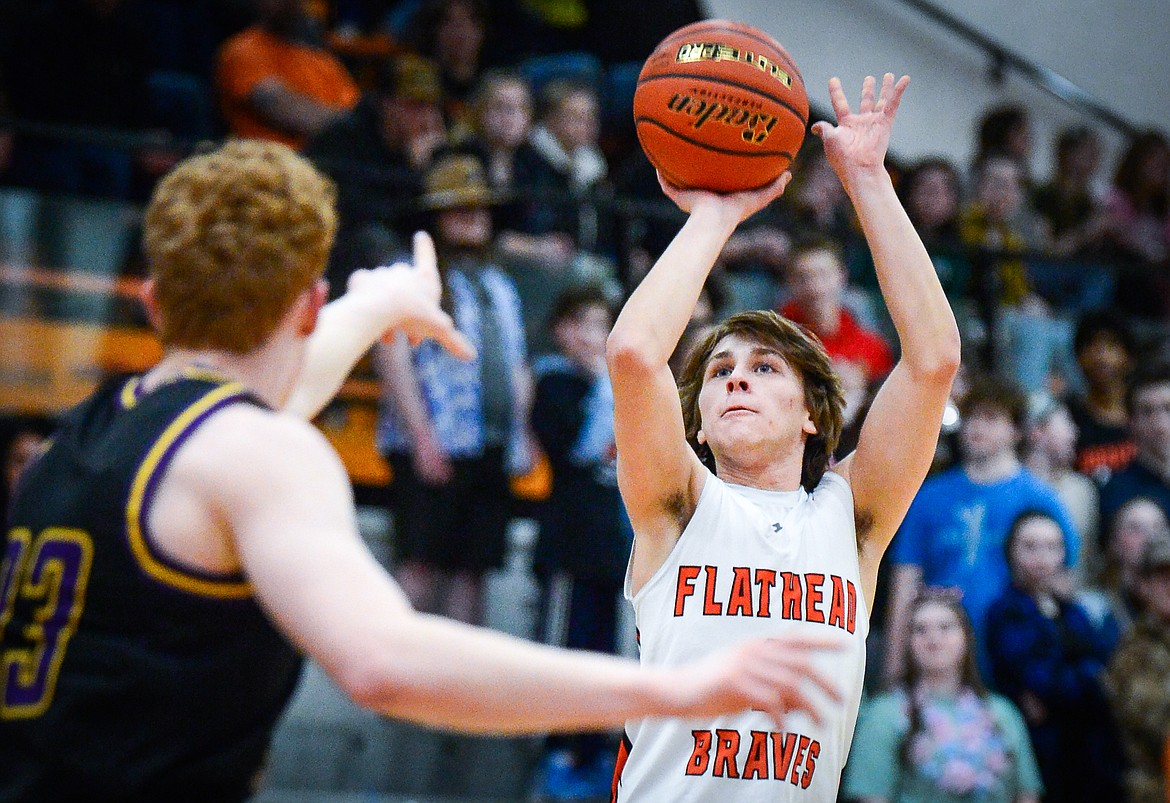 Flathead's Joshua Eagleton (2) shoots a three in the first half against Missoula Sentinel at Flathead High School on Friday, Feb. 3. (Casey Kreider/Daily Inter Lake)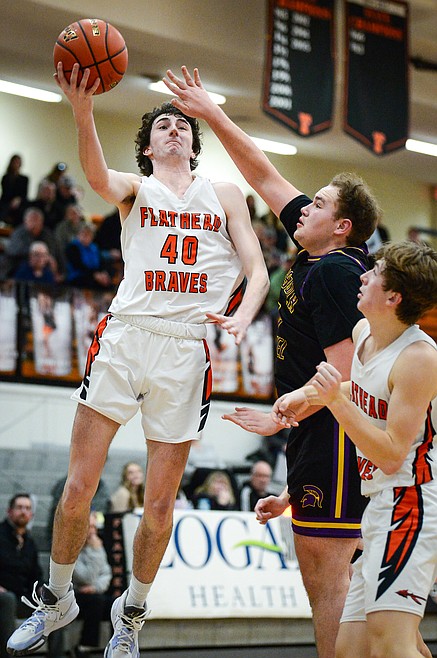 Flathead's Noah Cummings (4) drives to the basket in the fourth quarter against Missoula Sentinel at Flathead High School on Friday, Feb. 3. (Casey Kreider/Daily Inter Lake)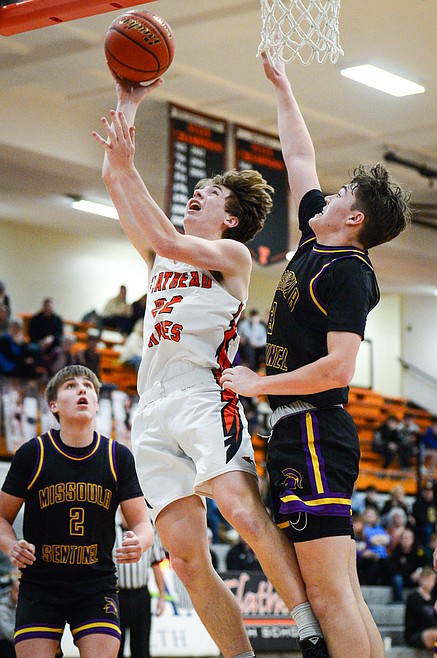 Flathead's Michael Manning (22) goes to the basket in the fourth quarter against Missoula Sentinel at Flathead High School on Friday, Feb. 3. (Casey Kreider/Daily Inter Lake)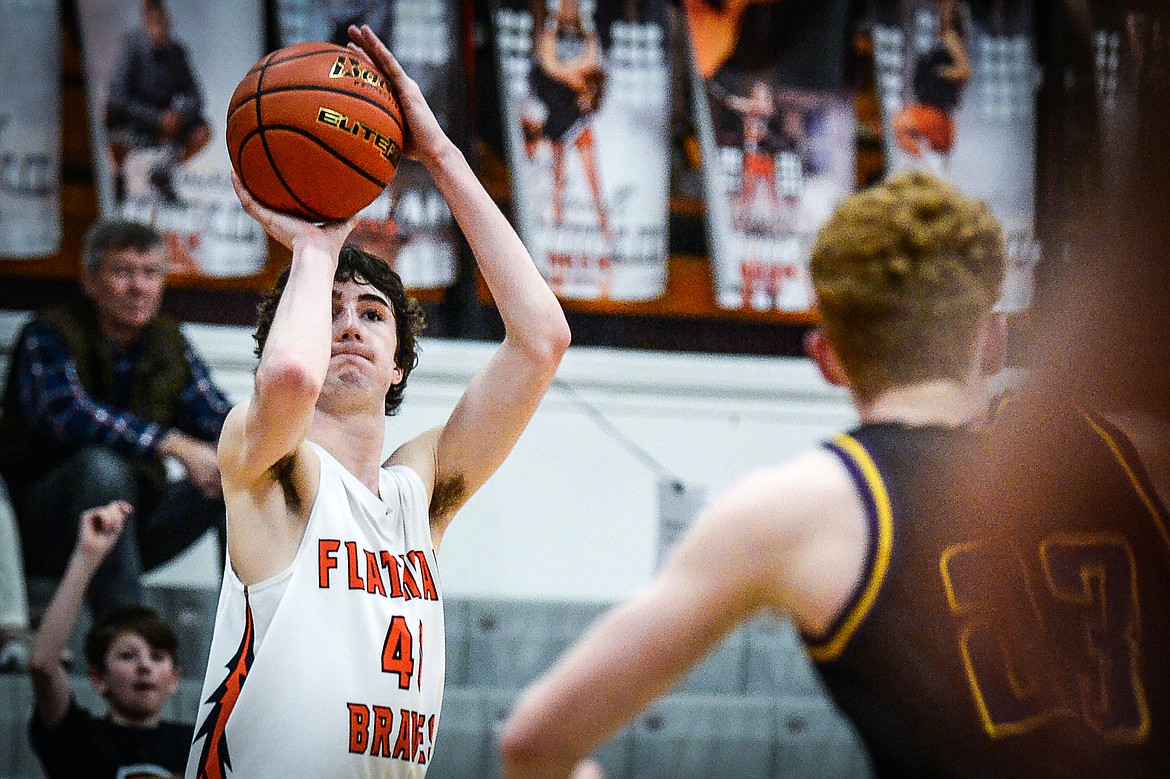 Flathead's Noah Cummings (4) shoots a three in the fourth quarter against Missoula Sentinel at Flathead High School on Friday, Feb. 3. (Casey Kreider/Daily Inter Lake)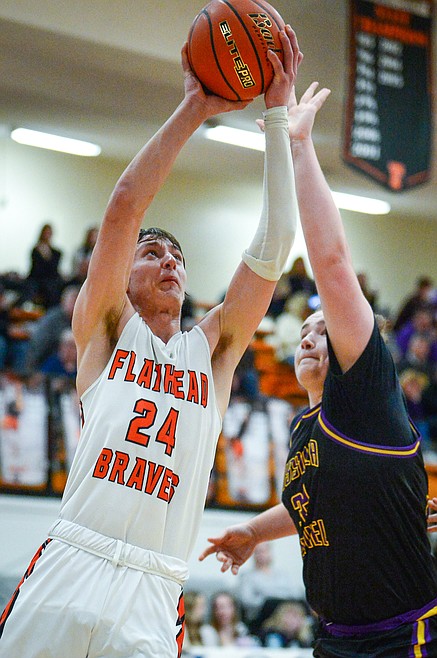 Flathead's Lyric Ersland (24) drives to the basket in the fourth quarter against Missoula Sentinel at Flathead High School on Friday, Feb. 3. (Casey Kreider/Daily Inter Lake)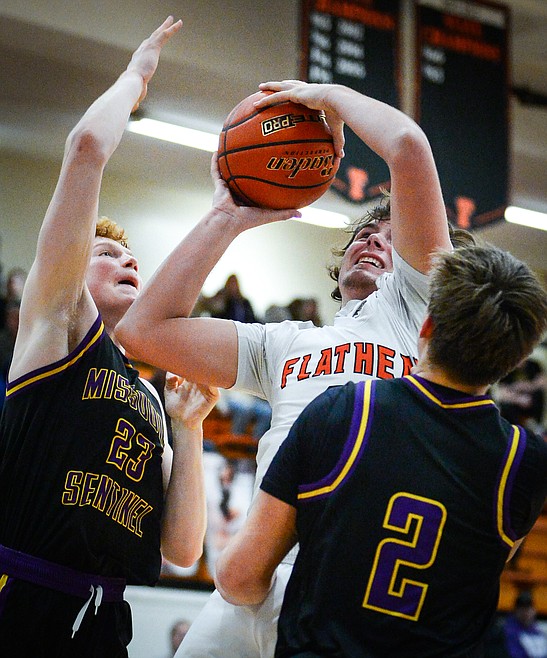 Flathead's Slate Burrington (21) battles under the basket in the first half against Missoula Sentinel at Flathead High School on Friday, Feb. 3. (Casey Kreider/Daily Inter Lake)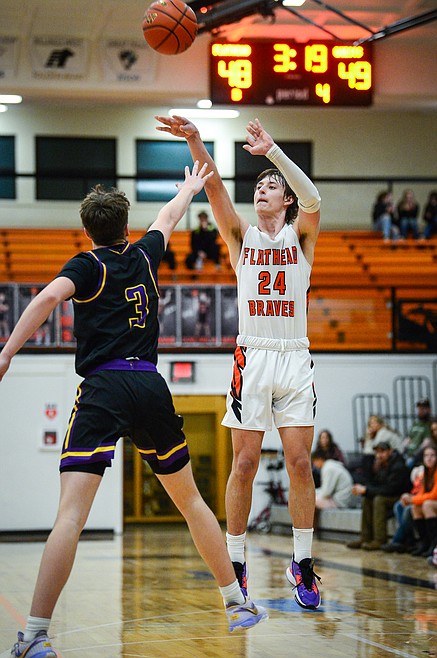 Flathead's Lyric Ersland (24) shoots a three in the fourth quarter against Missoula Sentinel at Flathead High School on Friday, Feb. 3. (Casey Kreider/Daily Inter Lake)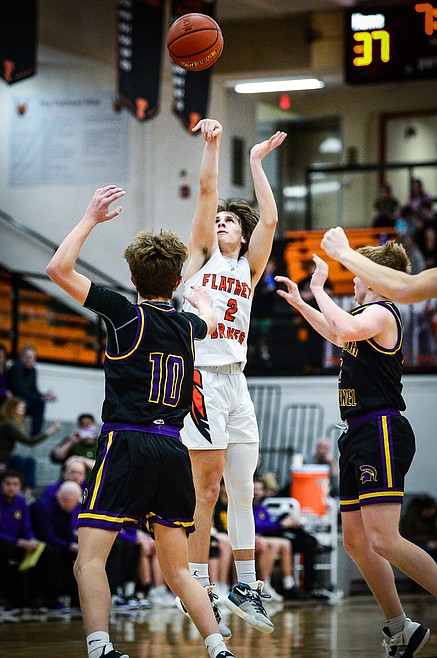 Flathead's Joshua Eagleton (2) shoots a three in the fourth quarter against Missoula Sentinel at Flathead High School on Friday, Feb. 3. (Casey Kreider/Daily Inter Lake)
Previous
Next
by
FRITZ NEIGHBOR
Daily Inter Lake
|
February 3, 2023 11:55 PM
It was a long time coming, the Flathead boys basketball team's 51-49 win over Missoula Sentinel on Friday. And if it wasn't the prettiest finish, it still felt amazing.
"It's been a while," said the Braves' Michael Manning, who hit a free throw with 2:18 left to put his team ahead 50-49. "We went through all our first half of the conference game and we didn't get one. To get one now — it felt really good.
"We worked hard for it. I feel we've been close a lot of times, and I think we lost by two to this team (40-38 in Missoula) last time."
This time Flathead closed it out, and without top rebounder Gaberiel Sims, who injured an ankle in practice and didn't suit up.
"He usually gets eight or 10 a game," Manning, the Braves' lone senior, said. "It was really all of us pitching in together."
Slate Burrington had nine rebounds before fouling out. Lyric Ersland, who scored a game-high 19 points, snared seven to go with four blocked shots. Josh Eagleton had seven boards to go with 12 points.
Flathead improved to 1-11, 1-7 in Western AA games.
"You know I just thought it was a great game in terms of how tough our kids played," Flathead coach Dirk Johnsrud said. "Josh Eagleton shot the ball really well, he distributed the ball for us.
"And one thing about the Braves I was proud about tonight is we won the rebounding battle, and that is something we've struggled with all year. So hats off to the Braves tonight.
After Manning found Burrington for a bucket and an early 2-0 lead, Sentinel shot in front 8-2 behind back-to-back threes from lefty guard Brady Hupert. Flathead stayed in range — Ersland threw down a follow dunk off an Eagleton miss to cut the gap to 8-7 — but didn't get back in front until a 14-0 surge bridging the third and fourth quarters.
Ersland hit a 3-pointer to cut Sentinel's lead to 43-37 after three; Eagleton sandwiched his third and fourth 3-pointers around a Noah Cummings bomb and the Braves were suddenly up 46-43.
Ersland hit a free throw to cap the run with 4:00 left, making it 47-43.
Sentinel responded with threes from Rupert (15 points) and Blake Taft to lead 49-48 with 3:25 remaining. But the Spartans otherwise struggled to get shots off, committing eigh fourth-quarter turnovers. Flathead didn't exactly jump on the mistakes: single free throws by Ersland, Manning and Cummings (with 14.4 seconds left) capped the scoring.
Eventually, Ersland stole a desperation pass to end the game, setting off an overdue celebration. The Braves had lost 13 straight dating back to last season.
"We shot more free throws, which is to our advantage," Johnsrud said. "But we only made six of them. When you're going down the stretch and you start missing free throws, those hurt you. That's a lesson we need to learn from."
Trevor Rausch added 12 points and six boards for Sentinel (2-10, 1-7 in league).
Flathead is home again Saturday to play Butte. Tip-off is at 2 p.m., and you can't start a streak with winning that first one.
"To finally get to the edge and get over it, felt really great," Manning said. "I'm very happy right now."
Sentinel 16 11 16 6 - 49
Flathead 14 8 15 14 - 51
MISSOULA SENTINEL — Trevor Rausch 6-9 9-4 12, Blake Taft 1-5 0-0 3, Patrick Sale 1-2 0-0 2, Riley Allen 0-6 0-0 0, Brady Rupert 6-11 0-0 15, Evan Richardson 4-6 0-0 10, Holter Schweyen 1-3 1-2 3, Eli Iverson 2-2 0-0 4, Skyler Chalmers 0-0 0-0 0. Totals 20-44 1-6 49.
FLATHEAD — Noah Cummings 3-13 2-4 10, Lyric Ersland 7-16 2-4 19, Slate Burrington 1-6 0-0 2, Josh Eagleton 4-10 0-0 12, Michael Manning 2-4 1-2 5, Brody Thornsberry 1-3 0-2 2, Kahleb Plympton 0-0 0-0 0, Stephen Riley 0-0 1-2 1. Totals 18-52 6-14 51.
3-point goals — Sentinel 8-19 (Rupert 5-11, Richardson 2-3, Taft 1-2, Rausch 0-1, Allen 0-2), Flathead 9-21 (Eagleton 4-8, Ersland 3-8, Cummings 2-5). Rebounds — Sentinel 30 (Rausch 6), Flathead 36 (Burrington 9). Fouls — Sentinel 14, Flathead 9. Fouled out — Sale, Burrington. Steals — Sentinel 5 (5 with 1), Flathead 7 (Cummings 3). Blocks — Sentinel 4 (Sale 3, Schweyen), Flathead 6 (Ersland 4, Cummings, Manning). Turnovers — Sentinel 16, Flathead 10.
Recent Headlines
---