Whitefish looks at limiting marijuana business locations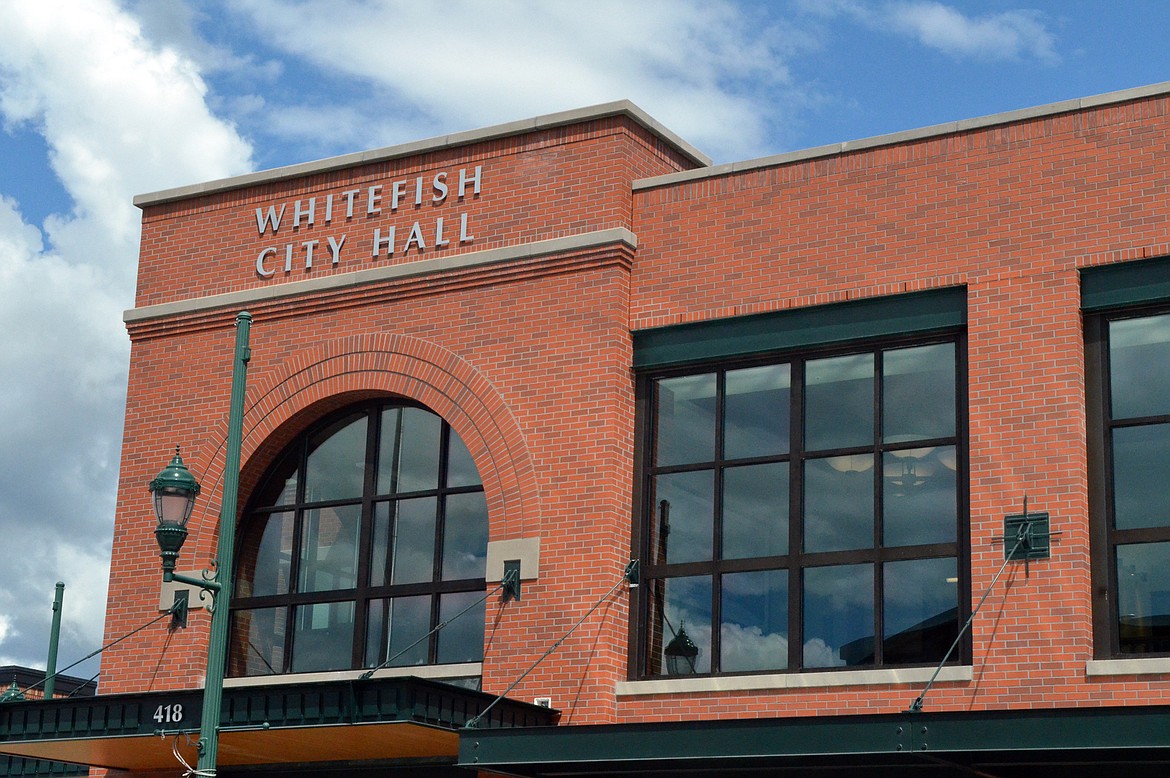 Whitefish City Hall is seen in downtown Whitefish in this file photo. (Whitefish Pilot)
by
HEIDI DESCH
Daily Inter Lake
|
February 6, 2023 12:00 AM
Whitefish is considering whether to enact greater restrictions on where marijuana businesses can operate in the downtown core.
Council will hold a work session on the topic Monday to discuss the possibility of amending its buffering requirements after several councilors raised concerns that too many marijuana dispensaries have been approved in downtown and about the operation of a dispensary on Central Avenue.
The work session begins at 6:15 p.m. at City Hall, 418 E. Second St. The regular meeting starts at 7:10 p.m.
There are 11 active marijuana dispensary permits within the city with five already up and running, Planning Director Dave Taylor notes in a memo to Council. Each conditionally permitted location has 18 months from the date of approval to either open or show progress on opening before the permit expires.
"Under our current regulations and buffering requirements, no additional dispensaries could be located with a Central Avenue address, and we have no current applications for any new dispensaries on Central Avenue or the vicinity," Taylor said.
Whitefish allows marijuana dispensaries in its WB-1 and WB-2 business zones but requires 500 feet of buffering between churches and schools. In the WB-3 downtown zone, they must also be 150 feet apart when addressed on the same street.
Regulations also prohibit dispensaries on Spokane Avenue between Railway Street and East Second Street.
The planning department is presenting Council with four options — leave city regulations as written, wait to see if the state Legislature changes regulations, add more restrictive distancing requirements or make all further applications for marijuana facility license a full conditional use permit, which would allow for more oversight.
A draft bill — House Bill 265 — before the state Legislature would expand the distance from the closest building corner of churches and schools to 1,000 feet from the closest building corner of a dispensary and eliminate exemptions for different streets or door locations. If approved, Whitefish would have to revise its regulations and would eliminate most of the WB-3 and WB-1 from future dispensaries. The existing ones would then become a legal non-conforming status.
ON THE agenda for the meeting, Council is expected to approve creating the business transitional zoning district for newly annexed properties in the area south of Montana 40. The district is called for in the city's Highway 93 South Corridor Plan.
Council spent months hammering out what the zone should look like to follow the plan, which says properties at the entrance to Whitefish that annex into the city be developed in a manner consistent with the community's vision for the area.
The intent of the zoning, according to a planning staff report, is to be a mixed-use zoning with some residential uses allowed and that the majority of uses are only conditionally permitted. Permitted uses include accessory apartments, daycare centers, home occupations and residential. Anything over single-family residential would require a conditional use permit.
A list of businesses is allowed in the zone, but only with a conditional use permit. A provision for the zoning also limits building footprints to 15,000 square feet maximum.
Looking to finalize an agreement with Flathead Electric Cooperative, Council is set to vote on a contract that would allow the utility to construct a community solar project on 1 acre of the city's wastewater treatment plant property on Monegan Road. Installation of a solar facility on the site was identified in the city's Climate Action Plan as one of four priorities for energy savings.
The cooperative will construct the solar facility, which is expected to produce about 200 kilowatts. It would sell the energy output from the panels at an estimated cost of $400 to $700, depending on third-party funding. The cooperative is planning on federal programs to assist with the cost of the facility.
The utility will give the energy output for one panel to the city, which will provide a credit on the municipality's electricity bill and is expected to offset energy usage at the wastewater treatment plant.
Construction is expected to occur this summer or fall.
Finally, Council will consider a request from North Valley Music School to place three temporary sandwich board fundraising signs on private property adjacent to the city's sidewalks at Glacier Bank downtown, First Interstate Bank and at Whitefish Credit Union. The school, which subleases property from the city-owned land at Smith Fields, is raising funds to construct a new facility that would be owned by the municipality and leased to the music school.
The signs would be on display on Fridays for about 21 months so it requires special approval under city regulations.
Features Editor Heidi Desch may be reached at 758-4421 or hdesch@dailyinterlake.com.
Recent Headlines
---