Wolfpack's Madisyn Frazier has quickly become top-flight wrestler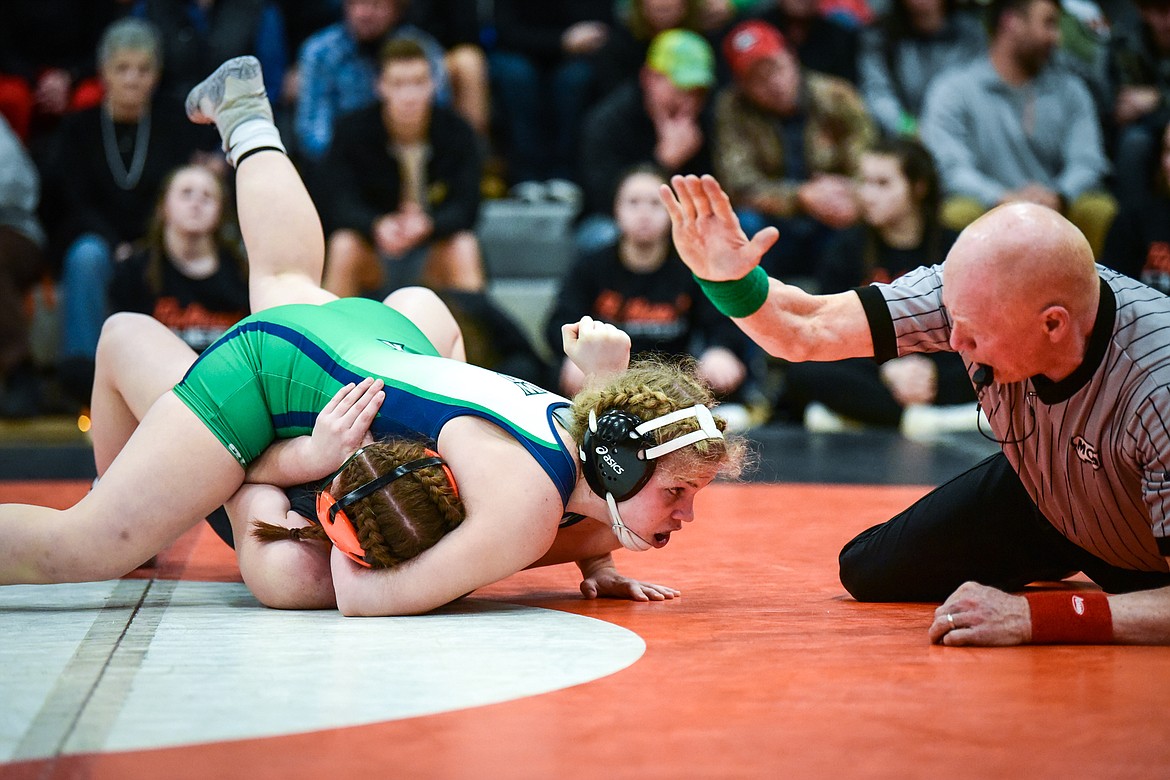 Glacier's Madisyn Frazier pins Flathead's Bridget Smith at 152 pounds during crosstown wrestling at Flathead High School on Thursday, Jan. 19. (Casey Kreider/Daily Inter Lake)
by
KATIE BROWN
Daily Inter Lake
|
February 9, 2023 11:55 PM
Madisyn Frazier recently committed to play volleyball at the University of Montana-Western this fall, but first she has a wrestling season to finish up.
Frazier is a two-time second team AA all-state selection for volleyball and added Western AA divisional wrestling champion to her resume last week.
Ross Dankers, the head Glacier wrestling coach, had Frazier, then a sophomore, in gym class during the fall of 2020, when girls wrestling was just getting started at Montana high schools. He convinced her to give it a shot.
"Dankers was my gym coach and was like, 'All right, I'm gonna sign you up,'" Frazier said. "You can try it for two weeks."
She was hooked.
"I just liked how it pushes you to the next level," Frazier said. "And it's kind of like a mental toughness thing. And I thought the biggest part for me was just that mental toughness to be able to tell myself like, 'I can do this.'"
Now Frazier is one of the more seasoned athletes on a competitive Wolfpack squad in Billings at the all-class tournament.
"Just hats off to her for jumping in headfirst, believing in what we were doing, embracing it," Dankers said. "I mean, she got the bug for the sport and just ran with it."
After that first season, Frazier started wrestling year round with Kalispell Wrestling Club and competed in tournaments like the Montana Open and the Montana Girls AAU Meet.
"I have improved a lot just through the off-season," Frazier said. "And so this year it was kind of like that final push where almost every time I went into practice I was like, all right, this is the time I gotta work on this and push myself to get better. I wanna finish in the top this year since it is the last push."
Frazier competes at 152 pounds. Last year she wrestled at 145, and though she got two pins in consolation rounds at state, she did not place. In fact, her divisional title was her first ever tournament win.
Not bad for a girl who'd never watched wrestling before signing up for a team.
Dankers has watched Frazier grow into not just a competitor on the mat but a leader to underclassmen who is an integral part of the Glacier girls wrestling legacy.
"​As you increase expectations, less and less people are willing to do the work that's required to be good," Dankers said. "She has met that challenge head on and believed in it and believed in herself and she's brought some girls along with her to do that. It's just pretty special to think of her being kind of one of the founding girls for that program that's gonna be around forever now.
"I'm just so proud of her and happy for what she's been able to accomplish."
Glacier qualified 10 girls for state, including three more divisional champions: Brooke Yeadon (107), Kaura Coles (114) and Leah Esser (185).
Flathead is the two-time defending girls champion, but Dankers is anticipating a very competitive field and tight team race.
"I think it is gonna be a hell of a team race, two through four, five," Dankers said, "You've got us, Flathead, Butte, Ronan, Miles City. It's gonna come down to the wire, I think, and it's gonna come down to who can stay on the championship side longer and who can win those wrestle back matches. It's gonna be nip and tuck for sure."
Recent Headlines
---