Somers Beach alternative calls for 'unobtrusive' camping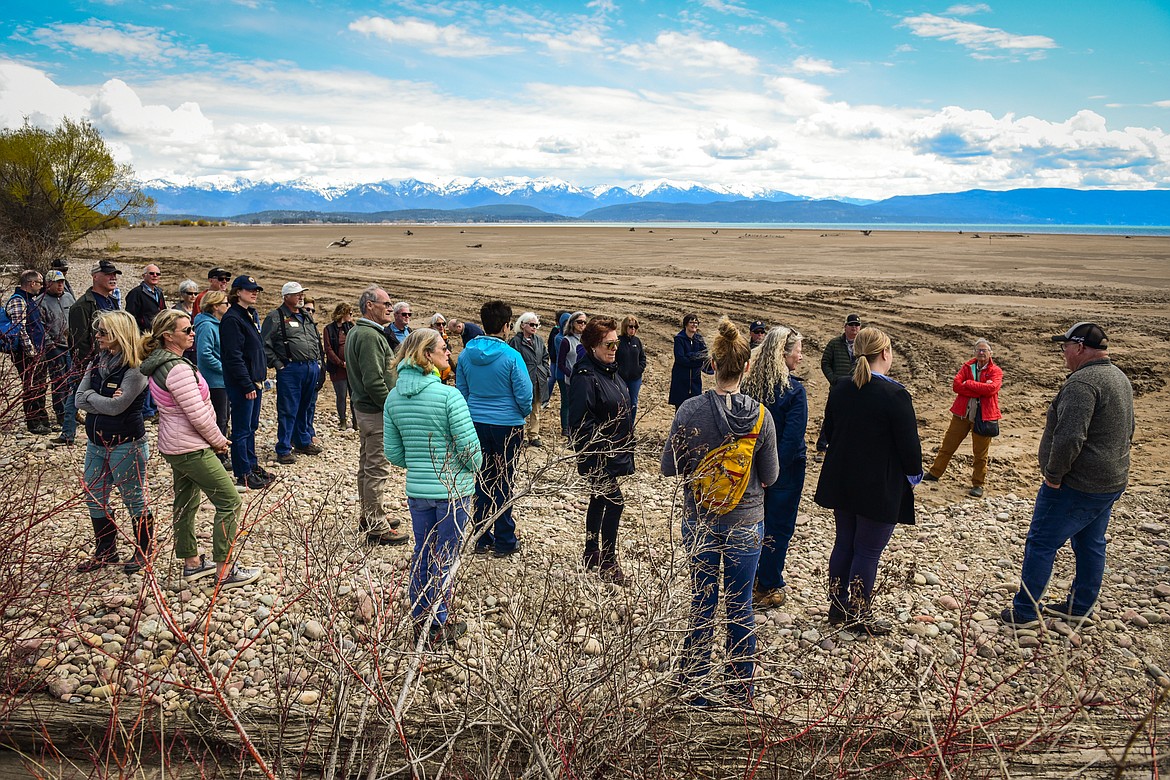 Attendees walk out to the beach along Flathead Lake after a ribbon-cutting ceremony at Somers Beach State Park on Thursday, May 12. (Casey Kreider/Daily Inter Lake)
by
KATE HESTON
Daily Inter Lake
|
February 12, 2023 12:00 AM
After hearing concerns from residents, state officials emphasized at a public meeting last week that the overnight accommodations proposed for Somers Beach State Park would be unobtrusive.
Representatives from Montana Fish, Wildlife and Parks met with members of Flathead Wildlife, Inc. — a fish and wildlife sportsman group — on Feb. 5 to go over the agency's plans for the state park. Officials opened the park, which sits on the shore of Flathead Lake just a stone's throw from Somers, with great fanfare in May 2022.
In the months since, officials have drafted three potential plans for the stretch of land, the first calling for the landscape to remain untouched.
The second proposal under consideration would add administrative buildings, restrooms, trails, landscaping, picnic areas and carry-on watercraft launch sites to the park. The third, known as alternative C, includes the aforementioned amenities with the addition of cabins and walk-in campsites, doled out on a first-come, first-serve basis.
"We heard pretty loud and clear from the community that they didn't want to have a big campground," said Tony Powell, a park ranger with the wildlife agency, during the meeting. "So the overnight stuff that we did put in alternative C is pretty low impact."
Somers Beach was acquired by the state in October 2021 from the Sliter family. The family previously allowed public access on its property and wanted that access enshrined as well as to see the land protected from future development, Powell said.
The wildlife agency has already completed a lakeshore stabilization project to reduce erosion on the beach. According to Powell, Somers Beach is unique for many reasons: the landscape ranges from large sandy beaches to a wetland of sorts. There are also a few unique challenges, including floodplains and past groundwater contamination.
Jim Vashro, president of Flathead Wildlife Inc., praised the acquisition of the land by the state.
"We're really fortunate this became available and like I said we need to thank the Sliter family," he said.
Despite being the largest natural freshwater lake west of the Mississippi, Flathead Lake is seemingly short on public access, Vashro said.
"There's really only about a dozen public access sites around the lake and this is going to expand the amount of available areas you can get to on the lake," he said.
The public comment period on the Somers Beach proposals ends Feb. 13 at 5 p.m. Comments can be sent to Somers Beach State Park Development Proposal AE; Montana Fish, Wildlife, and Parks; 490 N. Meridian Road; Kalispell, MT 59901, via email to stevie.burton@mt.gov or online at https://fwp.mt.gov/public-notices/news/2023/jan/sbspdevdraftea.
Reporter Kate Heston can be reached at kheston@dailyinterlake.com or at 758-4459.
Recent Headlines
---