Logan Health, Billings Clinic discuss potential deal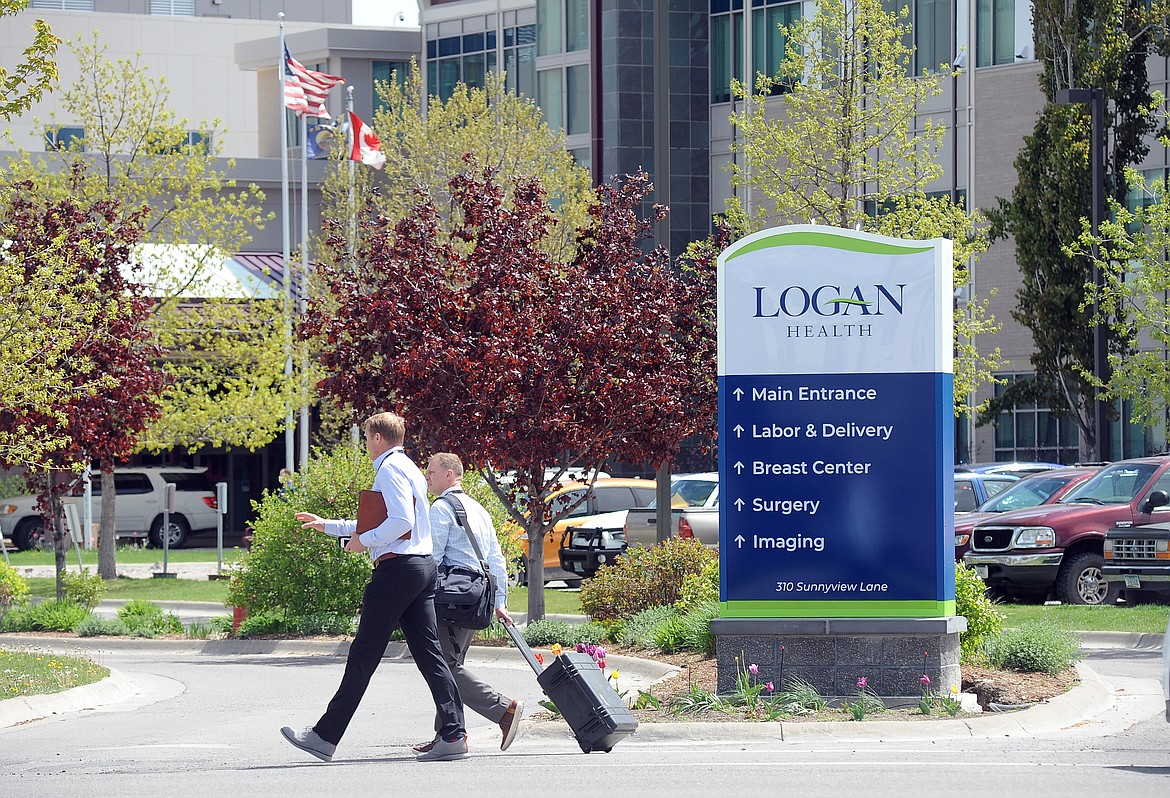 People walk past a new sign for Logan Health at the entrance to the hospital in Kalispell on Tuesday, May 19, 2021. (Matt Baldwin/Daily Inter Lake)
by
MATT BALDWIN
Daily Inter Lake
|
February 15, 2023 12:00 PM
Updated 4:20 p.m.
Logan Health and Billings Clinic, two of Montana's largest hospital systems, have opened discussions about uniting as a single health-care organization.
Billings Clinic announced the potential deal Wednesday.
According to a press release, the two organizations have signed a non-binding letter of intent "to explore uniting the two organizations into one integrated, independent, Montana-based health system." A definitive agreement for the new organization is expected this spring, with a goal to have all details and approvals finalized by summer. Boards at both hospital systems would approve terms before a deal is finalized.
"Billings Clinic and Logan Health have a long history of serving our communities' health needs," Craig Lambrecht, Logan Health President and CEO, said in the release. "We are thrilled about our shared vision to create something transformative. We are looking forward to having conversations with our teams and communities as we focus efforts on delivering outstanding care for years to come."
In an interview Wednesday, Lambrecht said the deal is not a merger, but rather an integration, with the final outcome being an entirely new organization. A new board of directors would be created with members representing both Logan Health and Billings Clinic. That board would ultimately select a new CEO and pave the path forward.
Lambrecht said potential naming and branding has not been discussed.
The deal would include all Logan Health properties across the state, Logan Health Senior Marketing Coordinator Chris Leopold said. The Logan Health network includes the main campus in Kalispell and Logan Health Whitefish, as well as four other hospitals and more than 68 provider clinics. The organization, formerly known as Kalispell Regional Healthcare, currently employs more than 4,500 clinical and nonclinical workers across its properties.
Billings Clinic is Montana's largest independent health system, according to the press release. The system is affiliated with 18 hospitals and clinics in Montana and Wyoming, with more than 4,700 employees.
Logan Health employees were notified of the potential agreement in an email sent out Wednesday.
Lambrecht said it will be business as usual for Logan Health workers for now. Any hospital projects underway will continue as well, he added.
Lambrecht said how the potential deal will affect the current workforce is "to be determined."
"As we go through our integration plan and roadmap over the next couple months, we're going to look at the resources that we have, and that we need," Lambrecht said. "Workforce is going to be a primary area where we are going to have to identify those opportunities."
In an interview Wednesday, Clint Seger, Billings Clinic CEO, said the pending deal is partially the result of a need to address myriad challenges facing the health-care industry in the wake of the Covid-19 pandemic. Among them are increased expenses, workforce shortages and a need to invest in technology systems.
Seger said the two systems joining forces will aid in addressing those needs through shared resources.
The deal would represent further consolidation of Montana's health-care options. The two organizations have each made recent moves to expand their reach across the state. Logan Health has acquired hospitals along Montana's Hi-Line, while Billings Clinic formed an affiliation with Community Medical Center in Missoula. Meanwhile, Pacific Northwest hospital giant Providence has hospitals in Missoula and Polson.
Lambrecht said that while the move could be perceived as "anti-competitive," he contended the union would offer patients better options for care.
"There will be more access; there will be more technology available; there's going to be better coordination of care," he said.
Seger noted the two systems' presence in rural areas.
"Keeping care in rural communities is what improves access and improves choice," Seger added.
The seed for the potential integration deal was planted about three months ago during a conversation Lambrecht and Seger had in a Helena parking lot. The two were talking about the needs in trauma care and pediatric mental health care.
"Both Clint [Seger] and I were a little frustrated that we were talking in circles with a lot of other players," Lambrect said of that conversation. "We realized the criticality of mental health and trauma. We were sitting in a parking lot talking and we said we've got to own this. If we're going to be the solution to the problems of Montana, especially in the trauma space and the mental health space with kids, let's just go after it. Time is of the essence.
"There was a sincerity in that parking lot. You've got two Montana organizations that want to get going, so we got going."
Recent Headlines
---