Flathead, Glacier to offer slate of new classes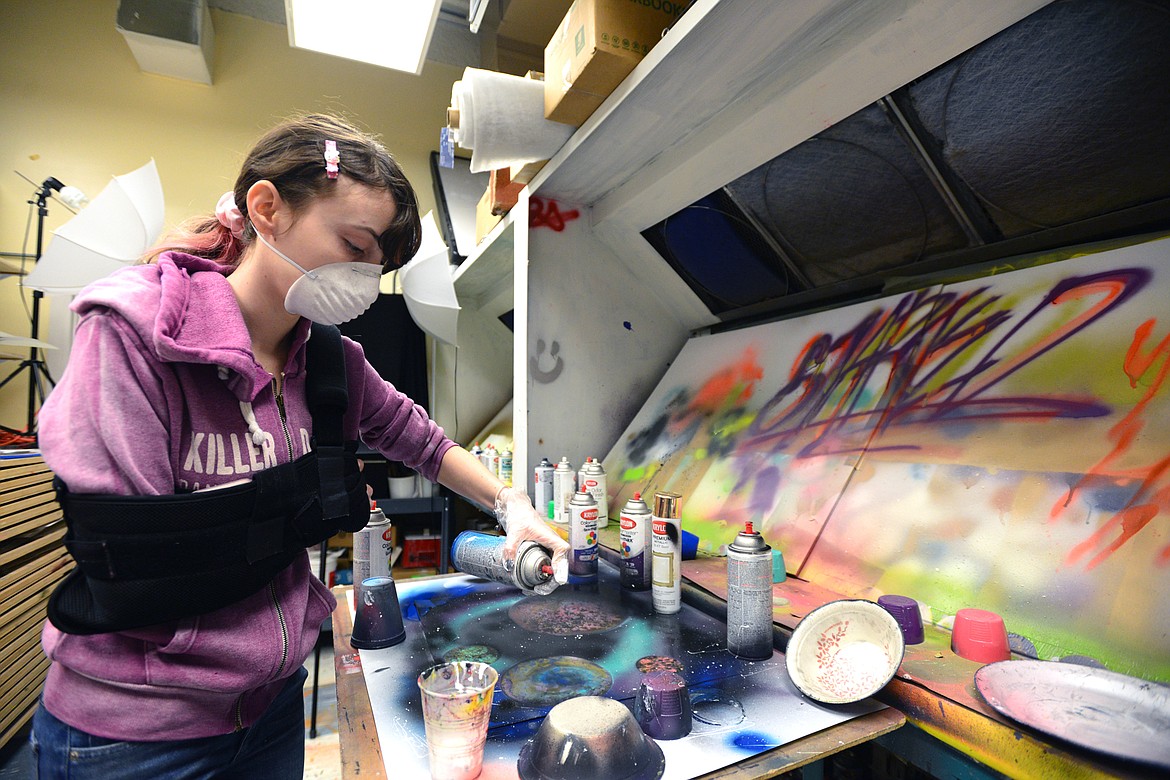 Alanna Glennon, a junior at Flathead High School, uses spray paint as she works on an independent project in teacher Kristie Caratelli's International Baccalaureate art class on Friday. (Casey Kreider/Daily Inter Lake)
by
HILARY MATHESON
Daily Inter Lake
|
February 17, 2023 12:00 AM
Flathead and Glacier high school students will have a slate of new courses to choose from for the 2023-24 school year, including several that will get students outdoors for physical education, science and art instruction.
The financial impact of fees, supplies, materials to the 2023-24 budget will not exceed $24,000. This amount also includes any costs related to course revisions. Money will come from building block grant funds and money from the district's curriculum budget. Staffing costs are expected to be neutral.
New courses at Glacier High School include: Art Outside, Pottery, Seeds of Success and Product Development.
Art Outside will be part of an outdoor education block and is geared to hands-on learners who enjoy the outdoors. Pottery replaces a sculpture class and is designed for students wanting to advance their ceramics skills.
Seeds of Success is intended to teach incoming freshmen the skills and tools needed to achieve success in high school.
Product Development, which replaces Woods 3, is a career and technical education class that covers different aspects of starting and maintaining a business.
Flathead added more than a dozen classes to the roster.
A new outdoor science course called Montana Experiential Ecology replaces Wildlife Biology, as part of an "integrated environmental exploration" block at Flathead. The project-based class will teach students about Northwest Montana ecosystems. Students will explore river, lake, forest, alpine and population ecologies in addition to wildlife biology, and management and resource use.
Also part of the environmental exploration block is a new health and physical education class called Outdoor Pursuits. In this class, students will participate in activities such as fishing, avalanche awareness, map and compass skills, Wilderness First Aid, snowshoeing, archery, backpacking and outdoor cooking.
Athletic students will have the opportunity to take Agility and Strength, a new class that focuses on weight training and training modes.
Additions to the music department include Symphonic Orchestra and Folk Band.
Symphonic Orchestra is an audition-based class for advanced musicians. Symphonic Orchestra students will rehearse and perform with select Symphonic Band students.
Folk Band is an option for string players who would like to learn a new instrument such as the banjo or mandolin. In this class, students will learn musical techniques and concepts of different cultures and styles, rehearsing a variety of genres such as bluegrass, Irish, Celtic and Middle Eastern music. Students can expect to perform at various venues including community contra, folk and square dances.
Marching band, which is currently an extracurricular activity, gained approval to become a class. While receiving approval, it won't be offered as a class until the 2024-25 school year, Flathead band director David Johnke said. He said there are still details to iron out, such as funding.
The intention behind turning it into a class gives students the opportunity to earn credit and raise the bar on teaching the fundamentals of Corps style marching to perform at field shows, parades and potentially, competitions. The class would continue to meet outside the regular school day, starting with a marching band camp in mid-August.
"Students put in a significant amount of time outside of school to prepare for each performance throughout the season. A marching band class would give these students an opportunity to earn credit for their hard work," Johnke wrote in his course proposal.
Several new computer science courses — Intro to Computer Science 2, Computer Science A Java 2 and Physical Computing 1 through 4 — are aimed at helping students decide if they want to pursue computer science after high school.
Intro to Computer Science 2 will build on students' basic understanding of programming concepts to solve complex problems and make "more powerful applications." Students will learn about how the internet works, artificial intelligence, machine learning, cybersecurity and algorithms.
Computer Science A — Java 2 students will be introduced to software engineering, object-oriented programming and design using Java, a programming language. Students will cover a broad range of topics related to organizing and processing data in addition to "the ethical and social implications of computing systems."
"Students learn how to think like a computer software engineer as they consider all of the tools and information needed to implement a software solution to a problem," the course description states.
Physical Computing 1 through 4 offers students the opportunity to apply computer science and engineering knowledge in a lab setting using robots, circuit boards, drones and languages such as Python C and C++.
The International Baccalaureate (IB) program at Flathead has added two math courses aimed at students who want to accelerate their learning. Pre-IB Algebra 2 is meant to be a more rigorous alternative to a traditional Algebra 2 class.
IB Mathematics Analysis and Approaches Higher Level 1 will cover subject matter typically taught in a pre-calculus college course in addition to statistics/probability, mathematical proof and vectors, according to the course description.
For below-grade level math students, Math Foundations 2 has been added to help students further their understanding of number sense, procedural fluency and build patient problem solving skills to set them up for success in Pre-Algebra
The two remaining course additions at Flathead are Advanced Poetry and Independent Study Visual Art, where students will create portfolios or installations to present a body of work.
A semester-long Ag Botany and Soil Science course was also added to classes taught at the H.E. Robinson Agricultural Education Center, which serves both high schools. The course blends ag and science into a double period.
Reporter Hilary Matheson may be reached at 758-4431 or hmatheson@dailyinterlake.com.
Recent Headlines
---