Speech and debate students qualify for nationals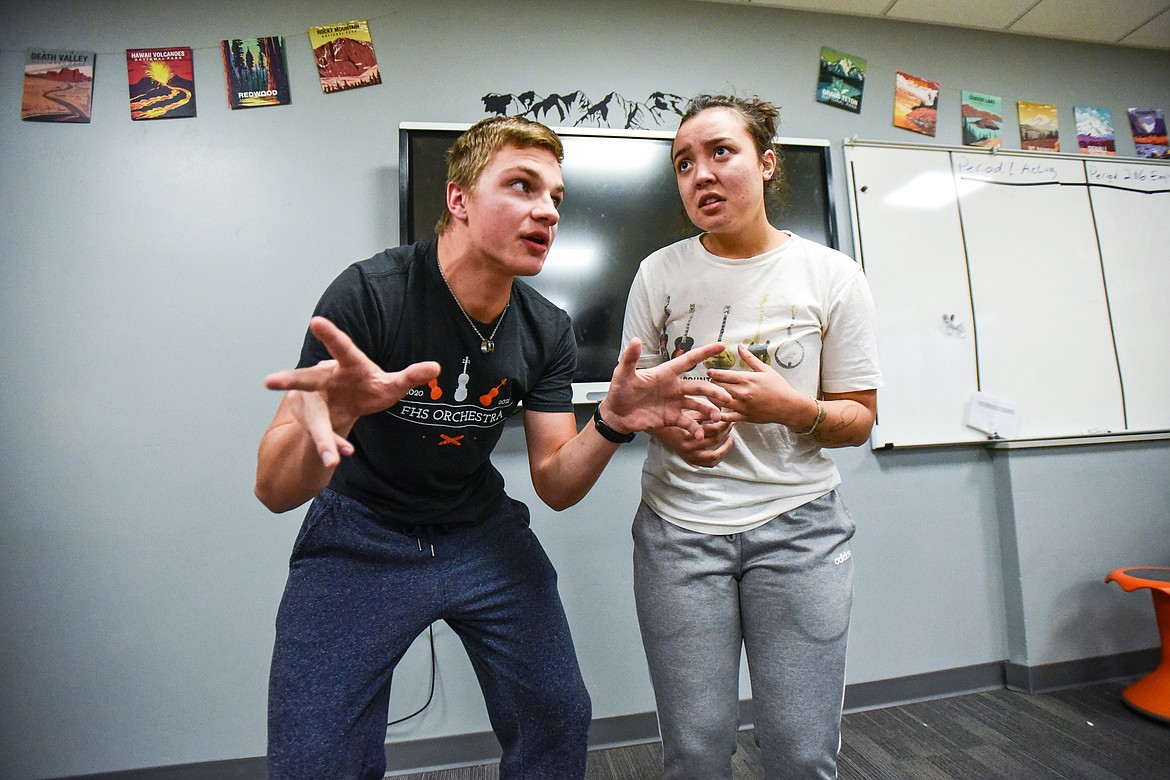 Flathead High School's Tag Schow and Jas Anderson practice their duo interpretation speech at Flathead High School on Tuesday, Nov. 1. (Casey Kreider/Daily Inter Lake)
Speech and debate teams from Flathead, Glacier and Columbia Falls high schools will be well represented at nationals following the West District Qualifier tournament at Sentinel High School in Missoula.
Both Flathead and Glacier have four-time national qualifiers who will be recognized at nationals. They are Jasmine Anderson of Flathead, who will compete in Humorous Interpretation, and Mac Adkins of Glacier, who will compete in Duo Interpretation.
Including Anderson, Flathead had 11 students qualify in main events and two students in supplemental events.
Three-time national qualifier Rylin Wilde will compete in International Extemporaneous. Two-time national qualifiers include — Ada Milner in Program Oral Interpretation; Bethany Nairn in Program Oral Interpretation; and Neila Lyngholm who vacated the U.S. Extemporaneous Speaking Speaking event to compete in International Extemporaneous Speaking.
Other national qualifiers from Flathead are — Adina Lockwood, Duo Interpretation; Collin Olson, Duo Interpretation; Hailey Hendrickson, Informative Speaking; Kaylee Hampton, Congress — Senate; Thomas Konopka, Congress — House; and Taylor Pooton, Domestic Extemporaneous Speaking.
The two students qualifying in supplemental events are Tag Schow and Luke Banks. They will have a list of options to choose from.
In the instance students are unable to compete, alternates are also named. Flathead's first alternates include — Luke Banks, Original Oratory; Siarah Holden and B Poitra, Duo Interpretation; Tag Schow, Program Oral Interpretation; and Brody Turner, Lincoln-Douglas Debate.
Glacier had seven national qualifiers, including Adkins. Alden Lamson, a two-time national qualifier, will compete in Duo Interpretation with Adkins. Adkins also qualified in Original Oratory but vacated the event to compete in Duo Interpretation. Three-time qualifiers Bella AuClaire will compete in Original Oratory and Lane McKoy in Informative Speaking. Two-time national qualifier Brenna Ernst will compete in Dramatic Interpretation. Other national qualifiers are Annabeth O'Shea, Dramatic Interpretation and Ethan Grant, Original Oratory.
Lukas Schubert is the first alternate for Congressional Debate — House.
From Columbia Falls, three-time national qualifier Eddie Chisholm is set to compete in Lincoln-Douglas Debate. Two-time qualifiers Kynsleigh Gould and Ava Minns-Prezeau will compete in Policy Debate. Celestine Young and Eleanor Hollingsworth also qualified to compete in Policy Debate. Ruby Davis is the first alternate in Informative speaking.
While the purpose of the tournament is to find out who will advance to nationals, teams were recognized for their overall performances. Overall, Flathead and Glacier placed second and third, respectively.
In speech sweepstakes, Glacier won a tiebreaker against Flathead for the first-place trophy.
In debate, Columbia Falls placed second. Flathead brought home the hardware with a first-place finish for its overall congressional debate performance.
Fundraising begins for the teams to attend the 2023 National Speech and Debate Tournament June 11-16 in Arizona. The tournament is organized by the National Speech and Debate Association. For more information, visit www.speechanddebate.org.
Reporter Hilary Matheson may be reached at 758-4431 or hmatheson@dailyinterlake.com.
Recent Headlines
---