Peek into the past: the lives of Chinese and Japanese immigrants in the early Flathead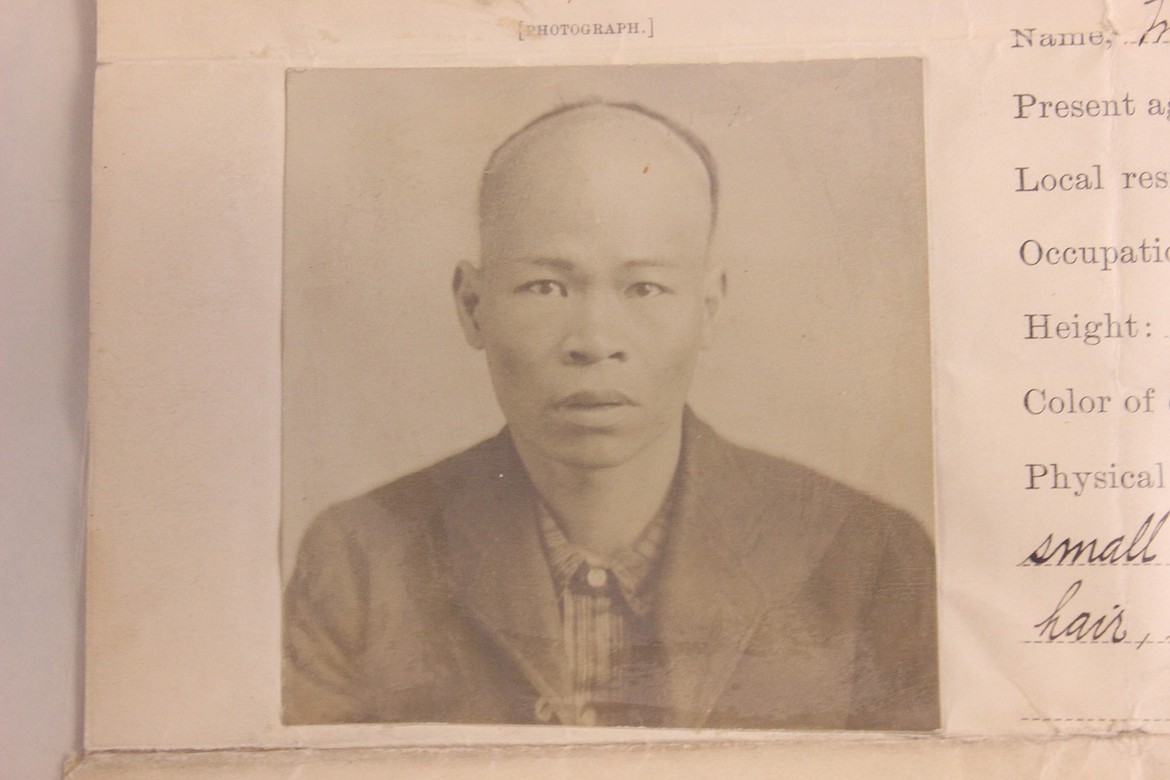 41-year-old Mar You photographed in his immigration papers from 1904. (courtesy of the Northwest Montana History Museum)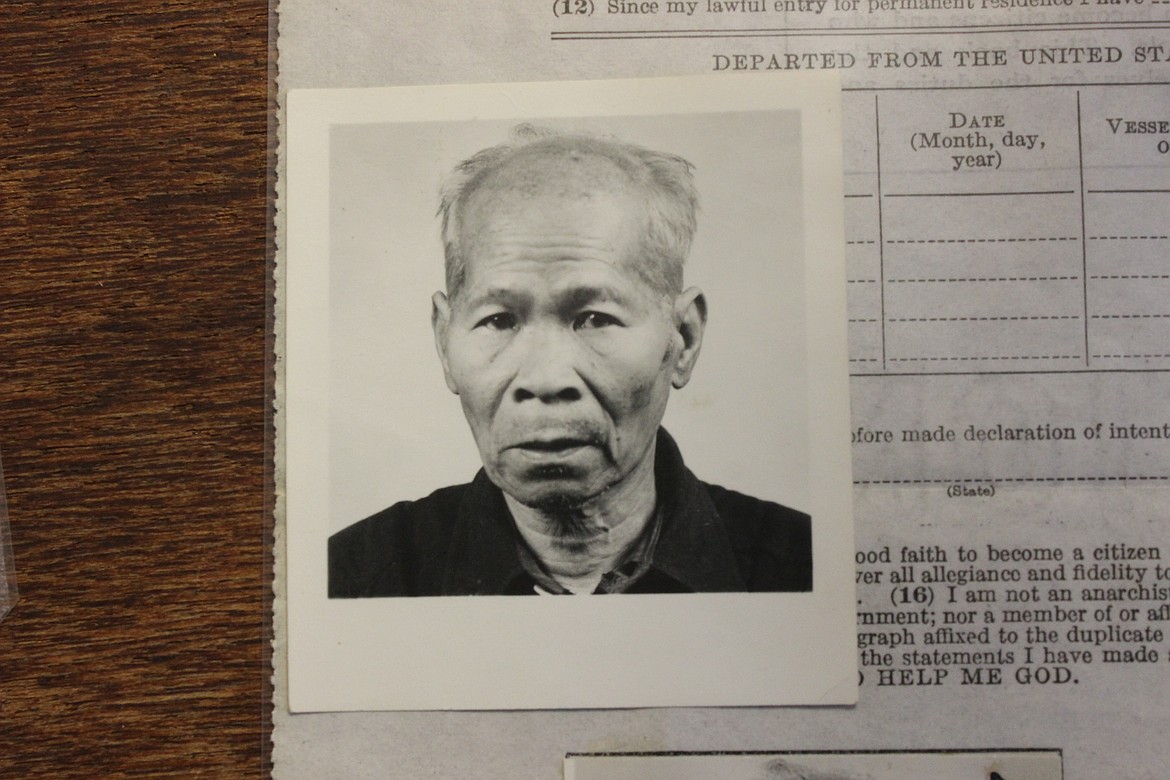 78-year-old Mar You, a photo included with his citizenship papers from 1944. (courtesy of the Northwest Montana History Museum)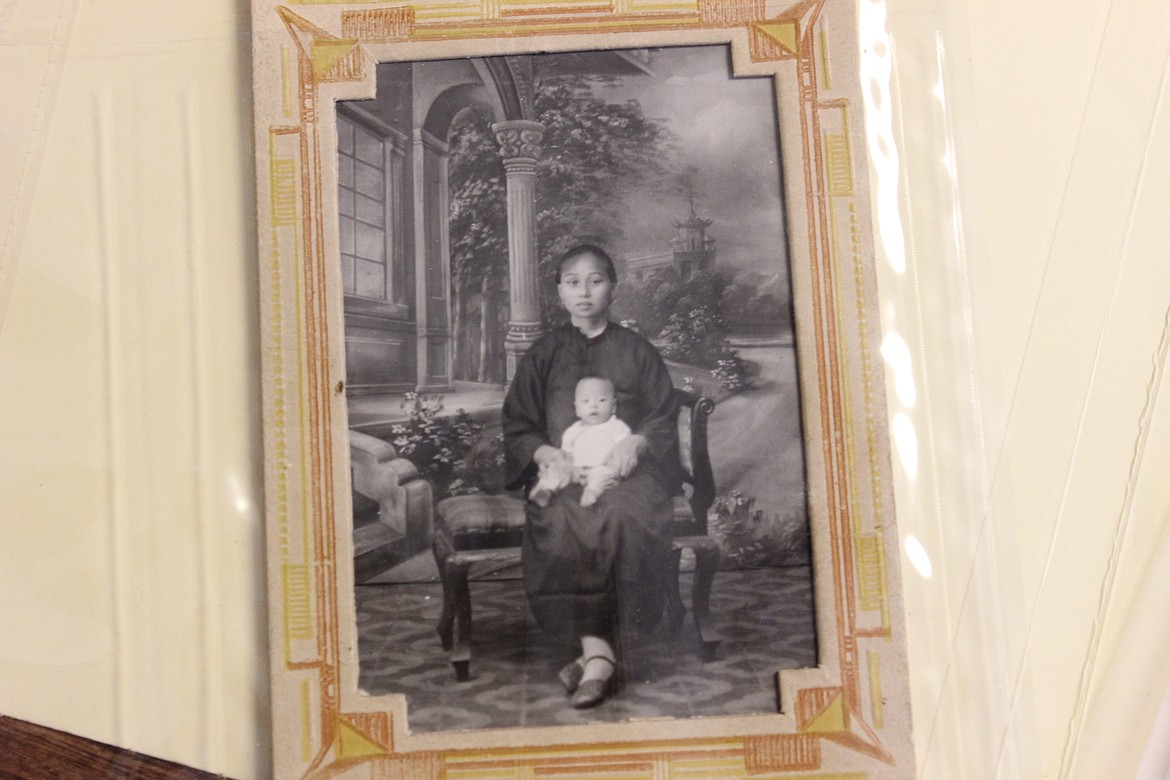 A young woman holding a baby. (Courtesy of the Northwest Montana History Museum)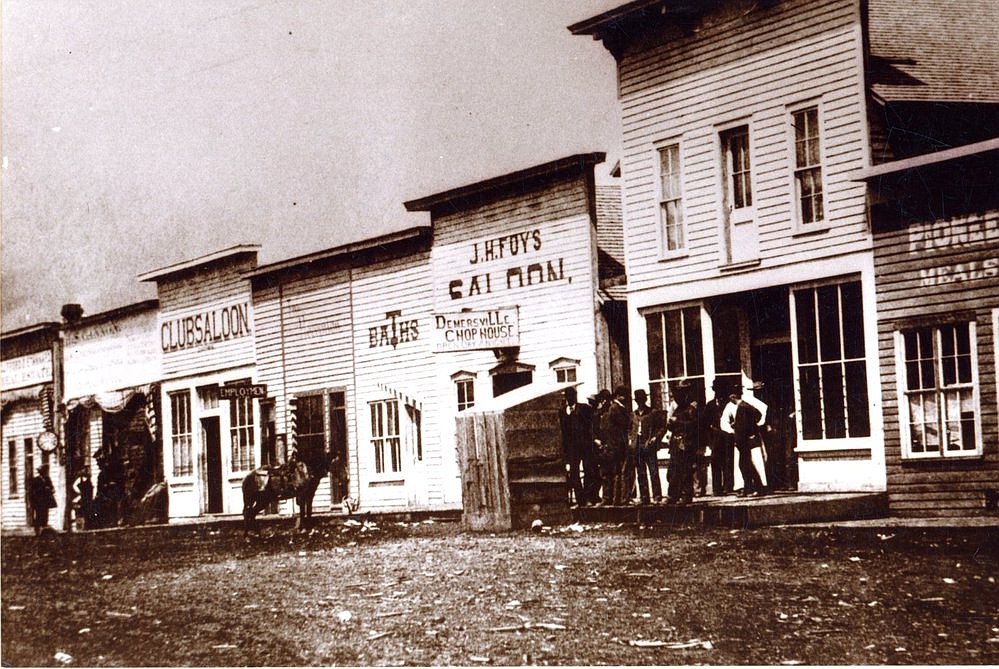 An 1891 photo of Demersville, on the south side of Main, showing one block. (courtesy of Montana Memory Project)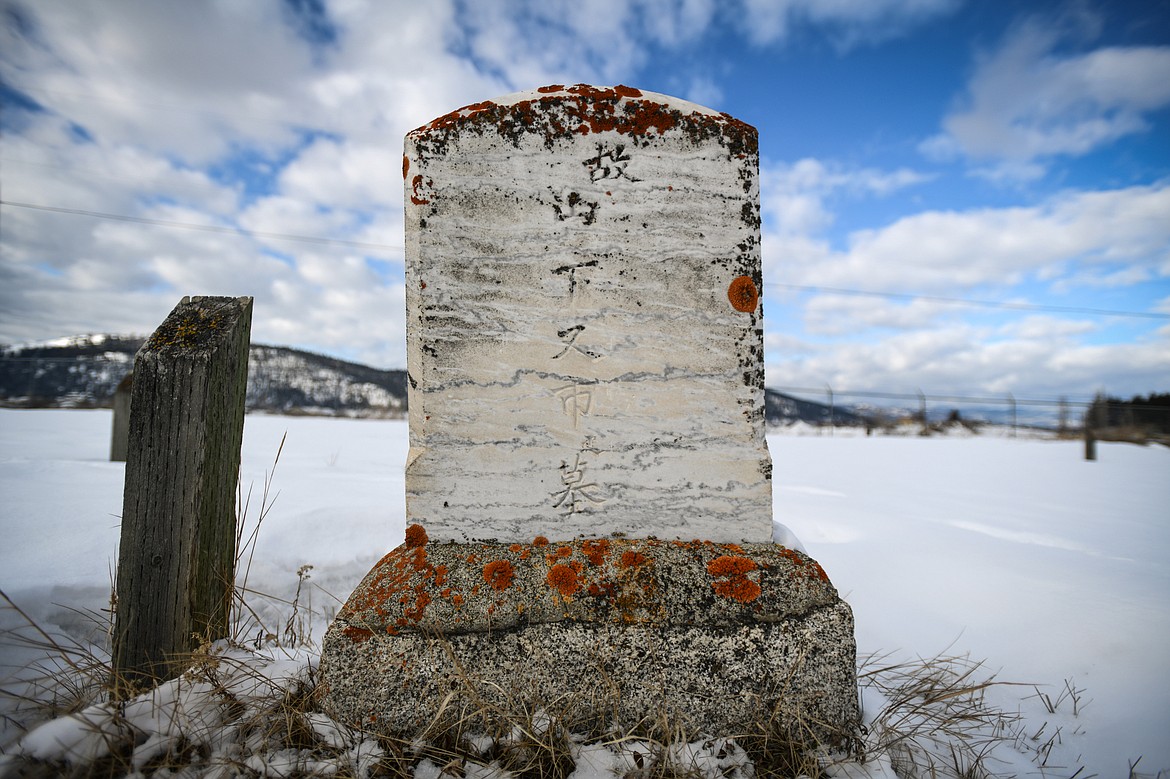 One of several Japanese gravesites located at Demersville Cemetery in Kalispell on Wednesday, Feb. 15. (Casey Kreider/Daily Inter Lake)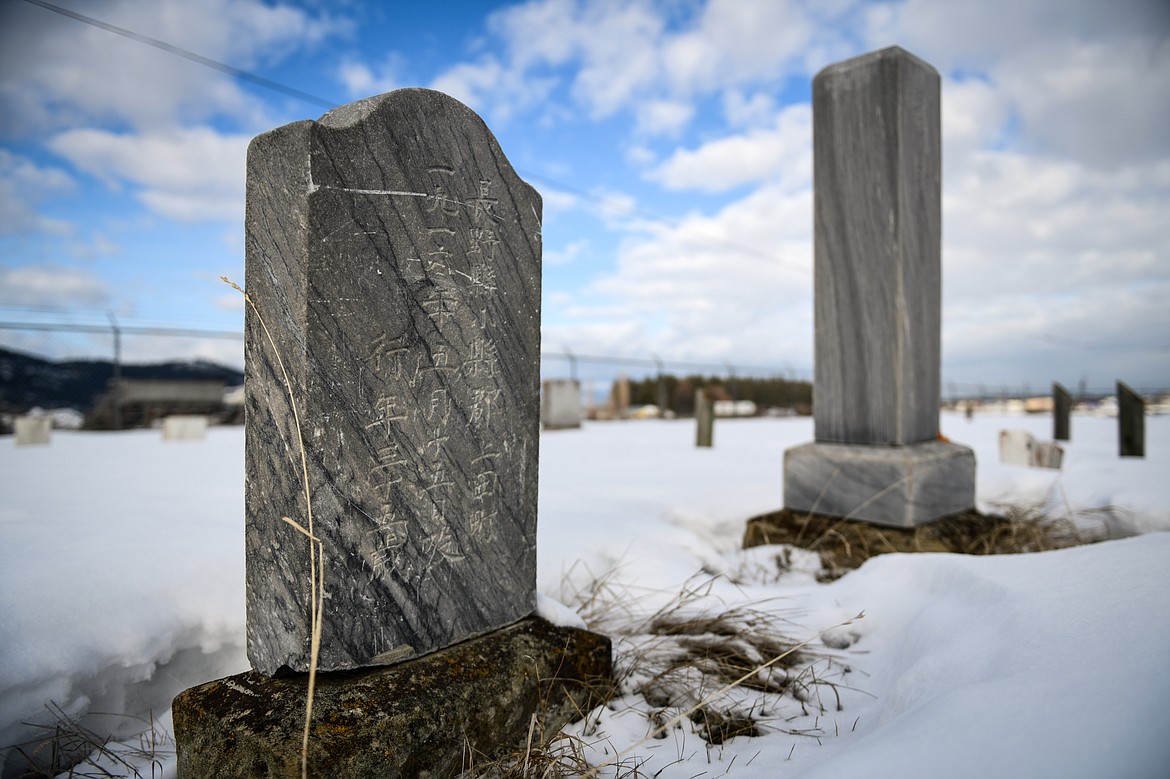 One of several Japanese gravesites located at Demersville Cemetery in Kalispell on Wednesday, Feb. 15. (Casey Kreider/Daily Inter Lake)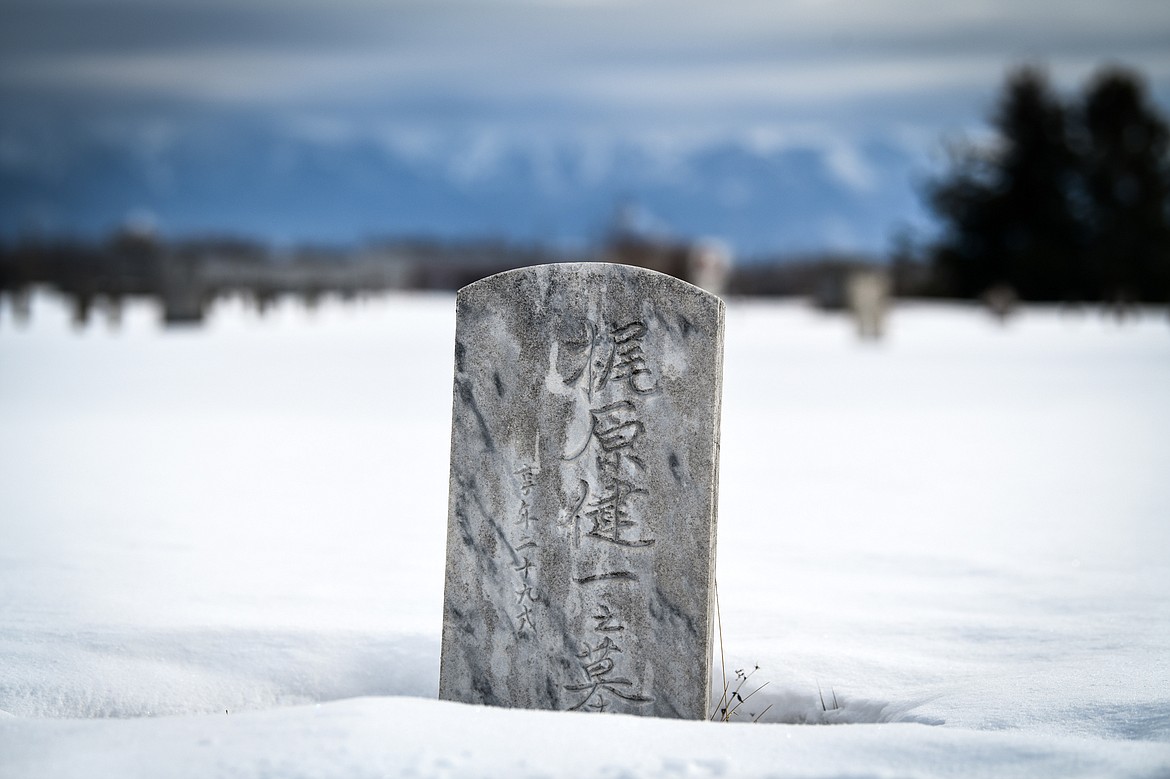 One of several Japanese gravesites located at Demersville Cemetery in Kalispell on Wednesday, Feb. 15. (Casey Kreider/Daily Inter Lake)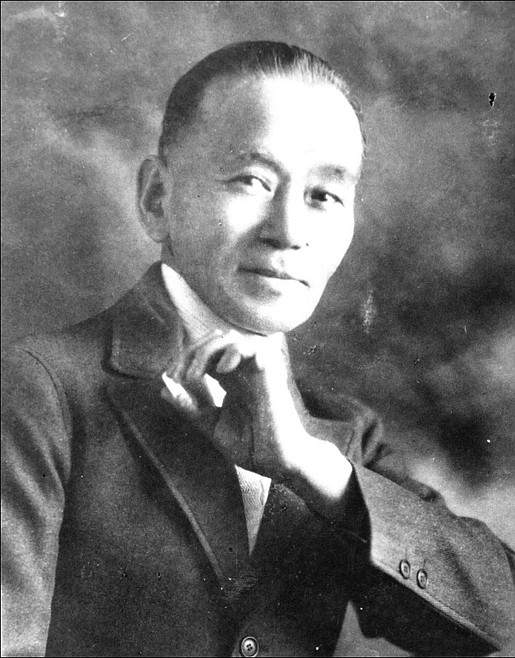 M.M. Hori, a Japanese immigrant who started as a house servant at the Conrad Mansion in Kalispell and later became a prominent Whitefish businessman. He is the subject of a Feb. 20 talk at the Northwest Montana History Museum. (courtesy of the Northwest Montana History Museum)
Previous
Next
by
TAYLOR INMAN
Daily Inter Lake
|
February 19, 2023 12:00 AM
Winding back the clock to early February of 1897 and standing on Second Avenue West in downtown Kalispell would reveal an explosive, joyous celebration of the Chinese Lunar New Year.
In what was once the city's Chinatown, firecrackers hung from the tops of doorways in Chinese businesses and residences, which included restaurants and laundry services that were described by locals at the time as some of the best in town.
Immigrants from China and Japan were an integral part of the community in the late 1800s and early 1900s. Japanese immigrants were recruited by the Oriental Trading Company out of San Francisco to come help build the railroad. Chinese immigrants were populating the western United States by the thousands, opening up businesses and working in newly formed states like Montana, where mining and rail had recently created towns and cities.
It is necessary to rely on written accounts and documents from this time to piece together what life was like for people who were making a new life so far from their original home. There are few primary sources, if any available in English, to describe what these immigrants felt and thought about working in Kalispell at the turn of the century.
Historian Henry Elwood writes in "Kalispell, Montana and the Upper Flathead Valley" that there were 150 Chinese people living in Kalispell in 1896. They were cooks, waiters, merchants and gardeners, as well as domestic help. They lived and worked in one to two story buildings that had dugout sleeping quarters underneath.
Elwood said most lived on Second Avenue West between Second Street West and Third Street West.
He cites a Feb. 28, 1954 Daily Inter Lake article written by Kalispell pioneer lumber merchant C.D. O'Neil, who wrote about his memories of the early valley. O'Neil said he was called to supply lumber when Chinese residents decided to expand their sleeping quarters, which in some cases extended "30 feet below the street level."
O'Neil said these places were dug out a little at a time, with the dirt being carried out in pails and dumped in vegetable wagons and hauled to 'the Chinese gardens.'
"I would be called over to measure it and send over lumber to line the inside and build shelves for the men to sleep on," O'Neil wrote. "We would always send six by six, one foot long pillows. There was no bedding needed as they slept on the boards with the blocks for their heads."
On the northwest side of Kalispell, Chinese residents grew large vegetable gardens providing food for themselves and to sell to others, Marie Shea notes in "Early Flathead and Tobacco Plains." She said most towns required Chinese residents to live separately from other citizens, which can also be seen in the services they used like the Japanese hospital in Whitefish for railroad workers.
DOCUMENTS FROM the Northwest Montana History Museum, make it possible to track the immigration journey of Mar You from Canton, China to the Flathead Valley. You entered the United States around 1904, left briefly during the 1910s and came back in November of 1921, arriving by boat in Seattle.
His occupation was listed as "cook" in his 1904 Certificate of Residence, sent by a "Chinese Inspector" from Washington, D.C. Included is a photograph of a younger You, who was embarking on his new life in the United States. It's unclear why he returned to China in the 1910s, but his citizenship papers from 1944 reveal a lot about his life.
It says that in 1914 he married Wong See, also from Canton, China. He estimates she was born in 1894, making him around 18 years older than her.
The citizenship document also clarifies that he had two sons, one born in 1918 and the other born in 1922, probably just months after he arrived back in the United States in November 1921.
"I heard at one time that both of them, together with their mother, were killed in a bombing raid from the Japanese when they invaded China. Not verified," the immigration document reads.
A letter from the Department of Public Welfare in 1944 alerted You that his Old Age Assistance payments would be increasing to $30 a month. From this letter and other Old Age Assistance payments, it is possible to infer that You lived out the rest of his life in Columbia Falls.
The United States severely curtailed Chinese immigration between the years of 1882 and 1943, according to the National Archives. There was a good deal of anti-Chinese sentiment popular in America at that time that was felt among immigrants in the Flathead Valley.
In "Early Flathead and Tobacco Plains" Shea writes about racism wielded against Chinese immigrants.
"The long-suffering Chinese nearly everywhere in the west received many threats and considerable violence from drunks and hoodlums, who threatened to cut off the Chinese pigtail, take away his hard-earned money or harassed him just for fun. Regrettably, the law often ignored the problems of these people, as it has with many minority groups," Shea writes.
That racism often resulted in some locals being vocal about "preferring the Japanese over the Chinese" and despite that, often incorrectly labeling Japanese people as Chinese, according to Northwest Montana History Museum volunteer Rick Hull.
LAKESIDE NATIVE and Cornell Asian Studies Professor Jane-Marie Law grew up visiting the Demersville Cemetery in the 1960s, always taking notice of a corner of the graveyard known only as "the Chinese in the Demersville Cemetery."
She returned home in 1989 after two years of field work on Japanese Folk Religion in the Inland Sea area of Japan — spending a lot of time in rural Japanese graveyards, studying various burial and mourning practices. In her Cornell paper "Muen Botoke in Kalispell, Montana" she writes about how her life once again became intertwined with those mysterious Chinese graves.
After a visit to Demersville Cemetery to see the graves again, she noticed they weren't Chinese at all, but Japanese. Even more surprising was the amount of information recorded on each headstone. Along with their name and age of death, many of the graves had detailed hometown addresses in Japan carved in Japanese.
"Many of the people buried there were from very small towns in Japan that I had visited during my fieldwork— towns no bigger than Yellow Bay, Coram or Essex," Law writes. "The addresses went as far to tell where in these tiny towns the person's family lived, what corner of what street."
Law dove into a mission to translate the graves and trace them back to Japan. In her paper, she goes into detail about why mourning practices are so important in Japan and how some can carry through several generations — as it is an obligation to remember their dead. She spent many afternoons sitting in Demersville Cemetery, deciphering what the graves said. One of them read "Tell the people back home when and where I have died. Here is my name and address."
She said the project took two years of letter writing back and forth and five weeks of travel to small towns and ward offices across western Japan, where she met "every possible form of bureaucracy, red tape, helpful person and life history." She was able to trace nine people back to their hometown records in Japan.
In one Japanese ward office, she found the records of a man buried in Demersville — his birth, his marriage and the birth of one daughter, but no mention of his death. She was given the name of the daughter, an elderly woman who lived in Osaka. The next day she met her at a train station, where she had trouble convincing the woman she had found her father's grave.
When she realized Law had indeed found him, the woman began to cry and told her about a lifetime of thinking that he had abandoned their family for a new life in the United States. He left when the woman was a young girl, promising to return in a few years. After many years passed, the woman's mother even went to San Francisco in hopes of finding him but to no avail was only being able to trace him as far as the Oriental Trading Company.
Just a few short months later after delivering the news, Law learned the woman had died.
"Had the shock of the news hastened her death, or was she now able to rest, knowing that her father did not abandon her? I will never know, but I am haunted by the image of a young girl asking strangers on the street 'Are you my daddy?'" Law writes.
It was common for these immigrants to assume they would make enough money to bring back to their families and live out wealthier lives in their home country, the author notes in "Early Flathead and Tobacco Plains. But, when the railroads were completed, "the labor contractor was not around to help them return to their homeland."
"Abandoned in an alien land, unable to speak more than a few words of English, it is much to their credit that so many adapted and survived to become part of our American culture," Shea writes.
HISTORY TALK
The Northwest Montana Posse of Westerners, a local historical group, presents Hori's Secret and Japanese people in Northwest Montana at its monthly meeting on Feb. 20 in Kalispell. Rick Hull will speak about the life of M.M. Hori, a house servant at the Conrad Mansion who went on to become a celebrated Whitefish businessman. The presentation is at 7 p.m. at the Northwest Montana Historical Museum in Kalispell. Admission is free for members and youths 16 and under, and $5 for non-members.
Bigfork Eagle Editor Taylor Inman can be reached at 406-758-4433 or by emailing tinman@dailyinterlake.com
Recent Headlines
---