July Glacier Park reservations open March 1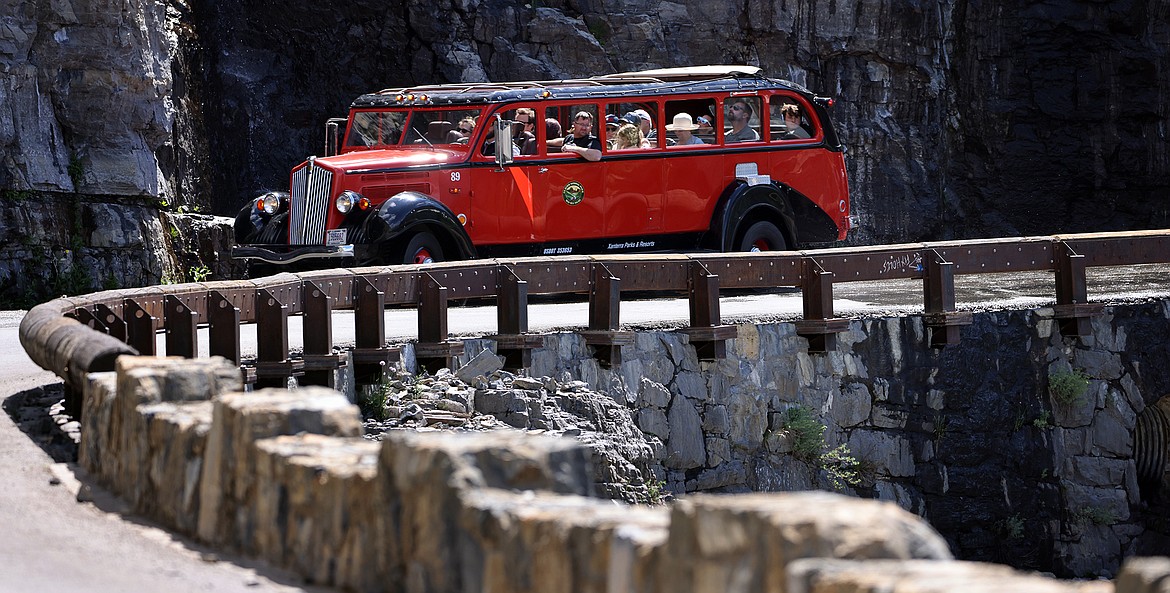 A red jammer bus passes Triple Arches on the Going to the Sun Road in Glacier National Park. (Jeremy Weber/Daily Inter Lake)
by
CHRIS PETERSON
Hungry Horse News
|
February 23, 2023 12:00 AM
The next round of Glacier National Park vehicle registrations begins next week on Wednesday, March 1 at Recreation.gov.
This time around, reservations are available for the "primetime" month of July. In most years, the full length of Going-to-the-Sun Road is open by early July.
Glacier has expanded its reservation system starting July 1 to include Two Medicine and the Many Glacier areas of the park.
In short, that means that all the major entrances to Glacier will require a reservation for entry from 6 a.m. to 3 p.m. After 3 p.m., a reservation isn't required. A reservation also isn't required for about 6 miles of the Sun Road from St. Mary to Rising Sun.
Sun Road reservations are valid for three days, all other entrances are valid for one day.
Unlike last year when half of the reservations were rolled out on a daily basis 120 days in advance, this year the park will release about half of the July reservations at once in a block at 8 a.m. Mountain Time on March 1.
It did the same for late May and June on Feb. 1. It took but a few minutes for the weekends to sell out and a half hour for all of them to sell out.
But don't despair, dear traveler.
The remaining reservations are then released the day before they are valid on Recreation.gov. But those are often snapped up in minutes, as well.
People can still walk and bike into the park without a reservation.
There's other ways around th reservation system as well. People with a reservation for a campground in Glacier or a hotel room don't need a separate reservation to get in. Also, reservations to restaurants inside the park will also get people inside the gates.
Vast stretches of the park still see few visitors, primarily because many people can't or won't hike more than a few miles — or the areas don't see the visitors because they're wooded or don't have the views. Still, popular areas like Avalanche Lake and Logan Pass get pounded, with thousands of hikers a day.
Glacier officials say the goal of the reservation system isn't to curb crowds, but to lower congestion at peak times. The park sees right around 3 million visitors a year.
After the July block of reservations is gone, the park will release the August block on April 1 and then the early September block on May 1. After Sept. 10, reservations aren't required in any area of the park, however, the park will close an area if the parking fills up, which happens frequently.
By mid-September, snow is often flying in Glacier's high country.
Recent Headlines
---