Flathead officials, advocates study bill to bolster workforce housing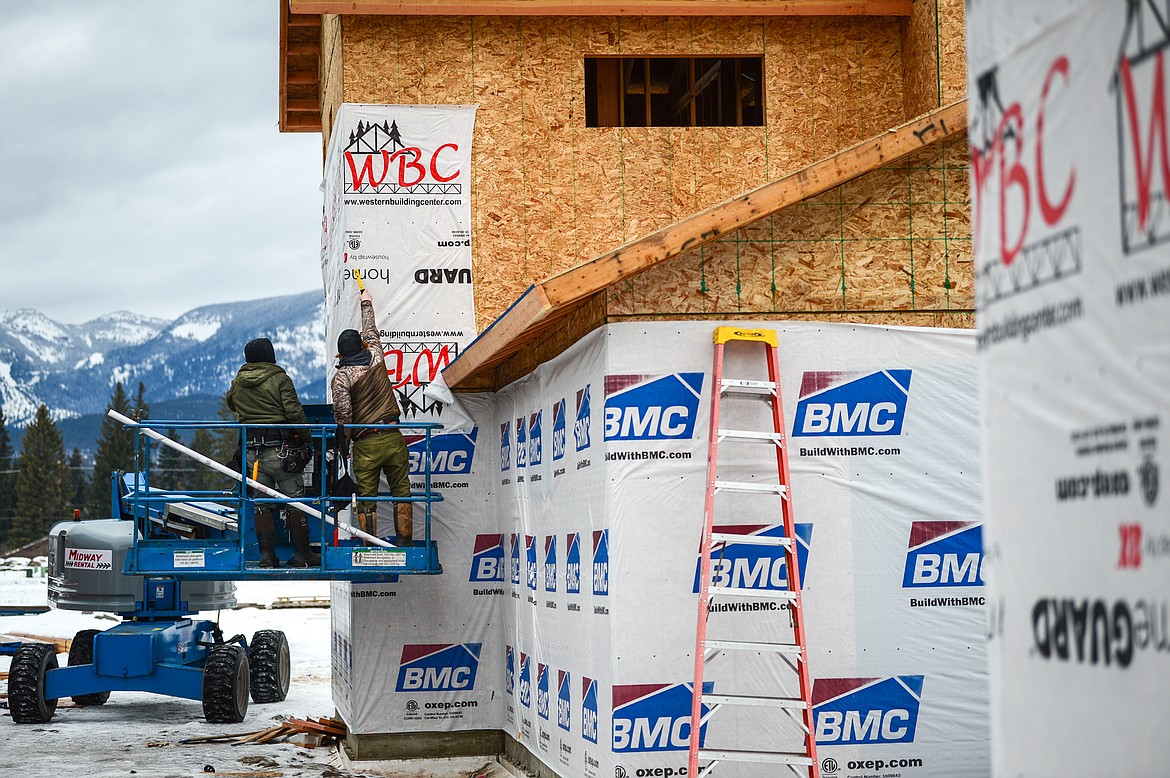 Bradley Baker, left, and Conner Schuiteman, subcontractors hired by Black Diamond Properties, install house wrap on a home under construction at Trailview in Whitefish on Thursday, Feb. 4. (Casey Kreider/Daily Inter Lake FILE)
by
ADRIAN KNOWLER
Daily Inter Lake
|
February 24, 2023 12:00 AM
Flathead Valley officials and housing advocates are mulling over a proposal to allow local governments to subsidize rents for residents using a small tax on short-term rentals such as those listed on platforms like Airbnb.
Sponsored by Rep. Jane Gillette, R-Bozeman, House Bill 430 would let cities and counties implement and fund workforce housing programs using a 0.25% tax on vacation rental bookings. It is designed to keep rents affordable for local employees and reward landlords who provide long-term rentals with property tax relief.
Supporters of the bill point to the popularity of short-term rentals as removing needed housing units from the long-term rental pool, and believe the proposed legislation would incentivize property owners by closing the growing gap between rental rates that local workers can afford and rising free-market rates that landlords can command.
Whitefish City Manager Dana Smith submitted testimony to the House Taxation Committee, which considered the bill Feb. 17, in support of the legislation. In the written testimony, Smith cited the municipality's Community Housing Road Map, which identified short-term rentals as a cause of Whitefish's affordable housing shortage.
Kalispell City Manager Doug Russell didn't offer an opinion on the legislation, but said that the municipality's legislative priorities for the session included affordable housing initiatives.
Flathead County is the state's leader in short-term rental properties with 2,814, according to a 2021 study by the University of Montana's Institute for Tourism and Recreation Research.
The study found that Whitefish had 1,093 short-term rental properties, something that the city has tried to get a handle on by requiring registration and a business license, according to Smith. In the testimony provided to the committee, Smith said that the city had licensed 340 vacation properties through last year.
To take advantage of the levy, cities would need to create housing programs through ordinance. Each would be able to set details such as maximum rents and eligibility requirements.
Proponents at the Feb. 17 hearing included lodging industry advocates and even a short-term rental property owner. No one testified against the bill.
Bozeman short-term rental owner Mark Egge supported the bill, saying that he felt it would stop campaigns to ban short-term rentals outright in his city by reframing the properties as a benefit to the community. He estimated the revenue gap between short-term and long-term rentals at 33% per year, and testified that the legislation would help bridge that gap.
Community Action Partnership Deputy Director Cassidy Kipp was optimistic about the proposal, but cautious about details of implementation should the bill become law. The organization works in Flathead County and administers a number of rental assistance and other housing programs.
"We support innovative and creative ways to engage landlords," Kipp said, pointing out that it is becoming increasingly difficult to get landlords to sign on to rental assistance agreements given the growing gap between free market rental rates and the amounts available from programs funded by the federal Department of Housing and Urban Development.
Kipp said that success or failure would be determined by how city governments set up their programs, should they choose to participate. Cities would have to decide on matters such as maximum rental rates and perform inspections on units to see if they meet minimum habitation standards as set by the federal housing agency.
Smith was optimistic and estimated that the proposed tax would have raised around $32,000 based on last year's registered property statistics. Because details like rental rates and landlord engagement are unknown, it isn't possible to estimate how many units of housing such a program could subsidize.
Smith wasn't sure if this would convince property owners to convert short-term rentals to workforce housing, however.
"I would hope that individuals who are operating short-term rentals who see the need for workforce housing will do that on their own," she said. "I don't know that a quarter of a percent will do that though."
Reporter Adrian Knowler can be reached at 758-4407 or aknowler@dailyinterlake.com.
Recent Headlines
---