Housing measures need careful consideration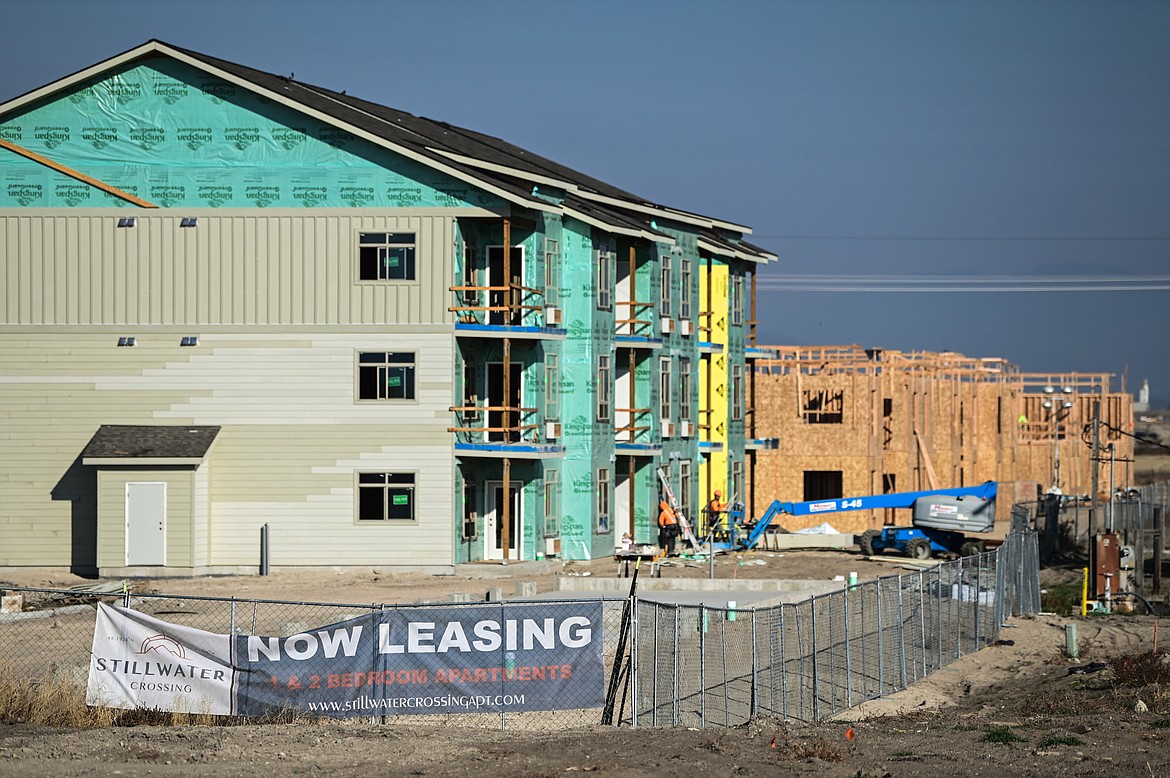 The Stillwater Crossing apartment buildings under construction at Four Mile Drive and Stillwater Road on Wednesday, Oct. 19. (Casey Kreider/Daily Inter Lake)
by
Daily Inter Lake
|
February 26, 2023 12:00 AM
Tangible progress is being made at the state Capitol to address Montana's workforce and affordable housing crunch, an issue that Gov. Greg Gianforte has identified as a top priority for the 2023 Legislature.
Dozens of housing and zoning bills are already in the pipeline — some good, some that could use minor tweaks, and more than a few that should be left in the legislative dustbin.
Gianforte has been pushing for so-called pro-housing measures that would accelerate and ease the permitting process for new developments. His preferred solution is to boost supply to reduce market-rate rents.
One measure along those lines that should be ushered along is Senate Bill 382, the Montana Land Use Planning Act. The 48-page bill was conceived by Montana League of Cities and Towns Executive Director Kelly Lynch, and introduced by a bipartisan group of legislators, including Whitefish's Rep. Dave Fern and Polson's Sen. Greg Hertz.
It aims to rework and speed up the public participation and permit processes in Montana's urban areas, with an eye toward making new home construction "faster, cheaper and easier," according to Lynch.
"Essentially, we do things backward in Montana. And so it's no surprise that our permitting processes take way too long," Lynch told the Montana Free Press. "The whole idea behind this is to flip that, so that we do the planning and the public participation up front, we front-load it, then as we get to the permitting and the platting that becomes a very administrative process."
We like that this collaborative measure was born from a diverse group of stakeholders such as builders, Realtors, and city and state officials who would be directly affected by the reforms. We also like the requirement that local boards and councils must take stock of their city's housing needs and adopt zoning reforms to address those shortfalls.
Unfortunately, other pro-housing proposals in front of the Legislature are using a top-down approach to push for more dense development. Senate Bill 323 would require larger cities to permit multi-family housing — duplex, triplex and four-plex housing — in all residential zones, while Senate Bill 245 would require larger cities to allow multi-family and mixed-use developments in commercial districts with water and sewer infrastructure.
We raise a red flag on these heavy-handed proposals. Legislation that strips zoning decisions away from local entities is the wrong approach that fails to appreciate the differing priorities of each community. Billings is not Bozeman, and Helena is not Havre.
Senate Bill 323, in particular, presents major unintended consequences that could upend long-standing single-family neighborhoods.
One creative measure in front of the Legislature that's worth moving along is House Bill 430, sponsored by Bozeman Republican Rep. Jane Gillette.
It would allow cities and counties to implement and fund workforce housing programs using a small tax on vacation rental bookings.
It's no secret that the proliferation of lucrative VRBO-style rentals have taken their toll on the state's long-term housing supply, particularly in tourism markets like the Flathead Valley. In fact, Flathead County is the state's leader in short-term rental properties with 2,814, according to a 2021 study.
Whitefish alone has 1,093 short-term rental properties. The small 0.25% tax on those rentals would generate about $32,000 annually for the city's affordable housing initiatives. While that figure is just a ripple in the sea of housing obstacles facing Whitefish, it has the potential to mature into a valuable weapon in the fight to retain long-term rentals for local workers.
As Gianforte noted in his speech last week to the Montana Housing Coalition, "We can't keep doing the same thing we've done year after year after year. The state can't. And local governments can't. It hasn't worked."
Legislators should heed that warning as they sort through each of these housing proposals in the weeks ahead. Weed out the bad, move forward with the good — but doing nothing can't be an option.
Recent Headlines
---