Denis Twohig, a founding father of the Glacier Mountaineering Society, dies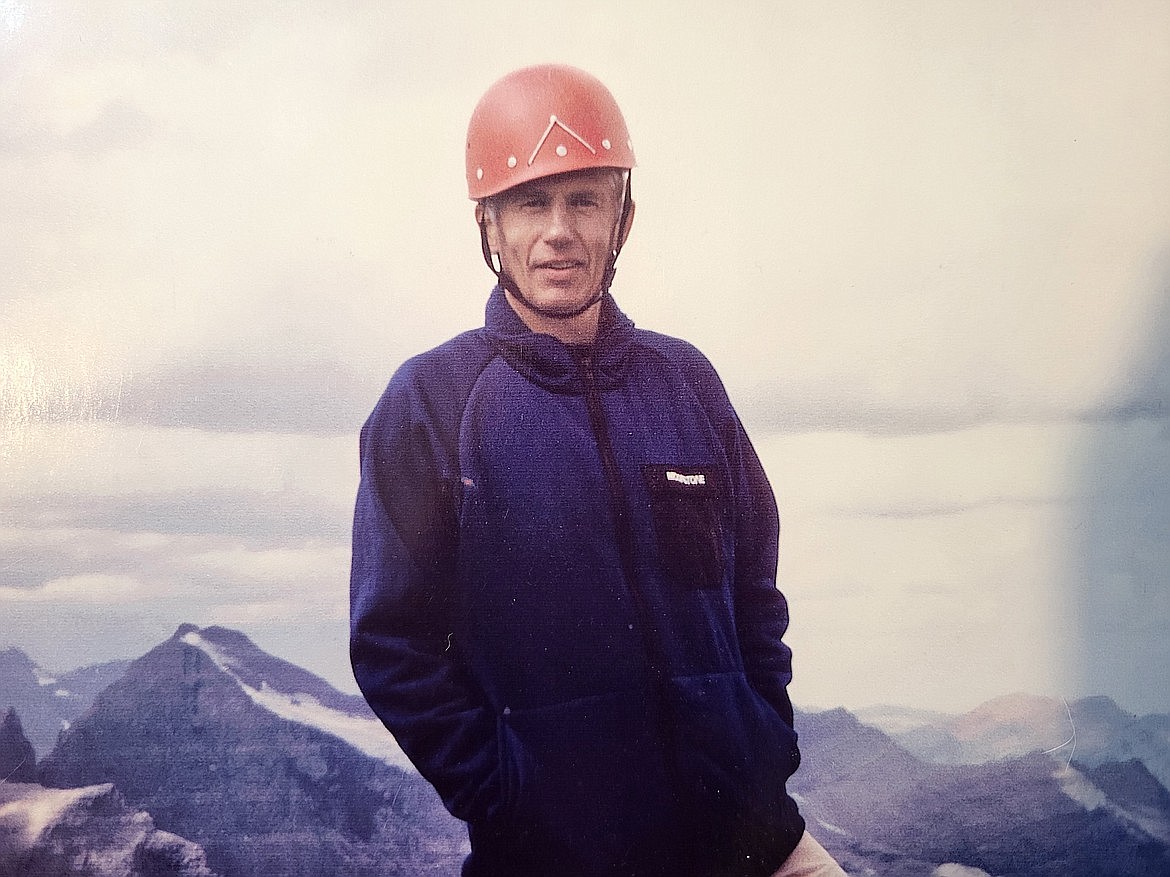 Denis Twohig on the summit of Mount St. Nicholas in Glacier National Park. (Photo provided)
Denis Twohig, a pioneer in the Glacier National Park mountain climbing community, died Friday. He was 83.
In 1979, Twohig, of Columbia Falls, published Going-to-the-Sun, a magazine that featured Glacier National Park with stories about climbing in the park. The magazine wasn't a commercial success, but through it Twohig became friends with noted climbers J. Gordon Edwards, Rolf Larsen and Jim Kanzler, as well as many other mountain climbers who enjoyed bagging peaks in Glacier.
Edwards wrote the definitive guide to climbing in Glacier and often cited routes done by Twohig in Edwards's book, "A Climber's Guide to Glacier National Park."
Under Twohig's leadership along with his wife, Shirley, the above-mentioned climbers founded the Glacier Mountaineering Society. It became an official entity in 1981 and its annual newsletter took on the magazine's title, "Going-to-the-Sun."
Shirley said Friday that Denis died of complications from lung cancer, though he hadn't smoked in years.
She recalled a climb they did up Mount Gould in Glacier decades ago when they first started climbing. At the summit, they sat on a rock and had a smoke, winded.
"We said to ourselves, 'we've got to give up smoking or mountaineering,' she recalled. "We gave up smoking."
The couple climbed hundreds of mountains together and pioneered a host of routes up Glacier Park's peaks for more than 50 years.
Denis also developed the class system for climbs, the easiest being classes I and II and the hardest class V.
In a 2017 interview, Twohig said one of his favorite routes was up Piegan Mountain in Glacier.
Piegan, for most folks, is just a slog through scree to the top.
But Twohig's climb was a far more challenging route up Piegan's east face that rose through the cliffs, skirted below the glacier and then tackled a Class V pitch just below the summit.
Twohig was a self-employed graphic designer, Shirley said. He designed many patches and pins for Glacier National Park.
The couple didn't count the climbs they did over the years, but they climbed all the 10,000-footers as well as all the technical peaks in the park.
They also did numerous climbs outside of the state, including Devil's Tower, Grand Teton, Mount Rainier and Mount Whitney.
"We were just mountaineering fools," Shirley joked.
In the 2017 interview, Denis said that climbing is ultimately about about friendship and challenge and family.
"While we know that climbing demands much, in return it has much to offer. As a recreation it could hardly be a healthier activity," he said. "As a craft, it requires control, finesse and technique. As a lifestyle, it is adventure and challenge unparalleled. The fusion of skill, craft, technique, and sound judgment when carried out in an exquisite mountain alpine setting, alone or with a few chosen companions, delivers an overwhelming feeling of euphoria and elation that is difficult to duplicate."
Shirley said the family is planning a memorial service this summer. Denis will be cremated and they hope to have some fellow climbers go up one of his favorite peaks and broadcast his ashes across Glacier National Park.
Recent Headlines
---