Proposals for future of Somers Beach State Park up for review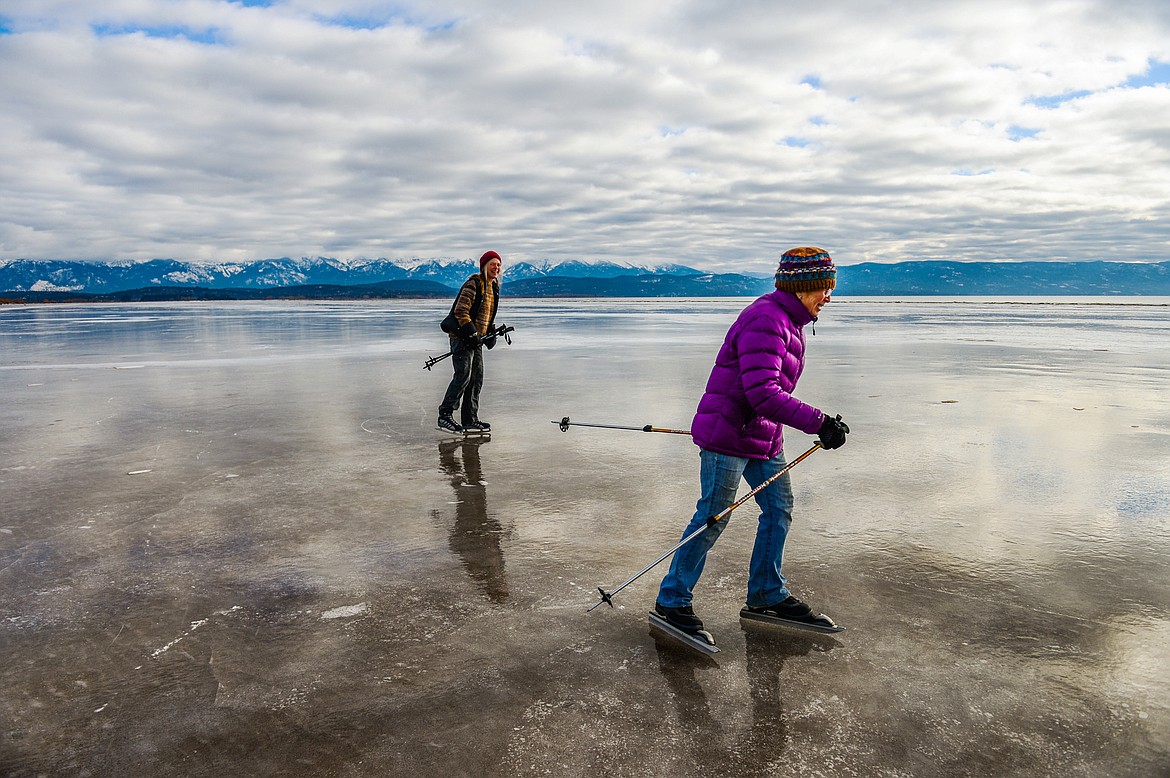 Helen Pilling, left, and Leslie Dillon ice skate on the frozen surface of Somers Beach along the north shore of Flathead Lake on Wednesday, Jan. 19. (Casey Kreider/Daily Inter Lake)
by
KATE HESTON
Daily Inter Lake
|
January 17, 2023 12:00 AM
Montana Fish, Wildlife and Parks (FWP) is asking for feedback on a draft development plan outlining future potential upgrades for Somers Beach State Park, which formally opened to the public in May 2022.
The agency's draft plan looks to make interim amenities established in March 2022 permanent and outlines proposals for further attractions, via three alternative proposals, at the state park located on the north shore of Flathead Lake. Those improvements include restrooms, administrative buildings and host sites, among others.
FWP officials said in a press release that the plan builds on public input collected last year. Much of the 106-acre beach property, however, will "remain undeveloped in its natural state," officials said.
Other ideas include the development of land- and water-based amenities, like overnight accommodations, launch sites for hand-carried boats, picnic and group-use shelters. Residents can also weigh in on a "No Action" alternative that would retain the existing site setup.
FWP's preferred alternative would allow overnight stay at three cabins on the park's west side and see six small tent pads on its east side. The former lodgings could be reserved through the state park's reservation system while the tent pads would be available on a first-come, first-served basis for those arriving by non-motorized means (think on foot, bike, canoe or kayak). Day-use amenities would include group-use shelters, a natural playground and trail access.
A virtual informational meeting on the development plan is scheduled for Jan. 24. FWP officials will go over the proposals and take questions. For more information, go to: https://fwp.mt.gov/stateparks/somers-beach-planning-project.
About $2 million was set aside for the park project, the money coming from a combination of funds authorized by the 2021 Montana Legislature and donations made via the Flathead Land Trust and Montana State Parks Foundation, according to the development proposal's draft environmental assessment.
According to the proposal, FWP's developments will be done "in a manner that is sustainable and causes no significant adverse impacts to the human or physical environments." Agency officials said that the intent of this development is to "guide and enhance" use to minimize visitor impacts and increase conservation efforts.
FWP acquired the property in Oct. 2021. The area is home to flat, sandy beaches as well as rocky shoreline, extensive wetlands, riparian areas, grassy inlands and more. About 2,400 acres along the north shore of Flathead Lake are protected by agencies like FWP, as well as private conservation easements.
The public comment period will end on Feb. 13 at 5 p.m. Comments can be sent to Somers Beach State Park Development Proposal AE; Montana Fish, Wildlife, and Parks; 490 N. Meridian Road; Kalispell, MT 59901, via email to stevie.burton@mt.gov, or online at https://fwp.mt.gov/public-notices/news/2023/jan/sbspdevdraftea.
Reporter Kate Heston can be reached at kheston@dailyinterlake.com or at 758-4459.
Recent Headlines
---