Columbia Falls to host upcoming skijoring event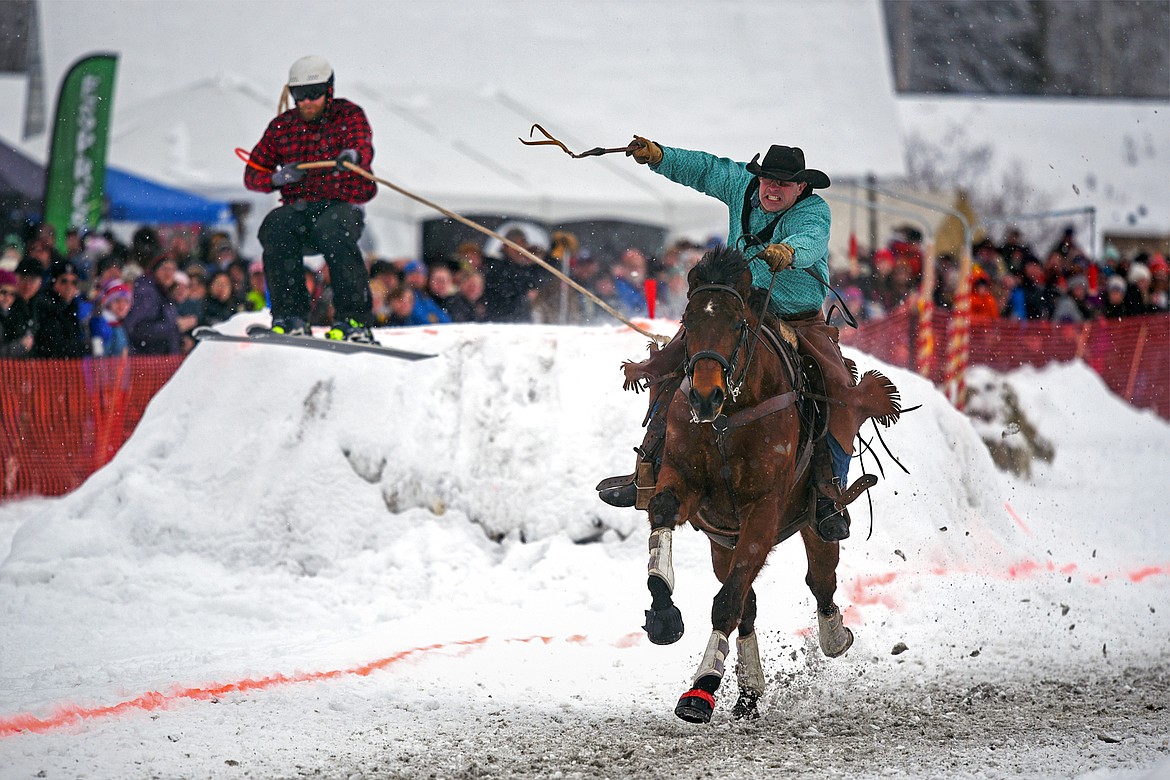 A horse and rider pull a skier through the course at Whitefish Skijoring at Big Mountain Ranch on Saturday. (Casey Kreider/Daily Inter Lake)
by
CHRIS PETERSON
Hungry Horse News
|
January 19, 2023 12:00 AM
Skijoring is coming to Columbia Falls.
The annual Whitefish skijoring competition will be held Jan. 28-29 at the Sapa family farm off U.S. 2 near the Blue Moon this year. President Leah Mitchell said the event was unable to secure a location in the Whitefish area and the Sapa family was able to host the event.
Skijoring is a competition where racers on skis are pulled by a horse and rider over jumps and around turns. The rope can be no longer than 50 feet and skiers must have at least one ski on and being standing upright when they cross the finish line, Mitchell explained.
The horse of choice is typically a quarter horse with special shoes that keep the horse from slipping. Mitchell said some teams, however, have been using retired standard bred race horses as well.
The event is expected to draw both local and national competitors. Some professionals tour the U.S. attending competitions across the West. One team from southern Colorado will travel to the Flathead to compete in this race, Mitchell noted.
The event for racers kicks off Friday, Jan. 27 with live registration at the Blue Moon from 6 to 9 p.m., with live music and dancing afterward.
On Saturday, Jan. 28, the gates open at 10:30 a.m. Tickets are $10 per person, with children under 12 free. Opening ceremonies are 11:30 a.m. and races start at noon and will run until 4 p.m. or later.
There's a Calcutta at the Blue Moon from 7 to 9 p.m. where people can "buy" teams for the final races on Sunday, Jan. 29. Race times and gate openings are the same as Saturday.
There will be food trucks and adult and soft beverages available at the venue as well as fire pits to keep people warm.
The races are broken into classes, including novice, sport and pro, with an estimated total purse of $30,000.
"It's our own Montana extreme winter games, with drinks, food, fire, horses and skiers," Mitchell said.
The event is sponsored in part by NuWest Builders, Logan Health and Republic Services. To learn more or sign up, visit: www.whitefishskijoring.org
Recent Headlines
---