Crypto company with mine in Columbia Falls accused of fraud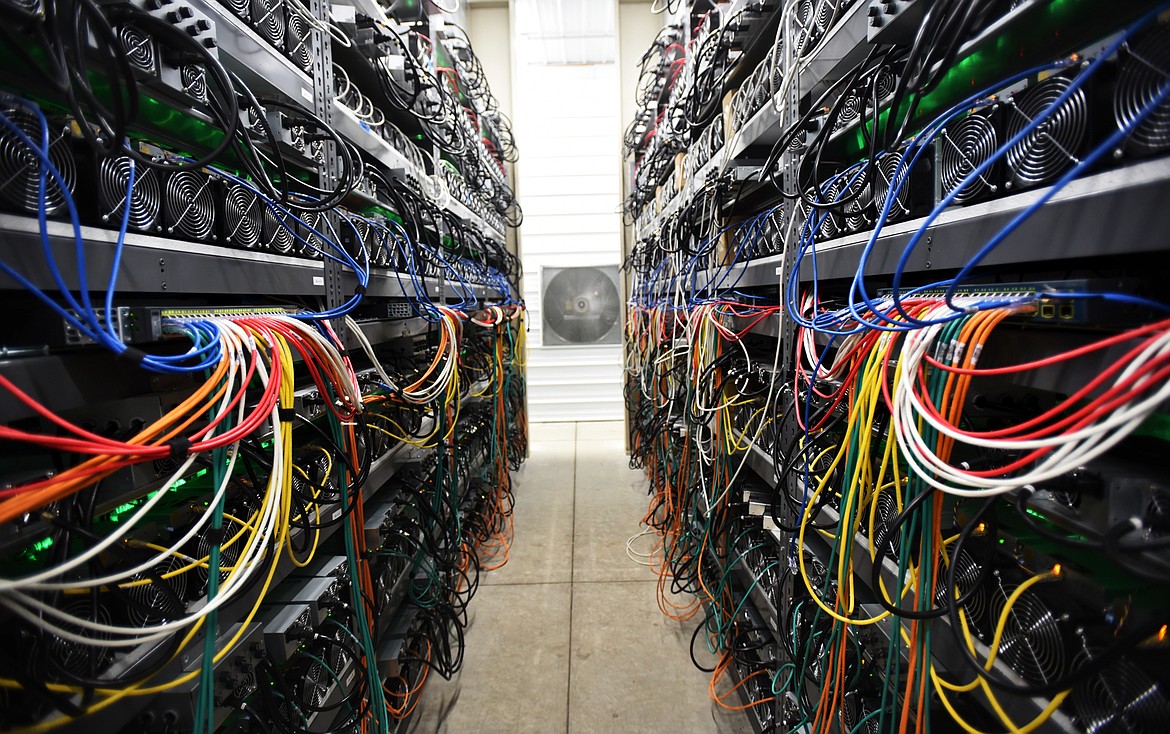 A former worker at a Columbia Falls bitcoin mining facility says power to the structure has been cut off and the computers removed.
by
ADRIAN KNOWLER
Reporter
|
January 19, 2023 12:00 AM
A cryptocurrency company with a bitcoin mining center in Columbia Falls is facing multiple class-action lawsuits alleging that it defrauded millions of dollars from thousands of investors in a "massive Ponzi scheme."
Class-action lawsuits alleging racketeering and securities fraud violations have been filed in Delaware and Pennsylvania in federal courts against Philadelphia-based VBit Technologies. Plaintiffs in both cases are seeking to recover their investments, which often totaled tens or hundreds of thousands of dollars.
The company claimed to sell bitcoin mining computers and offer setup and maintenance services at various data centers, including in Columbia Falls. The Montana facility is the only such building that could be linked to the company through property records.
The lawsuits allege VBit lied about the extent of their products and services. Instead of using customer money for computers and electricity costs as advertised, investors accuse the company of simply shuffling investor funds around to create the appearance of legitimate cryptocurrency returns.
Investors accuse founder and former CEO Don Vo of being a conman who posed as a high-tech guru.
Investor Stephen Ranieri of Las Vegas paid VBit $50,000 for its "Black Diamond" package and then $3,000 each month to maintain computers that company records filed with court documents claim were his wholly-owned property. In all, Ranieri estimated his investment at more than $80,000. The named plaintiffs, Michael Eichler and Morgan Huntley, each invested tens of thousands of dollars, with Huntley's suit claiming he put more than $200,000 into the scheme in purported hardware and hosting fees.
Ranieri doesn't expect to see the money again, though he is working with lawyers to recoup his investment.
"It'd be nice," Ranieri said in a phone interview. "But I'm not counting on it."
Ranieri said he got suspicious when the company issued a press release claiming a merger with Advanced Mining, a supposed Chinese company. The existence of the purported buyer and new CEO Lillian Zhou could not be verified. Plaintiffs allege Advanced Mining is a "complete sham."
Investors claim the merger was a misdirection concocted to dodge accountability and provide Vo with an exit strategy.
Later communications from the company confirmed that VBit was simply doing business as Advanced Mining.
After the announcement, Vo updated his LinkedIn profile to say "retired, for now," and stopped responding to investor inquiries.
Ranieri got even more concerned when the company blocked customer withdrawals, a move he now says points to an "obvious pyramid scheme."
Ranieri believes last year's bitcoin crash toppled the pyramid.
"I think this was always their plan, to be honest," Ranieri said. "If the price didn't come down, they could have sustained it for a while longer."
REAL ESTATE RECORDS show that VBit closed the deal on the Columbia Falls location in March 2021. Although neighbors say a vehicle has been seen visiting the data center regularly, it is unclear if the server farm is still in operation.
The company did not respond to requests about the Montana property, and their office phone number has been disconnected.
Cryptocurrency mining centers are notorious for using a tremendous amount of power, but Flathead Electric Cooperative declined to share electricity usage that could reveal continued operations, citing privacy concerns.
The previous owners described the facility as having a 3.8 megawatt capacity, meaning that it could consume as much electricity as would normally power 3,800 homes in the Flathead Valley.
Jin Gao, named as a defendant in the lawsuits as VBit's vice chairman, could not confirm if the data center is still running. When asked via email, Gao denied currently working for the company.
A February 2021 video obtained by the Inter Lake shows Gao with VBit founder Vo unpacking computers at the Montana facility. The video was circulated to investors, with VBit showing off its new property as evidence of a thriving crypto enterprise.
The video also shows Teakettle Mining founder Jeff Russell, who sold the Columbia Falls facility to VBit, setting up computers for Vo and Gao.
"Say hi, Jeff," says Gao, holding the camera.
"Hi, Jeff!" Russell jokes as he types on a laptop.
Russell opened the facility in 2018, the first such crypto mine in the Flathead. While operating the mine, Russell also worked as head of IT at Logan Health Whitefish, then known as North Valley Hospital.
Russell said via email that he offered his tech skills to VBit following the sale, but they declined his services.
A tweet from Russell's Teakettle Mining Twitter account welcomes VBit to the facility in December 2020. Real estate records show Russell listed the property for sale in August of that year.
Russell confirmed by email that VBit leased the building for three months prior to finalizing the sale.
An October 2021 video shared with the Inter Lake shows Vo making a speech at a Flathead Valley restaurant, and records show that the company organized a trip for affiliates to Columbia Falls to tour their new property.
The company claimed to organize a tour of their purported Canada facility, but then canceled the trip, citing "Covid restrictions."
Marketing materials also claimed mines in Kazakhstan and Colorado, but the company never provided any evidence to support the claims.
VBIT EMPLOYED multi-level marketing techniques to drive sales, and aimed their services at immigrants and older, less tech-savvy customers. Vo claimed in interviews with industry outlets that he was trying to make crypto investment more accessible for marginalized communities.
"It doesn't matter where you're from or how old you are," Vo said in a YouTube video. "I have built a system so easy to use that anyone can use it to build their wealth. So, are you ready to transform your life?"
A blog post on Advanced Mining's website attempts to placate customers, saying that "Bitcoin mining is not a Ponzi scheme," but then goes on to warn customers against shady crypto companies.
"Absurd promises are likely to be scams seeking to prey on the naivety of some bitcoin enthusiasts," the post reads.
VBit sales videos promised bonuses for "affiliates" who referred other customers to the company, including in cash, designer clothes and watches, and luxury vacations.
A YouTube video uploaded by VBit customer and affiliate Skip McCoy shows Vo and Gao presenting two matching BMW convertibles — each valued at $55,000 — to McCoy and Erlinda Truitt. Both had achieved sales goals of at least $3 million and risen to the level of "National Leader."
The company goes on to defend their multi-level marketing model: "Network marketing or affiliate program is a tried and tested marketing strategy. Unfortunately, some entities have used it to nefarious ends."
IN JULY 2020, VBit entered into a consent order with the Washington State Department of Financial Institutions (DFI) banning them from selling unregistered securities in the state and ordering them to refund all Washington-based customers.
According to Adam Yeaton, the DFI attorney who drafted the order, the company stopped selling in Washington but continued doing business elsewhere. Their investigation did not look into the underlying mining contracts themselves, because the regulator felt that the contracts as advertised constituted securities.
In a June 2022 email, VBit, representing itself as Advanced Mining, said that they were no longer able to operate in the United States because the U.S. Securities and Exchange Commission also deemed their products to be unregistered securities.
Montana Securities and Insurance Commissioner Troy Downing said after reviewing the Washington consent order that he felt that VBit's services would indeed constitute a securities contract. Downing said a review of their database found that VBit had not registered those contracts with the state.
Downing would not confirm if there was any open investigation into the company, but urged Montana-based investors to contact the commission if they had concerns.
Ranieri set up a chat group for frustrated investors on the encrypted messaging service Telegram after the official VBit channel was shut down because of the slew of complaints and refund requests.
In the group, investors say they've filed complaints against the company with multiple law enforcement agencies, including the SECs in New Jersey, Pennsylvania and Delaware, as well as the Federal Trade Commission, the Commodities Futures Trading Commission and the FBI.
A group member who wished to only be identified as "J" blasted Vo in the channel.
"Still in utter disbelief over the exploitation of all the people involved, even his partners, employees and affiliates," J wrote. "Some people value the bag over their integrity."
Reporter Adrian Knowler can be reached at 758-4407 or aknowler@dailyinterlake.com.
Recent Headlines
---