Girls dual provides the crosstown drama on Braves' home mat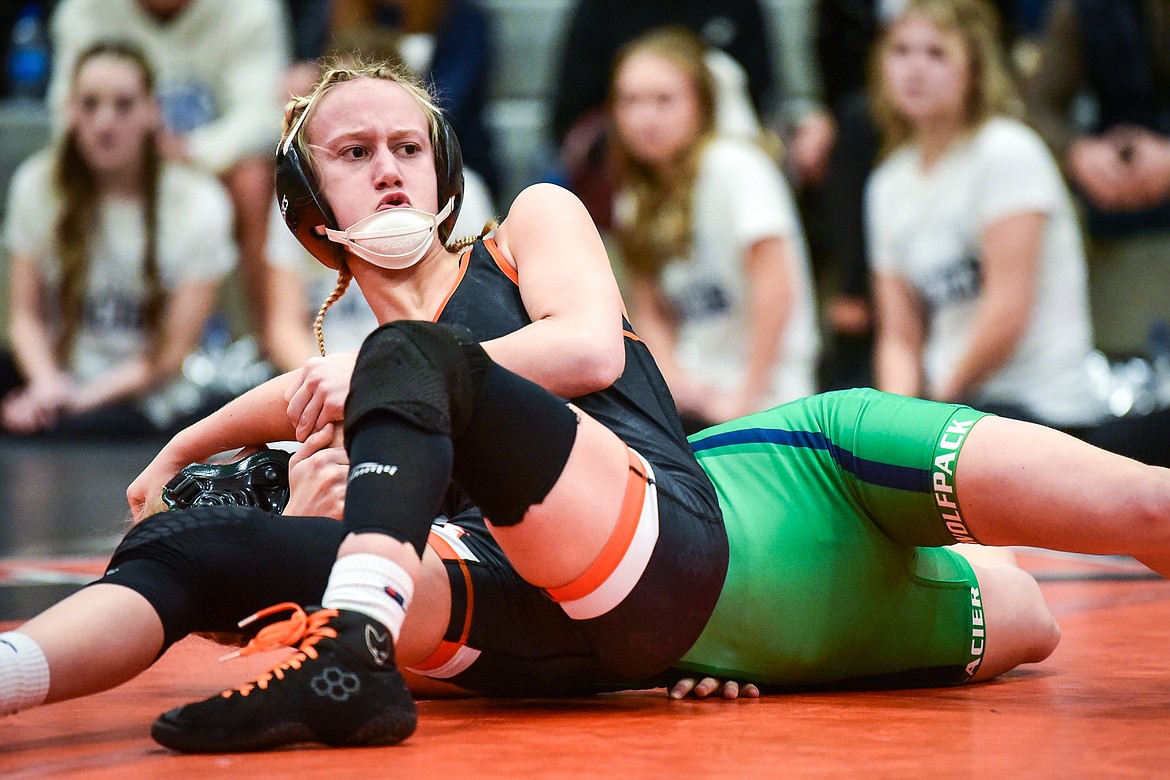 Flathead's Reina Koehler wrestles Glacier's Katelyn Sphuler at 100 pounds during crosstown wrestling at Flathead High School on Thursday, Jan. 19. Koehler won by decision 14-6. (Casey Kreider/Daily Inter Lake)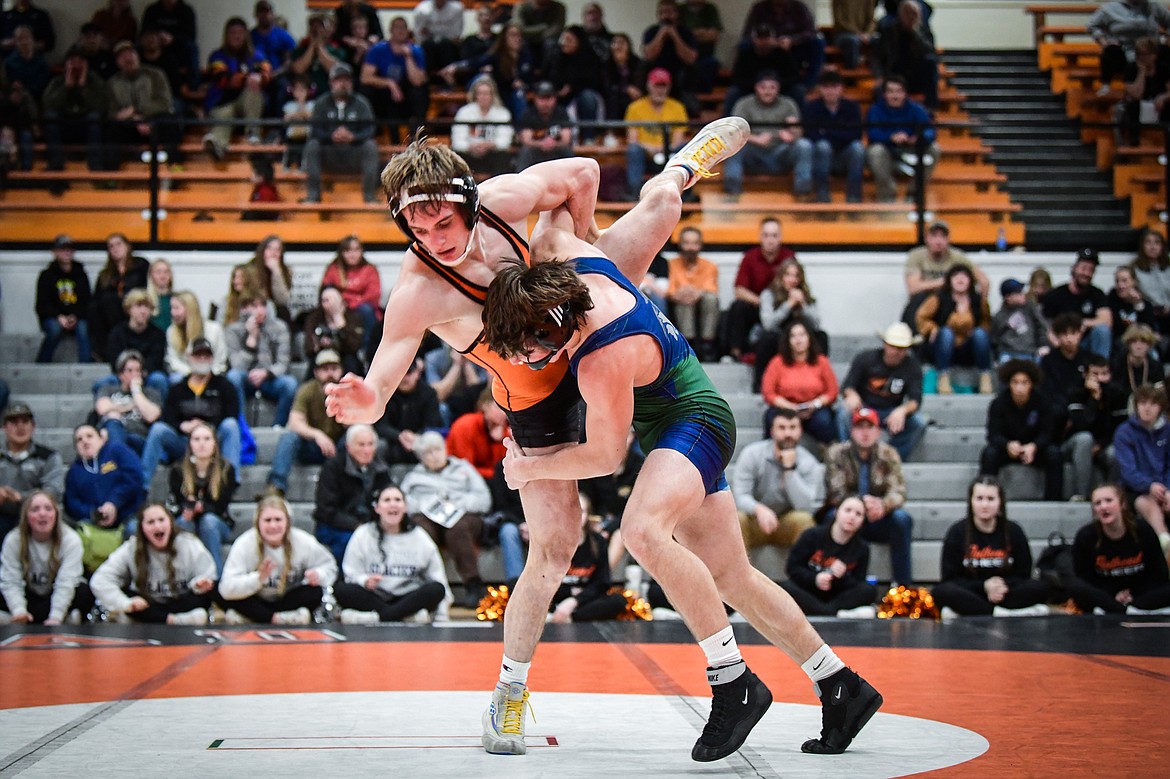 Glacier's Kaleb Shine takes Flathead's Cade Troupe to the mat at 152 pounds during crosstown wrestling at Flathead High School on Thursday, Jan. 19. Shine won by decision 11-4. (Casey Kreider/Daily Inter Lake)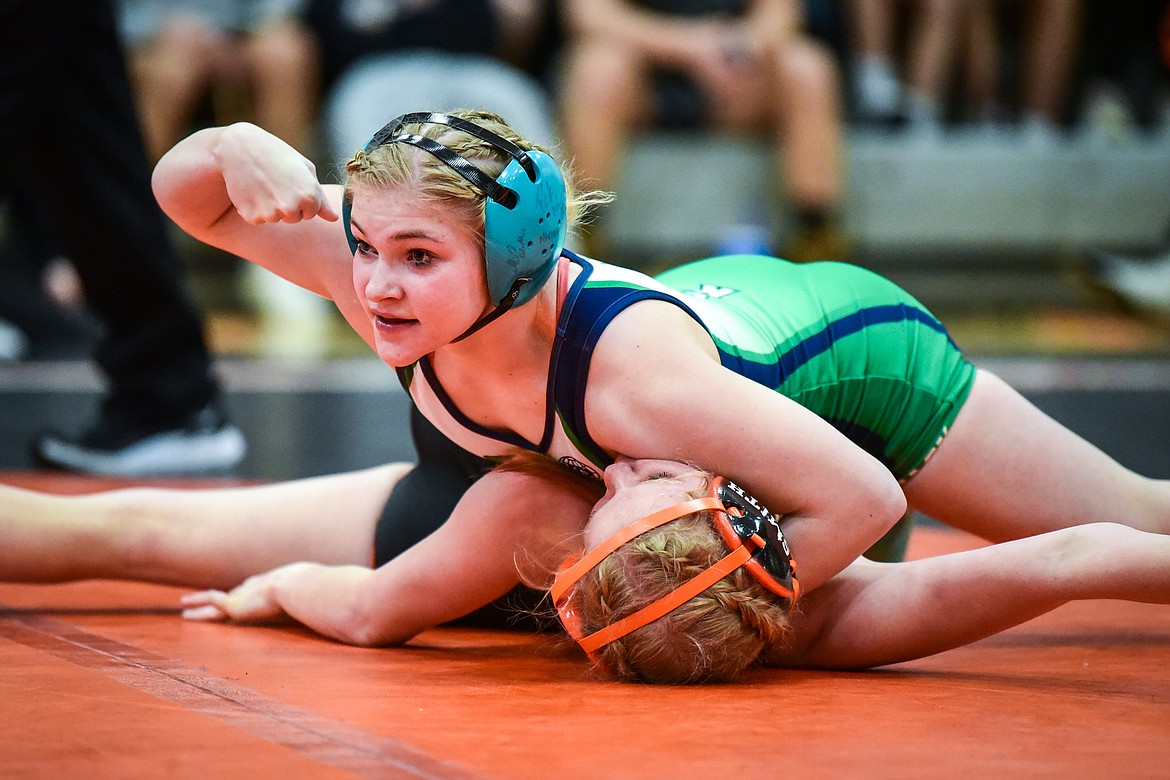 Glacier's Brooke Yeadon pins Flathead's Lohla Helpenstill at 107 pounds during crosstown wrestling at Flathead High School on Thursday, Jan. 19. (Casey Kreider/Daily Inter Lake)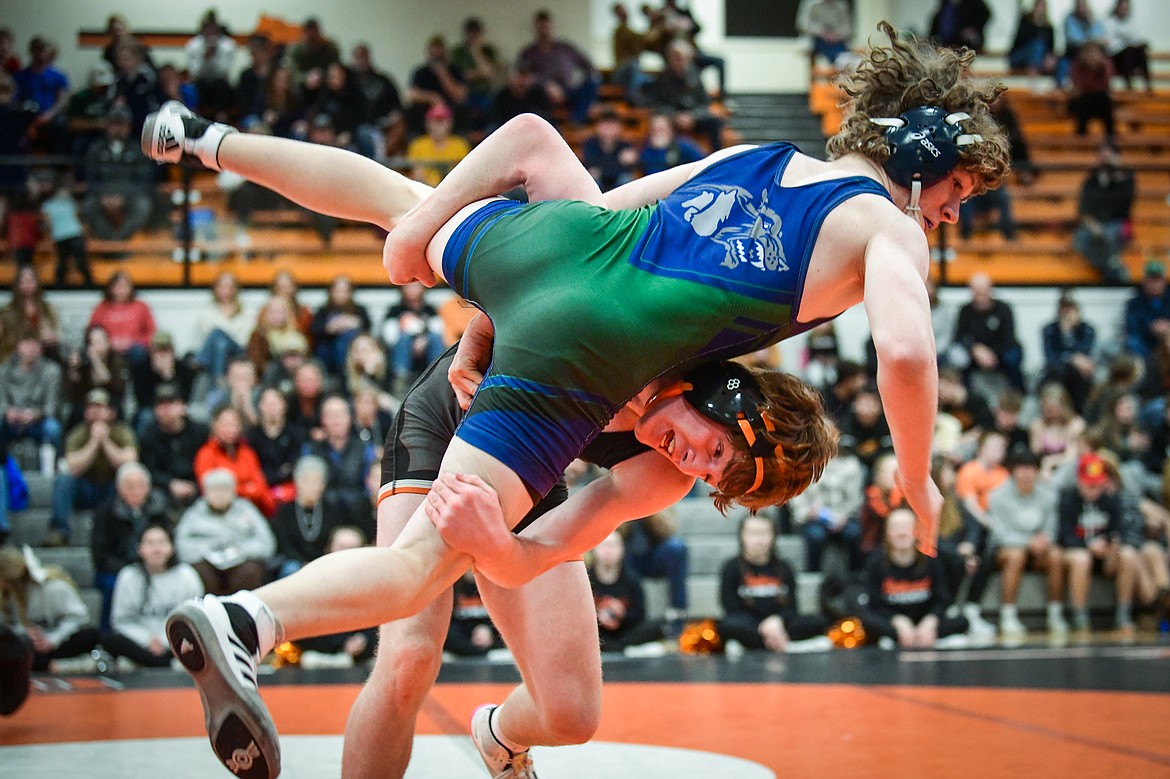 Flathead's Logan Stansberry takes Glacier's Korbin Baldwin to the mat at 145 pounds during crosstown wrestling at Flathead High School on Thursday, Jan. 19. Stansberry won by pin.(Casey Kreider/Daily Inter Lake)
Previous
Next
by
FRITZ NEIGHBOR
Daily Inter Lake
|
January 19, 2023 11:55 PM
The Crosstown wrestling dual pretty much packed the Flathead High School gym Thursday; bringing a little extra heat were the girls.
Before the top-ranked Flathead Brave Brawlers dispatched undermanned Glacier 58-15, the Bravettes prevailed 40-29 over the Wolfpack.
The girls dual started with a crowd-pleasing match at 120 pounds, where Flathead's Trinity Boivin trailed Glacier's Temree Payne-Taylor 11-6 before scoring a pin in 3 minutes, 54 seconds.
The Bravettes, getting pins from Bella Downing at 126 and Peyton Walker at 132, ran out to a 24-0 lead.
But Jasmine Cartwright (145) and Madisyn Frazier (152) scored pins for Glacier, and it took Reina Kohler's major decision over Katelyn Sphuler at 100 to clinch the dual win.
Flathead girls coach Amber Downing noted Kohler is a second-year wrestler, and a senior who cut to get in the lineup.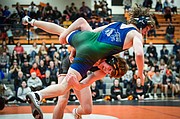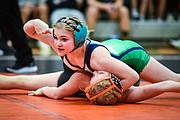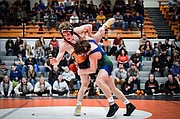 "We had a pretty thick lineup at 107," Downing said. "And she said, 'You know what, I'm willing to do the grind and get down to 100. Every single match and every single tournament she's working hard."
Kohler used a head-and-arm — "We have a love-hate relationship with that move, with a lot of our girls, and she did a great job," Downing said — to jump ahead 5-0. Sphuler battled, getting a pair of reversals before the match ended.
Glacier's Brooke Yeadon and Ariana Conklin then scored pins to end the action.
"Overall girls wrestling has come so far," Flathead assistant Sully Sullivan noted. "Two years ago we beat them 70-something to six. This was a dual that could have gone either way tonight, our girls did a good job and their girls have come so far. Their coaches have done a great job."
"I'm so proud of our girls," Glacier coach Ross Dankers said. "They have just soaked up every type of technique. They are tough as nails. In tough situations, they are battling.
"You look at Sphuler, starting wrestling this year and battling like crazy at 100. Temree is in a match, in charge, and ends up getting put to her back, and that's a big swing match.
"But these girls, I'm so proud of them — they work so hard, and man, I'Im looking forward to the end of the year with them."
The boys dual had forfeits at six of 14 weight classes, with Glacier scoring two at 132 and heavyweight. The other win came in the night's marquee match at 152, where the Wolfpack's Kaleb Shine outscored Flathead's Troupe 11-4.
Troupe came in as the top-ranked AA wrestler at his weight, but never led.
"I thought Shine was able to get the tie-ups he wanted, and was able to kind of dictate the tempo on the feet," Dankers said.
Flathead coach Jeff Thompson wasn't pleased that the first-ever meeting of the two went Glacier's way. "(Cade) needs to be more mentally ready coming out of the gate," Thompson said. "But Kaleb, my hat goes off to him, he wrestled a great match. Great strategy. Wrestled against Cade's style, and now we just hope we get another shot at him this weekend at the AA Duals."
Behind that, things went about how you'd expect. Four of Glacier's best didn't wrestle.
"Learning experience for a lot of young kids," Dankers said. "It was good to have them get experience in that environment. We had some injuries, some family stuff going on, that sort of stuff."
Both boys teams head to Great Falls for the AA Duals this weekend. The girls teams have duals with the Helena schools next weekend. May they provide as much drama then.
"It was a great show for the home crowd tonight," Downing said.
GIRLS
Flathead 40, Glacier 29*
100 — Reina Kohler, Flathead, maj. dec. Katelyn Sphuler 14-6. 107 — Brooke Yeadon, Glacier, p. Lohla Helpenstill, 1:22. 114 — Ariana Conklin, Glacier, p. Skye Shelmerdine, 1:44. 120 — Trinity Boivin, Flathead, p. Temree Payne-Taylor 3:54. 126 — Bella Downing, Flathead, p. Jessalyn Hewitt 1:57. 132 — Peyton Walker, Flathead, p. Caitie Sistok 1:55. 138 — Hannah Buckner, Flathead, won by forfeit; 145 — Jasmine Cartwright, Glacier, p. Alivia Rinehart, 4:08. 152 — Madisyn Frazier, Glacier, p. Bridget Smith 1:27. 165 — Ava Griswold, Flathead, p. Kelsey Bryant, 1:13. 185 — Leah Esser, Glacier, won by forfeit. 235 — Lucie Libby, Flathead, won by forfeit.
*-Glacier was penalized a team point at 114.
BOYS
Flathead 58, Glacier 15*
103 — Dayton Naldret, Flathead, won by forfeit. 113 — Diesel Thompson, Flathead, tech.fall Tyler Jorgenson, 19-4. 120 — Will Barnes, Flathead, won by forfeit. 126 — Aiden Downing, Flhatead, p. Peyton Steib, :18. 132 — Teagan Vasquez, Glacier, won by forfeit. 138 — Dane Lake, Flathead, p. Jackson Wolff, 1:32. 145 — Logan Stansberry, Flathead, p. Korbin Baldwin, 5:37. 152 — Kaleb Shine, Glacier, dec. Cade Troupe 11-4; 160 — Gabe Lake, Flathead, p. Mark Ahner 1:40. 170 — Anders Thompson, Flathead, won by forfeit. 182 — Noah Poe-Hatten, Flathead, p. Noah Horn, 2:16. 205 — Sawyer Troupe, Flathead, won by forfeit. Hwt — Colton Vergeront, Glacier, won by forfeit.
*Flathead was penalized a team point at 152.
Recent Headlines
---