Kalispell City Council to discuss ordinances tightening rules at public parks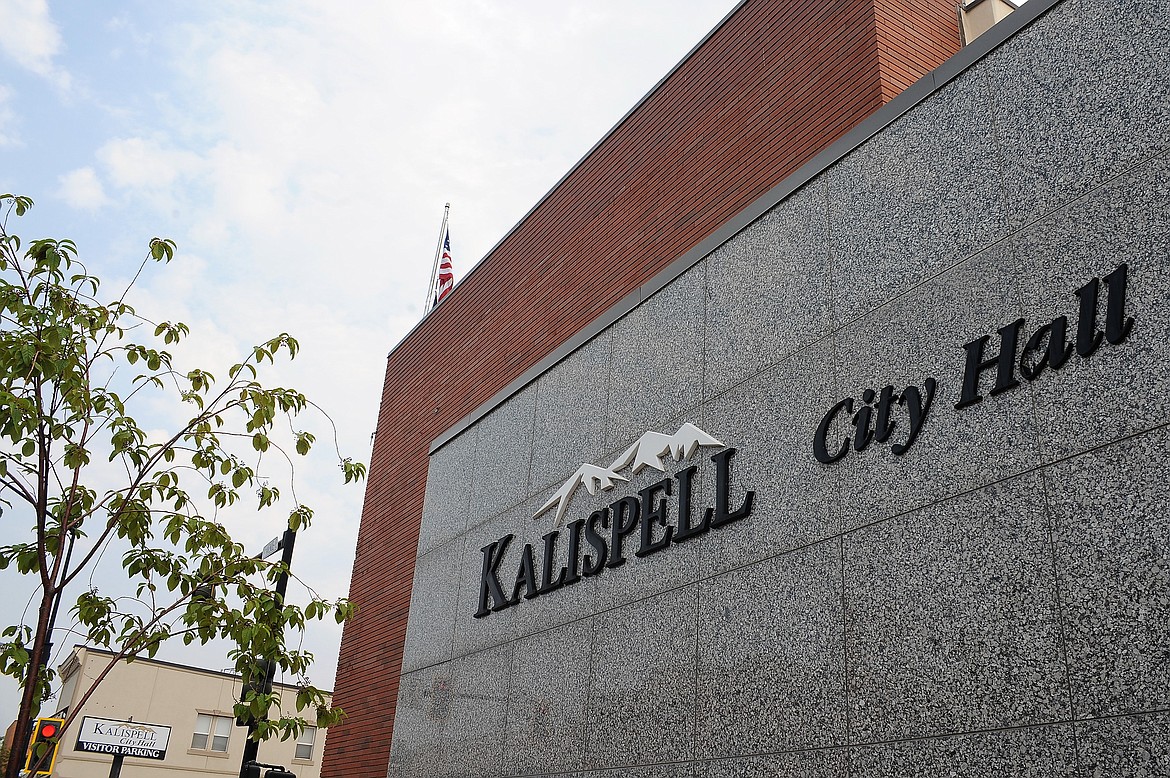 Kalispell City Hall is seen at the corner of First Avenue East and Second Street East in this July 21, 2021, file photo. (Chad Sokol/Daily Inter Lake)
by
ADRIAN KNOWLER
Daily Inter Lake
|
January 23, 2023 12:00 AM
Responding to complaints about the presence of homeless people, Kalispell City Council will consider ordinances limiting access and use of public parks at its Monday work session.
The council will discuss an ordinance that would make it "unlawful to place or receive personal property at public facilities outside of a special event or reservation" and another that would limit the time that an individual or group could "occupy the same park amenity" without a permit.
Council will meet at 7 p.m. in City Hall, 201 First Ave. E. The meeting can also be attended via Zoom.
In a memo to Council, City Manager Doug Russell wrote that officials are bringing these options forward to address what he describes as an encampment of homeless people at the Depot Park gazebo.
The gazebo and the pavilion in Woodland Park were indefinitely closed to the public last week as a result of complaints concerning the homeless people frequenting the structures. Russell said in a recent interview that the city made the decision to best serve the entire community while the council weighs the new ordinances, which could take around 45 days to implement.
In the memo, Russell writes that the city has received complaints about "disorderly conduct, public alcohol consumption, public nudity, public urination [and defecation]." Those activities, however, already are addressed by existing municipal or county ordinances.
Councilor Ryan Hunter declined to say how he will vote Monday, but said he is concerned that a ban on personal property in the parks would be selectively enforced against homeless people.
"Would my family be in violation of this ordinance for having a picnic?" Hunter said. "In reality, we all know we wouldn't be approached by police, because that's not what the ordinance is intended for."
Referring to a potential ordinance that would limit the time people can spend in a parks facility to 90 minutes, Russell wrote that the city allowing homeless people thus far to use the gazebo for extended periods actually constitutes a kind of preferential treatment.
In the memo, Russell refers to the homeless population that gather in the gazebo as a "group," that lack permits for its extended use.
The Parks and Recreation Department website defines groups that are required to apply for a permit as "family gatherings, weddings, company picnics, sports events, booths and vendor set up, music functions and community events."
Russell noted that the policies are designed to avoid infringing "on constitutional rights."
Reporter Adrian Knowler can be reached at 758-4407 or aknowler@dailyinterlake.com.
Recent Headlines
---