Bill allowing for death certificates for miscarriages passes committee after tweaks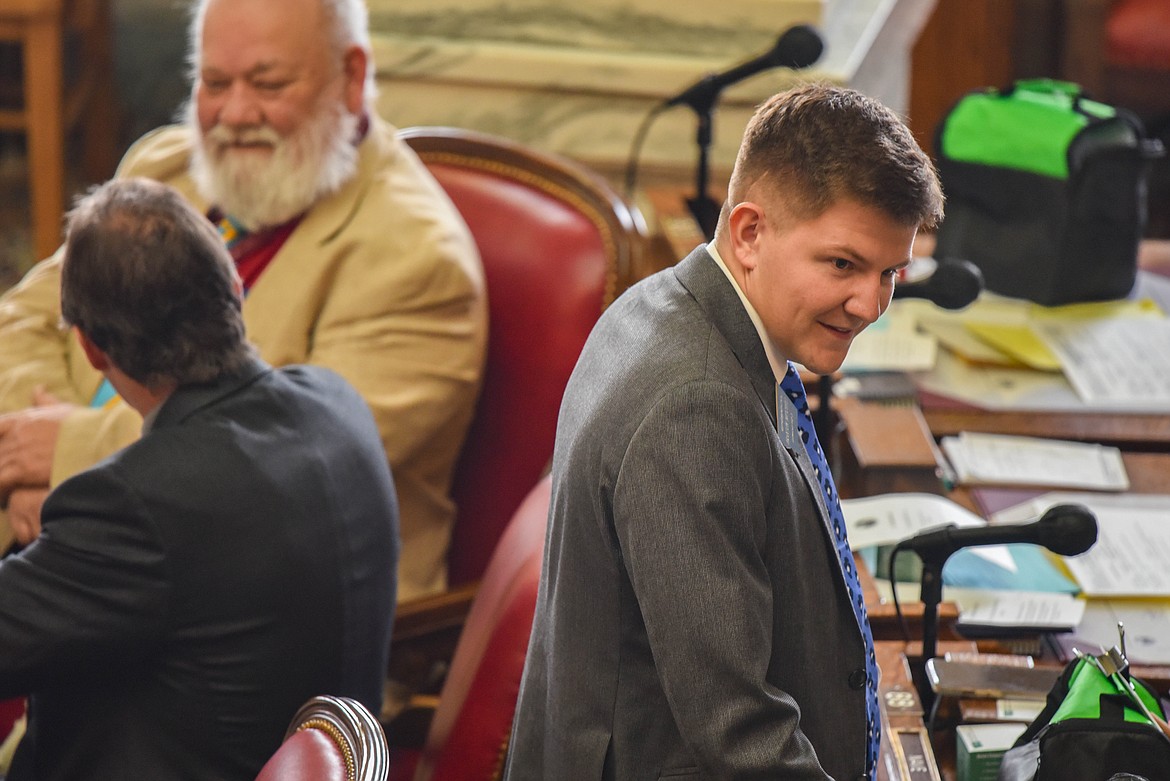 Rep. Braxton Mitchell, R-Columbia Falls, is seen before a Montana House Session on Jan, 19, 2023. (Kate Heston/Daily Inter Lake)
by
KATE HESTON
Daily Inter Lake
|
January 25, 2023 12:00 AM
Legislation allowing families to request a death certificate for miscarriages met with approval in the House Judiciary Committee on Monday after a week of discussion and edits.
Sponsored by Rep. Braxton Mitchell, R-Columbia Falls, the bill initially met with vociferous opposition. Critics blasted the bill during its first hearing in the Judiciary Committee on Jan. 16, specifically regarding a section requiring death certificates for fetuses that had not reached 20 weeks.
Currently, the law shows that a fetus has to be a certain weight — 350 grams — or has completed 20 weeks of gestation to require a death certificate. The now-discarded portion, known as Section 3, would have mandated reporting of all failed pregnancies, at any stage.
Mitchell said during the Jan. 16 hearing that the legislation is modeled after successful efforts in other states such as Iowa and Florida. He also downplayed the proposed changes included in Section 3.
"It was not my intention with Section 3 to strike that out," Mitchell said during the hearing. "I really wasn't sure what specifically that was doing there, the main intention was Section 1."
The bill was amended in committee on Jan. 19 to remove the section requiring reporting of all failed pregnancies in its entirety. The amended version passed the Judiciary Committee on Jan. 23.
Section 1, according to Mitchell and other proponents, is meant to grant closure to families after experiencing a failed pregnancy by allowing them to request a death certificate. The proposed changes in Section 3, however, would have forced parents and physicians to submit information to the state, including the cause of death, which is unknown for many miscarriages, especially those occurring before 20 weeks.
"Pregnancy loss prior to 20 weeks is an extremely common occurrence," Tim Mitchell, a maternal-fetal medicine specialist said in his testimony against the bill. "It is estimated that 15-30% of all pregnancies end in a miscarriage, the vast majority of those occur prior to 20 weeks."
Some opponents argued that Section 3 was an attempt to attribute personhood to a fetus amid the debate around abortion in the state. There were also issues regarding privacy and medical information sharing, according to testimony from Robin Turner with the ACLU of Montana.
Others testified to the effect of mandated reporting.
"I do not want people to have access to that record," said Jean Branscum, the CEO of the Montana Medical Association, referring to her own miscarriage.

Kate Heston can be reached at kheston@dailyinterlake.com.
Recent Headlines
---