Glacier reservations available starting Feb. 1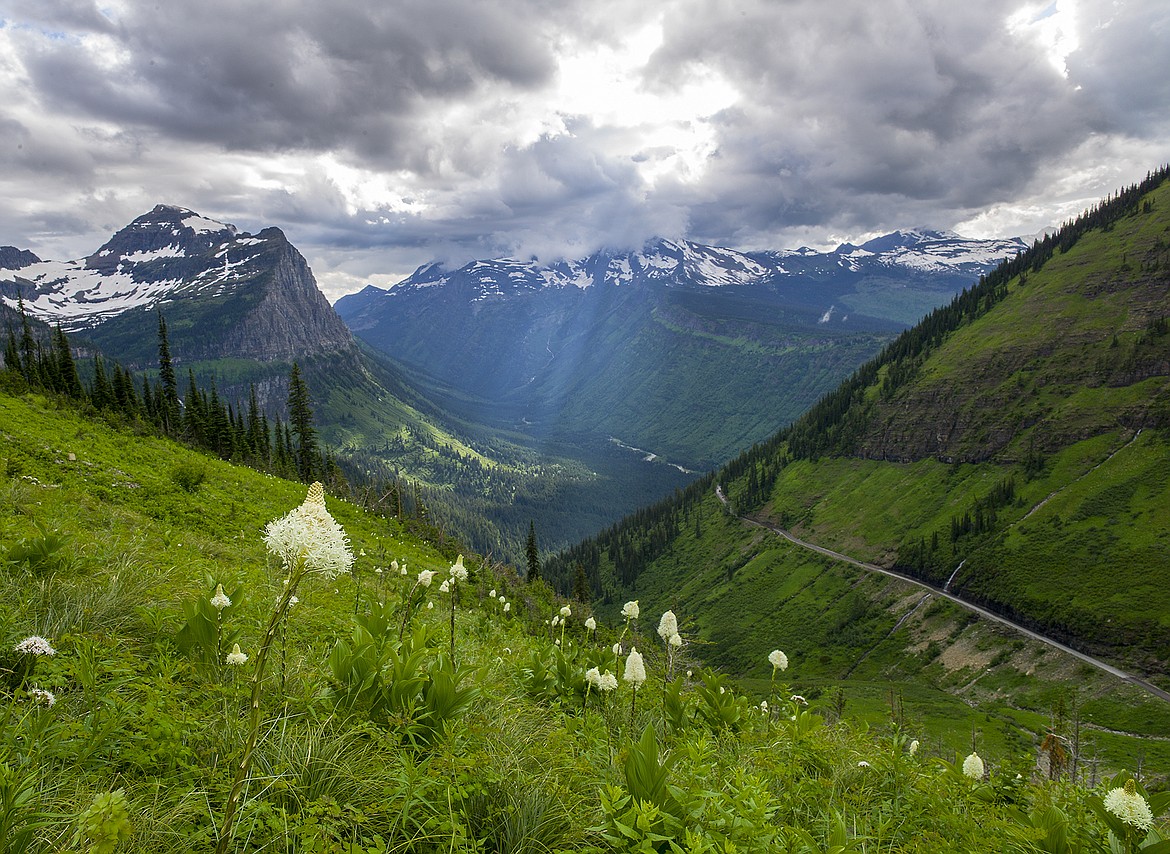 Bear grass blooms as the Sun Road snakes below in Glacier National Park last week.
by
CHRIS PETERSON
Hungry Horse News
|
January 26, 2023 12:05 AM
The first block of reservations to access Glacier National Park's Going-to-the-Sun Road and the North Fork during the 2023 summer season will become available next week.
Tickets go on sale at Recreation.gov at 8 a.m. Mountain Time on Feb. 1.
The round of reservations will be available to enter Going-to-the-Sun Road and the North Fork from May 26 through June 30. This year Glacier is releasing them in blocks, rather than on a rolling day-to- day basis as in previous years.
The next release will occur on March 1 for July 1-31, including the reservation areas for Going-to-the-Sun Road, North Fork, Two Medicine and Many Glacier.
On April 1 reservations will be available for all areas for Aug. 1-31. On May 1, reservations will be available for all areas for Sept. 1-10.
Like last year, a portion of reservations for all areas of the park will be available on a rolling basis at 8 a.m., 24-hours in advance. Those last minute reservations, however, can prove extremely difficult to get.
Last year the park turned away about 400 vehicles per day on average trying to access the Sun Road without a reservation, park spokeswoman Gina Kerzman said when the reservation system was first announced in December.
This year the Park Service added reservation requirements for Two Medicine and Many Glacier July 1 through Sept. 10, from 6 a.m. to 3 p.m.
After 3 p.m. a reservation isn't needed for any entrance,
though in the past, some areas have closed if they're too crowded.
But typically by mid-afternoon crowds have dispersed somewhat in most areas of Glacier.
The park implemented the system to avoid overcrowding and system overloads at the entrances, as most people visit the park between 10 a.m. and 3 p.m.
Vehicle reservations will be available on Recreation. gov. Each of the specified areas of the park will require a separate reservation. Like last year, visitors will need to set up an account on Recreation.gov to obtain reservations. Technically, the reservations are free, but there is a $2 Recreation.gov processing fee.
Reservations for the Sun Road west entrance and east entrance after July 1 are good for three days. Other entrances are good for one day.
There are some caveats to all of this. Folks with reservations to hotels or campgrounds or guided tours do not need a reservation, for example. Vehicle reservations are not required for tribal members throughout the park or landowners inside the park.
Hikers and bikers can also walk into Glacier without a reservation, though they will need a valid entrance pass.
Adding to this is construction on the Going-to-the-Sun Road from the foot of Lake McDonald to Lake McDonald Lodge.
Visitors should anticipate up to a 30-minute wait due to construction on Going-to-the-Sun Road along Lake McDonald starting in early June.
The road in that stretch is currently closed to all use, including hiking and biking and will remain that way until the utilities project is completed, likely in late May.
That means there will be no hiker/biker access to the west side of the Going-to-the-Sun Road until at least June, which is a popular activity in the park.
Recent Headlines
---