Happy Tails provides care services for Flathead Valley dogs and cats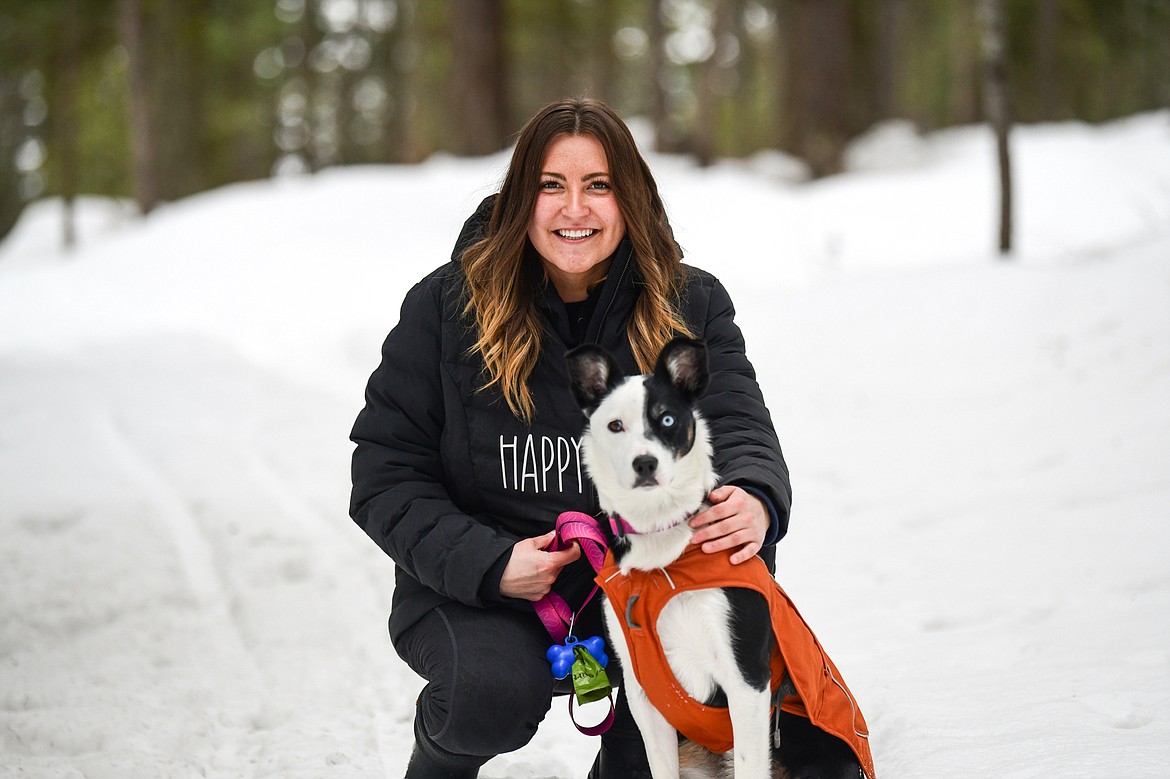 Veronica Mallery, owner of Happy Tails 406, with a client's border collie/Australian kelpie named Mara on Wednesday, Jan. 25. (Casey Kreider/Daily Inter Lake)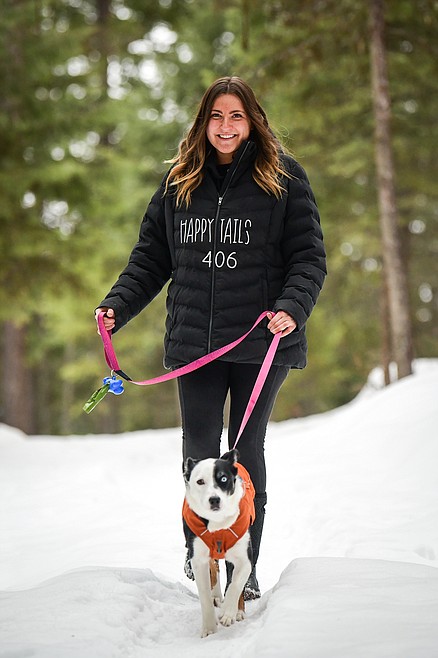 Veronica Mallery, owner of Happy Tails 406, walks a client's border collie/Australian kelpie named Mara near Whitefish on Wednesday, Jan. 25. (Casey Kreider/Daily Inter Lake)
Previous
Next
by
SUMMER ZALESKY Daily Inter Lake
|
January 29, 2023 12:00 AM
When she saw inadequate options for in-home pet care in the Flathead Valley, Veronica Mallery decided to open Happy Tails 406 providing a unique list of services to accommodate dog and cat parents.
"I really wanted to do something big for my community so once I found out that there was a lack of in-home pet services," Mallery said. "I set up a website, made some business cards, and got some regular clients going."
Mallery, 25, started Happy Tails 406 as a way to provide more convenient, and personal care for pets knowing that in-home care keeps pets in the comfort of their own home. The business assists with 15 minute potty breaks, walks, overnight care, and includes a pet taxi.
"People who work long days, like nurses, can't get home to let their pup out, so it's great that I can just let them go potty or feed them," Mallery explained. "I also do check-ins for cats where I clean their litter box, give them food, and refresh their water."
For dog walks, Mallery uses an app called Pet Check which is a barcode system that provides real-time GPS tracking, email alerts, and online tools. Pet Check allows clients to receive notes on their pet's walk as well as real time and precise coordinates of their pet.
Mallery's pet taxi idea materialized due to the limited hours of veterinarian clinics and explained that most people who work a 9 a.m. to 5 p.m. job do not have enough time to bring their pets to appointments.
"I wanted to create a pet taxi in order to bring pups to their vet appointments or pick them up from doggy daycare and bring them home," said Mallery.
As dogs are not allowed in Glacier National Park or on certain trails in the Flathead, Mallery also offers pet-sitting and dog-walking to vacationers and day-trippers.
"For people who can't take their dogs to Glacier, I can go to their vacation rental," Mallery said. "Some people just come here for the day to ski or snowboard so I want to provide a ride-around service where I keep their pup with me for a few hours while they go on the slopes."
After being in business for a year, Mallery has 30 clients and continues to receive requests almost every day. Her future plans include employing local dog and cat lovers to help her grow her business and envisions a day when Happy Tails 406 could become an employee-owned company with others who also have a passion for helping their community.
"I was really striving to become my own business owner, so I put this out there and it just took off. I love making my own schedule, getting new clients, and changing pet and parent lives everyday. It feels really good to be able to help in the areas that I'm needed."
One of her favorite clients is a border collie who is "so cute and sweet." She says the owners had a bad experience with a previous pet sitter, so she's happy to provide a service they can trust.
"I walk her almost everyday and that family is very happy to have someone trustworthy," she said. "We've built a good bond spending the last few months together and they're just really happy to be able to call me."
The name for the business is simple, Mallery said happy tails is just what happens when she's taking dog clients for a walk.
"They're just so happy and their tails are constantly wagging," he said. "It just really defines the whole of the services that I provide."
Mallery emphasized her willingness to provide tailor-made services for pet owners as she realizes that each family's needs are unique and encouraged pet owners to reach out for a meet and greet.
"I especially love helping elderly people," said Mallery. "I have a couple of clients who are in assisted living and sometimes they reach a point of not being able to give their dog the exercise that it needs. I just love that I get to spend time with animals all day. It doesn't really get better than that."
To find out more information about Happy Tails 406, visit happytails406.wordpress.com, or call Mallery at 406-285-8588.
Reporter Summer Zalesky may be reached at szalesky@dailyinterlake.com.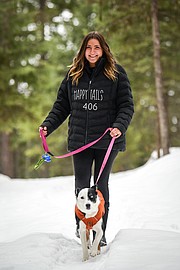 Recent Headlines
---