ImagineIF trustees hold special meeting on library security concerns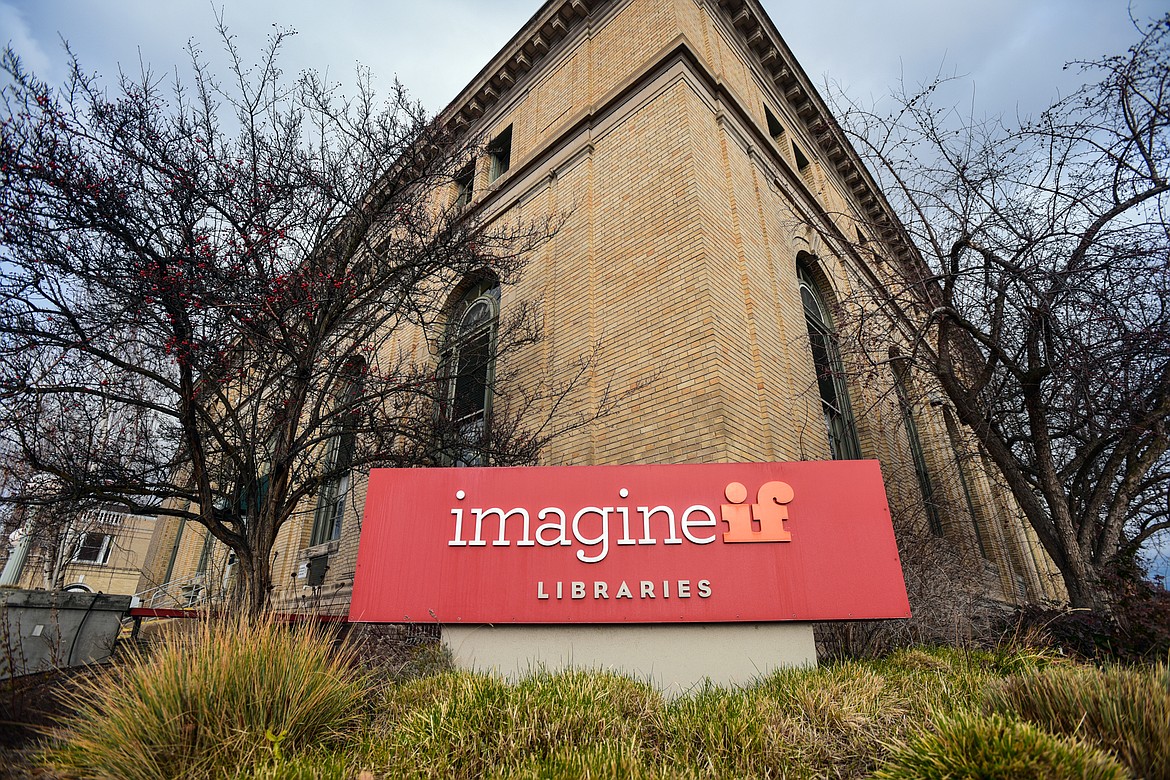 ImagineIF Library in Kalispell on Thursday, Dec. 2. (Casey Kreider/Daily Inter Lake)
by
TAYLOR INMAN
Daily Inter Lake
|
January 29, 2023 12:00 AM
The ImagineIF Library in Kalispell has seen a dramatic increase in security issues over the past several months, according to library staff. To deal with the situation, library trustees are expected to consider solutions at a special meeting on Monday.
Public Services Librarian Tony Edmundson addressed the board during its regular meeting on Thursday telling them the incident reports he has been filing are happening more often and becoming more severe in nature. Staff frequently have to bar people from library use if they break rules or act inappropriately.
"I've had more threats of physical violence — towards patron to patron or to staff. Yesterday, I made one non-emergency law enforcement call and two 911 calls. I've trespassed more people in the last six months than I have my 16 years before that," Edmondson said.
The meeting on Monday takes place in the downstairs conference room of the Kalispell library at 3:30 p.m. The agenda for the meeting includes library board action on a potential contract with a security firm and discussion on the safety and security recommendations.
Edmundson thanked staff for their willingness to go to safety trainings and look out for each other on the job. But despite being trained, it's stressful and difficult for library staff to act as "social workers or security guards on a near daily basis," when their job is to facilitate library services, he noted.
"It is taking a tremendous amount of time. The situation as it stands, the word that I hear constantly is 'that's untenable.' I spend more than half of my time right now dealing with security and safety," Edmondson said.
The rise in incident reports appear to be related to a growing homeless presence.
At a packed Kalispell City Council meeting on Jan. 23, Library Board Chair Doug Adams voiced his support for regulations the city is considering regarding use of park facilities. The draft ordinances would, if approved, would place limits on personal property, structures and cumulative time spent in parks facilities.
Adams spoke in favor of the ordinances and agreed with a recent letter from Flathead County Commissioners that placed blame on homeless shelters and outreach organizations for enabling people to "be part of the homeless lifestyle." He asked Council to consider expanding the ordinances to other parts of the city in order to ease the issues happening at the library.
DURING DISCUSSION at Thursday's meeting, Trustee Carmen Cuthbertson brought up a previous idea to only allow card holders to enter the library.
But, Edmondson said he is against the idea because it would create barriers for people to use library services. He said to be fair, library staff have to center people's behavior as a marker for whether or not they can be in the library.
At the request of the board, Library Director Ashley Cummins explained that modified library cards could be used to determine who is using the library. Currently, a library card is not required to access computers. Because of this, library staff sometimes have trouble identifying people who don't follow rules because they are not registered with the library in any way.
"There have been times when we've had to trespass people and we did not know their name. We want to call the police, we want to permanently trespass this person, but we don't know who they are. We've seen them four times this week, but we don't know who they are. So that's just one step," Cummins said.
Hiring a security guard was also discussed. Cummins said the estimate for hiring a security guard is $35 per hour for an unarmed guard and upwards of $45 an hour for an armed guard.
Cummins and Trustee Jane Wheeler spoke in opposition to having a security guard who is armed with a gun. Cummins said she would be interested if they were instead armed with mace. Adams also suggested a Taser as an alternative.
Because the option to hire private security might be too costly to have all day at the library, Cummins suggested that it would be most needed in the afternoon when they get the highest number of incident reports. This would also allow the guard to do a sweep of the building at closing and walk staff to their cars if needed — another big concern Edmondson brought up to the board.
Recent Headlines
---