Advocates ask commissioners to denounce violence against homeless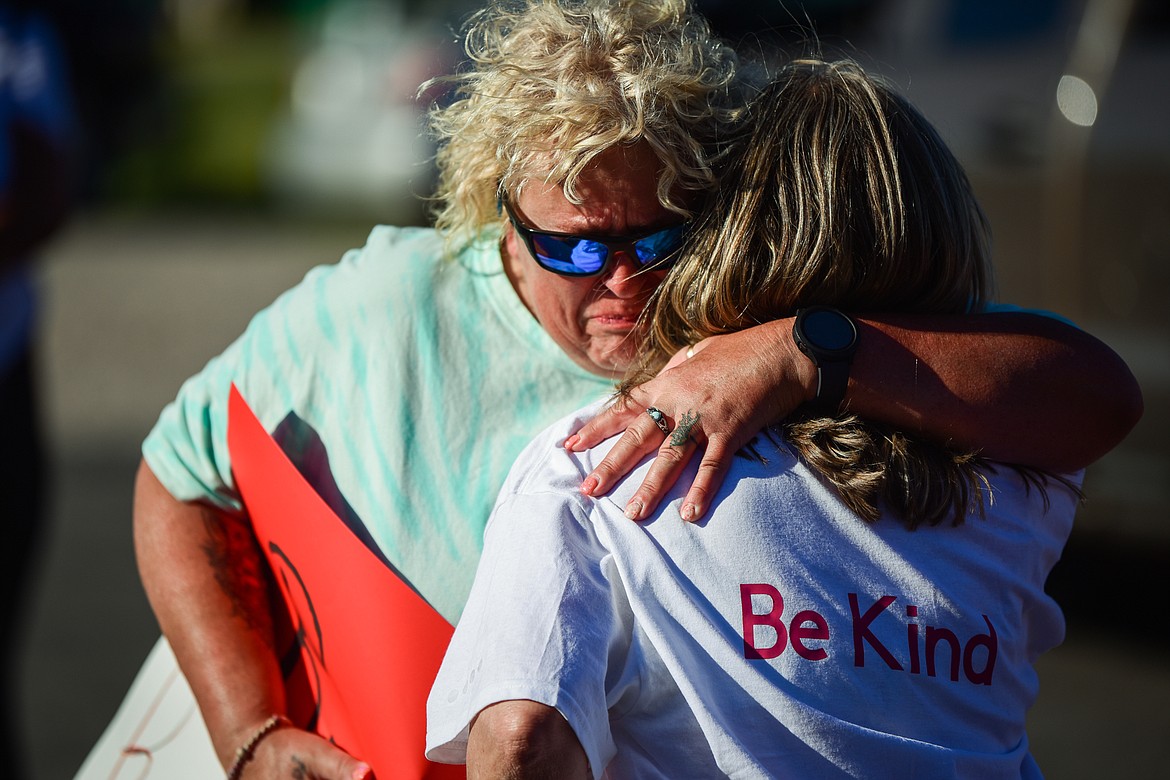 Debbie Profitt, left, and Kari Galassi, friends of Scott Bryan, embrace during a vigil and walk to The Warming Center in Kalispell on Saturday, July 1. Kaleb Elijah Fleck, 19, is accused of beating Bryan, a homeless man, to death outside a Kalispell gas station on the morning of June 25. (Casey Kreider/Daily Inter Lake)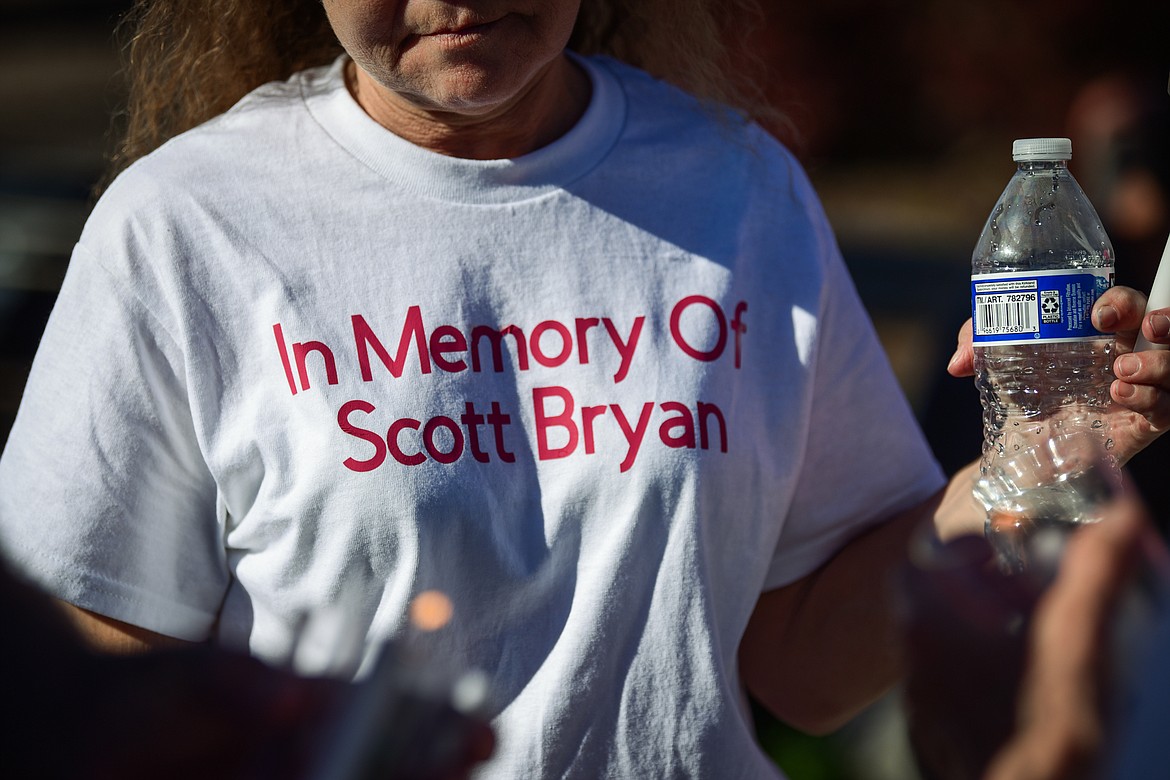 Kari Galassi, a friend of Scott Bryan, wears a shirt honoring his memory during a vigil and walk to The Warming Center in Kalispell on Saturday, July 1. Kaleb Elijah Fleck, 19, is accused of beating Bryan, a homeless man, to death outside a Kalispell gas station on the morning of June 25. (Casey Kreider/Daily Inter Lake)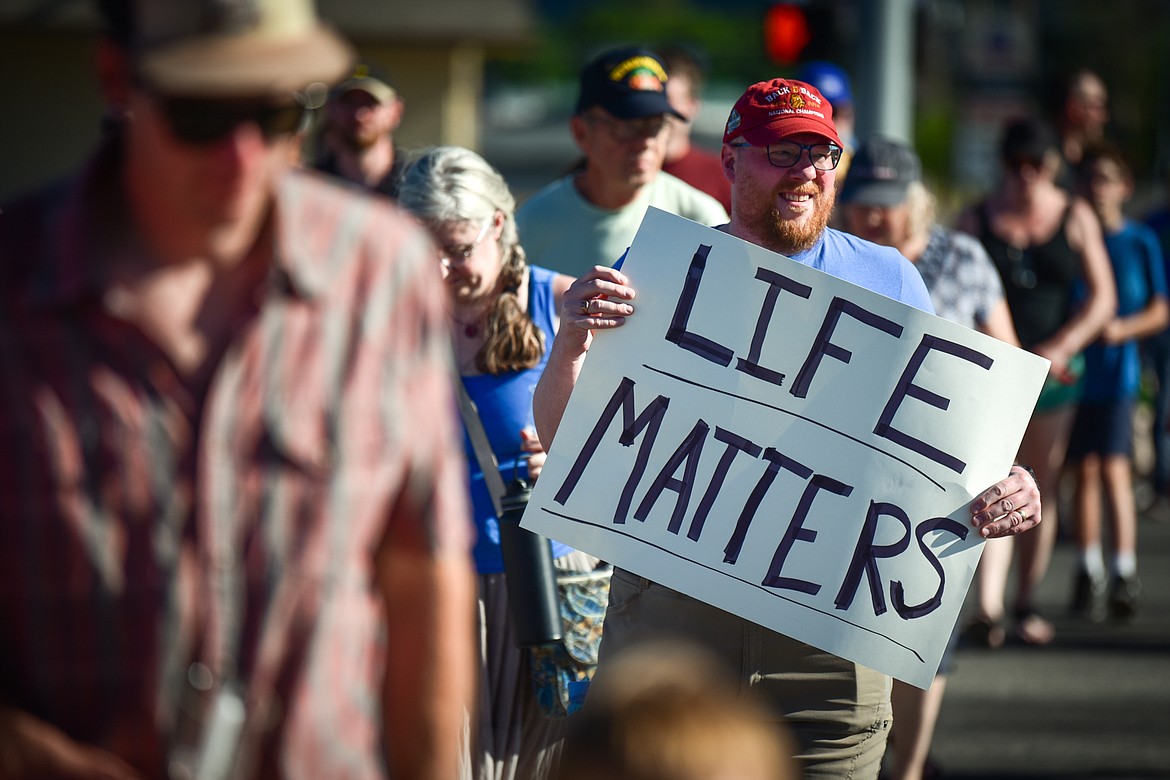 Community members hold signs honoring the life of Scott Bryan during a vigil and walk to The Warming Center in Kalispell on Saturday, July 1. Kaleb Elijah Fleck, 19, is accused of beating Bryan, a homeless man, to death outside a Kalispell gas station on the morning of June 25. (Casey Kreider/Daily Inter Lake)
Previous
Next
by
HEIDI DESCH
Daily Inter Lake
|
July 2, 2023 12:00 AM
Four days after a homeless man was allegedly murdered in Kalispell, advocates for the homeless and community members appealed to the Flathead County commissioners on Thursday seeking condemnation of reported acts of violence against homeless people.
Those speaking used the public comment portion of the commissioner's regular June 29 meeting to ask them to use their position to speak out and also join conversations regarding housing shortages.
Kalispell resident Lena Camero said the community wants action.
"I'm asking you to invest in community-led projects that are aimed at addressing the interconnected issues of mental health, affordable housing and short-term services for our homeless neighbors," she said. "I know that together we can create a community that treats all of our neighbors with dignity and all of our children with compassion, responding to our needs with consent-driven and evidence-based care. Please allow us to access the tools that we need to uplift our children, uplift our neighbors and create the community that we want to see."
Following the death of 60-year-old Scott E. Bryan on June 25, prosecutors have brought Kaleb Elijah Fleck, 19, of Kalispell, up on a deliberate homicide charge in Flathead County District Court. Bryan was allegedly beaten to death behind a gas station on the west side of Kalispell.
Kalispell Police previously confirmed an investigation into at least one alleged incident of harassment against homeless individuals, who have reported increases in such incidents in recent months.
Commissioners did not address the comments during the meeting.
Following the meeting, Commissioner Randy Brodehl termed the death as tragic.
"Flathead County currently has nine homicide charges, and multiple attempted homicide charges against inmates in our jail," he said on Thursday. "Every one of these homicides has a terrible impact on our families and our community that should not be politicized. At no time will I ever condone these acts of violence and I am committed to protecting our citizens and visitors, and to holding perpetrators accountable for their actions."
Commissioners Brad Abell and Pam Holmquist did not reply to a request for comment.
Saying that children are listening to adults when it comes to making decisions about behavior, Leanette Galaz, with the United Today, Stronger Tomorrow organizing group, implored commissioners to lead.
"They look at our actions and they look at what we model for them," she said. "They look to their parents, to see what behaviors their parents model for them, and their parents also look to community leaders to see what behavior is modeled for them. So I do ask the county commissioners today, to please step up into your role as leaders. If we're not part of the solution, we are part of the problem."
Some also called on the commissioners to rescind a message they issued earlier regarding homeless people claiming that it has created an "atmosphere that threatens the fabric of the county."
Whitefish resident Miranda Hernandez told commissioners that Bryan's death was not a random act of violence nor an isolated event.
"This occurrence is a direct result of our leaders, our county commissioners, making incorrect unsubstantiated, irresponsible and demeaning remarks against the unhoused," Hernandez said.
"It's hard to imagine what accountability will look like," Hernandez added. "It's hard to expect any grace after hearing the narrow-minded comments made by our county commissioners. I do suggest they write a letter disapproving of violent acts on our homeless community members."
County commissioners in January released a letter asking the community to stop aiding the "homeless lifestyle" while pointing out challenges they said the county has faced as a result of homeless individuals. They attributed the growth in the number of homeless people in the Flathead Valley to an increase in services here aimed at assisting those individuals.
Cassidy Kipp, with Community Action Partnership of Northwest Montana, on Thursday, called the letter divisive and inaccurate while saying it relies on phrases such as "unmoored lifestyles."
"It did exactly what we thought it might, which is it led to violence with the people that we care about that we try to serve who are part of our community," she said. "I think right now you have an opportunity to put the power of your voices to mitigate this and stop this unnecessary violence."
Brodehl said law enforcement and the County Attorney's office are investigating Bryan's death and he could not share further information regarding the situation.
"As a county commissioner, my responsibilities are to support public safety and infrastructure through good fiscal management," he said. "I will continue to support our law enforcement as they do their job and support our county taxpayer as we address the ever-increasing risk to our community and our staff."
Features Editor Heidi Desch may be reached at 758-4421 or hdesch@dailyinterlake.com.

Support local journalism — subscribe to the Daily Inter Lake today.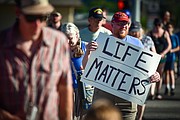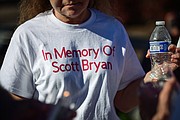 Recent Headlines
---