Horsepower — Back Country Horsemen mark 50 years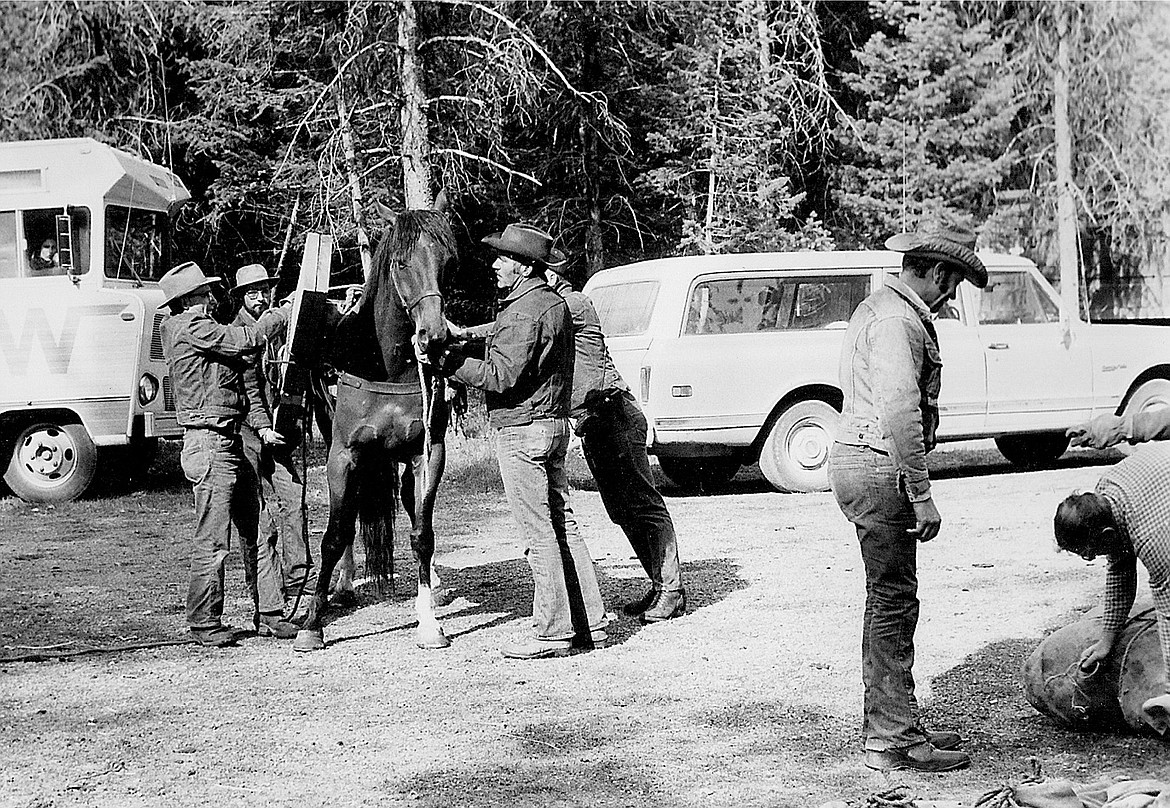 A photo of one of the early Back Country Horsemen projects, Big Salmon bridge, circa 1974. The nonprofit organization, which is celebrating its 50th year, works to ensure public lands remain open to recreational stock use, assists in trail maintenance and management projects and educates the public on best practices of enjoying horses in America's backcountry and wilderness. (Photo provided by Back Country Horsemen)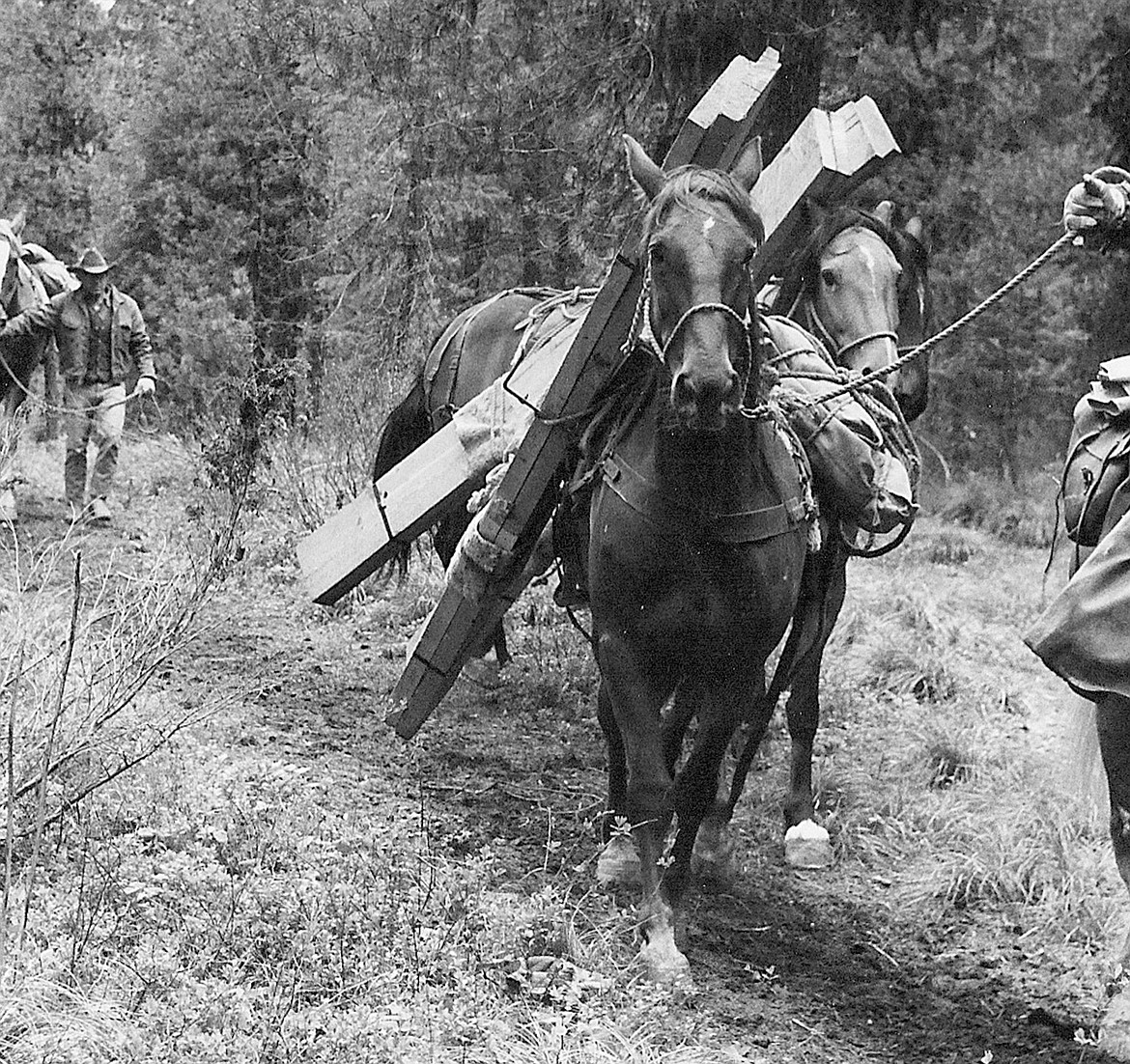 A photo of one of the early Back Country Horsemen projects, Big Salmon bridge, circa 1974. (Photo provided by Back Country Horsemen)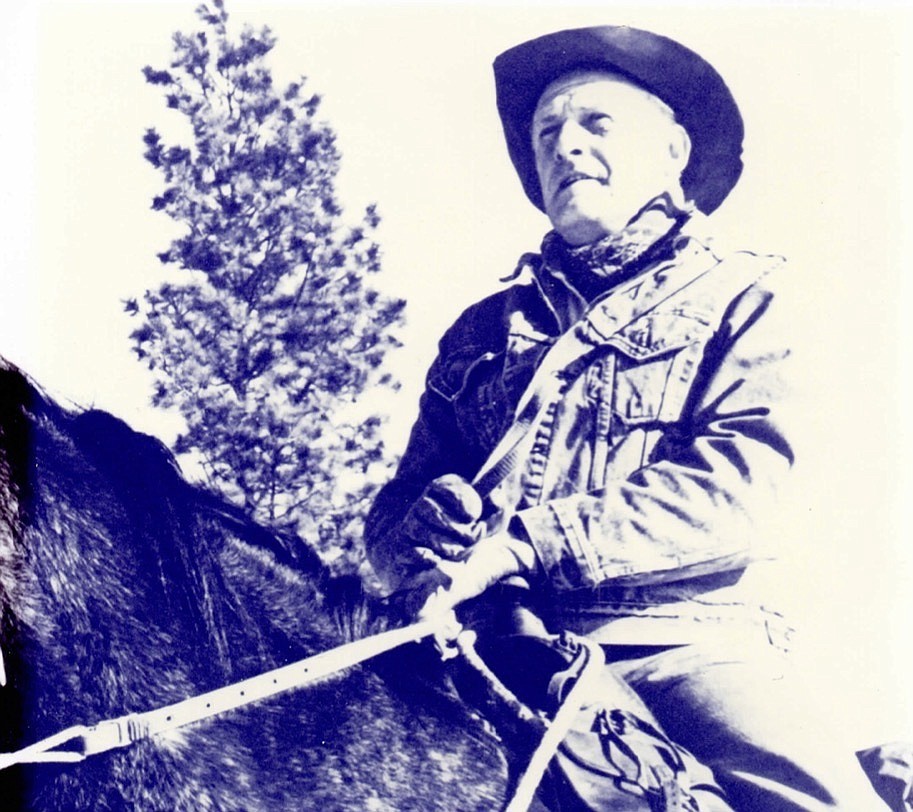 Roland Cheek is one of the founders of the Back Country Horsemen, which is celebrating its 50th year. (Courtesy Photo)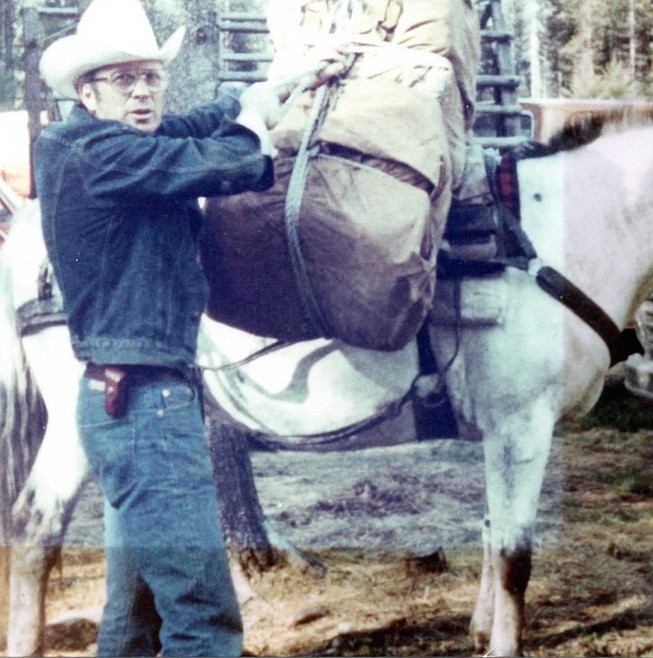 Ken Ausk is one of the founders of the Back Country Horsemen, which is celebrating its 50th year. (Courtesy Photo)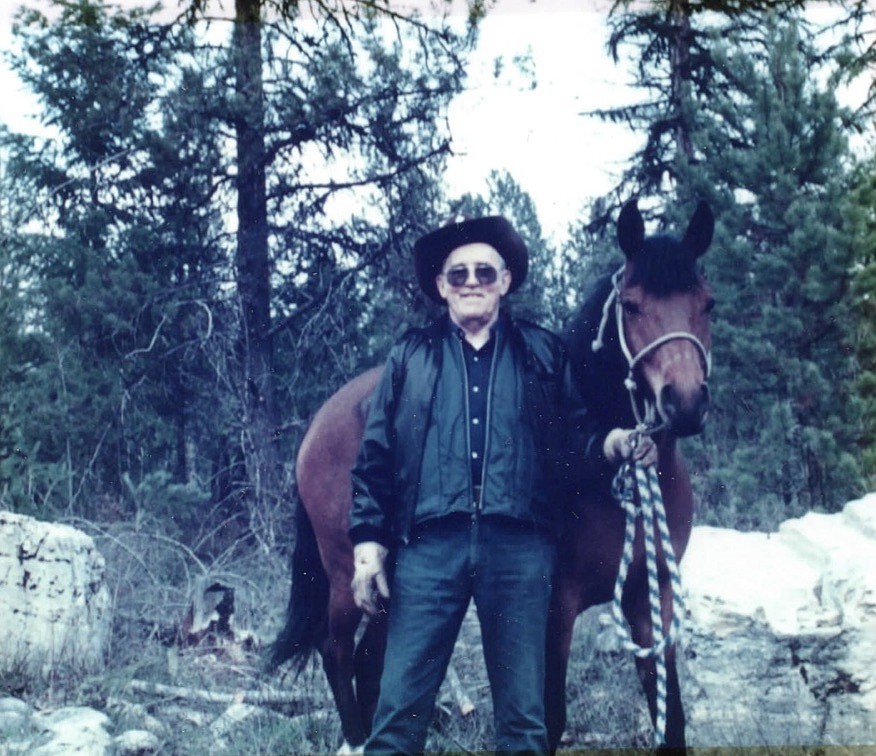 Dulane Fulton is one of the founders of the Back Country Horsemen, which is celebrating its 50th year. (Courtesy Photo)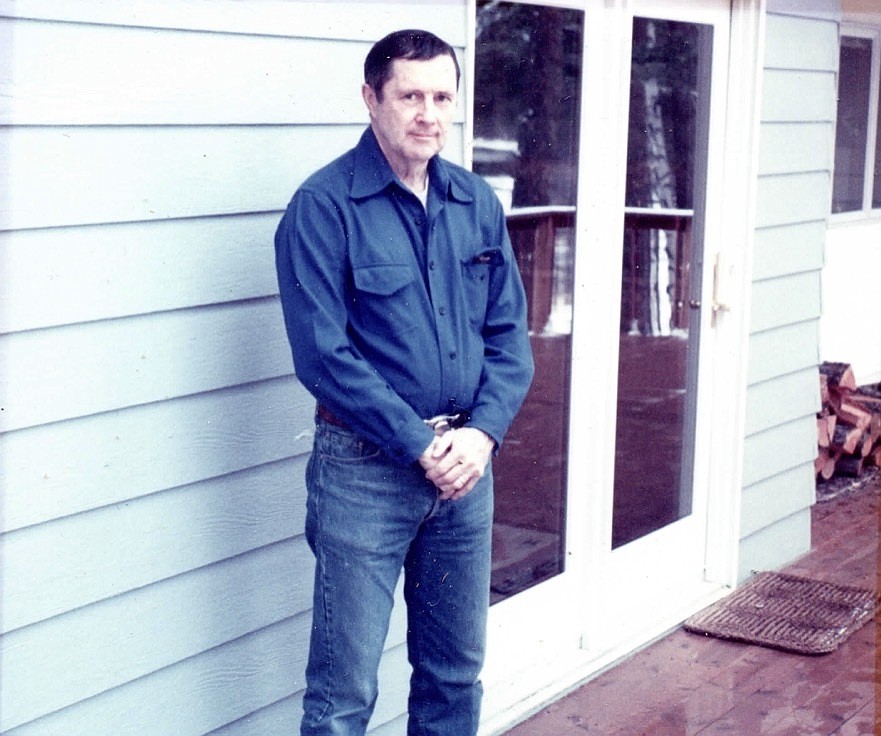 Dennis Swift is one of the founders of the Back Country Horsemen, which is celebrating its 50th year. (Courtesy Photo)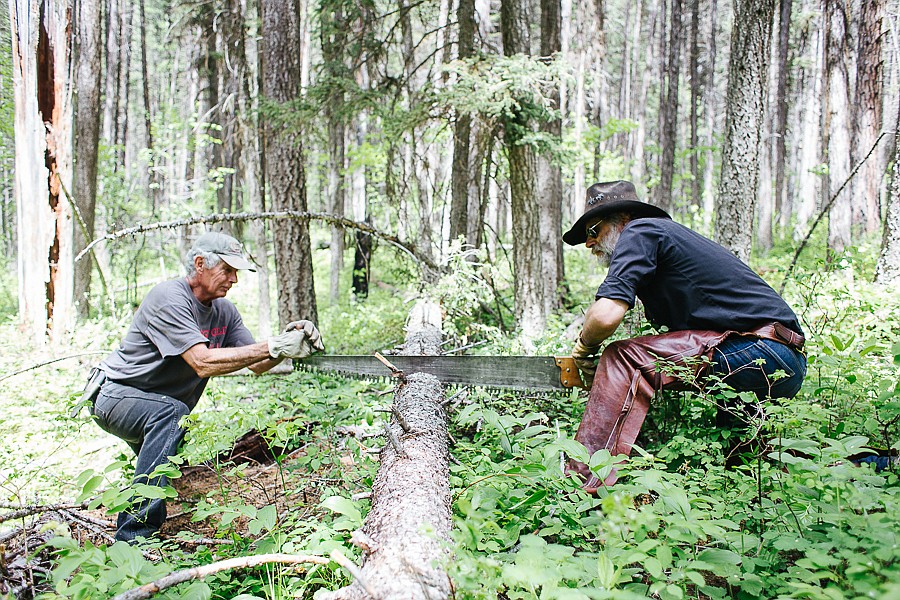 John Miller (left) and Greg Schatz (right) of the Back Country Horsemen of the Flathead use a crosscut saw during a trail maintenance project. (Photo by Mandy Mohler)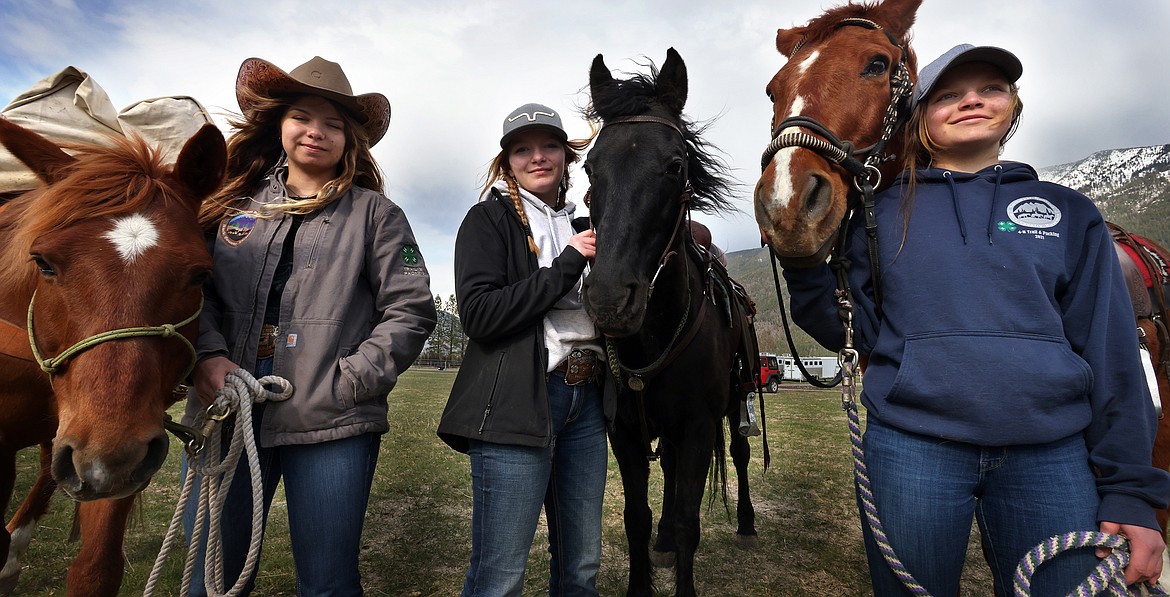 Hannah (left), Brady (middle) and Kimber Boll have been putting their horse packing skills to good use, teaching others as part of 4-H and Northwest Montana Back Country Horsemen projects in this May 2022 file photo. (Jeremy Weber/Daily Inter Lake FILE)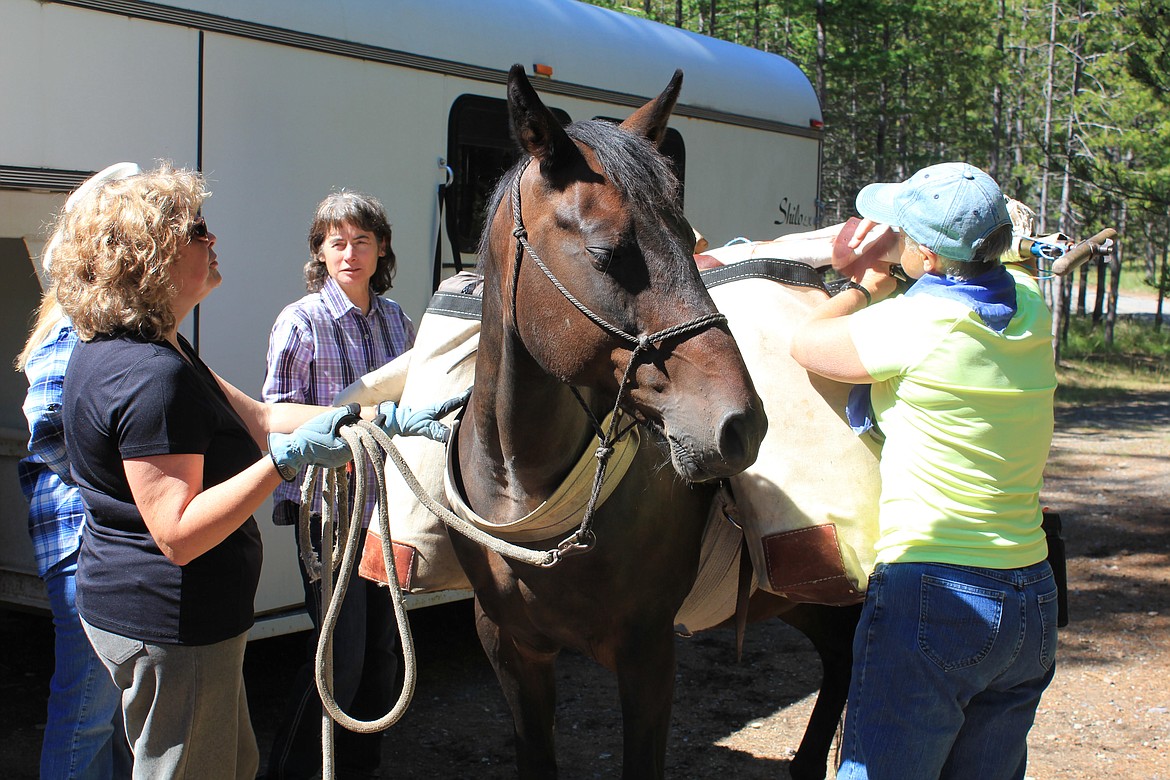 Keni Hopkins (left) Deborah Schatz (center) and Rena Johnson (right) of the Back Country Horsemen pack a horse before heading out on the trail. (Photo provided by Back Country Horsemen)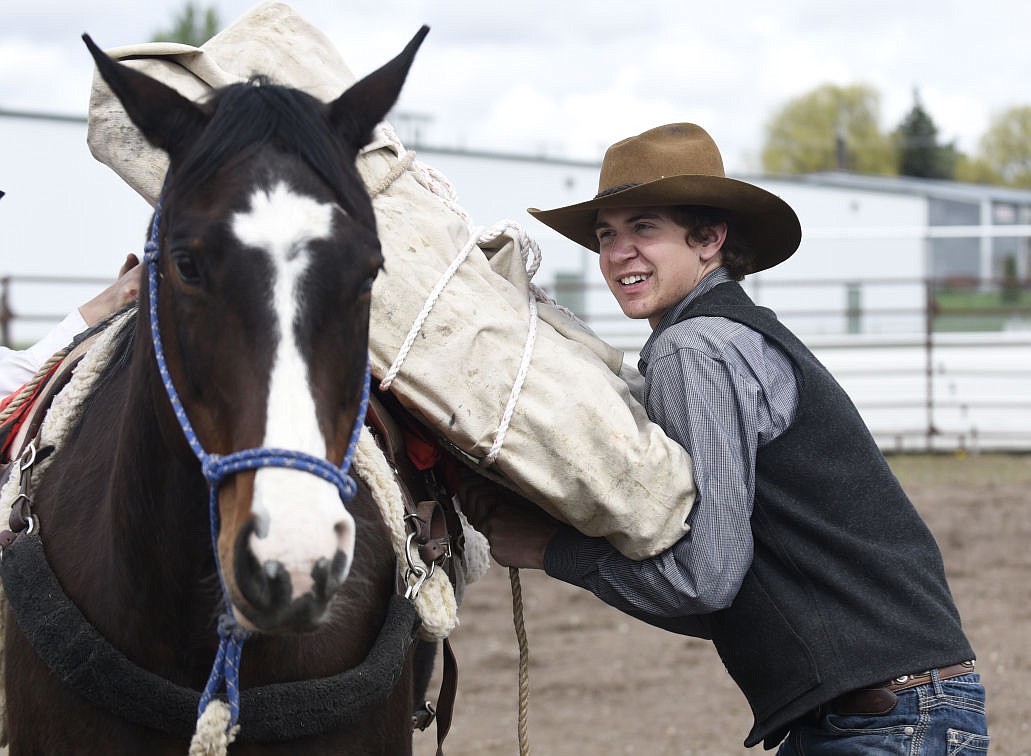 Parker Cameron secures a mantie pack on Snoopy during the Northwest Montana Back Country Horsemen 4-H packing clinic at the Flathead County Fairgrounds in this 2016 file photo. (Aaric Bryan/Daily Inter Lake FILE)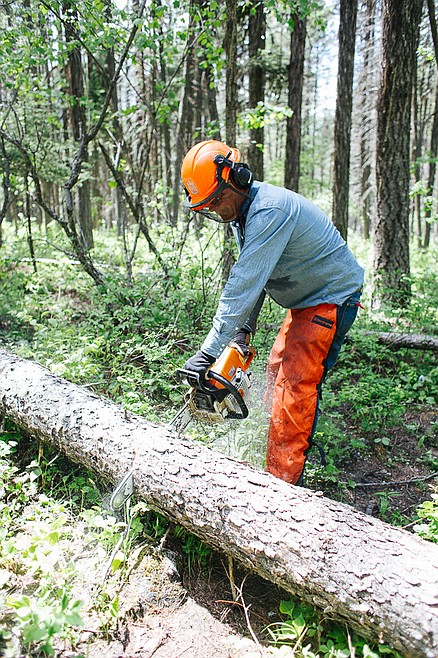 Jim Thramer uses a chainsaw on a Back County Horsemen trail maintenance project. (Photo by Mandy Mohler)
Previous
Next
Still going strong: Back Country Horsemen of the Flathead mark 50 years
Founded in 1973, the Back Country Horsemen of the Flathead is celebrating 50 years of ensuring public lands remain open to recreational stock animals, namely horses and mules.
Over the decades, the nonprofit has expanded across the country with chapters in 33 states under the umbrella of the Back County Horsemen of America.
"That started right here in Columbia Falls," said June Burgau, a charter member and current board member of the Back Country Horsemen of the Flathead. "It's quite a thing after 50 years to still be going — and going strong."
The nonprofit initially organized to give horse packers a voice as significant changes to regulations that would affect their mode of travel in Montana's public lands, according to Greg and Deborah Schatz who serve as treasurer and president of the Flathead chapter, respectively. Horses had been prohibited from the Jewel Basin, a popular area of the Flathead National Forest, in the early 1970s and those founders and charter members didn't want the ban extended to the Bob Marshall Wilderness Complex.
"It was started because the Forest Service wanted to eliminate stock out of the Bob because of the damage the stock was causing," Greg Schatz explained.
While its primary purpose was to keep stock in the backcountry and have representation in land management decisions, the nonprofit's mission includes education and conservation work in efforts to reduce and repair damage caused by stock animals. This is accomplished by assisting government agencies and land managers with trail repair and packing supplies in for trail crews.
The group also helps other local nonprofits that do volunteer trail work to preserve Montana's trails for use by both people and stock animals.
"We were willing to do physical work on the trails," June Burgau said. "We are a service organization."
In 2002, Back Country Horsemen of America members from 32 states logged more than 207,800 volunteer hours.
The Back Country Horsemen of the Flathead often hold workshops and demonstrations to teach practical skills and "common sense" practices such as: leave-no-trace packing/camping techniques, trail etiquette, defensive horse safety and first aid.
These workshops and demonstrations are geared to adults and youth. Greg Schatz, who serves as youth chairman for the Back Country Horsemen of America, said the big focus on educating the younger generation happened about a decade ago.
"What has happened is that packing and use of stock was such an oral tradition. You learned it from your dad, or from your grandpa," he said.
By working with area youth, the Back Country Horsemen hope to encourage youth to hit the trails with their horses with confidence.
And as much as it's about preserving the heritage of horse packers, the organization realizes youth may be in positions making land management decisions.
"Last year we did packing demonstrations for the Montana Conservation Corps. Of the 80 crew members three were from Montana. Seventy-seven crew members had never seen stock in the backcountry," Greg Schatz said. "Who knows if they will have positions in the Forest Service?"
Exploring the rugged wilderness by horse is something Burgau and the Schatz' don't take for granted.
At 81, June Burgau still owns horses and goes riding.
"I think only 10 years of my life I haven't been able to put my hands on horse daily," she said
"We'll be in the Bob 60 to 80 days this summer," Greg Schatz said.
"To me, it's not a luxury, it's a necessity," Greg Schatz said.
Deborah Schatz agreed.
"But you don't have to own horses to be a member," she said.
People interested in joining are invited to attend meetings. Meetings are held at 7:30 p.m. the second Tuesday of the month at the Fish Wildlife Parks building in Kalispell.
For more information visit bchmt.org/wp/flathead or www.bcha.org.
Reporter Hilary Matheson may be reached at 758-4431 or hmatheson@dailyinterlake.com.
Support local journalism — subscribe to the Daily Inter Lake today.
Recent Headlines
---