Raising Flathead Lake's water level a complicated conundrum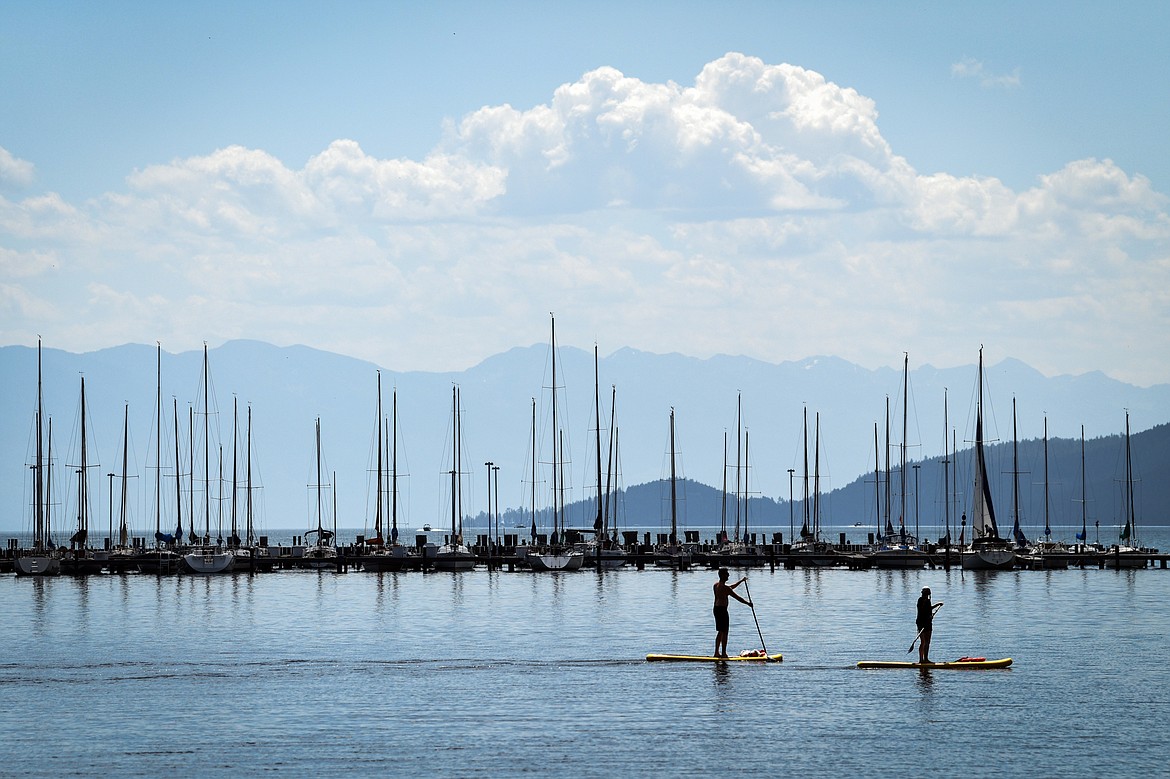 Paddleboarders float past boats docked at the North Flathead Yacht Club in Somers on Flathead Lake on Friday, June 30. (Casey Kreider/Daily Inter Lake)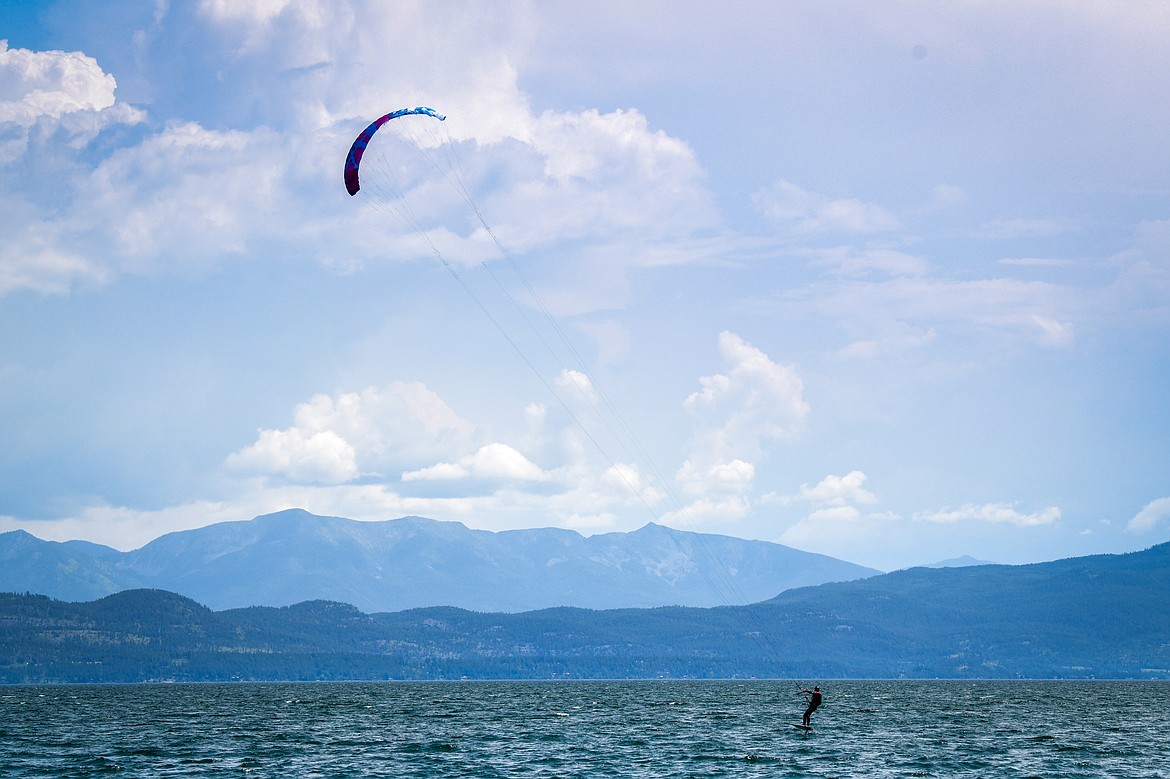 A kite foiler sails across Flathead Lake in Lakeside on Wednesday, June 28. (Casey Kreider/Daily Inter Lake)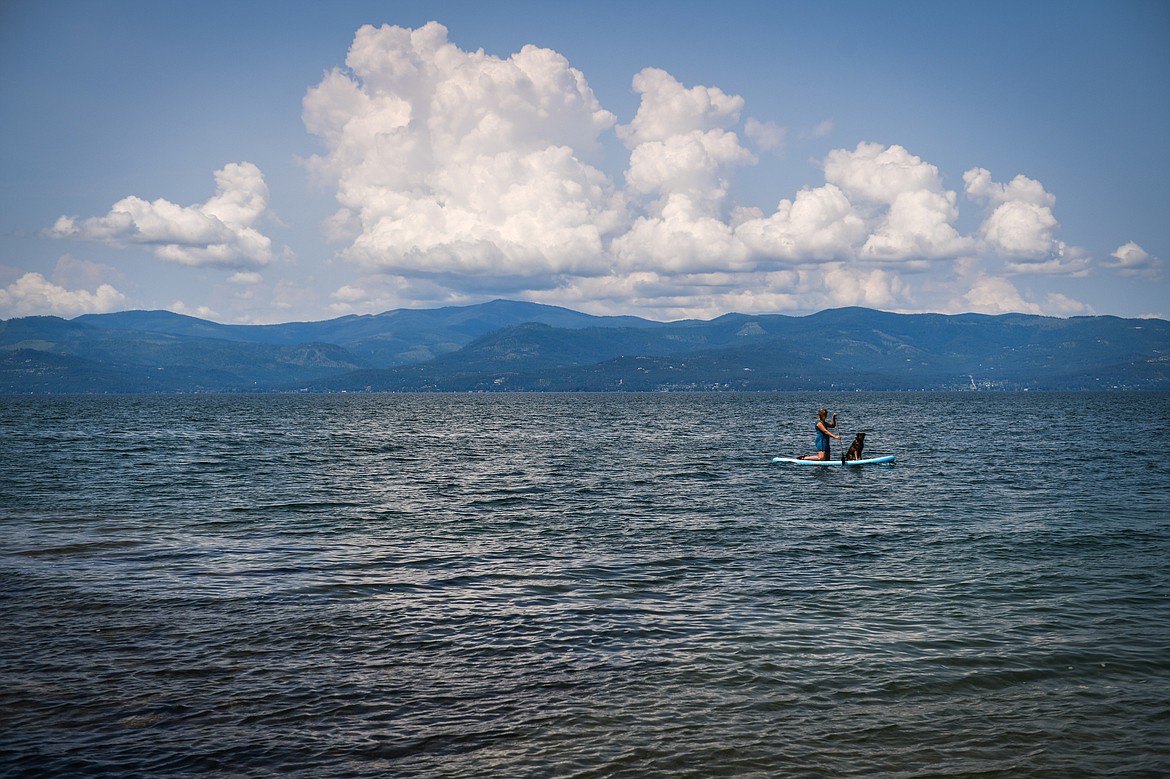 Laurel Sugden paddleboards with her dog Quka at the Wayfarers Unit of Flathead Lake State Park in Bigfork on Wednesday, June 28. (Casey Kreider/Daily Inter Lake)
Previous
Next
by
KATE HESTON
Daily Inter Lake
|
July 9, 2023 12:05 AM
As Flathead Lake's water level continues to drop prematurely this summer, lake-reliant businesses like Marina Cay Resort are preparing for a substantial financial hit.
Boaters can't dock at restaurants on the lake, residents are pulling their boats out of the water and fuel sales are approaching an all-time low, said Zack Wenzel, the bar and boat rental owner at Blue Cat and Marina Cay Resort in Bigfork.
"There are a lot of angry boaters," Wenzel commented.
As of July 7, the lake's surface water level was at 2891.44 feet, about 1.5 feet below last year's level at this time, and a foot below the median level over the past 23 years, according to the United States Geological Survey.
As people pull their boats out of the water and rentals are restricted from docking elsewhere, the short season for businesses on the lake is looking even shorter.
"I can't risk my rental boats getting damaged on the docks," Wenzel said. "We're going to lose well over a quarter of a million dollars this year."
Montana politicians have taken note as business owners and some residents on the lake have called on federal authorities to release more water out of Hungry Horse Reservoir or reduce outflow from Flathead Lake at the Se̓liš Ksanka Qĺispe̓ Dam to bring the lake to full pool — but water experts say those solutions are not as simple as they might seem.
The issue cannot be solved by stopping water flows at the SKQ Dam in Polson, according to Brian Lipscomb, the CEO of Energy Keepers Inc., which controls the dam. In a normal year, dam operators manage the water to the minimum pool, which is determined by the operating license through the Federal Energy Regulatory Commission.
"Our minimum flows are exceeding inflow," Lipscomb explained, revealing the reason for dramatic drops in water levels.
Due to an early melt out of Northwest Montana's mountain snowpack, Flathead Lake's level has been on the decline since it peaked June 12. It won't improve in July, with streamflows anticipated to be just 36% of average.
However, Energy Keepers is not authorized to stop letting water out of the lake due to downstream obligations. The flow of water out of the dam is monitored to benefit downstream fisheries for native fish, like bull trout and the westslope cutthroat trout.
Further, Lipscomb said that stopping the outflow of water would affect the state's power supply. Currently, Energy Keepers is producing a significantly lower amount of power than in other years, so much so that they are having to make it up in the marketplace by purchasing from other energy producers.
The Army Corps of Engineers released the dam from flood control requirements in May, which allowed the lake to fill up early, Lipscomb said. He predicts that the lake will stabilize by July 12, at somewhere near 22 inches below full pool, meaning that the lake will maintain that elevation.
"This is real. This is a new record low for water supply in the Flathead. Nobody's ever seen this before," Lipscomb said.
THE ISSUE is similar at the Hungry Horse Dam. Members of Montana's congressional delegation, notably Rep. Ryan Zinke and Sen. Steve Daines, have dipped their toes into the issue and recently asked the Bureau of Reclamation to release water from Hungry Horse Reservoir to alleviate the low levels at Flathead Lake.
However, due to an agreement in the National Oceanic and Atmospheric Administration and an updated set of rules in a 2020 Environmental Assessment, the Hungry Horse Dam must keep its outflow at a minimum flow for river health.
Rivers are much more sensitive to fluctuation than lakes, so it's important to maintain a healthy flow in them, according to Brian Marotz, who was the hydropower mitigation coordinator for Montana Fish, Wildlife and Parks before recently retiring.
Drawing down Hungry Horse Reservoir more than the Sept. 30 target, which is 12 or more feet below full pool, would impact the Flathead River system negatively, impact native fish in the reservoir, and reduce hydropower generation in the winter when electricity needs are high, Marotz said.
The water level at Hungry Horse Reservoir to start July was around 3,553 feet, which is 5 feet lower than it was at this time last year and in 2021. The current water level is near the overall average since 2006, according to USGS data.
The ecology of the Flathead River system is specifically vulnerable during the peak biological production period in the summer months, which is a comparably short period in Montana, Marotz added.
Still, in a letter to Bureau of Reclamation Commissioner Camille Touton, Daines and Zinke pointed toward a 2001 decision when Reclamation increased the flow out of Hungry Horse Dam to help salmon flows on the Columbia River system, and partially mitigating a drop in Flathead Lake levels as well.
However, the regulations that dam operators must follow have changed since that time.
"The rules have changed substantially since 2001 and one thing that we try to do is we avoid [increased outflow] during the peak biological production period," Marotz said.
Hungry Horse area public information officer Michael Coffey said the Bureau of Reclamation is committed to finding a solution as they work in coordination with the Technical Management Team composed of states, tribes and federal agencies.
According to Sen. Jon Tester's office, deviations from current water management plans are adjudicated by the Technical Management Team. They can send recommendations to the Bureau of Reclamation to safely mitigate low water levels.
Late last week, Tester asked the bureau to act quickly once they receive recommendations from the management team. He did acknowledge that there is a strict process to follow to ensure that all possible impacts are considered prior to releasing water.
"I am hearing directly from Montanans in the region that the low levels are threatening the livelihood of Montana small businesses," Tester wrote in a statement.
Gov. Greg Gianforte sent a letter to the Department of Interior last Thursday asking for them to review its scope of authority regarding releasing water from Hungry Horse. He requests that an analysis is provided to his office by July 11.
"If the Department of the Interior can identify a solution that would meet the requirements of federal law and regulation, the State of Montana stands ready to assist you," Gianforte wrote in the letter.
Daines also contacted the commissioners on Thursday to talk about possible solutions, saying that he feels confident there is a path forward to secure a release of water from Hungry Horse Reservoir to replenish Flathead Lake.

"The rapidly dropping water level we've seen over the past few days is deeply concerning and I'll continue working hard to get this resolved in a timely manner," Daines told the Inter Lake.
Zinke has also been vocal regarding the release of water from Hungry Horse.
"I can tell you, as Secretary [of Interior], it would have already been done," the former Interior Secretary said on Friday during a visit to Glacier National Park.
While there could be dire economic impacts from the low lake level, Tom Bansak, executive director of the Flathead Lake Biological Station, said it won't affect the lake's ecology or pristine water quality.
"The lake fluctuates 10 feet each year, so its current level is not outside of its normal range," Bansak said.
Meanwhile, Lipscomb with Energy Keepers said the abnormal winter and spring runoff, with mountain snow melting all at once early in the spring, could be an indication of changes ahead.
"We won't see a dry year every year," Lipscomb said, "but when we do get them, it's going to get worse."
Reporter Kate Heston can be reached at kheston@dailyinterlake.com or 758-4459. Reporter Taylor Inman contributed.
Support local journalism — subscribe to the Daily Inter Lake today.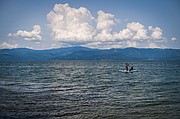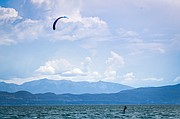 Recent Headlines
---