Bigfork cafe focuses on organic and vegan food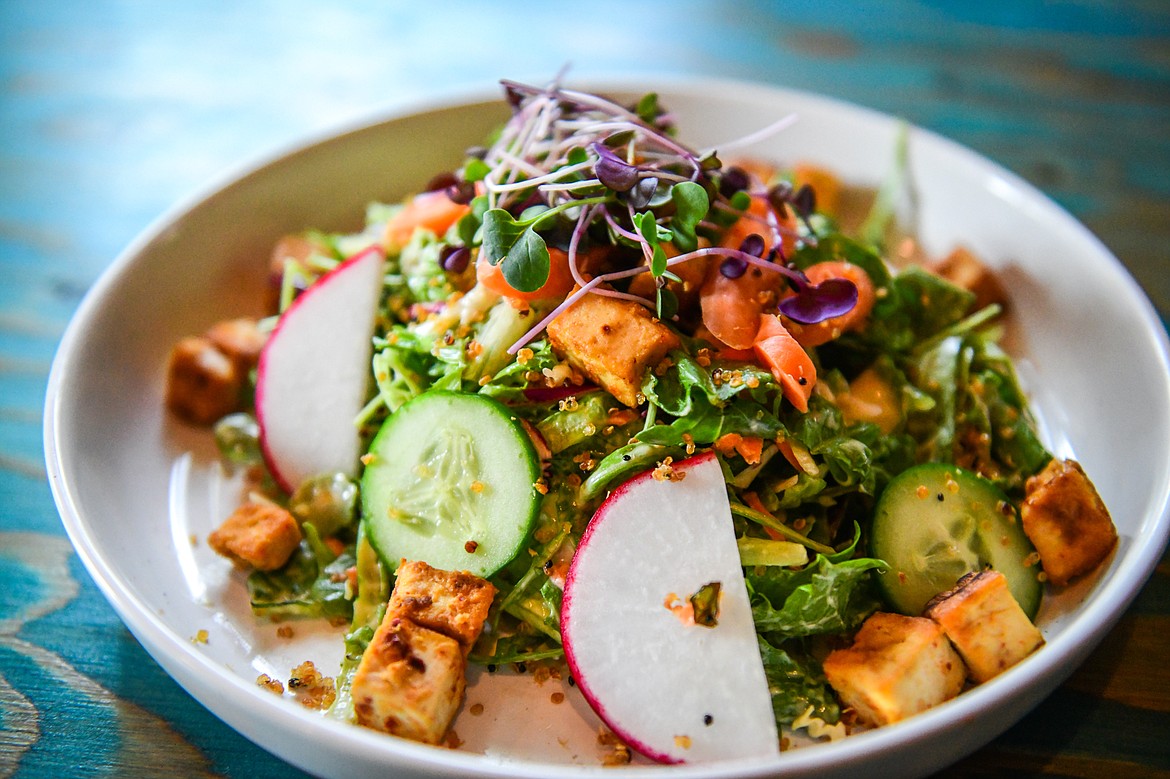 The Power Protein Salad with mixed greens, crispy tofu, puffed quinoa, seasonal vegetables and avocado vinaigrette at Max's in Bigfork on Saturday, July 8. (Casey Kreider/Daily Inter Lake)
With a commitment to sustainability and wellness, Max's in Bigfork sets the stage for a plant based culinary experience that aims to nourish the community of the Flathead Valley.
But when Jenny and Chris Evans first opened Max's in 2019, they never foresaw the transition into a full-scale cafe. For a year, the 800-square-foot building was a market, home to fresh produce, coffee, and artisan gifts and goods.
Jenny laughed that this is version five of Max's, which was formerly known as Max's Market.
"Quickly after opening, we recognized the need for people to be able to nourish themselves with prepared food because that was lacking in the community," she said. "A lot of people don't have time to buy beautiful organic produce and then take it home and prepare it. So about a year later, we started doing grab and go and a lot of catering for families."
Last winter, Jenny and Chris temporarily closed Max's to re-envision the space and how it could further nourish their community. The couple made the decision to zero in on their offerings of prepared food and hire their first full-time chef Noah Koehn.
Koehn explained his background in the culinary arts.
"I started washing dishes when I was 14 and I've been in restaurants ever since," Koehn. "What I love about cooking is that you never stop learning and I love the buzz of restaurants.
After working in an upscale farm to table restaurant in Grand Junction, Koehn realized his passion for providing people with locally-sourced meals. Koehn says he constantly improves his skills through podcasts, books, and videos and one of his favorite chefs is Chef Jacob Burton.
"I was not plant based before coming here, so writing a plant based menu was a challenge, but I had a lot of help from [Jenny's] chef friends. But this version of the menu is mine. On this menu you'll see, for example, the grilled cheese or the Reuben, and these are things that people recognize. We do them well to show people that it's possible to have good food that is plant based and organic."
For Jenny, plant-based is a lifestyle and nourishment is about more than just food. It includes every aspect of life from physical health to emotional and spiritual wellbeing.
"When you say 'nourish' people only think about food," said Jenny. "But for us personally, nourishment means that you're in balance with yourself and other people and the earth and all living things and that your energies are in alignment. It's great to be able to have organic produce available, but that's only one stage."
On the other stage, the Evans have created an environment for community where local musicians and artists can play and display their goods, as well as providing physically nourishing foods through local farmers. Local growers include Ferguson Farm, The North Shore Farm, Lower Valley Farm, Roving Ram Farm, Moss Farm, Clark Fork Organics, County Rail Farm, Five Fox Farm, Glacier Tilth Farm, Timeless Seeds, B & R Bakery, Wicked Good Farm, Two Bear Farm and more.
"Noah and his partner, Ashlyn, go to North Shore Farm on Tuesdays and get our produce directly from them," Jenny explained. "We also have a distributor that only distributes from farms in the valley, so the farmers grow it and we put it in our prepared food. It's such a beautiful way to keep dollars local."
Everything on the menu at Max's is organic, and besides the tofu and tempeh, everything is locally sourced. From the power protein salad to the lumberjack wrap, every bite supports local growers and customers' health.
"The main focus of this menu that Noah wrote is a lot like seasonal vegetables, so there's a lot of flexibility for us to support local farms for as long as possible," said Jenny. "And then we'll reassess each season for what happens on the menu."
Occasionally, Max's hosts a seasonal dining experience that features a five course meal that is paired with wine, each with a different theme. Max's also offers local drinks from kombucha to cider and can concoct mocktails with herbs from their garden.
In dishes that include bread, Koehn uses locally baked sour wheat. Croutons for salads are also made from this bread, as the Evans are firm about their zero-waste policy and even use a French preservation method known as confit to store unused foods for long periods of time.
"There's so many things you can do with what some people consider 'bad food'. For example, last week I said to Noah, 'Let's cut the tops of these carrots and make carrot top pesto,'" said Jenny.
Koehn said his culinary influences come from Modern American restaurants which "draw inspiration from everywhere" though he also loves the Italian way of cooking.
"I get the best possible ingredients and try to highlight them. For example, the Panzanella salad has four or five ingredients but they're really quality ingredients and we let them shine," said Koehn.
Max's is located at 125 Village Lane in Bigfork and is open Wednesday through Sunday. Max's can be reached by phone 406-407-1886 or on Instagram @maxsmarketmt.
Reporter Summer Zalesky may be reached at szalesky@dailyinterlake.com.
Recent Headlines
---