Jury delivers guilty verdict in Kalispell fitness center shooting trial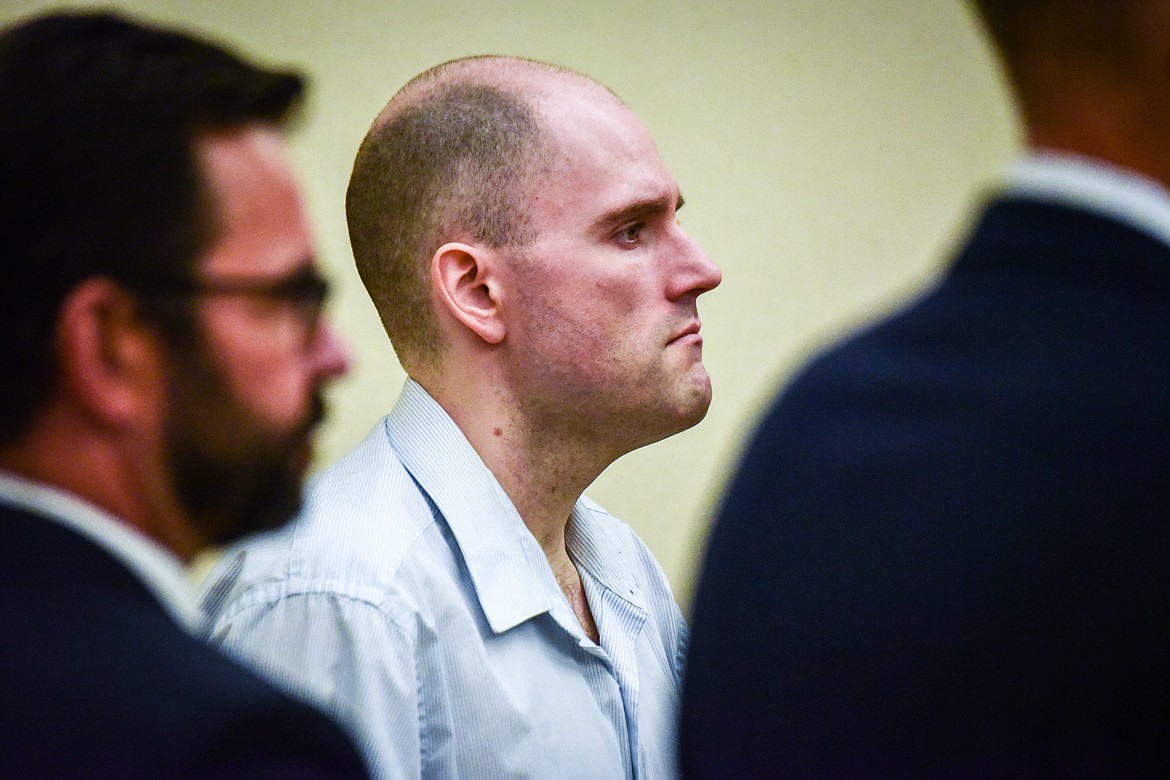 Jonathan Douglas Shaw stands with his defense team as his murder trial resumes in Flathead County District Court on Thursday, July 13. (Casey Kreider/Daily Inter Lake)
A jury found Jonathan Douglas Shaw guilty Thursday of deliberate homicide in the 2021 shooting death of a gym employee outside of Fuel Fitness in Kalispell.
The verdict followed a four-day trial in Flathead County District Court.
The 12-person panel also found Shaw, 37, guilty of attempted deliberate homicide for shooting and wounding a gym patron who engaged him in a gun battle in the parking lot of the U.S. 2 fitness center.
Jurors began deliberating just after 3 p.m., July 13 and returned to Judge Dan Wilson, who presided over the case, with a verdict about 7:41 p.m.
Wilson set sentencing for Sept. 21.
Prosecutors alleged that Shaw shot Fuel Fitness manager Matthew Hurley dead after Hurley tried to refund his gym membership and dislodge him from the parking lot, where Shaw was living in a trailer. Matt Underhill, the gym's assistant manager, had accompanied Hurley into the parking lot and testified earlier in the week that a menacing Shaw followed them back toward the gym before declaring his intent to kill and opening fire.
Another gym patron, William Keck, engaged Shaw in a gunfight shortly after Underhill fled. Both men were wounded in the exchange, which led to the attempted deliberate homicide charge.
Defense attorneys Colin Stephens and Paul Simon of Missoula sought to demonstrate Shaw was reasonable, if mistaken, when he decided to defend himself against Hurley and Underhill. Shaw testified Wednesday that he was unaware of the reason for the pair approaching him in the parking lot and followed them to get more information. He said he heard the two whispering invectives about him and saw them reach into their pockets for what he believed were weapons.
Neither Hurley nor Underhill were armed with anything more than mobile phones.
"The evidence is [Shaw] acted with justification," Stephens said in his closing argument to the jury. "He was mistaken, but his actions were reasonable in light of the circumstances."
A shaken Shaw, in Stephens' retelling, was seeking safe harbor when Keck opened fire. Keck, Stephens argued, was the aggressor in the ensuing gunfight.
"His intentions may have been very pure, but he shot first," Stephens said of Keck.
Keck testified earlier in the week, saying that he issued Shaw commands before shooting broke out. Keck told the jury that Shaw replied with gunfire, but defense attorneys questioned the veracity of his memory. Investigators acknowledged during the trial that several details in Keck's account of his actions during the shooting were contradicted by evidence collected at the scene.
"We can forgive Mr. Keck's memory lapses given the heat of the movement … but if we're going to do that we also have to forgive [Shaw's] because, again, everything happened in a few seconds," Stephens said.
He also addressed the presence of Hurley's friends and family in the courtroom. Stephens had unsuccessfully asked for a mistrial following the first day's proceedings when an audience member cursed at Shaw from the gallery in front of the jury.
"A young man died and I understand that his family and his friends, they want a reckoning," Stephens said. "All of us feel sympathy for those folks. And it's OK to feel sympathy for them but the law doesn't allow you to use that sympathy [in your deliberations.]"
PROSECUTORS USED their turn before the jury to reiterate their case against Shaw point-by-point.
Video evidence showed Hurley and Underhill depart Shaw's vehicle with their backs turned to him, said Deputy County Attorney Ashley Frechette in her closing argument. Shaw followed them, she said; he threatened them.
"The defendant told Hurley what his intent was — that he was going to die — and then he did it," Frechette said.
She also questioned Shaw's credibility on the witness stand. Shaw testified that he was unable to hear either Hurley or Underhill. But, she argued, he said he could later hear them whispering about him in insulting and possibly threatening terms.
Shaw said he did not know Hurley, Frechette pointed out, but investigators found records of online searches including both Hurley's given name and Fuel Fitness in the query from the day before the shooting.
And Shaw testified he was unable to phone 911, she recalled. Other witnesses there that day had no trouble calling emergency responders.
Addressing the defense's arguments, Frechette honed in on the reasonableness of Shaw's actions and his purported logic for shooting Hurley. Shaw previously testified under cross examination that he never saw a weapon on either Hurley or Underhill.
"Is it reasonable for the defendant to shoot at Hurley because he is reaching into his pocket? The state submits to you that is not reasonable …," Frechette said.
And if Shaw committed deliberate homicide in killing Hurley, he could not have used justifiable force against Keck regardless of how the ensuing gunfight began, she argued.
"[Shaw] testified that this was a war zone. He likened it to a combat incident," Frechette said. "This incident was a war zone of the defendant's own making."
While Frechette clinically linked the prosecution's case to witness testimony and evidence collected by investigators, Donovan employed emotion in his rebuttal closing argument. Hurley, he said, died doing a job, his job as general manager of the gym.
Wearing a Fuel Fitness staff shirt and joined by a coworker, Hurley headed out to the parking lot to remove a soon-to-be former member of the gym for setting up camp on the stretch of pavement.
Shaw, in Donovan's telling, had no problem understanding what Hurley wanted.
"He's upset at the guy who kicked him out of the only residence he had," Donovan said. "Is that reasonable? The state submits that's why Jonathan Shaw killed Matthew Hurley."
Recent Headlines
---