Tranel says Zinke's 'extremism' makes him vulnerable in 2024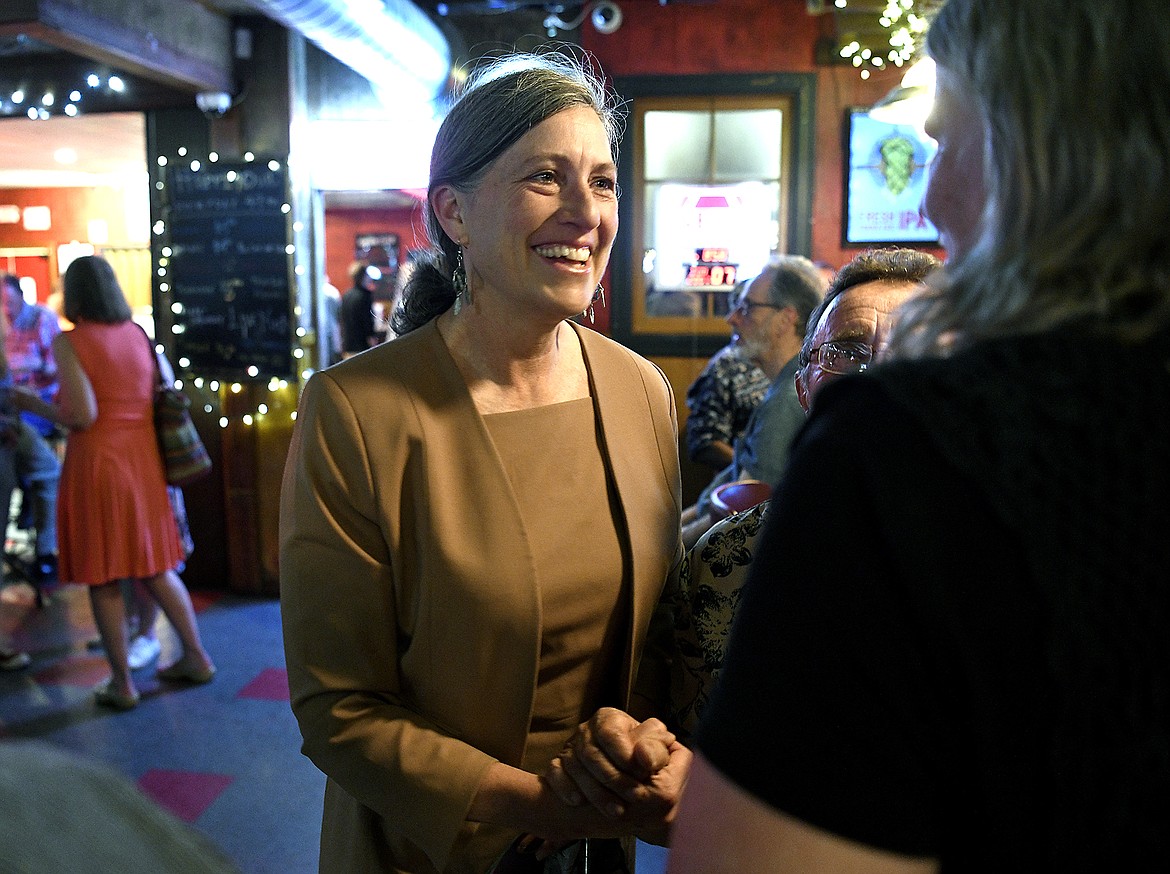 Montana Democratic U.S. House candidate Monica Tranel talks with a supporter during an election watch event at the Union Club Bar & Grille in Missoula, Mont., on Tuesday, June 7, 2022. Tranel defeated Cora Neumann and state Rep. Tom Winter in Tuesday's primary. (Tom Bauer/The Missoulian via AP)
by
KATE HESTON
Daily Inter Lake
|
July 14, 2023 12:00 AM
Missoula Democrat Monica Tranel is confident in her chances of winning Montana's western district U.S. House seat in the 2024 election.
After a narrow defeat to Republican Rep. Ryan Zinke last fall, Tranel said that she believes a victory is around the corner. 
"At the end of last cycle, we came so close and it just felt unfinished. So I honestly feel like I've started something I want to complete," Tranel said in an interview with the Inter Lake on Wednesday. "We started something special. There was a lot of energy for my campaign, a lot of enthusiasm, and I want to finish the job."
Tranel, 57, formally launched her campaign on July 10. She is the first Democrat to enter the race for the western district that includes the Flathead Valley.
Last year, Zinke, the former Secretary of the Interior and a previous Montana congressman, won the seat with 49.6% of the vote compared to Tranel's 46.5%, a 7,837 vote margin. Zinke won Flathead County with 61% of the vote. 
Since the election, national Democrats have considered Zinke's seat as a vulnerable target. 
Zinke, 61, of Whitefish, was the first person elected to Montana's new House district after the state picked up a new congressional seat due to population growth. There were rumblings that Zinke may abandon his House seat to take on U.S. Sen. Jon Tester for his Senate seat, but Zinke recently endorsed Tim Sheehy as the Republican nominee.
The Flathead Valley is a key region to winning the western district, Tranel said, who was raised in eastern Montana and graduated from high school in Billings.
There are around 70,000 voters in the county with about 20,000-30,000 of those being Democrat voters, according to Tranel. However, she said her campaign will also focus on connecting to "middle of the road people who want to get things done."
On the campaign trail, Tranel plans to tout her work as an attorney on energy issues and water rights, and her representation of Montana ranchers.
"I think a big part of this is telling my story, telling people about the work that I've done in Montana. I've been working here my entire career. I've had 25 years of being Montana's advocate, really working on the ground for Montanans," she said.
Tranel also believes Zinke's record makes him vulnerable. She accused him of voting against health care for veterans and reducing benefits from the SNAP program, while taking donations from big corporations and embracing the radical right wing of the Republican Party.
"We don't need that extremism," she said. "That's not who Montana is."
"People just want a champion," Tranel added. "They don't want you to come in and divide. I think the division and the partisanship is — it doesn't solve problems," she said.

The primary election is set for June 4, 2024.
Reporter Kate Heston can be reached at kheston@dailyinterlake.com or 758-4459.
Recent Headlines
---