Downtown Kalispell parking lot slated for hotel project poised to change hands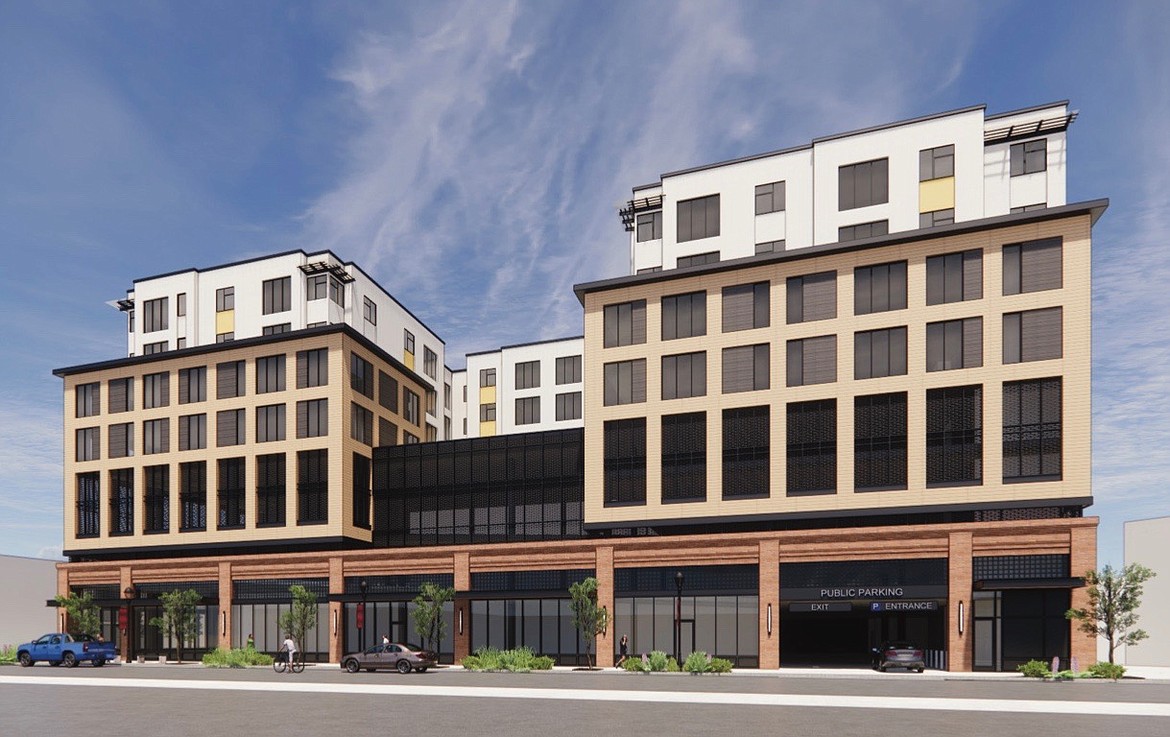 An artist by A&E Design rendering shows an eight-story parking garage and multi-family housing project proposed by the Montana Hotel Dev Partners for the city parking lot at First Street West and First Avenue West.
A city-owned parking lot in downtown Kalispell slated for redevelopment as part of The Charles Hotel project could change hands as soon as month's end, officials say.
The property transfer hinges upon the release of findings from a Brownfields assessment of the property. That report is expected to be completed by the end of July.
Located on the southeast corner of First Street West and First Avenue West, the lot has had its historical records researched for potential industrial contamination and undergone scanning using digital imaging technology, according to Katharine King, the city's community development manager for the city of Kalispell.
King said the initial stage of the assessment did not find anything that she believed would interfere with the proposed development.
The redevelopment project, which will consist of a hotel and parking garage with 78 apartments on top, is scheduled for completion by 2026, according to PJ Sorensen, senior planner with the city.
The parking garage and apartment portion was approved by Kalispell City Council last fall despite drawing criticism from a few residents during the public hearing process.
Among the concerns was the building's height, which will reach 88 feet — higher than the 60 feet allowed by right under city planning rules — and the use of $9.2 million in tax increment financing to pay for the garage.
The projects emerged out of a city request for proposals to redevelop the Main Street lot. The developers submitted plans for The Charles Hotel for the property and since the hotel requires valet parking, the company additionally proposed construction of a parking garage about two blocks north at First Avenue West and First Street West.
The developer was the only entity to submit a proposal using the lot to the city, according to Sorensen.
Reporter Adrian Knowler can be reached at 758-4407 or aknowler@dailyinterlake.com.
Recent Headlines
---