Cancer navigators at Logan Health help patients through difficult diagnosis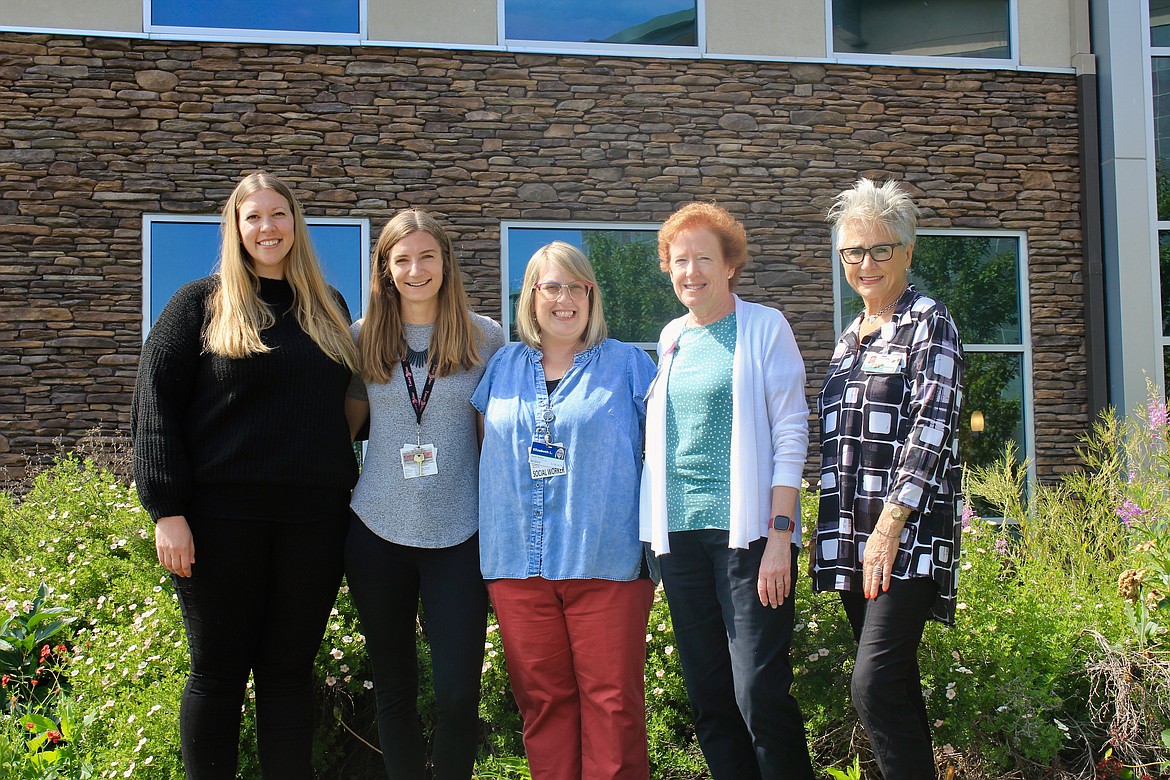 Logan Health oncology navigators Shalece Christensen, Angela Knox, Kim Grindrod, Sandy Shaw and oncology social worker Liz Langley. (Taylor Inman/Daily Inter Lake)
For many in Northwest Montana, a cancer diagnosis is scary enough on its own, but figuring out how to pay for treatments or how to get to appointments can be overwhelming.
At Logan Health, a team of social workers helps patients navigate the uncertainty.
Oncology Social Worker Liz Langley recently saw an out-of-state patient come through the emergency room with a stage four diagnosis. The patient had a family member fly in to help, but she had nowhere to stay and no clothes for her trip.
"So that nurse navigator reached out to me and said, 'What can you do?' In just a couple of days, I was able to get her some clothing and things like that, and then they were on their way back to their home state," Langley said. "But before they left, I was able to find a $3,000 grant from the state that they reside in to help to get them back home."
Langley said this came as a relief, after four hours spent on the phone working out the details of the grant, she was able to hand her patient the paperwork as they walked out the hospital doors. It's just one example of the work she and the cancer navigators do at Logan Health, connecting patients with resources to make their lives easier during treatment.
In addition to Langley as the general oncology social worker, Logan Health has a navigator for lung cancer, breast cancer, head, neck, skin, bone, brain and central nervous system cancers and blood, digestive, gynecological and genitourinary cancers.
Breast cancer navigator Kim Grindrod said she meets patients after an abnormal breast imaging and helps them get set up for their biopsy.
"I provide education for them through the process, help make sure they get the results and then depending on the results that they get, hook them up with what they need going forward," Grindrod said.
She said that educating people about their diagnosis is one of the most important things they do. With so many new treatments for cancer, it's easy for patients to get confused about what their doctors are telling them. Some patients don't have a support system and look to the navigators as someone in their corner.
"I think we're kind of emotional support for people. We're a friendly face that they recognize when they come in and kind of an advocate for them — maybe one person they can count on or recognize when they come to the hospital," Grindrod said.
Finances and transportation are the biggest barriers to treatment, according to Grindrod and Langley. Angela Knox is the navigator for blood, digestive, gynecological and genitourinary cancers. She works with patients all across the state and spends a lot of time coordinating how to get them to treatments.
"I think some of it is kind of learning what support they already have, learning what they use in their everyday life and then kind of expanding on that," Knox said.
She said this means encouraging patients to reach out to loved ones for help or utilizing public or medical transportation services. They often reach out to Flathead nonprofit ASSIST, which offers free transportation for patients.
When patients need to be in Kalispell for an early morning appointment, they will help book and pay for a hotel room. In the summertime, this can get a bit tricky when local hotels are full to the brim with tourists.
The cost of treatment is often what can give patients the most stress. Langley said she helps sign people up for health insurance and works with them to figure out how to cover high deductibles. She also assists in signing them up for disability or social security if their health no longer allows them to work.
"And just really trying to stay on top of any and all grants, scholarships and programs that are available out there nationwide, as well as locally. Then touching base with just kind of the social and emotional side of things," Langley said.
They also serve people who are unhoused in the area, which brings on a new set of challenges, particularly how to get in touch when they do not have a phone.
"It's a struggle, just hoping that they will connect with you. I had someone who would call me when he was at the grocery store or somewhere like that and check-in. It's just trying to hit them when they are here for appointments," Langley said.
Though their days can be full of overcoming logistical challenges and butting up against a system that oftentimes leaves patients discouraged, the navigators get to see many successes.

"Sometimes you see patients throughout the end of their treatment, just dragging a little bit more. But on the last day, they're always just so appreciative. And I hear 'thank you' so many more times than I hear complaints," Langley said.
Navigators are required for many hospitals across the country because studies show they improve patient outcomes. Logan Health has had a team of oncology navigators for many years and are continuing to add similar positions for other areas of health.
"I think it's just a really good thing to have on board, and they're getting more navigators in different specialties, which is nice just because we can help them overcome the barriers, answer the questions — we're just a phone call away," Knox said.
Reporter Taylor Inman can be reached at 406-758-4433 or by emailing tinman@dailyinterlake.com.
Support local journalism — subscribe to the Daily Inter Lake today.
Recent Headlines
---