Glamping in a small cabin on the Tobacco River
The A-Frame cabin at the Tobacco River Ranch glamping site has a plastic side panel that lifts up. (Kate Heston/Daily Inter Lake)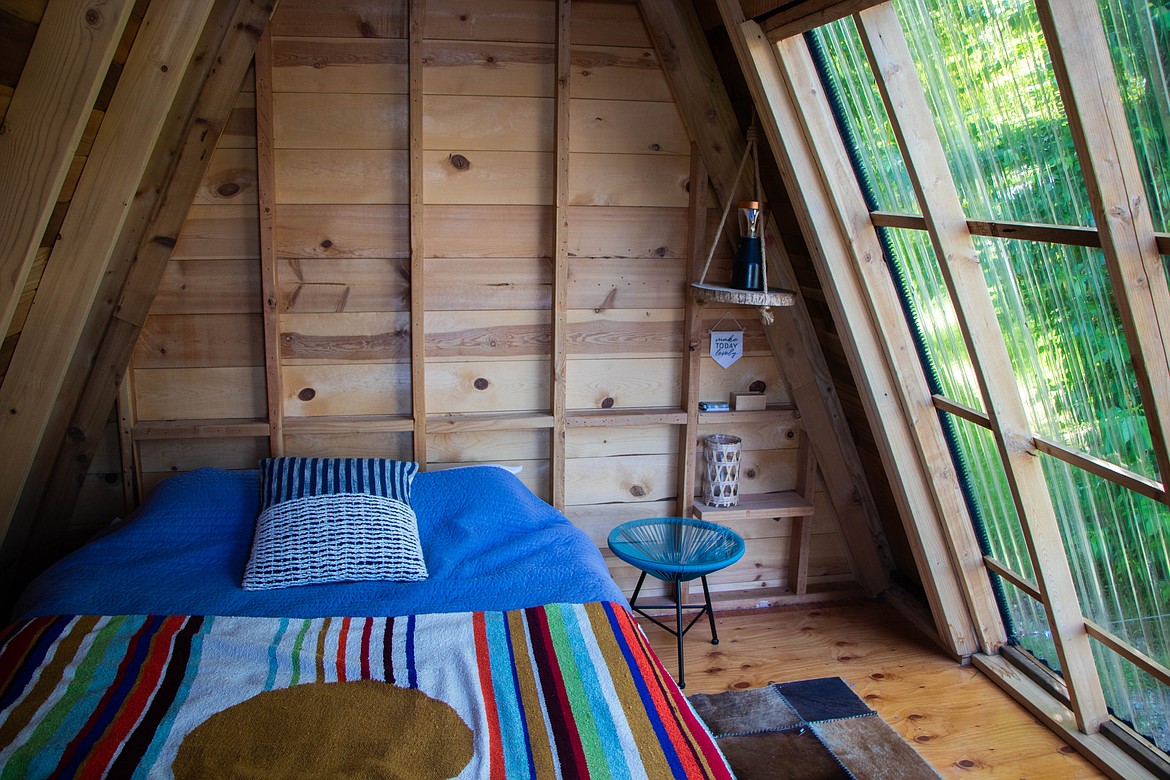 Inside the A-Frame cabin at the Tabacco River Ranch glamping site in Eureka, MT. (Kate Heston/Daily Inter Lake)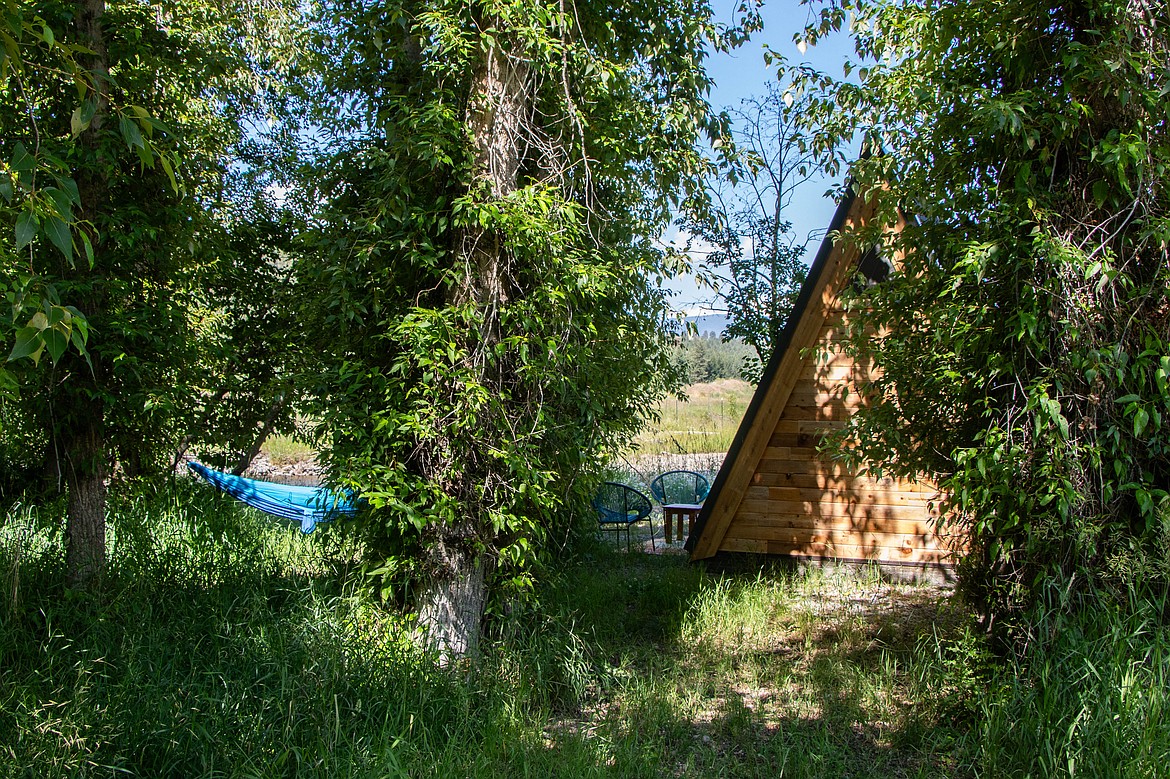 The A-Frame campsite on the Tobacco River Ranch sits next to a blue hammock at the end of June 2023. (Kate Heston/Daily Inter Lake)
The A-Frame cabin is the newest addition to the glamping set up at Tobacco River Ranch in Eureka. (Kate Heston/Daily Inter Lake)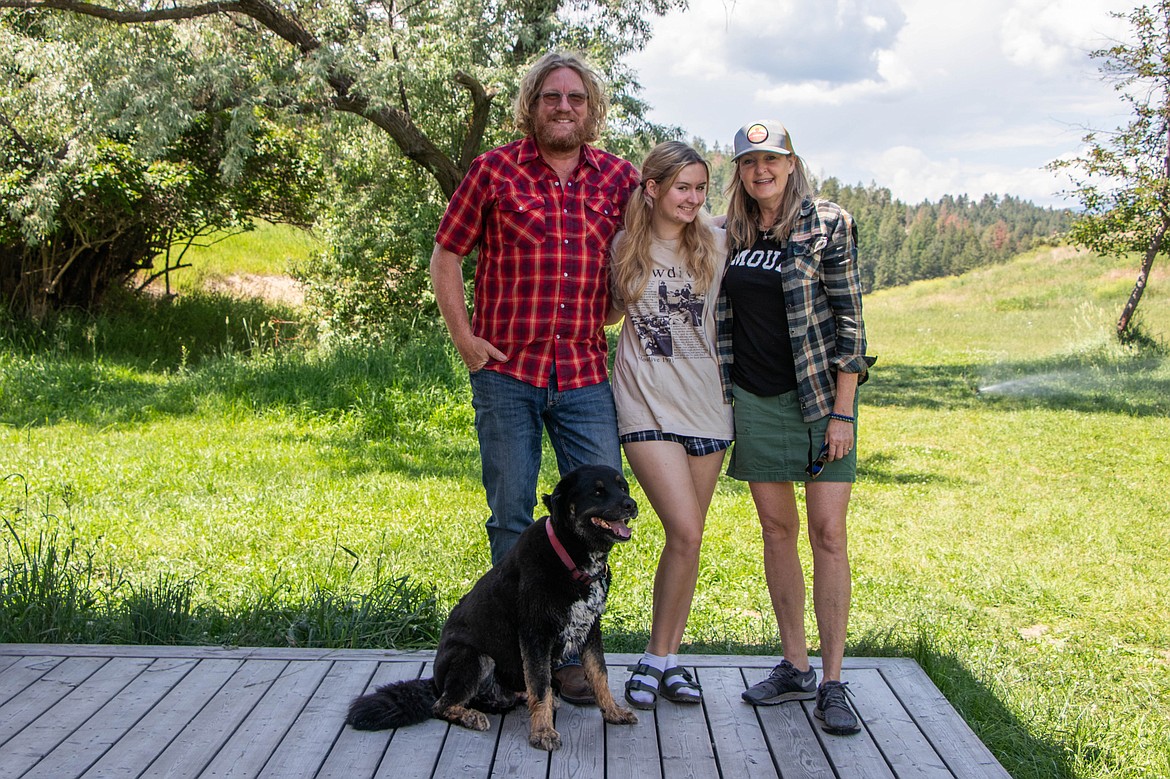 Karl Kassler, Coco Eisinger and Nikki Eisinger are seen at the Tobacco River Ranch, where they host glampers at various cabin sites. (Kate Heston/Daily Inter Lake)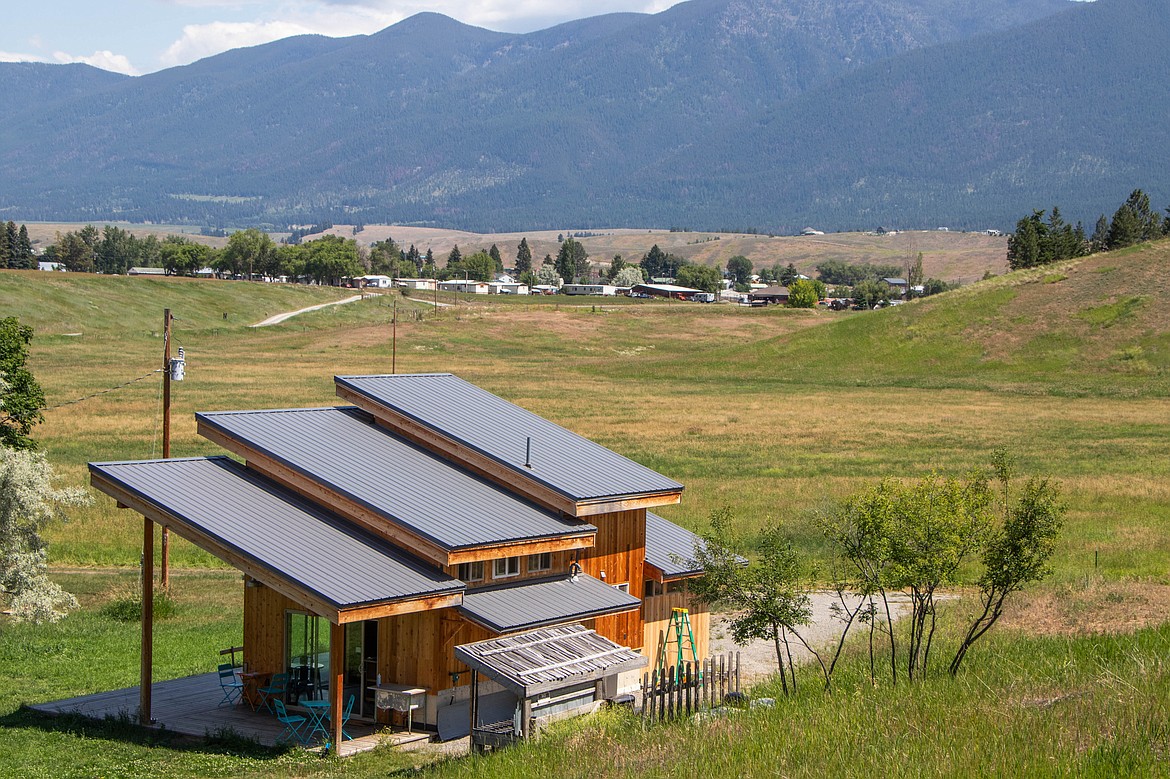 Karl Kassler recently built a new structure containing a community kitchen and bathroom on the glamping site at Tobacco River Ranch. (Kate Heston/Daily Inter Lake)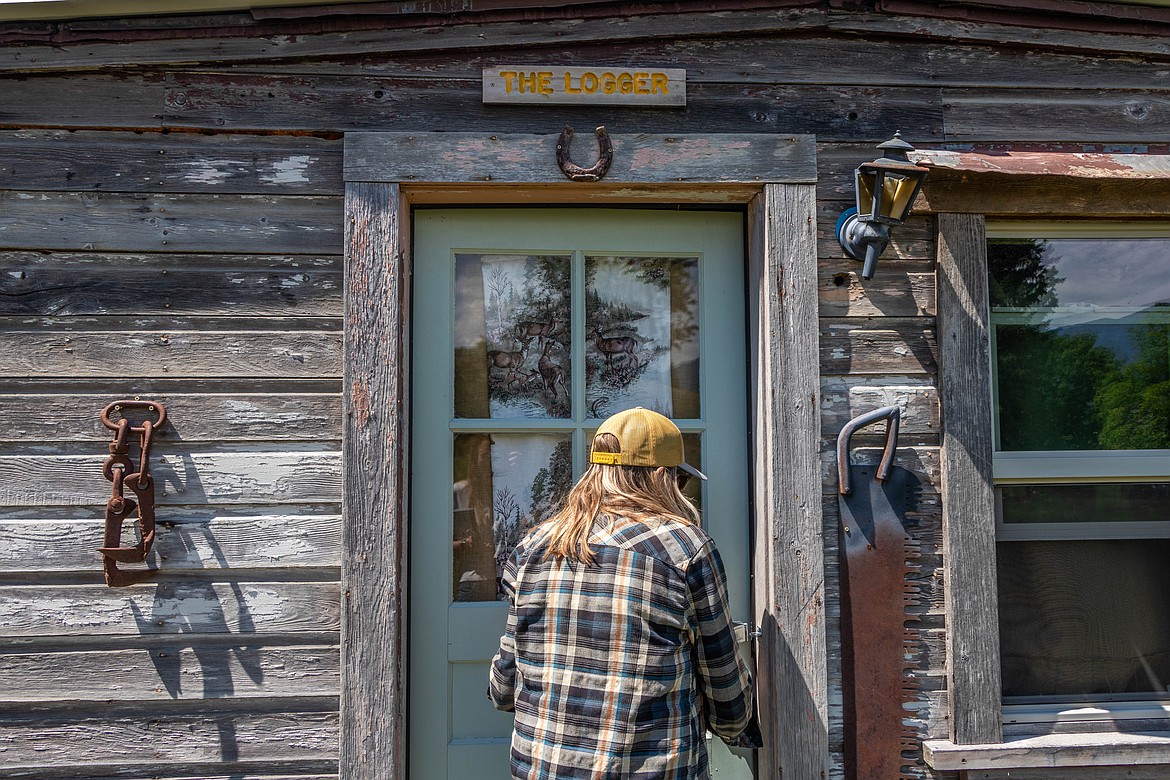 Nikki Eisinger enters "The Logger" cabin, which is made out of an old loggers cabin, at the Tobacco River Ranch at the end of June 2023. (Kate Heston/Daily Inter Lake)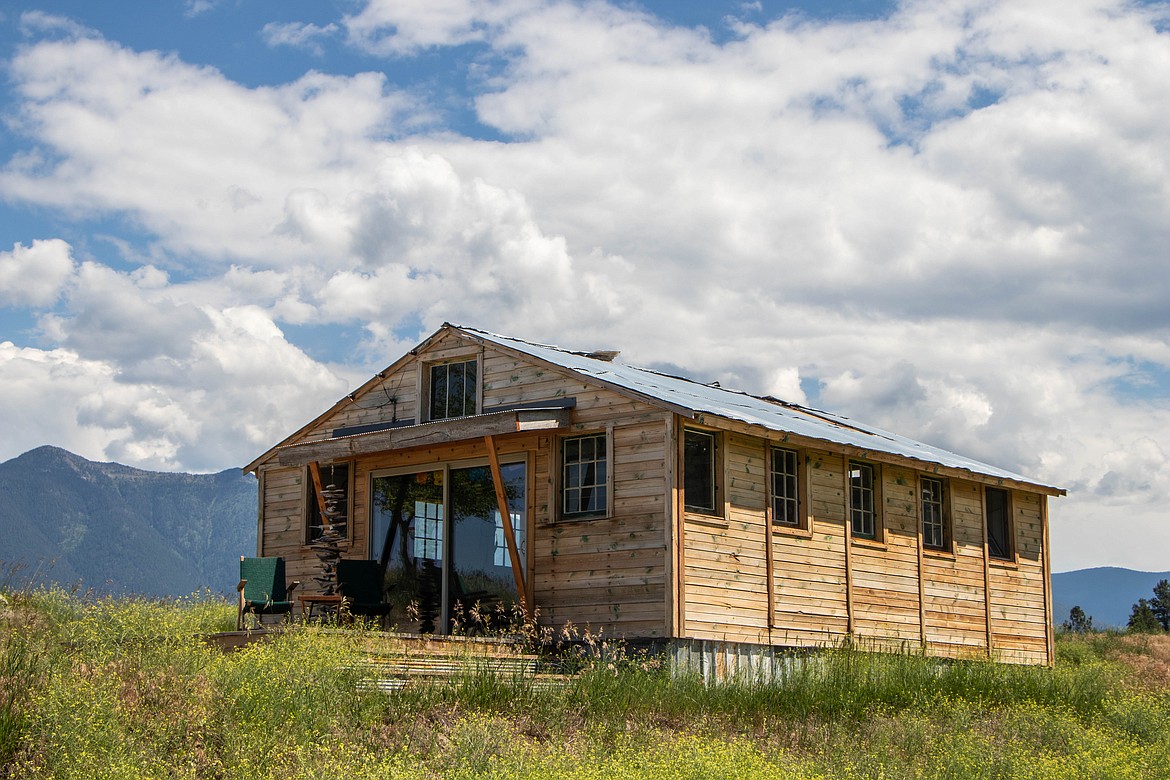 An upgraded old bath house on the Tobacco River Ranch stands as a location for meetings, retreats and group camping. (Kate Heston/Daily Inter Lake)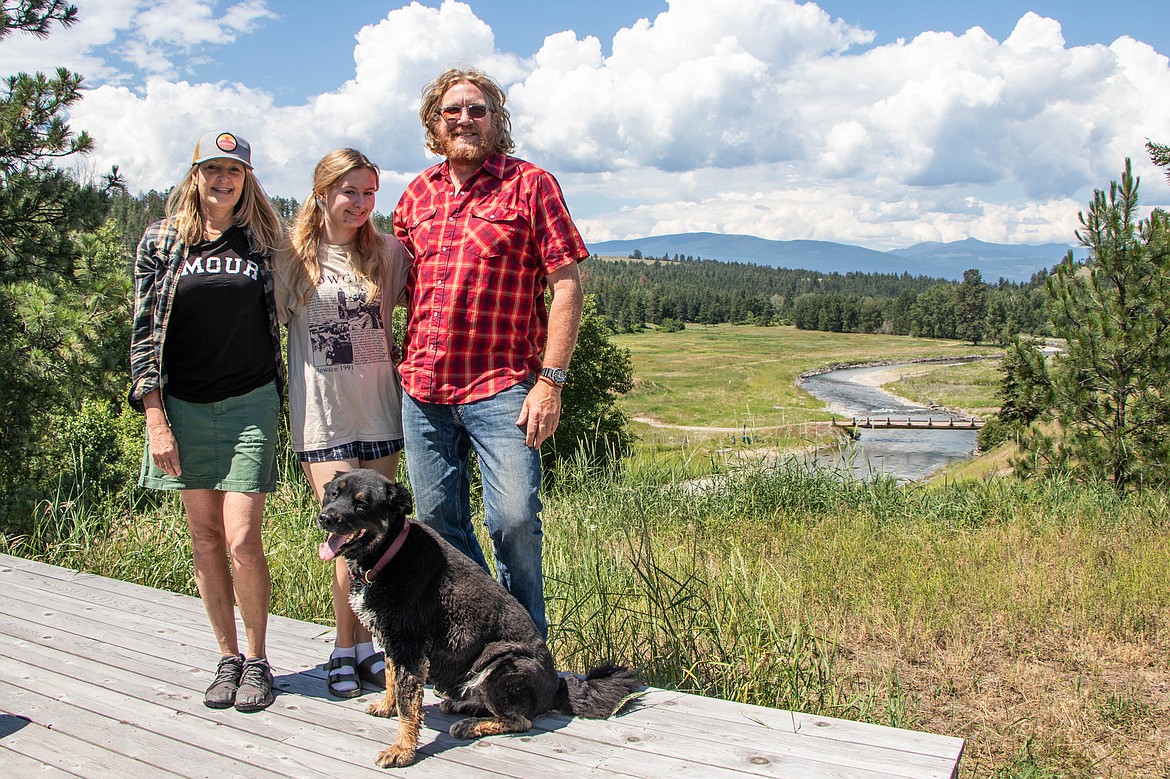 Karl Kassler, Coco Eisinger and Nikki Eisinger are seen at the Tobacco River Ranch, where they host glampers at various cabin sites. (Kate Heston/Daily Inter Lake)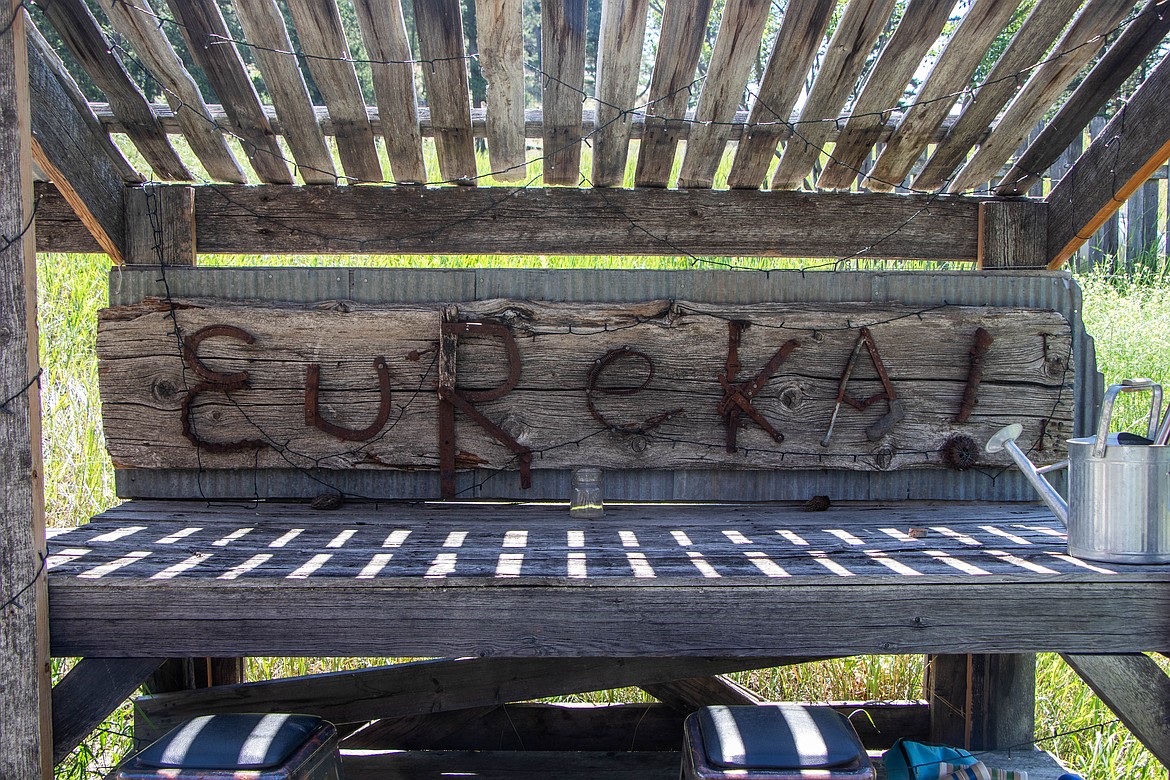 Decorations at the Tobacco River Ranch. (Kate Heston/Daily Inter Lake)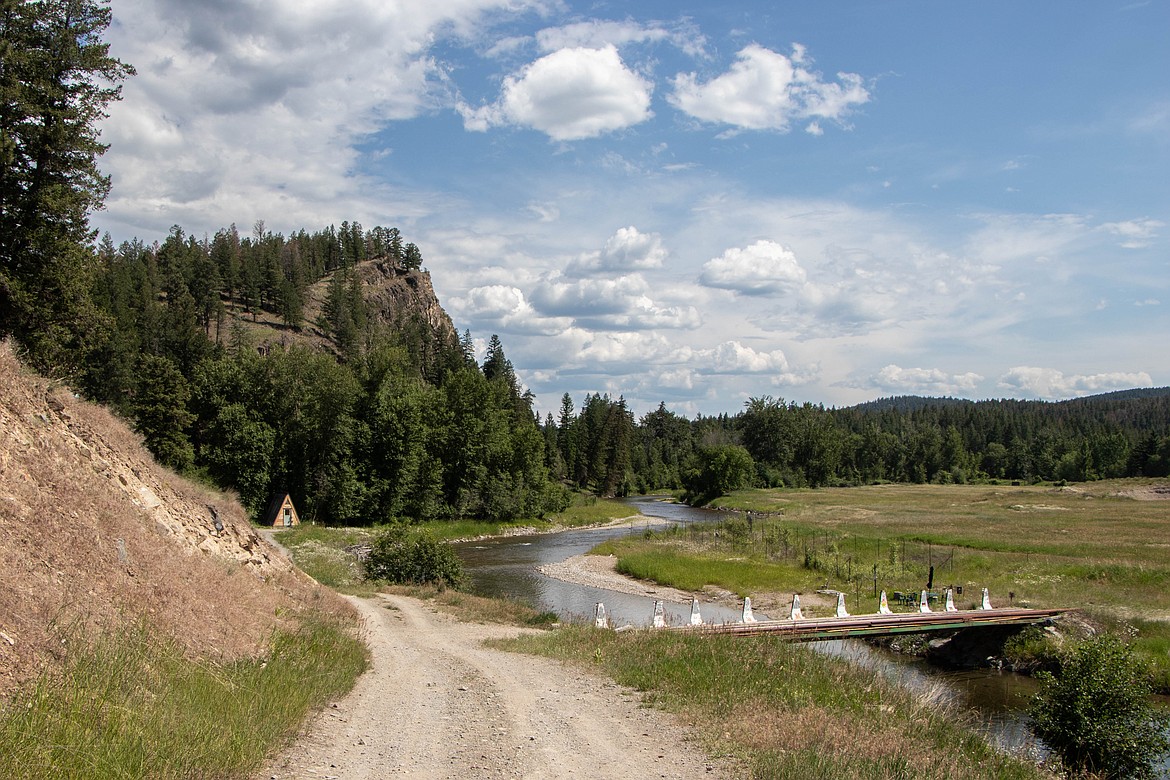 The A-Frame cabin, next to the Tobacco River, sits on the Tobacco River Ranch at the end of June 2023. (Kate Heston/Daily Inter Lake)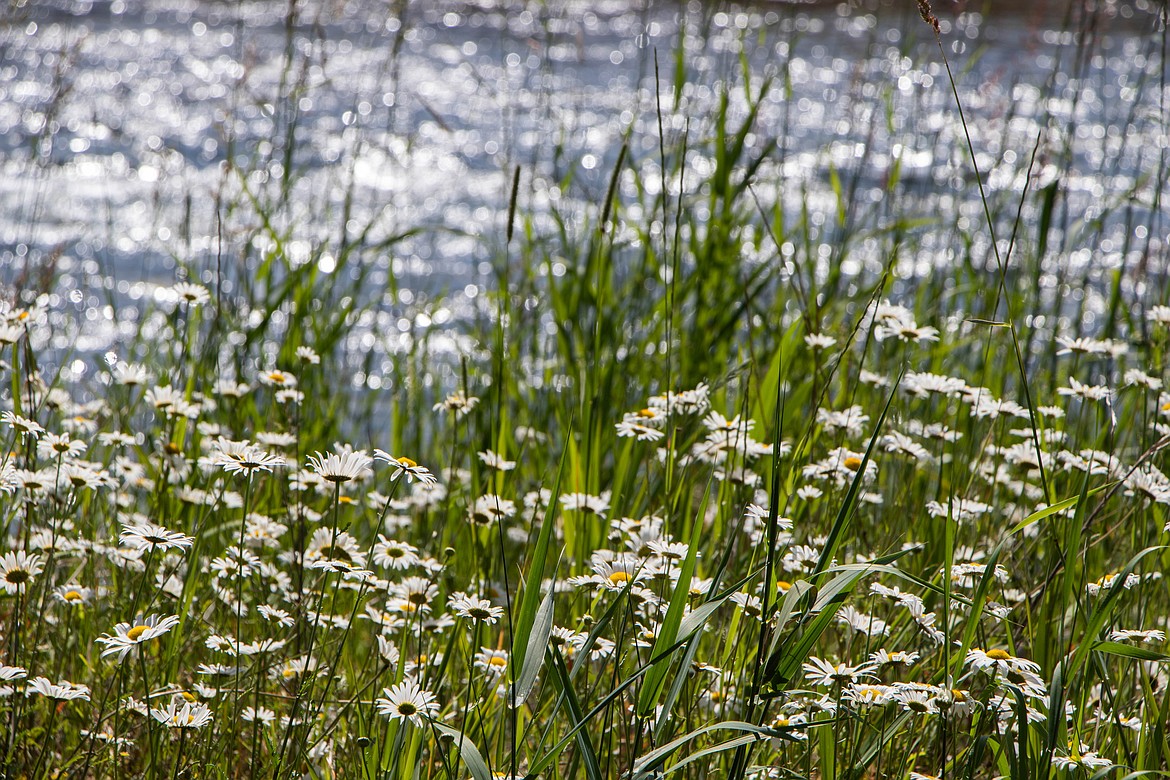 White flowers are seen along the bank of the Tobacco River in Eureka. (Kate Heston/Daily Inter Lake)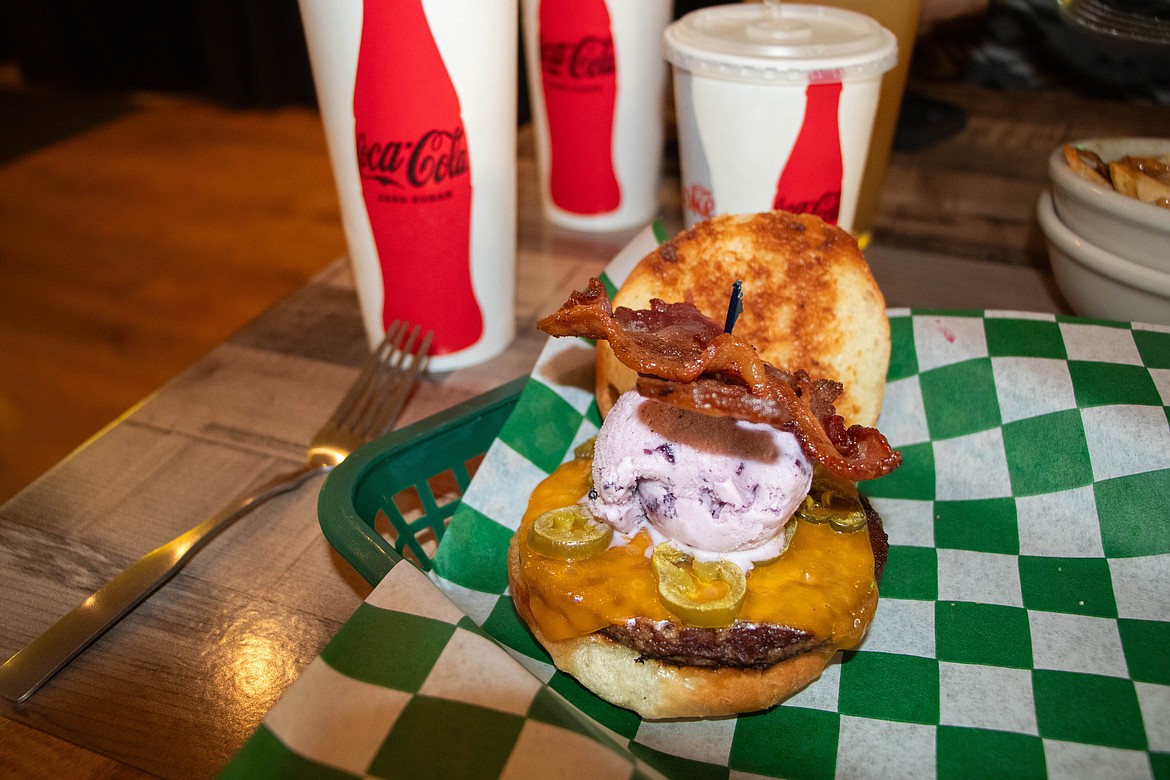 The Huckleberry Burger, with huckleberry ice cream, is a fan favorite at Front Porch Dewey Burger & Fish Co. in Eureka. (Kate Heston/Daily Inter Lake)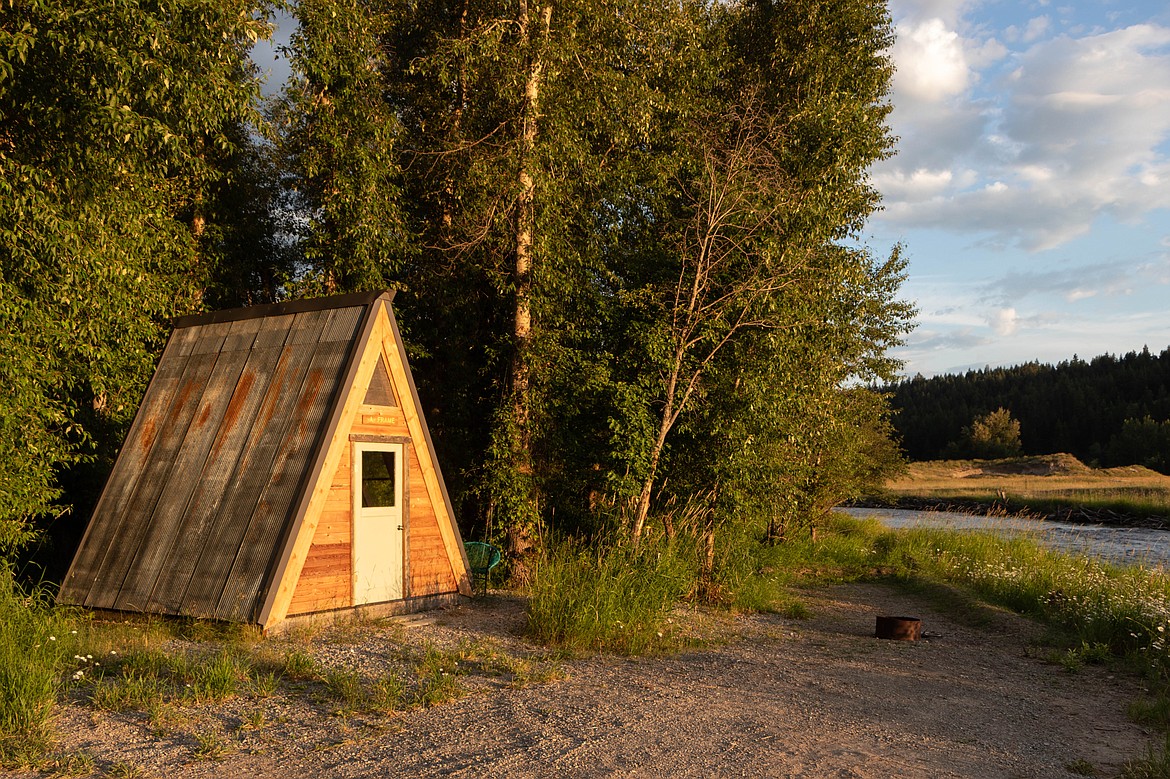 The A-Frame cabin sits next to the Tobacco River during golden hour on the Tobacco River Ranch in Eureka. (Kate Heston/Daily Inter Lake)
Previous
Next
by
KATE HESTON
Daily Inter Lake
|
July 16, 2023 12:00 AM
Lying in a blue hammock at the end of June, I face the Tobacco River, listening to the water as it travels southeast. The song of yellow warblers, robins, goldfinches, and warbling vireos echoes throughout the trees. Small white flowers line the river bank and my A-framed campsite sits to my right. It is calm, it is safe, and I didn't need to do much to experience it.
The Tobacco River Ranch, along the Tobacco River at Eureka, is a newer glamping site in the area. Glamping is a form of camping involving accommodations that traditional camping can't offer, a way to satisfy one's need for time outside without the lack of access to a bathroom or a bed.
Along with establishing the glamping sites, however, the ranch owners have put a lot of time and resources into restoring and conserving the land.
"When you have land, you have to take care of it," said Karl Kassler, the owner of the ranch.
Glamping is something my mom loves to do, so I had been glamping a few times prior to my visit to Tobacco River Ranch. However, the ranch was unique as it was an exquisite mix of history, architecture and home to Montana's best attributes, like a babbling brook and a rolling mountainscape sitting behind it.
My campsite for the evening was a small A-frame building, triangle shaped in nature with a side that can open up to allow for airflow. It is fully wooden and pretty simple, with one queen size bed, a side table, a few books, a lantern and a deck of cards. It is one of six camping sites built by Karl Kassler and Nikki Eisinger, who have been together since 2016.
The ranch opened for glamping five years ago. Since then, they have added a new cabin each year, the A-frame being one of the newest. While some of the structures are new, Eisinger, who runs the glamping business, values using historical structures for glamping sites as well.
Left on the 450 acres of land was an old loggers cabin, over 100 years old. It had no windows and shag carpeting. Eisnger and Kassler, instead of scrapping it, turned the cabin into two individual campsites.
"When I discovered that old cabin had something worth salvaging, that's really where all of this glamping idea started," she said.
Restoring old buildings is a good thing to do, according to Eisinger. Kassler even took an old railway car and built it into a bridge and the couple took an old Forest Service bath house and converted it into a gathering space, where they host events like yoga retreats.
"To restore something old is so much more work than to build something new but with the planet running out of resources, and wanting to do something that isn't cookie cutter, we decided to do it," Eisinger said.
That is consistent on the Tobacco River Ranch — looking out for the planet and using nature in a way that respects it. Part of their mantra is leaving a small footprint, but using that footprint to better the area.
KASsLER AND his father bought the ranch in 1992. Kassler has recently completed restoration and conservation projects on it since noticing the river bank deteriorating. He ran an initial study in 2001, and using that as a stepping stone, a conceptual restoration project was created.
"The principal reason for it was the sediment loading from the deterioration of the river. It was negatively impacting the bull trout," Kassler said.
The project, with grants from the state and the Department of Natural Resources, alongside funds from Kassler himself, used only materials that already existed on the property.
Kassler worked to remove 6,000 trees on 85 acres on his property during a forest fuels reduction project, and then put those trees along the river bank to strengthen it. He also took the bigger rocks from an existing gravel pit on the property, where 65,000 yards of large rock were left, and used them for the restoration project as well.
The project spans over two miles, with help from his neighboring ranch Little 69, and was completed in 2018.
"For me, it was a no brainer for the health of the riparian habitat and the fisheries," Kassler said. "We just kind of realized the land had been disabused, so I just poured myself into it."
The property also has a conservation easement, granted by the Sunburst Foundation, to keep the Rails to Trails paths accessible, which will take adventurers to old town Eureka or all the way out to Lake Koocanusa.
Kassler has built most of what Eisinger has dreamt up. Recently, they constructed a community kitchen and bathroom space where guests can store food and shower.
"There are so many more people around here and in Montana now and you can't find camping spots as easily," Eisinger said. "We take all of the work out of it for you so you can just enjoy your time."
Interested campers can visit the ranch's website at https://tobaccoriverranch.com/ to learn more about the site. The campsites can be booked through AirBnb and are all under $150 a night.
After walking the property, taking a swim and reading for a few hours in the sunshine, I headed into town for dinner at Front Porch Dewey Burger & Fish Co., a must have in Eureka. I got the famous burger with huckleberry ice cream on it, a strange conundrum but a delicacy nonetheless.
Returning to the ranch, I got ready for bed and read my book in the hammock, using the lantern to light the pages. I feel asleep peacefully in my cabin to the sound of the water, ultimately waking up with a warm glow from the sun.
I didn't need to set anything up or pack anything out or buy any gear I didn't have. It was an easy excursion, and a beautiful showcase of Montana's Tobacco Valley. I might just have to take my mom there one day.
Reporter Kate Heston can be reached at kheston@dailyinterlake.com or 758-4459.
Support local journalism — subscribe to the Daily Inter Lake today.
Recent Headlines
---