Experts forecast intense fire season for Montana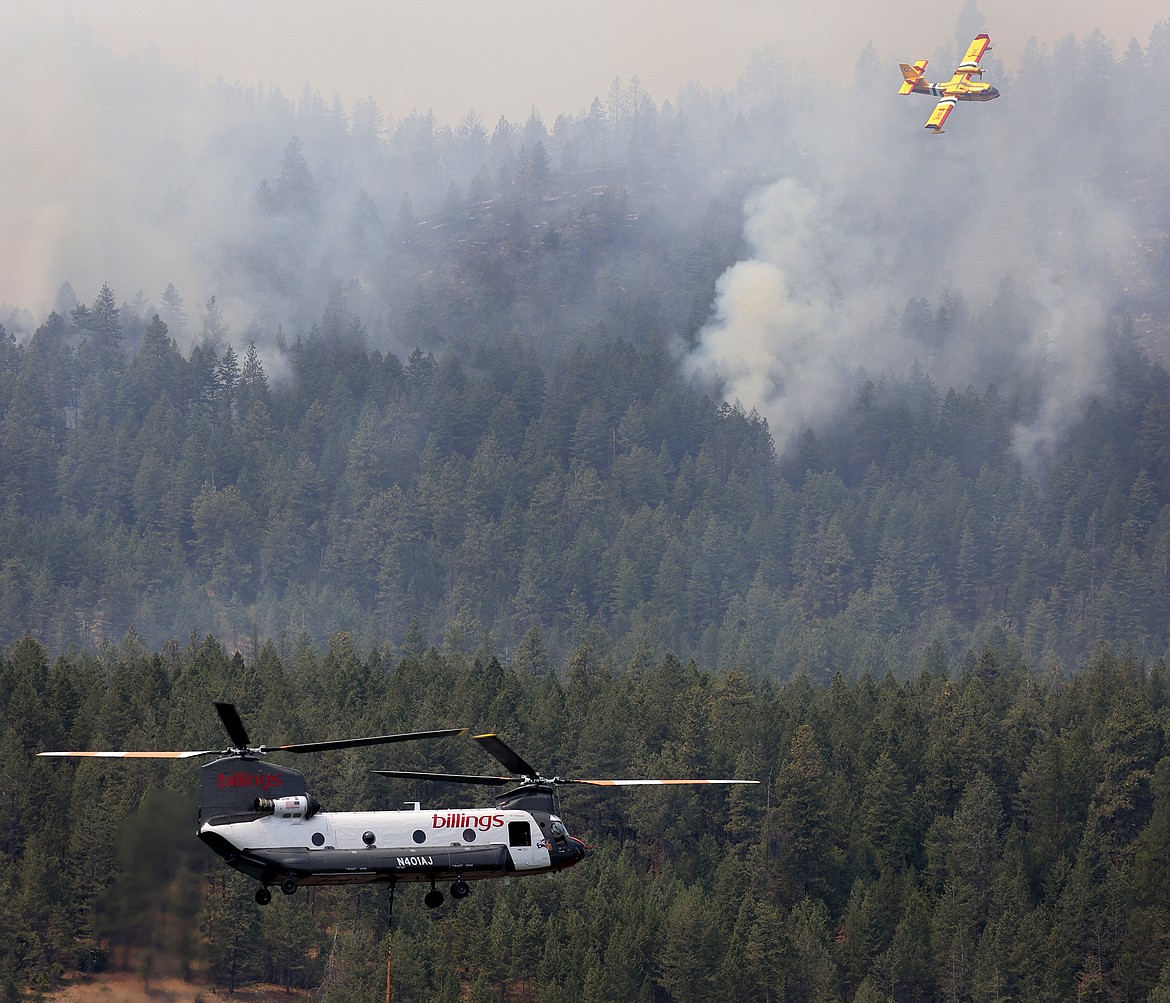 A Billings Flying Service CH-47D helicopter collects water from Black Lake while a Bridger Aerospace CL-415EAF super scooper drops water on the Elmo Fire Monday, Aug. 1. (Jeremy Weber/Daily Inter Lake)
by
KATE HESTON
Daily Inter Lake
|
July 19, 2023 12:00 AM
Montana is likely to see a rapid increase in wildfires as the summer grows hotter and the rain stops, according to fire weather experts.
Gov. Greg Gianforte hosted a fire briefing Tuesday morning in Helena to address the upcoming, anticipated peak in fire season in the state. While residents can't control the weather, they can help mitigate the risk of severe wildfires, Gianforte said before reiterating his administration's policy of quickly dousing wildfires.
"We must pursue a policy of aggressive attack on all fires until they are completely extinguished," Gianforte said.
Montana has seen 705 wildfires, which together have burned a total of 1,217 acres, this year, according to Matt Hall, fire protection bureau chief at the state Department of Natural Resources and Conservation. Of those, 87% were caused by humans.
Due to extreme heat, early snowmelt and the ongoing drought, meteorologists expect an increase in the number and intensity of wildfires from this point forward.
The drought that took hold in Northwest Montana last summer has intensified, according to Dan Borsum, a fire weather meteorologist for the Northern Rockies Geographic Area. Borsum, who gave the presentation at the governor's briefing, pointed toward extreme dryness across the state, specifically in Flathead, Lincoln and Glacier counties.
Satellite groundwater detection indicated that Western Montana is currently drier than 97% of all other years.
There are multiple factors contributing to this, Borsum said. This year, the winter snowpack was below normal in Northwest Montana. Paired with the fourth warmest May in Montana's history, the snowpack depleted early on.
While some thunderstorms and moisture have kept big fires at bay, other areas of Montana have dried out already and are falling below normal seasonal moistures. These deficits will worsen in the coming weeks, Borsum said, especially as chances for rain diminish and strong heat waves hit the state, bringing profound drying to the landscape.

"We're just getting to the cusp," Borsum said regarding peak fire conditions.
El Nino, a weather phenomenon that occurs with a warming of surface waters in the eastern Pacific Ocean, might play a role in this year's fire season as it could lead to warmer and drier conditions. That dryness could persist into the fall.
"It may prolong fire season … and that's something that should be a concern," Borsum said of El Nino.
Given the prospect of an intense fire season, Hall stressed the importance of preparation. Homeowners should create and maintain a buffer around the home where fuels are limited. People also need to prepare evacuation plans.
"If you're in an area that is vulnerable to fire, you have to be ready to go," Gianforte said.
Hall also said that some counties are implementing burn bans at local levels to alleviate some of the risk.
"Across the state, wildfires will start and move quickly," Hall said.
Gianforte urged the public to be responsible outdoors on multiple occasions during the briefing, pointing to the fact that nearly 90% of all wildfires this year were human caused.
"The people of Montana have a responsibility here as well," he said. "We have to do better."
Reporter Kate Heston can be reached at kheston@dailyinterlake.com or 758-4459.
Recent Headlines
---