Mule deer quotas adjusted in response to spring surveys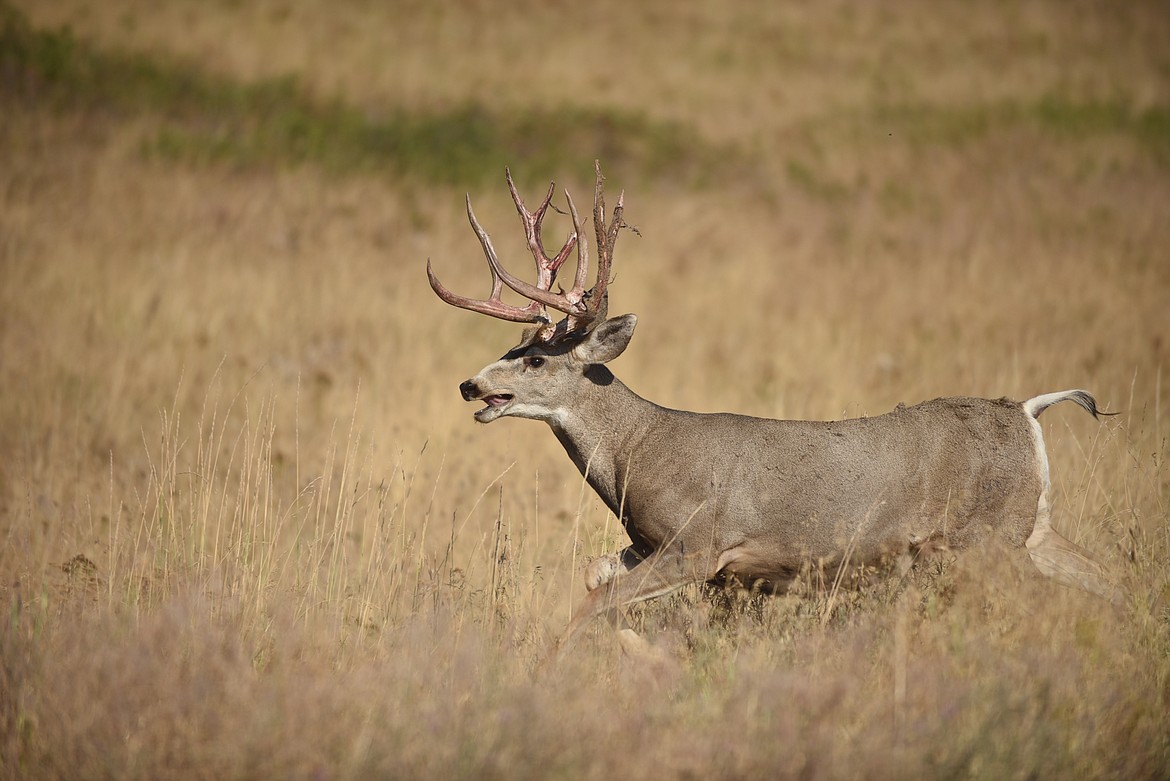 A mule deer buck with strands of velvet hanging from its antlers trots through the National Bison Range Aug. 29. (Scott Shindledecker/Daily Inter Lake)
HELENA – While mule deer populations remain steady in portions of the state, spring green-up surveys conducted by Montana Fish, Wildlife and Parks wildlife biologists showed populations in some parts of the state remain lower than desired, and as a result, licenses available to hunters in those areas have been cut back.
Over the past few years, persistent drought, particularly in southeast Montana, has affected both survival and recruitment rates for mule deer. This drought has also, at times, been coupled with hard winters, making it especially difficult for fawns to survive to adulthood. The combination of these environmental factors has impacted mule deer herds in southeast Montana so much so that recent surveys indicate the population there is 48 percent below the long-term average.
"It's really not been just one thing," said Brett Dorak, FWP Region 7 wildlife manager. "Hard winters, dry summers – it all takes a toll on mule deer in particular. But that's what our adaptive harvest management plan is designed to address – localized conditions that impact populations. By following the plan, we have adjusted our antlerless B license opportunity annually and over the past few years we have reduced those opportunities by 91 percent."
Annually, wildlife managers around the state adjust mule deer B license numbers based on spring survey results. When it looks like the population is in decline in a hunting district, FWP reduces the number of mule deer B licenses available in order to keep more female deer in the herd, the very segment that drives the population. In central Montana, that has meant mule deer B licenses have fluctuated a bit during the past few years. In Region 7, mule deer B licenses have dropped from a high of 11,000 in 2020 to 1,000 this year.
In Region 6, or northeast Montana, numbers have been more variable. Generally, mule deer numbers are average to below average in southern districts of the region and average to above average in northern districts. Mule deer B license quotas have been adjusted accordingly.

The prairie-breaks habitat of central Montana's Region 4 has seen declining mule deer numbers, and much of the region had already changed to antlered buck-only regulations in response to severe winter conditions and summer drought of the past few years.
"We've been lowering our B license numbers for a few years," said Cory Loecker, Region 4 wildlife manager. "But even with the favorable weather conditions this spring and the resiliency deer can exhibit, their numbers will take some time to rebound."
This year also saw a few other changes to licenses. In June, the Fish and Wildlife Commission approved changes to the general deer license in several hunting districts that will shift licenses from either-sex mule deer to antlered buck mule deer only. The hunting districts affected by these changes are 301 in southwest Montana; 410, 411, 412, 417, 419, 426 and 471 in north-central Montana; 621 and 622 in northeast Montana; and 700, 701, 702, 703, 704 and 705 in southeast Montana. White-tailed deer opportunity will remain as either-sex in these hunting districts for 2023.
This means that during the archery, general and heritage muzzleloader seasons, the general license will not be valid for antlerless mule deer harvest in those districts.
These changes are reflected in the online hunting regulations, but not in the hardcopy version, which were printed in the spring prior to the changes made by the Fish and Wildlife Commission.
"It's important for hunters to know how we're responding to declines in mule deer numbers," said FWP Director Dustin Temple. "We've heard for the last few years from landowners and hunters alike that they're concerned about deer numbers. Staff's application of our adaptive management plan to be more conservative with harvest really fits the situation on the ground."
Good wildlife populations are always tied to good habitat conditions. Summer and autumn forage is important for deer, as the nutrition they get in the summer and fall will help them make it through the long Montana winters.
"We had some timely rains late last summer and autumn, which helped with some late vegetative production," said Dorak. "Mule deer pregnancy and fetal rates are associated with forage quality in the fall, and those late rains we had may be the reason why we saw a small rebound in our recruitment rates this spring. Prairie mule deer populations are cyclical, and we have been in these low spots a few times over the past four decades, but these mule deer are also resilient. When environmental conditions are favorable, these populations can bounce back."
"Thankfully the wet spring and summer seen in much of Montana may help give numbers a boost next year," Dorak added.
But either way, FWP biologists will be paying close attention and adjusting B license numbers based on most recent surveys along with weather and habitat conditions.
Recent Headlines
---