Conservation of common loon remains a priority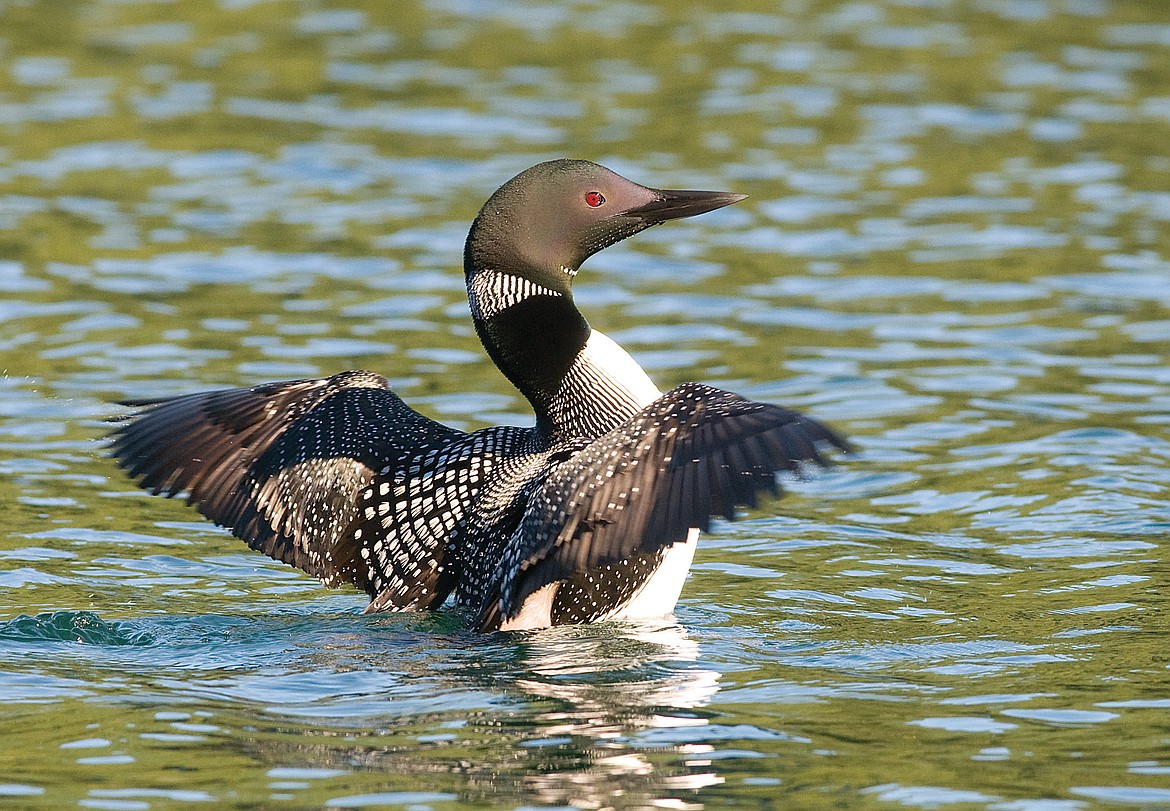 A common loon flaps its wings, which are short in comparison to its body size. Loons' small wings require them to get a running start to fly, according to Montana Loon Society President Lynn Kelly. (Chris Peterson/Hungry Horse News)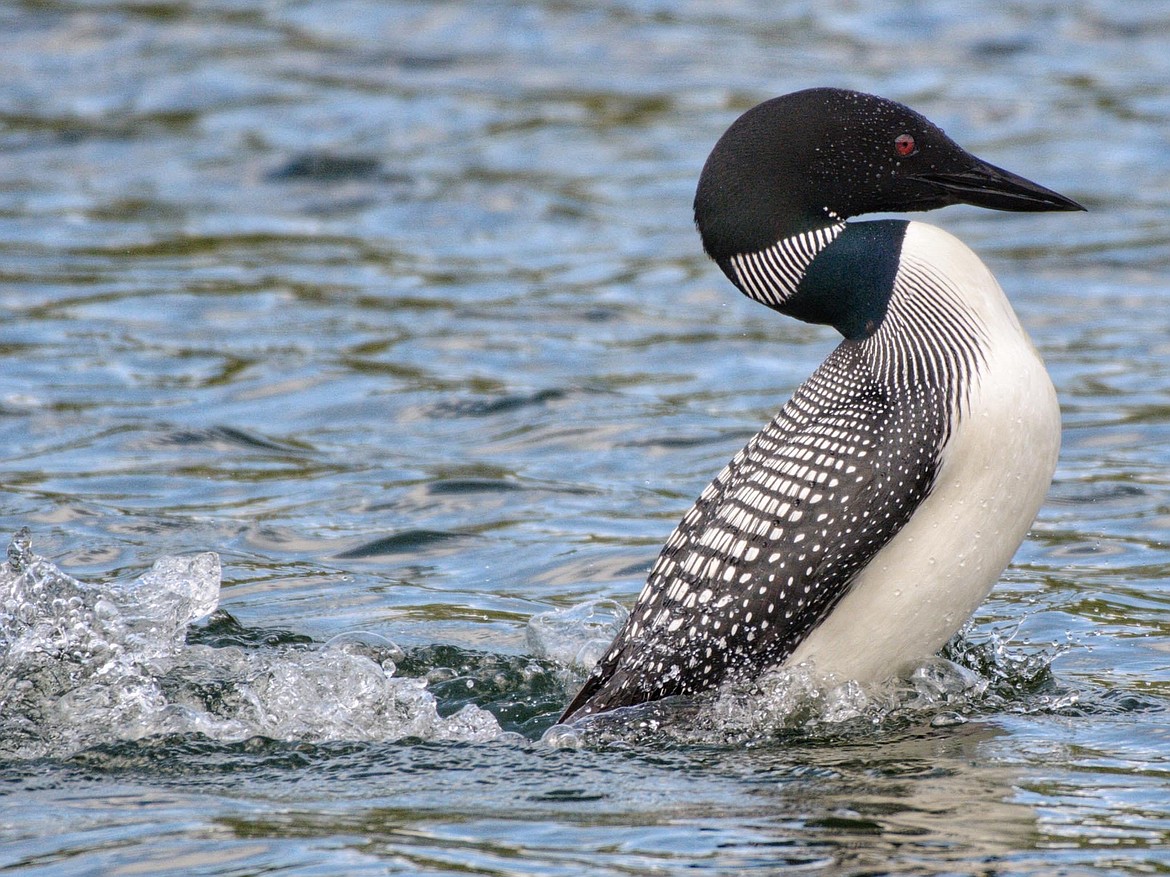 The common loon's 'penguin dance,' a defense behavior to defend nest or chicks. (Photo courtesy of Bob LeBlanc)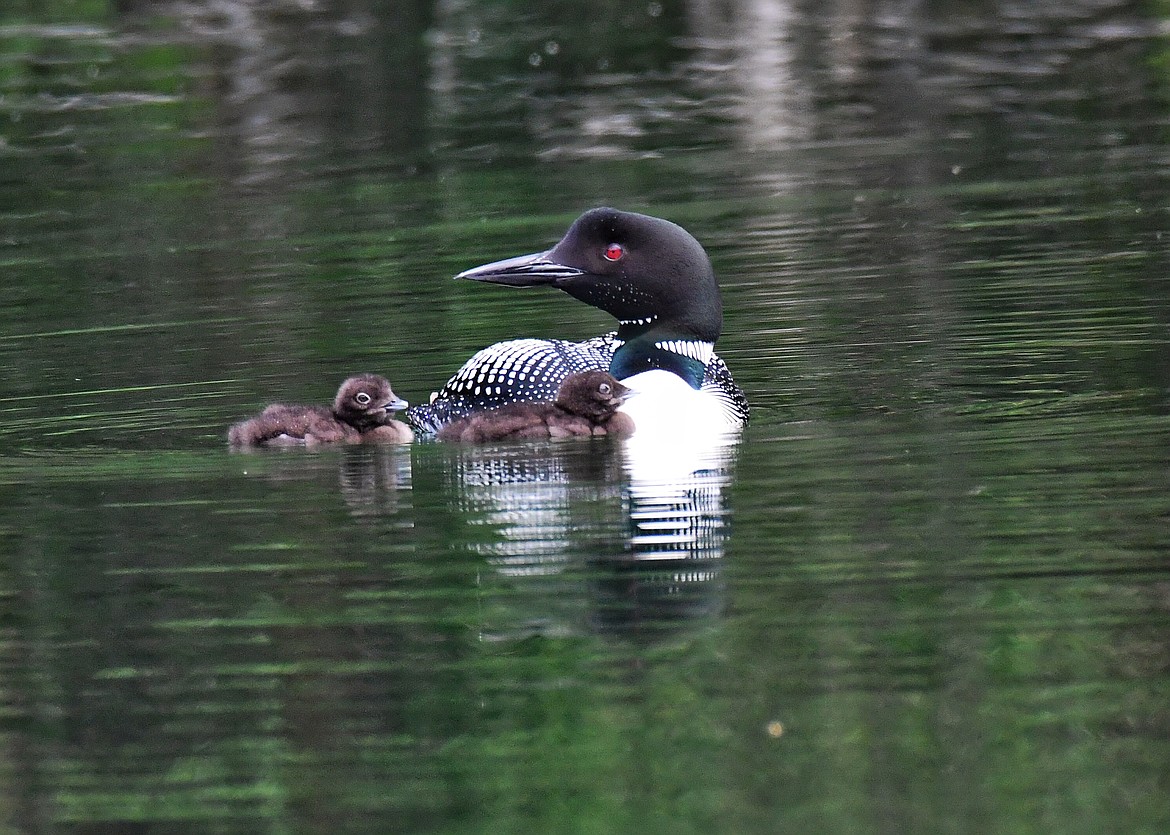 An adult common loon and chicks. (Photo courtesy of Bob LeBlanc)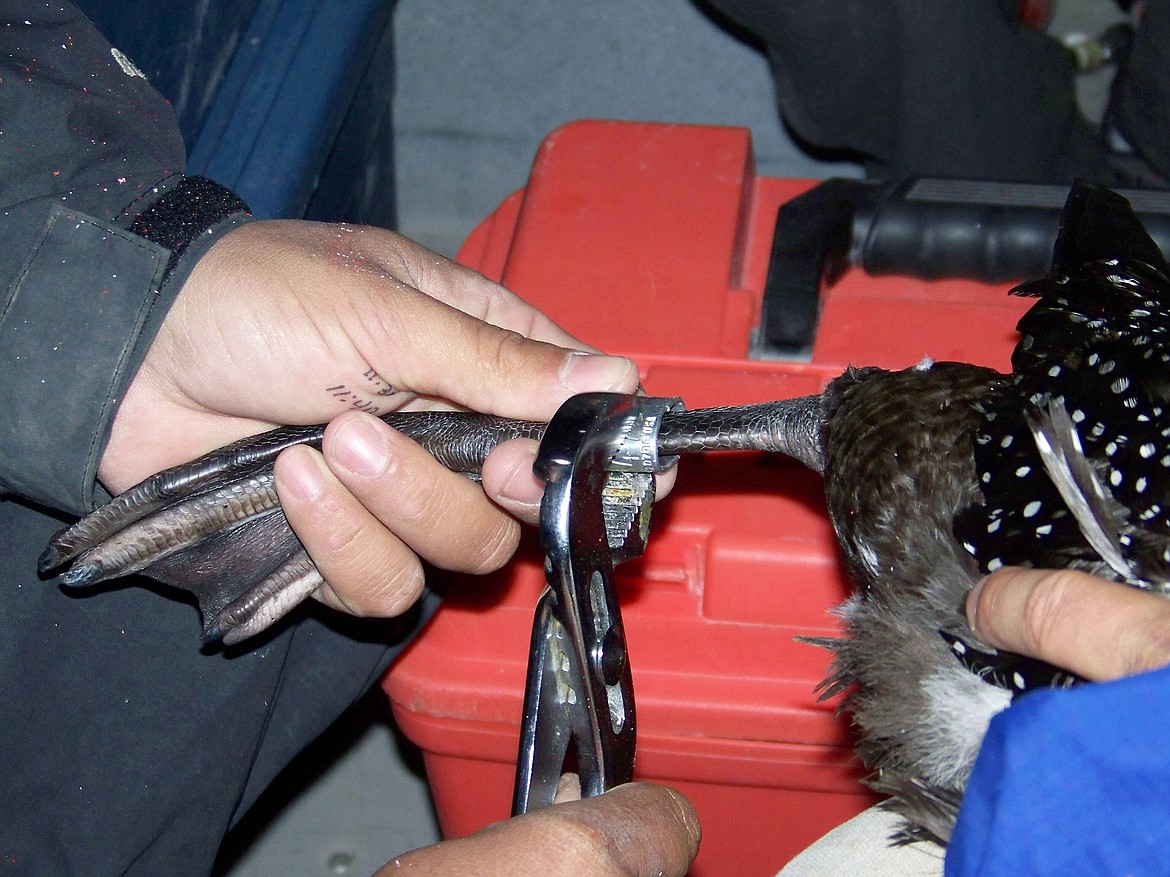 Former CLWG Coordinator Chris Hammond crimps a loon's band in 2008. (Photo courtesy of Donna Love)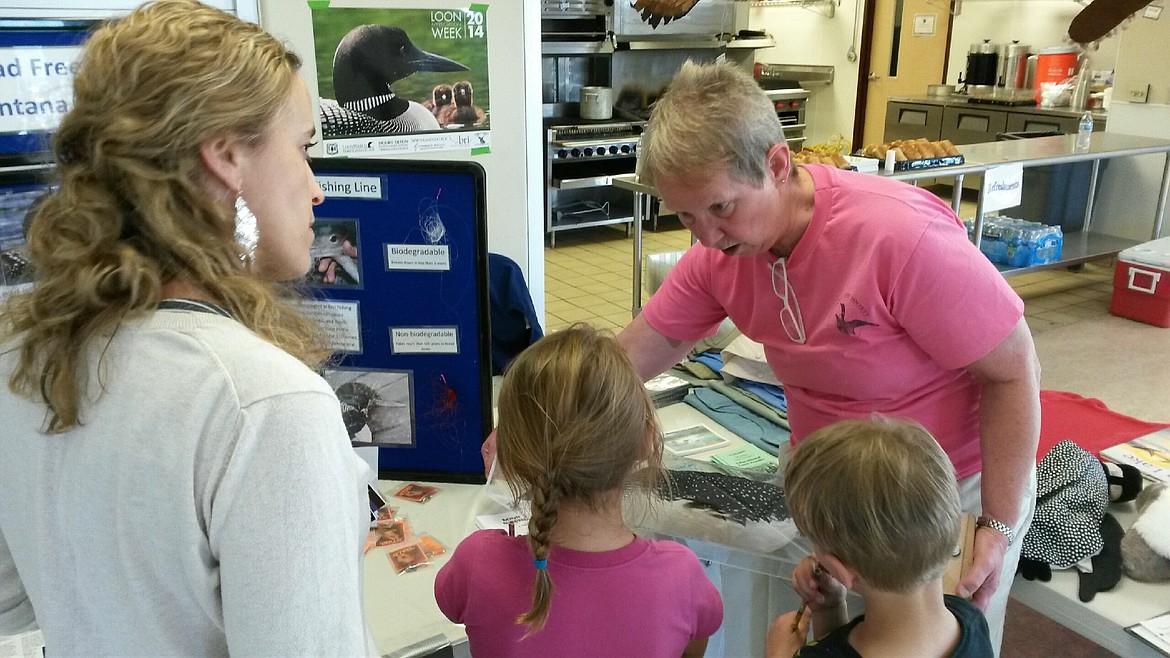 Montana Loon Society President Lynn Kelly speaks with children about loons at the Confederated Salish and Kootenai Tribes Birds and Bear Festival. (photo courtesy of Donna Love)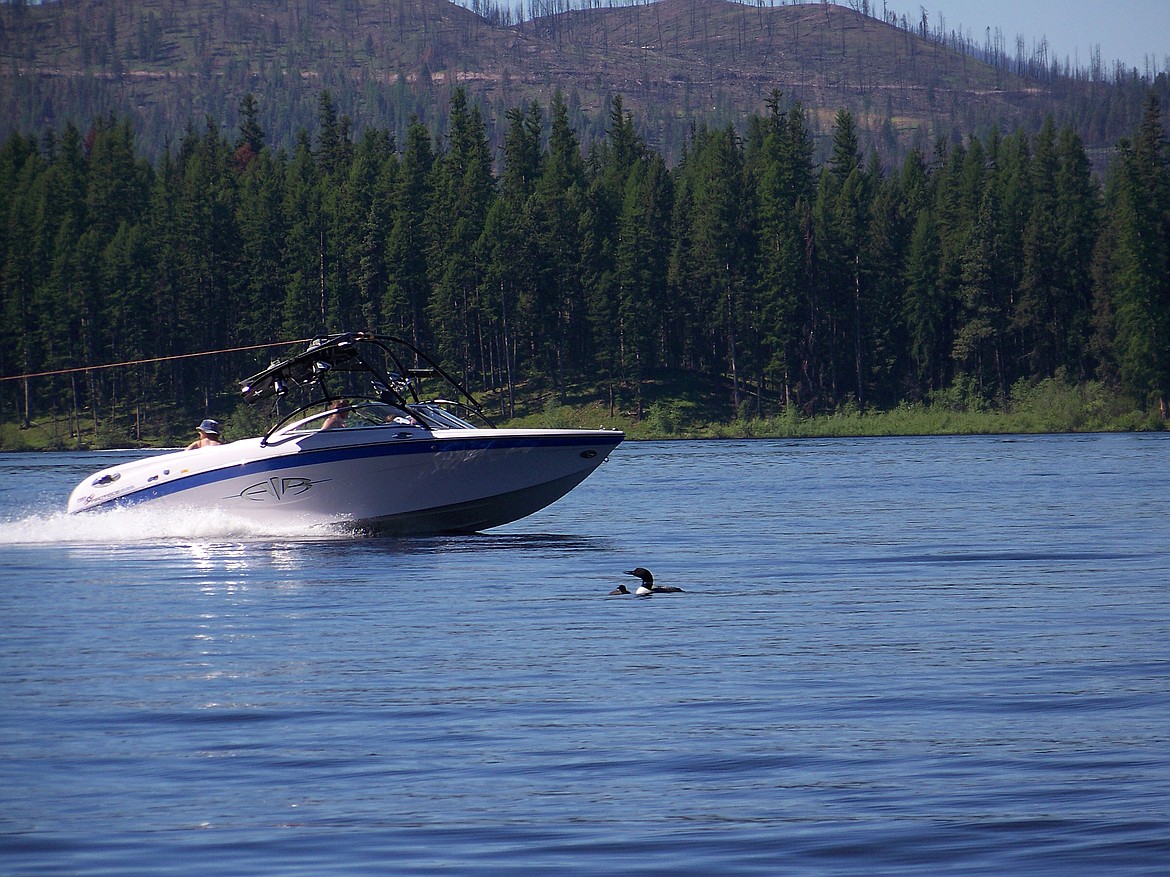 Boaters get a little too close to a loon and her chicks while boating on Seely Lake in 2008. (Photo courtesy of Donna Love)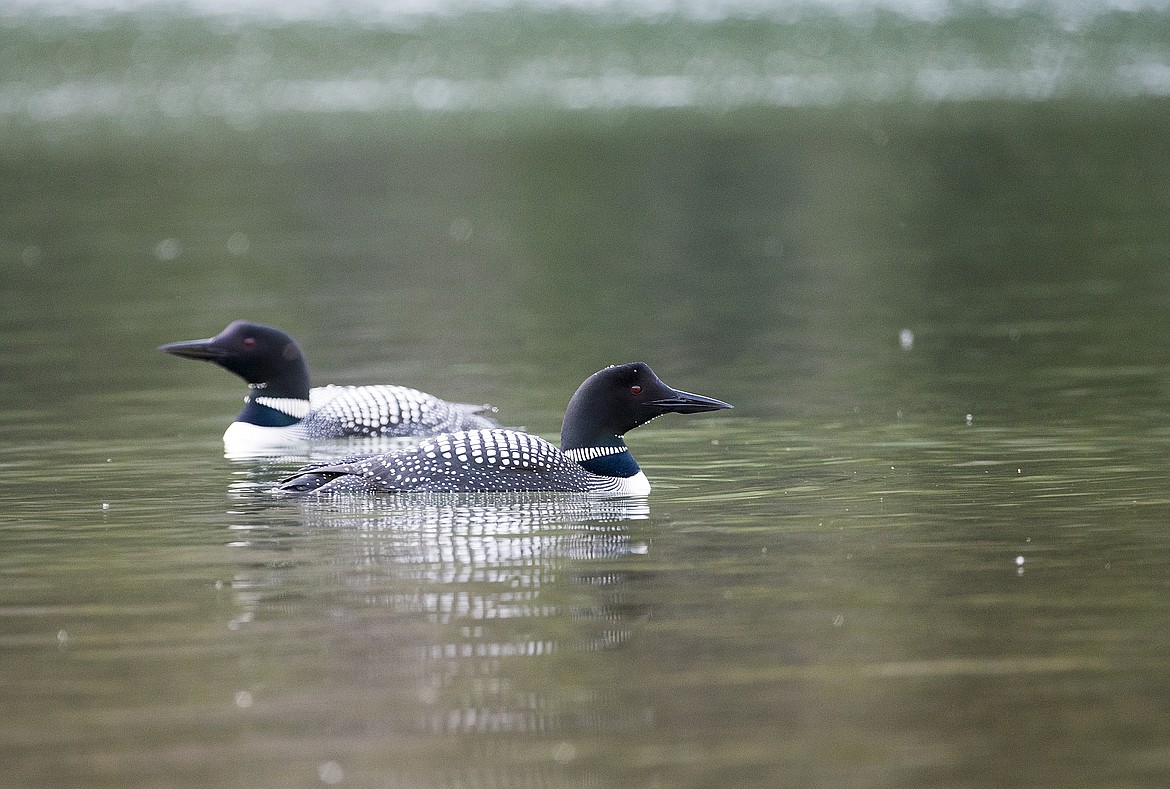 Two common loons in Glacier National Park. (Chris Peterson/Hungry Horse News)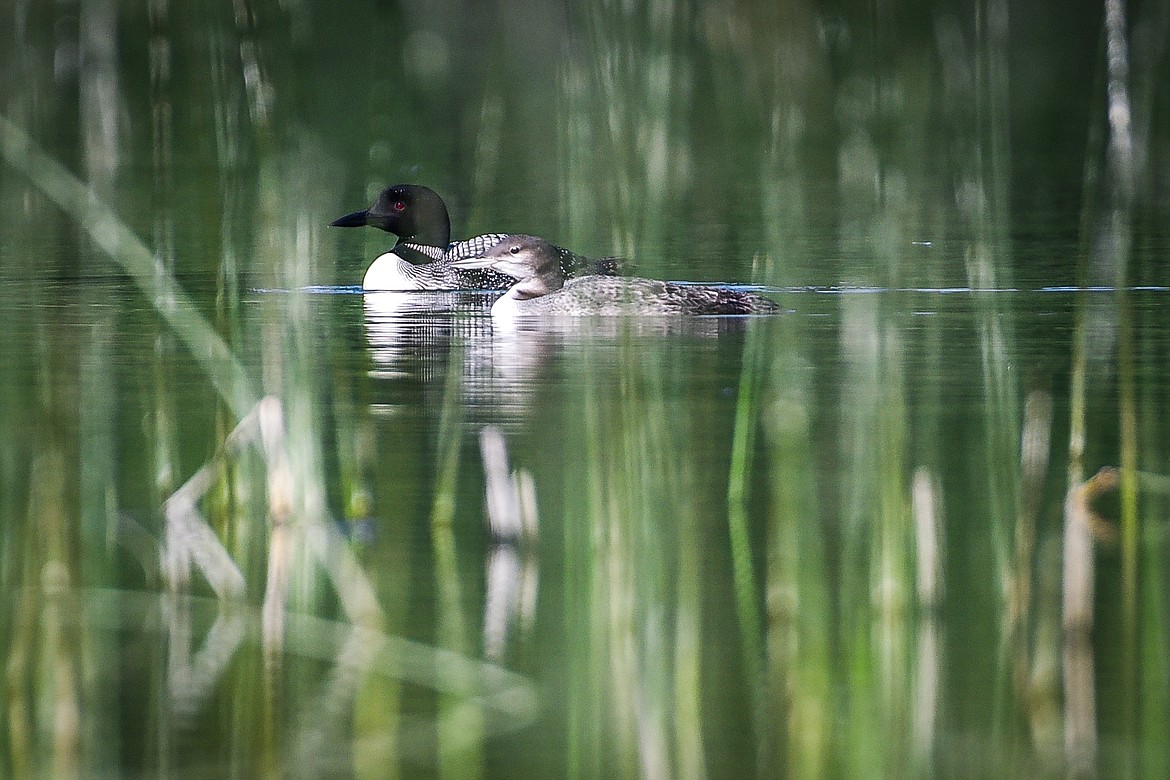 A common loon adult male and juvenile at Upper Thompson Lake in Lincoln County on Sunday, July 25, 2021. (Casey Kreider/Daily Inter Lake)
Previous
Next
Around the early 1980s, lakes in Montana began buzzing with the increasing noise of boats and motorized personal watercraft. While people were having fun in the sun, they were unknowingly disturbing one of the region's most sensitive bird populations — the common loon.
Easily recognizable by their many wails and calls, loons are large birds when compared to ducks. They only lay two eggs at a time, leaving the nest when disturbed, sometimes so quickly that their feet knock eggs into the water.
If a loon is facing constant disturbances and leaving its eggs too often, it won't incubate and hatch. Montana Loon Society President Lynn Kelly said when she got involved with loon conservation in the 1980s, the population in the state was at a critical low.
"I really feel that if we had not stepped in at that point ... I don't know that we would have loons today," Kelly said.
Kelly was president of the Flathead Audubon Society in the 1980s when Don Skaar decided to follow up on his father's work and check on the status of loons in Montana. His father P.D. Skaar wrote "Bird Distribution in Montana" and provided some of the first accurate information about loons ever recorded in the state.
Don Skaar began the Montana Loon Study in 1982 and was soon asking local birding groups for assistance, like the Flathead Audubon Society. With the help of biologists at Montana Fish, Wildlife and Parks, the U.S. Forest Service, Glacier National Park, the Confederated Salish and Kootenai Tribes and more, Skaar went on to establish that common loons in Montana should be classified as a species of concern. He also founded Loon Day in the state, with his and other biologists' work leading to the formation of the Montana Loon Society.
Kelly, who taught science at Polson Middle School for 35 years, remembers when she got involved with Skaar's common loon research. Her instant love of the birds would make them her thesis subject. She noticed that a motorized boat or personal watercraft would cause a loon to fly away from the nest, leaving eggs vulnerable to predators such as ravens who would circle the lake waiting for an opportunity to snatch them.
"In one case, I actually saw a bird get off the nest, the raven started to spiral down, and the loon, despite the boat being so close, was able to get back up on the nest and protect the egg. So, it was very obvious that the ravens were keyed into a pretty easy food supply," Kelly said.
Kayaks and canoes can also scare loons, producing the same result as noisy boats, but getting much closer to the birds before they decide to fly away.
As Montana's lakes got busier, researchers identified loon nesting areas and started putting up signs on buoys to alert boaters to be cautious around them.
"They're not going to read anything at the boat ramp. So, the next thing they're going to hit is a sign that's floating in the water that says 'stay out of this area,'" Kelly said.
The tactic proved well in the northeastern part of the United States and soon Montana researchers were seeing results, their efforts bolstered the loon chick brood population.
Common loon population numbers in Montana go up and down but have overall slightly grown through the years. Population data from the Montana Loon Society shows there were around 60 territorial pairs recorded in 1999 compared to just over 80 pairs in 2019.
In recent years there are about 200 adult loons between Missoula north to the Canada border and west to the Continental Divide, Lynn notes.
"Basically, what stable means is that if we can maintain the productivity, the number of chicks compared to the number of adults, then we can just go ahead and keep doing what we're doing," Kelly said.
WORK NOW focuses on monitoring and counting loons, along with trying to spread public awareness. Loon Rangers, typically interns from FWP or Forest Service technicians, are also around lakes with nests to educate recreators about the bird's presence. If they spot a nest, they will put out the buoyed signs and start alerting visitors to avoid that area of the lake.
The agencies brought together in the 1980s continue their work today. At this year's Common Loon Work Group in Star Meadows, those organizations came together to share their findings from this summer.
Jami Belt is the program manager for Glacier National Park's Citizen Science program. Funded by the Glacier National Park Conservancy, the program began engaging the public to assist with wildlife monitoring in 2005 because it helps paint a much more accurate picture of current populations.
"We know people love getting out in the park anyway and they're already out there to watch wildlife. So we figured, 'well, why don't you just ask them if they can tell us what they're seeing while they're out there?' So, we started training people on ecology and identification of loons so that we could make sure we were getting good solid data," Belt said.
Glacier Park harbors around 20% of Montana's brooding loons, yet only six or seven chicks survive to adulthood each year, according to the park's website. Belt said this is a tenuously small number, but research helps provide important insights for park officials each season.
"We can use it to help figure out where the chicks are, where pairs are attempting to nest, where they've succeeded at nesting, what sort of disturbances they're seeing — and get a really good picture of a lot more of loon ecology than we would ever be able to get with just our biological staff," Belt said.
Belt said citizen science volunteers monitor 45 lakes in the park that have been identified as potential breeding habitats for loons, some so far in the backcountry they require a one or two-day hike. Volunteers visit each lake three times throughout the season — where each volunteer can go as many times as they want to each different lake, to try to get three surveys at all of the lakes.
Belt said loons are a great fit for citizen science and volunteer-led surveys.
"They're beautiful, they're pretty easy to identify, they're really charismatic because they're interesting to watch, they have all these different sounds, they have all these really cool behaviors, their chicks are adorable and they ride on the adults back," Belt said. "So, people really love getting out there and helping us learn about loons."
Common loons are often used as an indicator species for tracking aquatic integrity due to several factors, according to the Montana Loon Society. They are at the top of their food chain, do not prefer to disperse to new areas and have slow breeding rates.
"The loons are really the voice of the wilderness, they have the calls that they give … but, you know, the bird has been sort of a thing of mystery. And people are so supportive of them— with loons, people tend to almost love them to death because they want pictures, they want to be there and they want to hear them," Kelly said.
When October rolls around, Kelly will watch loons leave Montana's lakes for the sunny West Coast, just as she has for over 40 years. Loons can live to be well past the age of 30, but they always return to the drainage they hatched.
Researchers involved with loon monitoring encourage boaters and those who recreate on the water to be cautious around known loon nesting areas.
For more information about common loons in Montana, visit the Montana Loon Society's website at montanaloons.org.
Reporter Taylor Inman can be reached at 406-758-4433 or by emailing tinman@dailyinterlake.com
Recent Headlines
---