Victims say Montana's lax DUI laws keep justice forever out of reach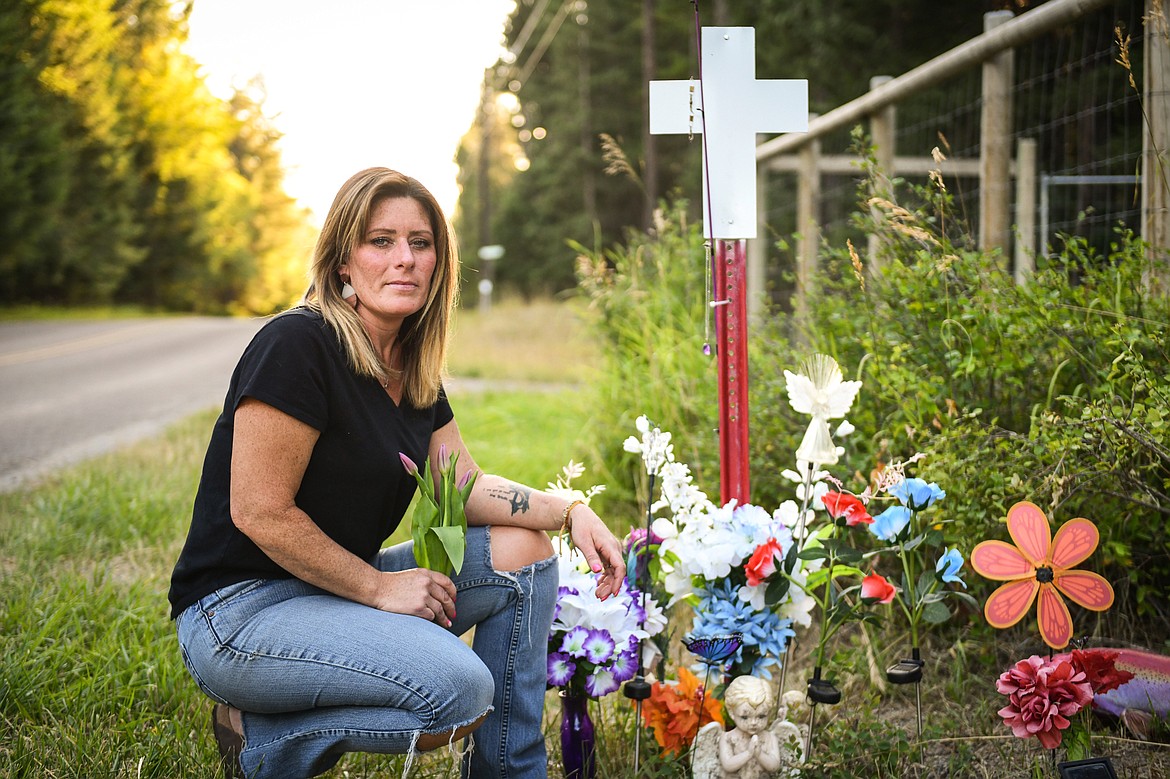 Jessie Hanson kneels next to the roadside cross memorial where her daughter Brooke was struck and killed by a drunk driver in Columbia Falls in May 2021. (Casey Kreider/Daily Inter Lake)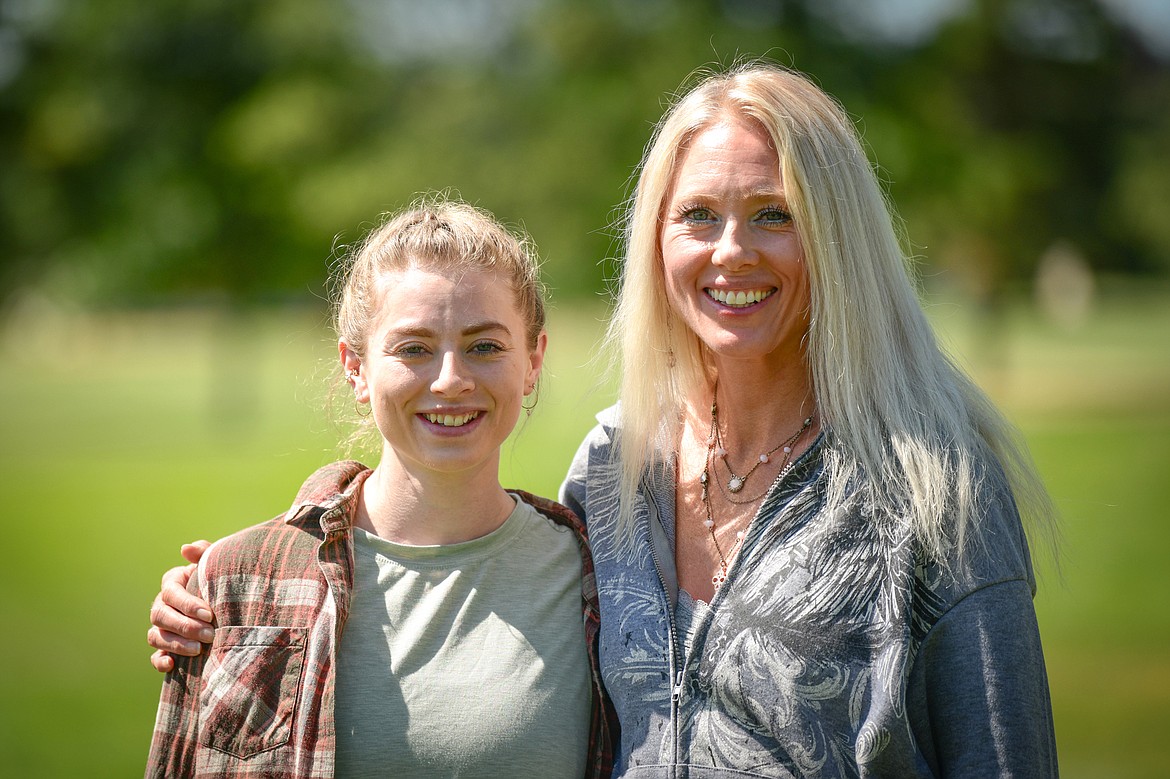 Katheryn Kingery and her daughter, Madelyn Janetski, in Kalispell on Thursday, July 27. (Casey Kreider/Daily Inter Lake)
Previous
Next
by
KATE HESTON
Daily Inter Lake
|
July 30, 2023 12:10 AM
When Jessie Hanson wants to spend time with her daughter, she sets up a lawn chair at the intersection of Tamarack Lane and 12th Street in Columbia Falls.
A white cross marks the crossroads, flowers covering the ground beneath it. In a mason jar affixed to the front of the cross an electric candle illuminates a photograph of Brooke Hanson. A bracelet, made of fishing swivels and once worn by the teenager's father, hangs on an arm.
"There is not a word strong enough to describe what this is," Jessie said, sitting next to Brooke's cross. "Emotional grieving never ends."
This is the place where Brooke was walking with friends to go fishing in May 2021. It is the place where Jessica Farbstein was driving drunk that same night. It is the place where 15-year-old Brooke took her last breaths after Farbstein struck her and drove off.
"People need to be held responsible," Jessie said.
Montana is above the national average for alcohol impaired driving deaths, according to the Centers for Disease Control and Prevention. The state has one of the highest fatality rates in the nation for drunk driving deaths. Around 66% of all fatalities on the road were the result of impaired driving in 2020, a number that has increased.
Despite the statistics, Montana boasts some of the most lax drunk driving laws in the country, and there is little to no effort to change that.
"It is one of the, if not the most, preventable crimes in the country," said Ed Corrigan, former Flathead County Attorney. "But there doesn't seem to be a way to put a complete end to it."
Under Montana's state code, the penalty for driving under the influence for someone's first, second and third offenses is a misdemeanor, paired with a short amount of imprisonment, ranging from 24 hours to one year depending on the number of prior offenses and the severity of the infraction, with a fine ranging from $600 to $5,000.
It takes someone getting four DUIs before it becomes a felony. Sometimes it can take repeat offenders five, six, seven offenses before they face a felony charge, according to Flathead County Sheriff Brian Heino. Occasionally, impaired drivers receive only a careless driving ticket or deferred sentence for earlier offenses rather than a DUI charge.
Montana has done little to reduce drunk driving, starting on the first offense, since the enactment of a .08 blood alcohol content per se law in 2003. Compared to other states, Montana lags behind.
"We know Montana has always worn the badge for being the worst state for drunk driving laws and fatalities for quite some time," said Dennis Maughan, the Pacific Northwest regional executive director of Moms Against Drunk Driving, a national advocacy group.
For example, Montana doesn't have interlock device laws for all offenders. There are no sobriety checkpoints, no automatic license revocation and no refusal laws.
"It's not pretty, and I guess that's the will of the people if you want to call it that," Maughan said regarding the lack of legislative action.
Maughan offered a few suggestions that could lead to change. A citizens initiative could get possible initiatives on the ballot, since attempts in the state Legislature continue to fail.
Seven bills were introduced in the 2023 legislative session with DUI in their title. One, House Bill 404, looked to increase penalties for first, second and third offenses. The legislation was sponsored by Rep. Terry Falk, R-Kalispell. It was tabled in committee.
Opponents argued that an increase in jail time penalty for a first offense DUI could lead to fewer convictions.
Brian Thompson, a representative of the Montana County Attorneys Association, said in the committee hearing that 70% of people who have a DUI do not reoffend. Therefore, harsher punishments should be reserved for repeat offenders. He suggested increasing financial penalties while leaving jail time alone.
Great Falls Republican Rep. Scott Kerns even brought a bill forward this past session that would allow for expungement of an offense after his own 2022 conviction. The legislation made it to the Senate before it was voted down.
Moms Against Drunk Driving opposed one piece of Montana legislation that passed this session. Signed into law by Gov. Greg Gianforte, the bill reduces the monetary damages a bar can receive for overserving a patron.
Senate Bill 107, sponsored by Republican Senate Majority Leader Steve Fitzpatrick of Great Falls, was signed into law on May 1.
The bill was backed by Montana bars and alcohol merchants. It curtails the ability of the families of victims in drunk driving wrecks to sue bars for overserving.
Supporters included the Liquor Store Owners Association of Montana, Montana Brewers Association, National Association of Insurance and Financial Advisors and the Gaming Industry Association of Montana.
Maughan finds Montana's approach to drunk driving curious. Maybe it is because of demographics, social norms, or the perception that Montanans cherish their freedom, he said.

"Freedom's a wonderful thing until you've impacted and infringed on the rights of somebody else to live their lives," he said.
Moms Against Drunk Driving has attempted to address drunk driving in the state in other ways. In Gallatin County, the group runs a victim impact panel. Motorists convicted of a DUI are court ordered to meet with the panel, which lets victims speak directly to the offender.
Gallatin County, with a population of roughly 123,000, saw 388 drunk driving arrests by Montana Highway Patrol in 2022. With a population of 108,000, Flathead County saw 312. This year, to date, there have been 292 arrests in Gallatin County and 193 in Flathead.
Sheriff Brian Heino has observed an increase in drunk driving arrests over his over 20-year career. Flathead County in particular has one of the highest DUI fatality rates in the state.
From 2011 to 2020, Flathead County has the highest percentage of impaired drivers involved in crashes, according to the Montana Department of Transportation. Approximately 12.5% of all crashes involve impaired drivers in Flathead County, the second being 9.7% of all crashes in Gallatin County.
For fatal and serious injury crashes, 9.2% are from drunk drivers in Flathead County, followed by 6.2% in Yellowstone County.
The Sheriff's Office mainly deals with the drunk driving cases that result in death; Montana Highway Patrol handles most of the arrests. There are a few reasons why drunk driving numbers have increased, Heino said, a major one being that roads in the Flathead are ever more heavily trafficked.
"Impairment levels really affect the kinds of crashes we see," he said.
If it had the manpower, Heino said that the Sheriff's Office might create a division focused on DUIs. The need is there.
Despite the increase in drunk driving statistics, Heino sees reason for hope. He believes society's view of drinking and driving is changing,
"The perspective of a DUI was probably pretty much accepted on some levels [in the past] and we're kind of seeing that transition to the idea that any sort of alcohol impairment can affect people's lives," Heino said.
Maughan is less optimistic.
There are 80 estimated trips taken by a drunk driver for every one DUI, according to Maughan, meaning that many offenders drive impaired frequently before getting caught. Nationwide, there has been a double digit increase in DUI arrests since 2019, he said.
"We're going the wrong way," Maughan said of the nation.
There are some states that are going in the right direction, he said, using Arizona as an example. Fines have increased in that state and offenders are required to undergo treatment, utilize an ignition interlock device and perform community service.
Montana often scores highly on rankings of the states with lax drunk driving laws. Intoxalock, which manufactures ignition interlock devices, lists it alongside Wyoming and the Dakotas as boasting some of the weakest laws in the nation. Michigan and Rhode Island also earn low marks by national advocacy groups. Mothers Against Drunk Driving gives Montana a half star rating for its efforts on drunk driving.
"It's not an easy train to turn around," said Frank Garner, a former Kalispell Police Chief and Republican legislator.
Garner said that while multiple agencies independently work to mitigate drunk driving, there is no multidisciplinary effort to address it. Garner sees the need for a strategic plan that puts law enforcement, legislators, mental health experts, judges and others at the same table.
Similar to the commission that was granted $300 million this past session to reform the state's mental health system, Montana needs oversight, bipartisan efforts and a multidisciplinary approach to fix the issue of impaired driving.
"It's multigenerational, it's multicultural, there's just not one place you can push and completely change the dynamic. It is complicated and the solution looks more like an algorithm than it does a straight line," Garner said.
Victims in Montana argue that even when punishments are meted out in accordance to the law, the penalties fall short. Madelyn Janetski, who was struck by a drunk driver near the intersection of North Somers Road and Montana 82 last year, is among them.
"The whole mentality around it is so lax that it's not even really a big deal. People are just like, 'Oh, it's a DUI, whatever.' But I don't consider human life not a big deal," Janetski said.
Janetski was walking her dog in April 2022 when she was struck by then 21-year-old Gunnar Sweem. The crash left Janetski, 24 at the time, with a broken femur, neck and wrist bone, a lacerated liver and kidney, punctured lung and a concussion. Her dog died in the crash.
Sweem had at least six previous misdemeanors, including a per se driving under the influence charge. Judge Amy Eddy sentenced him to 10 years with the state Department of Corrections in December of that year, with half of that time suspended.
Gunnar Sweem is already out of prison, serving his suspended sentence at home on a conditional release, according to the Montana Department of Corrections. He served less than eight months.
"In my situation, there's always going to be the Gunnar Sweem out there. There's always going to be that guy," Janetski said. "But when the rules are strict and pointed and there's a consequence to that on your life, change could happen."
Ed Hirsch, the Montana Attorney General's traffic safety resource prosecutor with the prosecution services bureau, noted that punishments vary substantially between counties as local authorities handle cases differently. Attorneys and judges decide what the sentence will be for the crime.
Janetski lives with Sweem's choice to drive drunk, although the decision itself had nothing to do with her at all, she said. Victims are often forced to cope with injury and trauma, pay medical bills and grieve while the perpetrator seemingly "gets off easy," she said.
Janetski's mother, Kat Kingery, has become outspoken about the need for harsher punishments for impaired driving. Kingery previously ran Alpenglow Clinic in Kalispell, a state-certified dependency and mental health clinic. In the aftermath of the crash, Kingery has decided to step away from addiction care.
"They have to make [the punishments] so miserable that they don't want to even cross the line," she said. "At the end of the day, these deaths are on the so-called justice system of this Flathead County."
Jessie Hanson is also discontent.
Jessica Farbstein, who killed her daughter, earned a 30-year sentence with 15 years suspended. Realistically, however, Farbstein likely will serve around four years in prison before getting parole, due to state statute. Offenders are eligible for parole after serving a fourth of their sentence.
"She's going to do less than five years for absolutely ruining our lives," Jessie said. "That is not justice. Nothing will feel like justice now."
She also noted that it's difficult to understand how serious the situation is until it happens to someone themselves. She said she believes real change won't come until someone important loses a child.
Mike Hanson spends a lot of time on the Flathead County Jail roster website. It isn't abnormal to see multiple DUI arrests. Everytime a drunk driver causes a tragedy, it rips the scab off of a wound that hasn't healed.

"I'm going to spend the rest of my life trying to discover happiness again because I died on May 20, 2021 with my daughter," he said.

He is angry, he said, looking at the inaction of the state and county. The death of a child should enrage people, he said.
Just this summer, a 21-year-old mother died and her 4-year-old was sent to the hospital with serious injuries after an alleged 15-year-old drunk driver hit her car.
"This county and this state turn a blind eye when it comes to drinking and driving," Mike Hanson said. "The streets are painted with the blood of innocent victims, of innocent kids. They are nothing but the purveyors of death around here."

The community should be outraged, Mike Hanson said, but he thinks people care more about drinking than about the civilian casualties that can result from it.

"You're left alone," he said. "My entire family is struggling and alone."
The grief, anger and pain of these tragedies sticks with these families forever, Maughan said. There is a massive cost, both economically and emotionally, associated with these crimes
"This is very personal because it follows people for the rest of their lives," he said.
If efforts to change the laws remain stalled, so does life for the Hanson family. Brooke Hanson's room sits just as she left it, with a bag packed to go to her friend's house. Her mom hasn't touched it, hoping that the memory of Brooke's life would help her heal.
"I'm just trying to survive now," Jessie Hanson said. "The consequences do not outweigh the risk right now for DUIs and that needs to change."
Reporter Kate Heston can be reached at kheston@dailyinterlake.com or 758-4459.
Support local journalism — subscribe to the Daily Inter Lake today.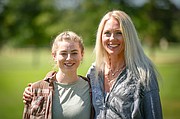 Recent Headlines
---