Kalispell Chamber to depart Depot Park, citing homeless activity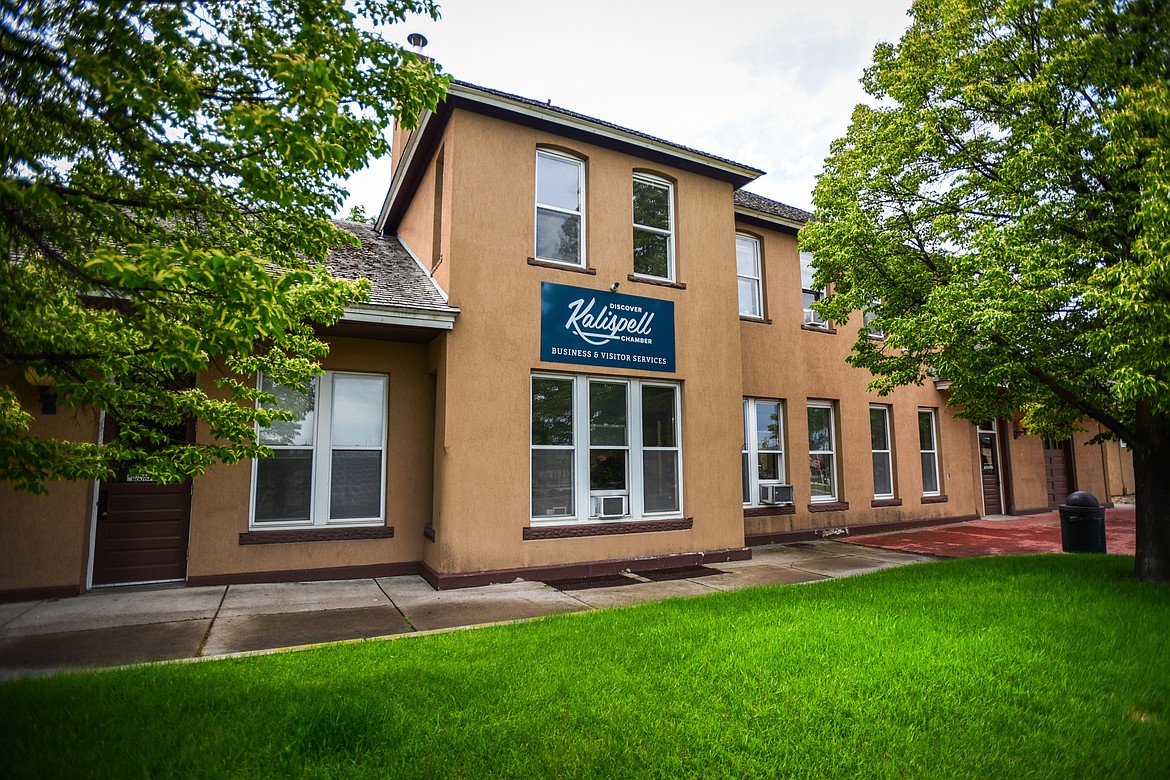 The Kalispell Chamber of Commerce building at Depot Park in Kalispell on Wednesday, May 31. (Casey Kreider/Daily Inter Lake)
The Kalispell Chamber of Commerce and Convention and Visitor Bureau will be moving out of its downtown Depot Park headquarters, citing increasing homeless activity in the surrounding park as one reason for the relocation.
Chamber officials have looked for a suitable replacement for about a year and half, according to President Lorraine Clarno. She said the organization has outgrown the former Great Northern Railway Depot building — which it leases from the city of Kalispell — but that homeless activity in the park has forced them to move up the timeline.
"In order for us to serve our members we have to keep our doors open, and there's activity that is making our guests uncomfortable," Clarno said. "It's reached a volume that is definitely impacting our productivity."
Clarno declined to go into specifics, but said that managing the situation has largely fallen on chamber employees. The chamber has hired private security to guard the downtown building until they shift the visitors center to the Kalispell Grand Hotel on June 9. Administrative staff will work remotely until the chamber has secured suitable office space elsewhere.
"It literally has fallen on us day-to-day in a way that we are not prepared or trained for," Clarno said.
"At this time we need to take care of our business," she said, adding that the decision to hire a guard was made to "have someone present to make sure our visitors and staff are comfortable."
The chamber had previously submitted photographs to the city that showed human waste and debris littering the gazebo in Depot Park. City Council voted in February to pass ordinances restricting access to parks facilities in an attempt to head off community complaints regarding the presence of homeless people in the area.
"I don't really fault [the chamber]," Tonya Horn, director of local homeless shelter The Flathead Warming Center, said of the decision to bring on a security guard. "They are not social workers and shouldn't have to be."
Horn wants to see the return of a daytime resource center, a mental health crisis stabilization center and a detox center that would let people with drug and alcohol dependence get clean before entering inpatient rehab.
She also hopes to see more supportive housing that will keep people off the street while connecting them with critical social services.
For those unwilling or unable to seek help or stay on the right side of the law, expanded jail space and a path to involuntary psychiatric commitments are necessary, she said.
"Our community is concerned by what is seen," Horn wrote in an email. "I understand. Yet, I encourage our community to take a closer look at what is not seen. Take a good look: We must have places for people to go to be well! When we do not see these services in our community, we see crises played out in public spaces. We need our community leaders to come to the table for solutions that are best for our entire community."
County Commissioner Randy Brodehl said in an interview that the commissioners are increasing police spending and asking community members not to contribute to panhandlers in an effort to address homelessness.
Brodehl has said that he believes funding behavioral health and social services is the state's responsibility.
As a state representative in 2017, Brodehl voted to reduce Medicaid reimbursement rates for social services, a move that the Montana Budget and Policy Center said in 2018 would "impact …nonprofit organizations and local service providers that are now feeling the increased pressure and terrible consequences of cutting services for their clients."
Representatives from the shuttered Glacier House crisis stabilization center and Sunburst Mental Health clinics cited the 2017 cuts as the reason they were forced to close.
The chamber has not yet selected a new location, but Clarno said that they'd prefer to stay downtown. The board is expected to make a decision in a couple of months, she said.
Reporter Adrian Knowler can be reached at 758-4407 or aknowler@dailyinterlake.com.
Recent Headlines
---