Flathead High School senior finds resiliency in face of adversity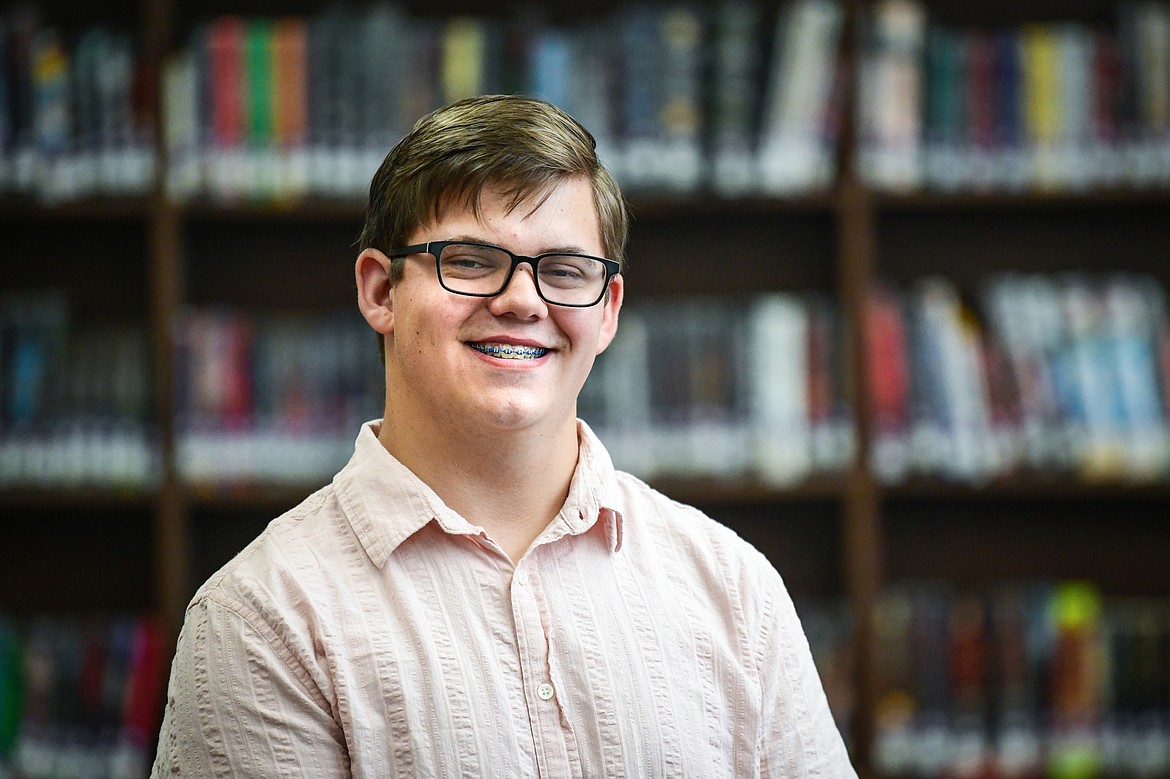 Flathead High School senior Jacob Wolf Fort on Tuesday, May 16. (Casey Kreider/Daily Inter Lake)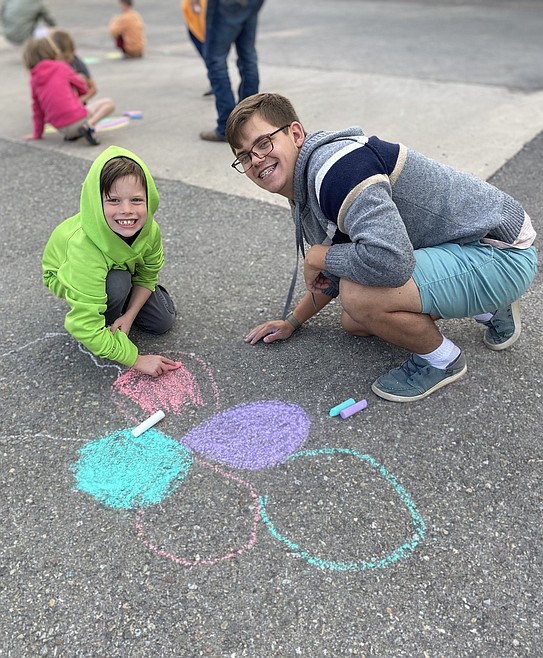 Flathead High School graduate Jacob Fort spends time with his first-grade Learn and Serve buddy Wesley Achziger. Learn and Serve was one of several mentor/service activities Fort was involved in during his high school career. (Photo provided by Flathead High School)
Previous
Next
by
HILARY MATHESON
Daily Inter Lake
|
June 2, 2023 12:00 AM
Flathead High School senior Jacob Fort has risen from the ashes of an abusive childhood and multiple placements in the foster care system with his kindness and compassion still intact.
Fort will graduate high school on Friday, June 2. A day that was once the farthest thing from his mind, and the closest, was meeting his basic needs.
Flathead High School Counselor Michael Sherman notes his remarkable resilience.
"I see a lot of students with, I don't know if I can say similar, but just rough family upbringings, but rarely do I see somebody come through it as gracefully as Jacob with this positive outlook on life that is above and beyond most high school students — how he just wants to put that out there and be that force for everybody, be that uplifting attitude that brings up everybody's day," he said.
"Sometimes when we measure a life by a list on paper, we miss the amazing people who are the best in all the ways that matter as we relate to each other in daily life," he said.
The turning point seemed to come when he was adopted by Kyle Fort and Mary Wolf and with that, changed his first and last name. In choosing his name, the young teen took a step toward gaining autonomy over his life.
Before meeting the couple, Fort was barely a toddler when he was first adopted by Amy Newman. Later Crystal Mears moved into the house where four other adopted children resided.
His room was in the basement where he only had a blanket, a pillow and a mattress. A bucket served as the bathroom.
"It got to a point where abuse took place. It was really hard to focus in school because I was focused on what was going to happen when I got home," he said.
School though, was a safe haven outside of the confinement of a locked bedroom.
"School days were awesome," he said, the corners of his mouth turning into a smile. "We were going to Russell [Elementary School]. When we would get up in the morning, you know, we were kind of scared, but once we left the house we were happy."
School offered food and water, while at home he was only fed peanut butter sandwiches for every meal.
"Also, just being around people my age and being able to play with them," he said, placing his hands on his knees.
He was at the end of his fifth-grade year by the time he and his siblings were removed from the house and placed into foster care.
The women in 2016 were sentenced to prison for two counts of felony criminal endangerment.
Fort spent time in four homes before being placed in a group home. However, by this time he had a pet dwarf hamster named Scrat in tow and needed someone to take care of it because pets weren't allowed at the youth home.
AT THE TIME Mary Wolf was working in Child Protective Services and heard his story and even with everything he'd been through he was just worried about his hamster.
"He came with all his stuff and this little hamster," she said, recalling that the 12-year-old was dressed head to toe in orange. "He was just so cute."
After a phone call, to her husband, the couple decided to take care of the tiny hamster. Just before his 13th birthday, a playdate at the park was arranged for Fort and Scrat, and soon the couple was asking to take care of Fort.
"We always joke that if we write a book about parenting the title will be, 'It started with a hamster,'" she said.
The couple decided to "foster to adopt," but it was ultimately Fort's decision. He agreed.
"We jumped in with a teenager," Kyle Fort said.
The couple referred to the time before their son's adoption was finalized as a "courting period" where they all got to know each other little by little. It started with driving him to Somers Middle School. She would cook breakfast wraps to eat during the drive. That turned into inviting him over for dinner and then weekend visits.
FINALLY, THE couple asked him to join their family. It was September 2019 when he moved into their home. He was in seventh grade.
The couple recalled getting through that first year. They wanted to provide support, encouragement and guidance, but with enough space that he could find stability, regain trust and build his self-confidence.
"We allowed him the environment to figure himself out," Mary Wolf said.
There were challenges. He didn't talk to people or have friends, and only engaged with his teachers.
All three expressed gratitude to Somers Middle School Principal Rose McIntyre and special education staff for the time and energy they invested to help close the gaps in his education and in his social skills caused by years of upheaval.
That summer, his parents said they saw a transformation.
"We did a couple of trips and we goofed off a bunch. We did a bunch of kayaking and went to the lake a bunch and we went down to North Carolina to visit Mary's brother," Kyle Fort said.
Jacob Fort was starting to flourish.
"Having so much of my childhood gone, I was constantly playing, having fun," he said. "I was super happy to have more freedom than what I did."
By this time he had changed his name.
"He walked into eighth-grade year with a whole new fresh perspective," Mary Wolf said.
Fort said he was nervous when he started attending Flathead, but he soon realized just how sociable he was when the Covid pandemic shut down schools and learning went remote.
"I wanted to get back. I missed the interaction and when I came back junior year I wanted so much more," he said.
During his years at Flathead, he was an office aide, a math peer tutor, a member of the Braves Mentoring program, He-Man Book Club and reading buddy program, Learn and Serve, the Special Olympics Youth Activation Committee and choir. He took a job at Ace Hardware and now works for UPS. His grades also went up.
"He went from special education in seventh grade to the honor roll his junior year," Kyle Fort said.
AT HOME, the family opened their hearts to adopting two more children, one of whom came into their lives in the middle of the night in an emergency placement with only the clothes on her back and a car seat. Mary Fort said her son stepped up in a time of need.
"He provided so much insight to us about her needs at that time," Mary Fort said.
The family recently sold The Bookshelf and is moving to North Carolina, where Jacob Fort hopes to find another job and possibly take some college classes and continue exploring his interests. For now, he's taking life one major milestone at a time.
"He's such an impressive young man," Mary Fort said.
"I'm just excited to see the direction he goes," Kyle said. "All I feel we did was give him a place to be [himself]."
"We want to go have an adventure," Jacob said. "I do like Kalispell, but I'm ready for something new."
Although he hasn't decided yet what he wants to pursue next, Fort knows he has the support of his family and the freedom to choose the direction his life takes — something that was absent from his life for so long.
"I used to grieve about it. I used to have dreams. I went to counseling. And of course with the support that I had from the family I'm with now was amazing. I've never witnessed that in my life. Being able to have that was really able to help me move on from the past and focus more on the present and the future," he said.
"I see it [life] as a new chapter, but also making up for lost time for sure. You know, it's a whole different life. So I want to make it better than I had it," Jacob said, emotion filling his voice.
Flathead High School holds its commencement ceremony for the Class of 2023 on Friday, June 2. Doors open at 5 p.m. for the ceremony which is set for 7 p.m. in the main gym. A video feed of the ceremony will also stream in the auditorium. Around 295 students are anticipated to graduate. Flathead is located at 644 Fourth Ave. W., Kalispell.
Reporter Hilary Matheson may be reached at 758-4431 or hmatheson@dailyinterlake.com.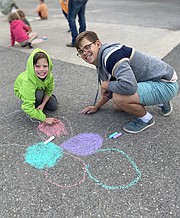 Recent Headlines
---