Kalispell City Council to consider emergency water restriction ordinance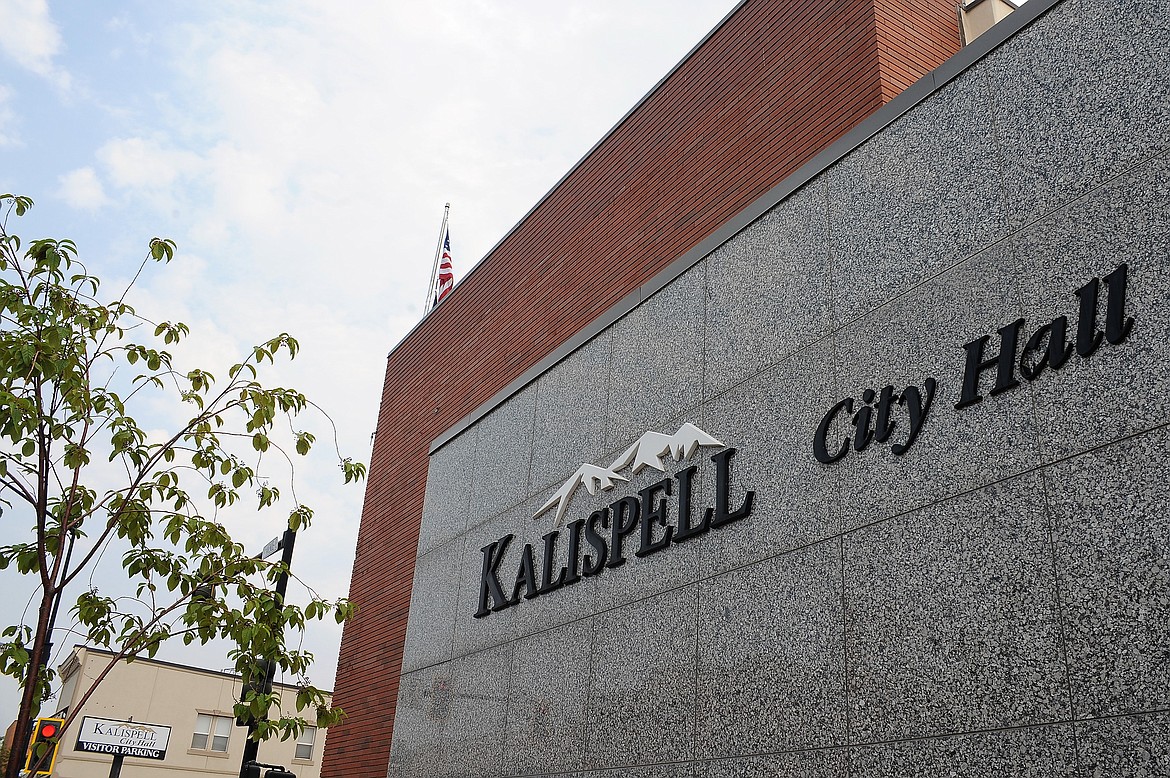 Kalispell City Hall is seen at the corner of First Avenue East and Second Street East in this July 21, 2021, file photo. (Chad Sokol/Daily Inter Lake)
Kalispell City Council on Monday will consider re-establishing temporary water conservation restrictions in the lead up to the peak summer irrigation season.
Council approved a similar 90-day emergency ordinance last summer, when water usage briefly went above the "non-maintainable" threshold as set by the city's Public Works Department three times, according to Director Susie Turner. The department did not need to implement the conservation restrictions because the city's reserve levels were adequate to maintain service, Turner said.
Council meets at 7 p.m. at City Hall, 201 First Ave. E. The meeting can also be attended virtually via Zoom.
If approved, the ordinance would allow the department to implement water-use restrictions during periods of high demand. Those restrictions would include limiting private irrigation as well as irrigation performed by the Parks Department.
The department also could implement a watering schedule, in which private property owners would be allowed to irrigate their land only on alternating days as determined by their address.
The ordinance would prohibit all outdoor water use if demand were to reach the "non-sustainable" threshold.
"Given the current state of Kalispell's water system, the operational infrastructure may not be capable of supporting the 2023 summertime irrigation peak water demands," Turner wrote in a memo to Council.
Turner listed the Noffsinger Spring, the city's oldest well, being taken offline in 2021 as a reason for diminished capacity. The city is evaluating how and when to retrofit the facility while it adds additional capacity through the upcoming North Main Well.
Work on the new well is expected to begin this summer.
COUNCIL WILL also consider a conditional use permit for an expansion of Immanuel Lutheran Communities' child care center Growing Roots, an early learning center for employees' children up to six years old. Immanuel wants to move the operation to Northridge Lutheran Church, which has agreed to lease space on their property.
The new space will be able to accommodate up to 100 children, according to the application.
The facility will require several upgrades, including fencing around the playground, a new sprinkler system and ventilation upgrades to the commercial kitchen.
Council will also vote on the annexation and initial zoning of the Mountain Villa Apartments, located at 249 Reserve Place, and final plat and subdivision improvement agreement approval for Phase 3 of Silverbrook Estates, which is slated to contain 10 single family lots and two commercial lots on just over 22 acres.
Reporter Adrian Knowler can be reached at 758-4407 or aknowler@dailyinterlake.com.
Recent Headlines
---