Flathead Valley's Mady Rigg finds her voice as Miss Montana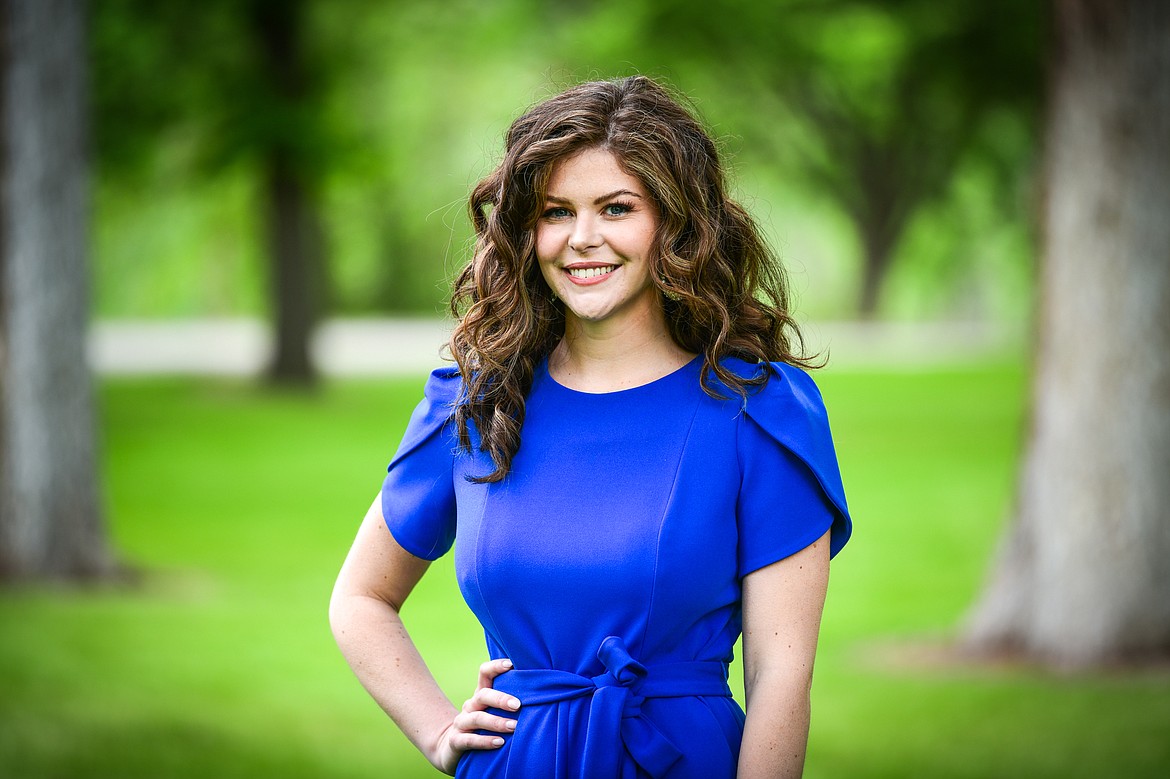 Miss Montana USA 2023 and Kalispell native Mady Rigg on Friday, May 26. (Casey Kreider/Daily Inter Lake)
For Miss Montana 2023 Mady Rigg, failing to make Glacier High School's volleyball squad her junior year opened a door she never imagined existed.
"I was … a little devastated," Rigg recalled late last month, not long after securing the title of Miss Montana. Still feeling the sting of not making the team she found a letter in the mailbox addressed to her from the organizers of the Miss Montana USA pageant. They were looking for entrants into that year's competition; Rigg was looking to bounce back.
Although Rigg knew she enjoyed public speaking from participating in Glacier High's DECA program and from dabbling in speech and theater, "I didn't know how to do my makeup or curl my hair or any other pageant stuff," she said.
"I was nervous, but I also have this belief that I can wing things and go for it," Rigg recalled. "I kinda just went for it."
She gathered a wardrobe together and figured out the shortest heels she could get away with in the competition.
"I went to the competition and fell in love immediately," she said. "Walking on stage made me feel so confident, so brave."
She came away as the fourth runner-up for Miss Montana Teen USA 2013. The next year, with the help of a coach and "intense" training (how to wear 6-inch heels without looking like you're wearing 6-inch heels, is one example Rigg gives), she took the title.
Now, Rigg is awaiting details on the upcoming Miss USA pageant, where she will represent Montana after earning the crown — as well as the state-level competition's spirit and congeniality awards — in Lewistown on May 7.
"It was a roundabout way to get into pageants," Rigg admitted.
In hindsight, though, jumping at an unexpected opportunity proved life-changing, she said. It was a leap into the unknown that encouraged her to stay open to other opportunities.
"I think the difference in me, pre-pageant to post-pageant, is astonishing," Rigg said.
"This is a great way for young women to find their voice and get confident," she added.
OFFSTAGE, RIGG headed east after high school to attend college in Virginia. With an interest in politics and policy, and encouraged by her high school government teacher Beau Wright, Rigg sought a degree in communications nearer to Washington, D.C. But a tuition hike after her freshman year meant changing schools despite becoming deeply involved with the sorority Gamma Phi Beta.
Wanting to stay with the sorority, she looked for schools that featured a chapter and decided on Eastern Washington University. She graduated with that communications degree in 2019.
While Rigg remains deeply interested in politics — she expects to see her name on a ballot within the next five years — she took on the role of marketing manager for the Glacier Institute in late winter.
A participant in the Kalispell Chamber of Commerce's Leadership Flathead program this year, Rigg landed the position by, once again, putting herself out there. Anthony Nelson, the institute's executive director, happened to be a fellow participant.
During a gathering at Bias Brewing, Rigg recalled telling another member that she was in the market for a job. That friend turned around and made an announcement. Nelson started the interview process then and there.
It's a dream job for a native of the Flathead Valley, particularly since Rigg remembers participating in institute programs as a child. The nonprofit provides a range of guided hikes, camps and educational programs for all ages.
"I grew up in the valley; I've been to Glacier a hundred times," she said. "But I also didn't know very much. Every time I get to go out on a course, I'm like a little kid."
A BIT of what Rigg learned at the Glacier Institute has helped in her pageant work. She got a question that allowed her to discuss how climate change is affecting the national park during this year's competition. Somewhat disappointingly, though, no one thus far has asked her about the breadth of knowledge she's picked up regarding bear safety, a topic she launches into with little prodding.
"I think that the most valuable thing you can do is help amplify and share information with people," Rigg said. "Being able to pass on that information to other people is really cool."
The reverse is also true. Rigg credits her experience in the pageant world with encouraging her to take chances. Entering that first competition has left her unafraid to carve out her own path.
"It was kind of this initial leap that has led me to hopping on rocks down the stream," she said thinking back to that first contest.
"I can't be more thankful to whoever sent that letter to me," Rigg said.
News Editor Derrick Perkins can be reached at 758-4430 or dperkins@dailyinterlake.com.
Recent Headlines
---