Montana's congressional delegation looks to mitigate Cottonwood decision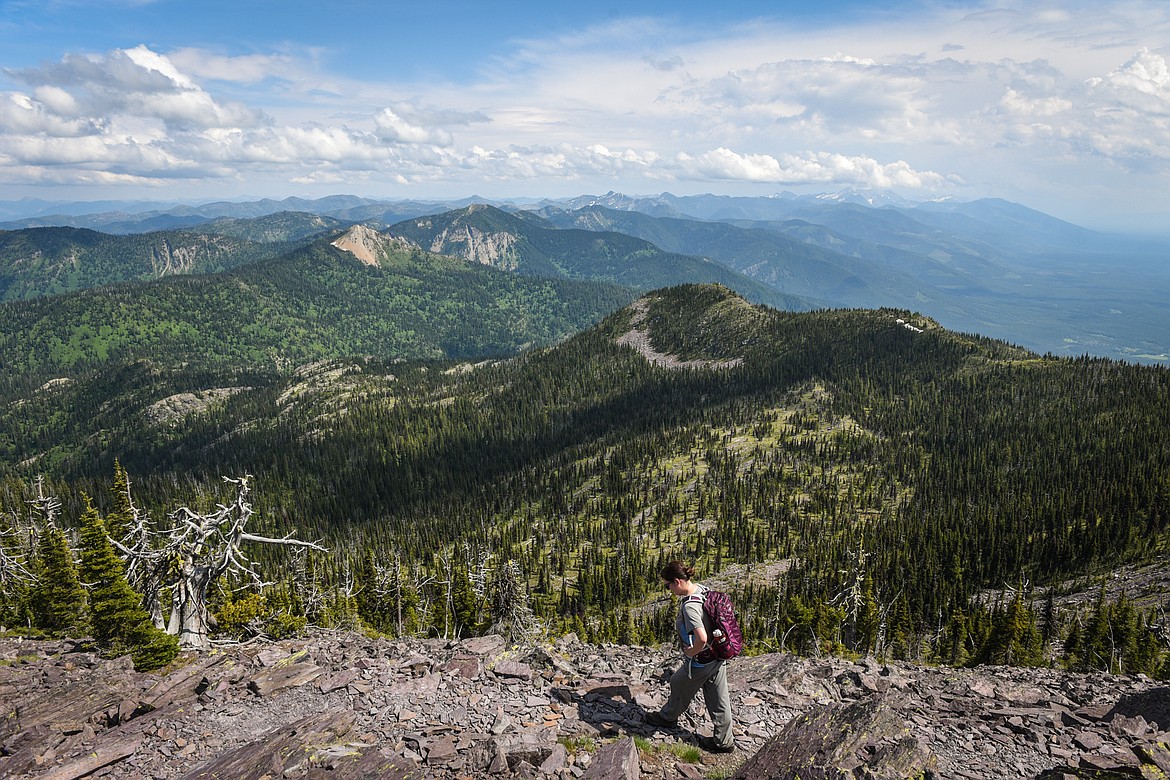 A hiker nears the summit of Sixmile Peak in Flathead National Forest on July 7, 2019. (Casey Kreider/Daily Inter Lake)
by
KATE HESTON
Daily Inter Lake
|
June 6, 2023 12:00 AM
Montana's congressional delegation is working across party lines to address the Cottonwood decision, a 2015 court ruling that many logging companies and foresters say holds up forestry projects.
The Bozeman-based Cottonwood Environmental Law Center sued the U.S. Forest Service in 2012 for failing to reinitiate consultation with the U.S. Fish and Wildlife Service on National Forest land for the Bozeman Municipal Watershed Project after it was designated as critical habitat for the Canada lynx.
The 9th Circuit Court of Appeals later found that the Forest Service violated Section 7 of the Endangered Species Act. That decision required the Forest Service to reanalyze the environmental effects of already completed forest plans across the West to ensure proposed projects won't damage habitat or endangered species.
Practically-speaking, the decision has halted forestry work, critics say. Opponents view the decision as creating a never-ending litigation trap.
Republican Reps. Matt Rosendale and Ryan Zinke and Democratic Sen. Jon Tester recently partnered with Republican Sen. Steve Daines on a bill to change when consultation is required regarding a resource management plan or land use plan.
S. 1540, sponsored by Daines and recently cosponsored by Tester, has been moving through Congress since the Cottonwood decision came down in 2015. This year, its bipartisan support and language improve its chances of passing, according to Daines' office.
"Without my full and permanent 9th Circuit Cottonwood fix, we'll continue to see more and more forests go up in smoke because forest management work is tied up in frivolous litigation," Daines said in an email statement. "... We can either have more lawyers litigating forest projects or more loggers helping manage our forests — it's time to get this done."
Supporters of the decision, though, have heralded it as a win for endangered species as it allows for groups to challenge forest management plans and proposed projects in court.
John Meyer, founder and executive director of the Cottonwood Environmental Law Center, said that the issue affects 12 million acres of critical habitat across the northern Rockies.
The aim of the lawsuit, Meyer said, was to ensure that the Forest Service goes back and looks at forest plans to determine if they help protect endangered species, or hinder them.
The best forest plan is one that utilizes all available science, which the Cottonwood decision requires the federal agencies to do, Meyer said. Without re-consultation on the protected lands, species and forests themselves will be damaged, he said.
"[Daines] just wants to continue to manage our National Forests with politics instead of science," Meyer said.
The Cottonwood decision lets groups like the Cottonwood Environmental Law Center litigate forestry projects for possibly causing irreparable damage to an endangered species or adversely affecting the critical habitat the animal relies on.
But according to Jonathan Wood, vice president of law and policy at the Property and Environment Research Center, the Cottonwood decision makes it harder for projects to get off the ground. The analysis already happened, Wood said, so the re-consultation just adds an additional step.

"The irony is that the projects themselves were never going to affect lynx," Wood said of the original lawsuit. "We all benefit from healthy forests. We cannot have healthy forests if we are not managing and restoring them for wildfire risk."
Currently, according to Wood, there are 87 management plans that need to be reassessed under the Cottonwood Decision — a feat that would take a lot of time and money.
FINDING A PERMANENT legislative solution for the Cottonwood decision has been a bipartisan effort dating back to the Obama administration.
The issue, according to Tester's office, is that in order to complete an already approved forest plan level recreational program, fuel reduction and fire management program, or restoration program on National Forest lands, the Forest Service must go through a formal re-consultation process, sometimes resulting in a continual cycle of re-consultation processes leaving projects in purgatory.
"After taking feedback from Montanans, it's clear that we need a permanent fix to the Cottonwood decision that will reduce time-consuming bureaucratic paperwork, work for wildlife and protect Montana's robust resource economy," Tester said in a statement.
There are two bills moving through Congress that address the ramifications of the 2015 decision. There is Daines' aforementioned S. 1540, which has received bipartisan support in this Congress. The goal, according to Daines' office, is to get the legislation into a larger package that passes this year.
Then there is the Rosendale-sponsored H.R. 200, or Forest Information Reform Act, Daines' bill's counterpart in the House. Rosendale's bill would amend the law to provide that the secretaries of Agriculture and the Interior departments are not required to reinitiate consultation on land management plans.
"The FIR Act is a common-sense solution that will reverse the disastrous Cottonwood decision and stop the perpetual cycle of litigation that surrounds forest management," said Rosendale in a statement. "Exempting the Forest Service from re-consulting on new information will benefit Montanans and begin a new era of efficient forest management."
Rosendale's bill recently advanced through the House Natural Resources Committee. Daines' legislation is currently in the Senate Committee on Energy and Natural Resources.
Reporter Kate Heston can be reached at kheston@dailyinterlake.com or 758-4459.
Recent Headlines
---