Commissioner meets advocates at homeless camp cleanup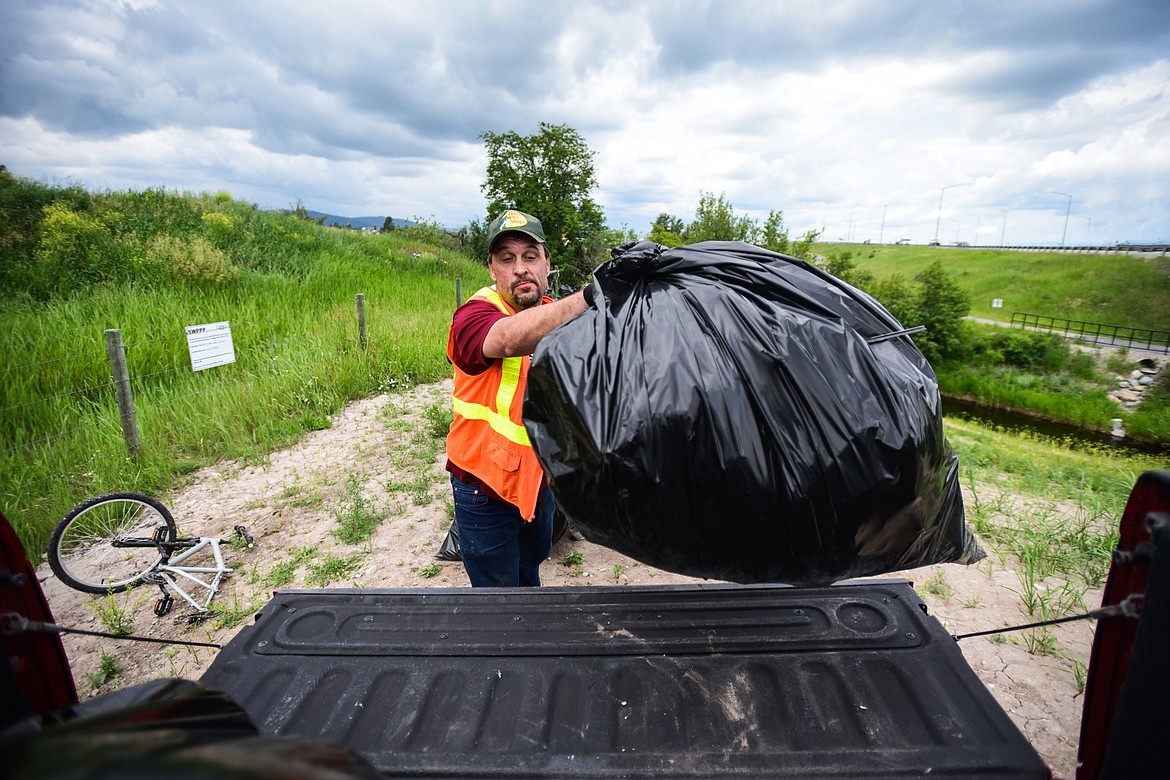 Travis White, an employee at the Flathead Warming Center, loads bags of garbage into the back of a truck during a Clean Up Community Day organized by the Homeless Outreach team of Collaborative Housing Solutions of Northwest Montana in Kalispell on Thursday, June 15. (Casey Kreider/Daily Inter Lake)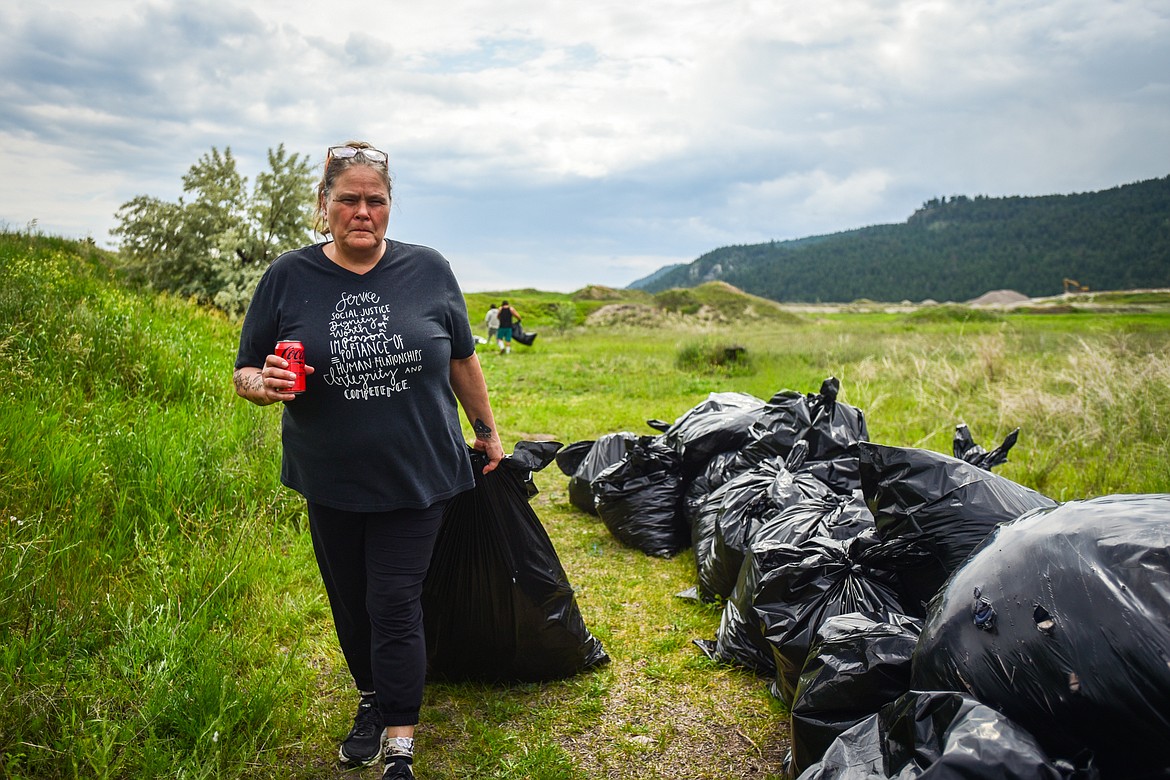 Audrey Tri, operations director at the Flathead Warming Center, hauls a bag of garbage to a truck during a Clean Up Community Day organized by the Homeless Outreach team of Collaborative Housing Solutions of Northwest Montana in Kalispell on Thursday, June 15. (Casey Kreider/Daily Inter Lake)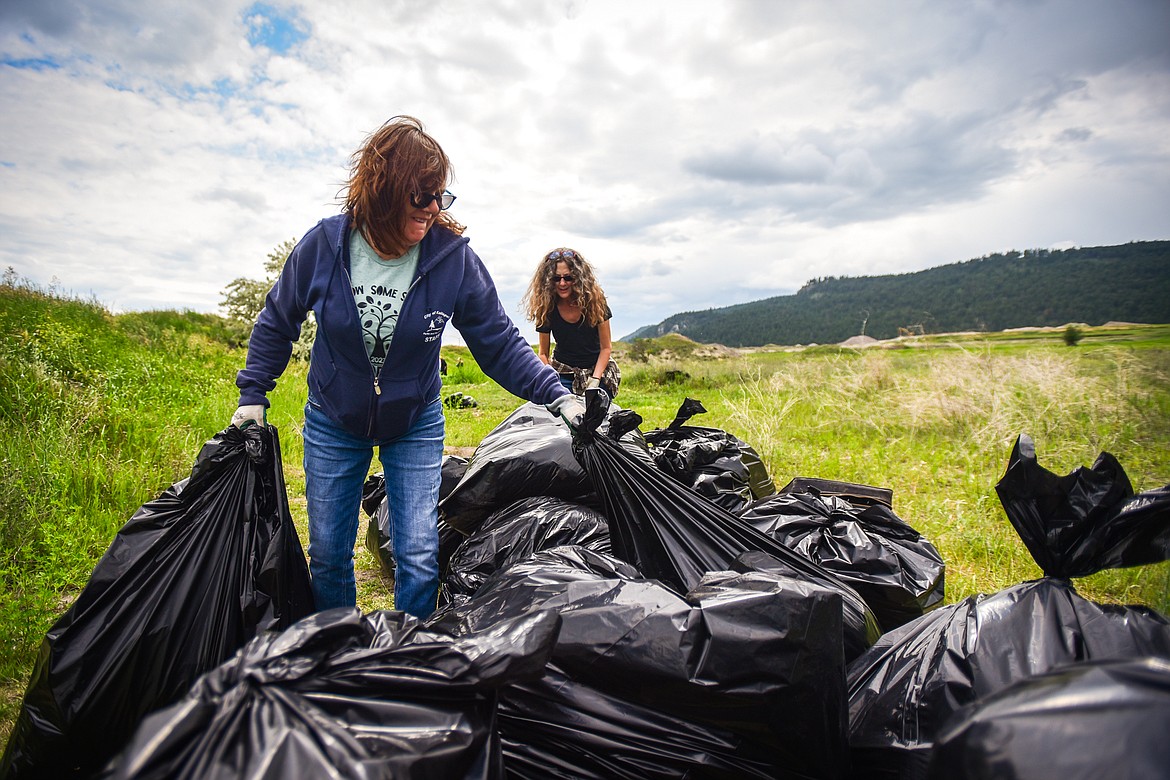 Lisa Simmer, front, and Dawn Tacke haul bags of garbage to a truck during a Clean Up Community Day organized by the Homeless Outreach team of Collaborative Housing Solutions of Northwest Montana in Kalispell on Thursday, June 15. (Casey Kreider/Daily Inter Lake)
Previous
Next
About 50 volunteers cleaned up the remnants of a homeless camp along Ashley Creek south of Kalispell on Thursday, among them Flathead County Commissioner Brad Abell, who came face-to-face with advocates hoping to discuss the county's homelessness problem with him.
The cleanup effort yielded over 50 bags of trash — two truck loads — that were hauled to the county dump, said organizer Jody Waggener of the Flathead Warming Center and Collaborative Housing Solutions of Northwest Montana, a consortium of social service providers in the county.
Along with the county commissioner, more than a dozen of Kalispell's homeless residents participated in the effort.
Abell, who said he attended to learn more about the situation, wore work gloves while surveying the undertaking through blue-tinted glasses. He said he was glad to see homeless people "cleaning up their own mess."
Advocates seized the opportunity to speak with the commissioner and solicit help with the county's growing homeless population.
Kalispell has at least 319 homeless residents, the second-largest homeless population in the state after Missoula, according to data from a survey conducted last year. The city also accounted for 32% of all unsheltered individuals statewide last year, with 87 people listed as chronically homeless.
Members of the collaborative asked Abell for leadership in securing funding for behavioral health and supportive housing programs, as well as changing the tone of the conversation around homeless people.
Sean O'Neill, a Collaborative Housing Solutions leader, requested help from the commissioner in "battling the social issue of online harassment," which advocates argue has led to violence against an already vulnerable population.
The face-to-face conversations came after months of strained relations between the commissioners and area charities and nonprofits working with homeless people.
In January, the commissioners published a letter criticizing shelters and social service providers as exacerbating the problem. In it, commissioners described homeless residents as part of a "network," and called on residents to stop aiding relief efforts. County Manager Pete Melnick said at the time that commissioners were "not working on solutions to address homelessness in the valley."
Following the letter, Kalispell City Council in February passed several laws restricting access to public parks. In March, they prohibited panhandling on city streets. Earlier this month, City Manager Doug Russell announced that officials would retrofit park benches to deter people from sleeping on them, as well as disconnect electricity and water at city parks, and consider housing police in the Depot Park building downtown to dissuade people from gathering in the area.
The historic Depot Park building had been home to the Kalispell Chamber of Commerce and Convention and Visitors Bureau until last week, when the group decided to move the visitor's center and have administrative staff work remotely until they find new offices. Chamber president Lorraine Clarno cited activity by homeless people in the park and increasing stress on chamber employees as a reason for the departure.
Chamber employees had submitted photos of trash and debris left in the Depot Park Gazebo to the city in the lead up to the passage of the parks ordinances in Kalispell. Sam Nunnally, a city councilor and manager of the Flathead County Fairgrounds, estimated in February that his staff had spent 40 hours over several months cleaning up waste and personal belongings found in horse stalls. Nunnally said the cost of the clean up effort was around $1,000.
Homeless residents, meanwhile, have reported an uptick in violence and harassment since the publication of the commissioners' letter.
Abell on Thursday blamed the violence on homeless people themselves.
Mylene Widner, a member of Collaborative Housing Solutions, pushed back against the assertion, pointing to a recent attack in which local teens allegedly broke a homeless man's collarbone, leaving him hospitalized.
Kalispell Police confirmed an investigation into the attack, but have not said if anyone has been arrested or charged.
Widner described what she sees as a need for investment in behavioral health programs and permanent supportive housing to the commissioner, who acknowledged the local shortfall.
Supportive housing programs assign social workers to recently housed clients to help them manage mental health and addiction treatment, as well as link them with jobs and educational opportunities.
Abell said he thought funding for such programs should come from the state or federal government.
Widner then asked the commissioner for assistance in securing federal funding. Pressed, Abell said he'd support permanent housing for homeless people if they were "highly supervised," but that he would not work to bring social service funding to the county.
When asked about how the county is addressing homelessness, Abell pointed to the dispersal of state-collected alcohol tax dollars to Kalispell-based addiction clinic Oxytocin as part of a two-year contract.
The alcohol tax dollars are the only county-allocated funds currently going towards a behavioral health program. The county also contributes to the co-responder crisis response program, though advocates have described it as understaffed. The grant funding the program provides for three full-time employees, but currently staffs only one person. The county has not committed to extending the program.
"I think we need a better direction of our resources to the extent they need to be, [but] I really haven't thought about where," Abell said.
Oxytocin, a for-profit rehab center, has been questioned about using the tax funds to pay Medicaid beneficiaries to receive treatment and meet sobriety benchmarks, according to KFF Health News, formerly Kaiser Health News.
The clinic is also under investigation by the Montana Department of Justice, according to agency spokesperson Emilee Cantrell.
Abell said that he would wait to see the results of the investigation, but would not consider canceling the contract in the meantime.
AS FOR the clean up effort, Waggener said she was glad to see housed and homeless residents working together, and wants to organize a similar event monthly through the summer. She said the event fostered understanding and gave some homeless people a sense of purpose.
"Working side by side together is a good way to learn some people's stories and to understand that we're all in this together," she said.
"It was a good eye opener," she added. "We could see how hard they were working. They're so willing, they want to be a part of something, and they were today."
Waggener said she was "absolutely thrilled" at the turnout and the results of the trash removal, which collected items such as clothes, sleeping bags and more.
"Many hands make light work," she said. "We ended up with 15 homeless friends who came out, which was fantastic. We're trying to lead by example, and they felt so good about themselves."
Reporter Adrian Knowler can be reached at 758-4407 or aknowler@dailyinterlake.com.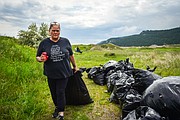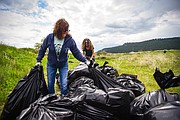 Recent Headlines
---