'Woody' owners preserve classic boating history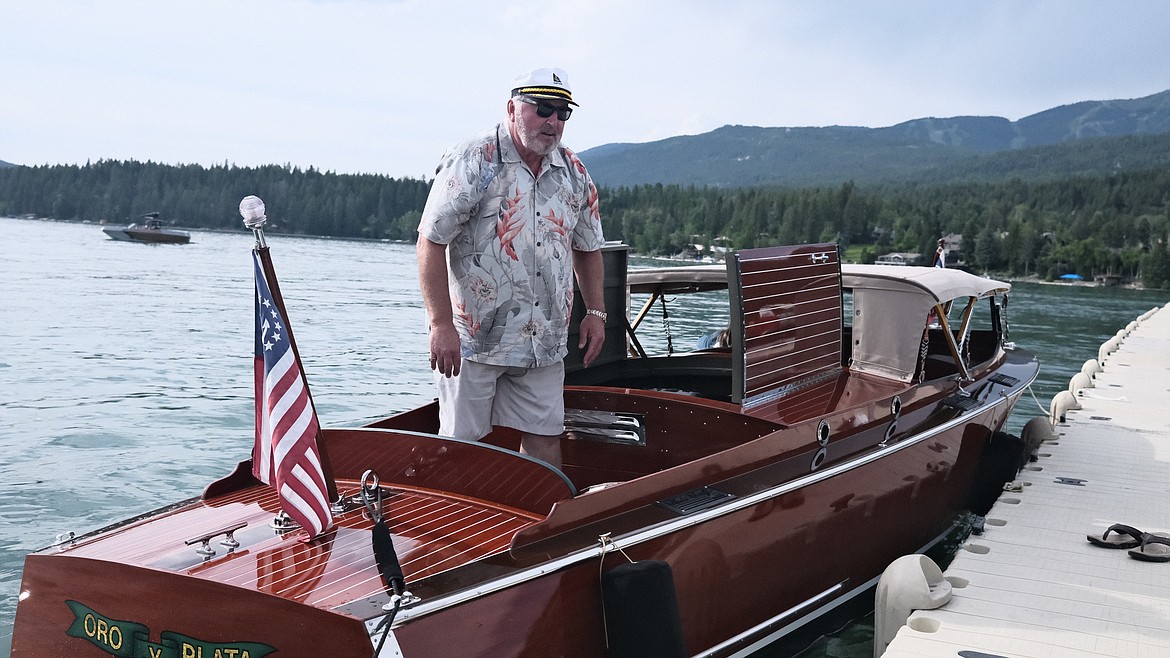 Ken Cook aboard his 1930 Chris Craft wooden motorboat docked in Whitefish Lake in Whitefish on June 7. (Adrian Knowler/Daily Inter Lake)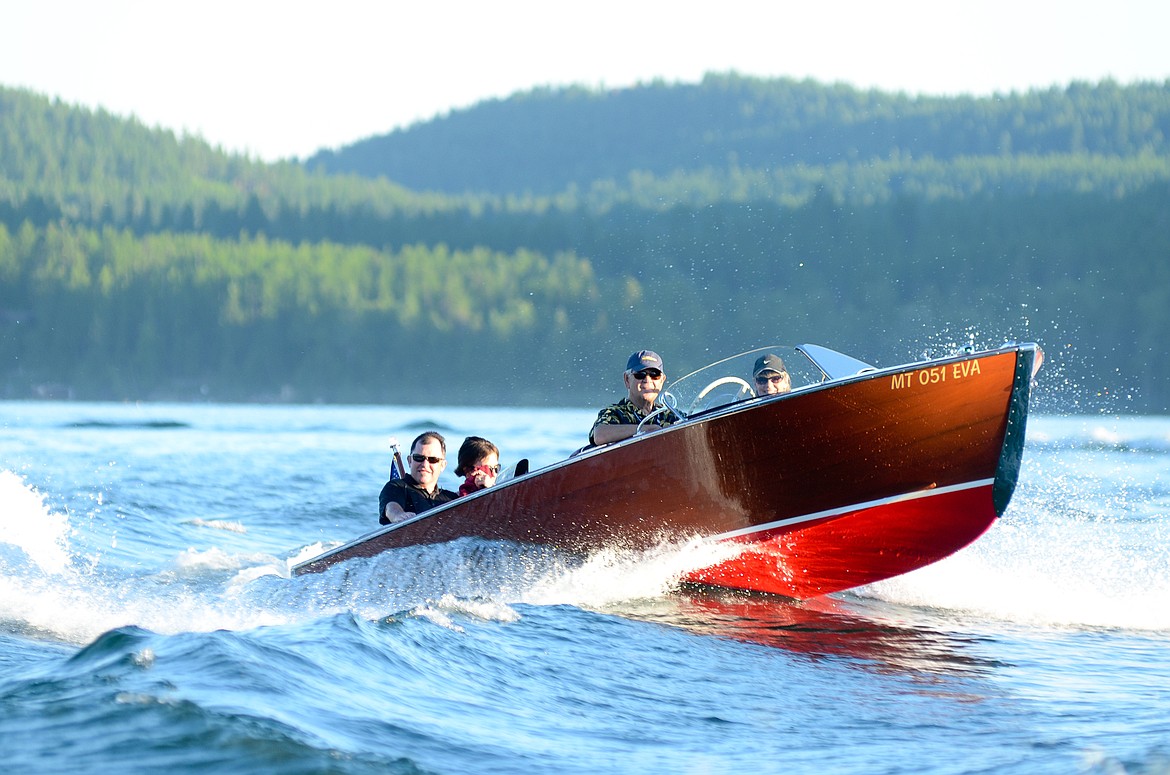 A wooden boat glides across Whitefish Lake during the Whitefish Woody Weekend in 2013. (Whitefish Pilot FILE)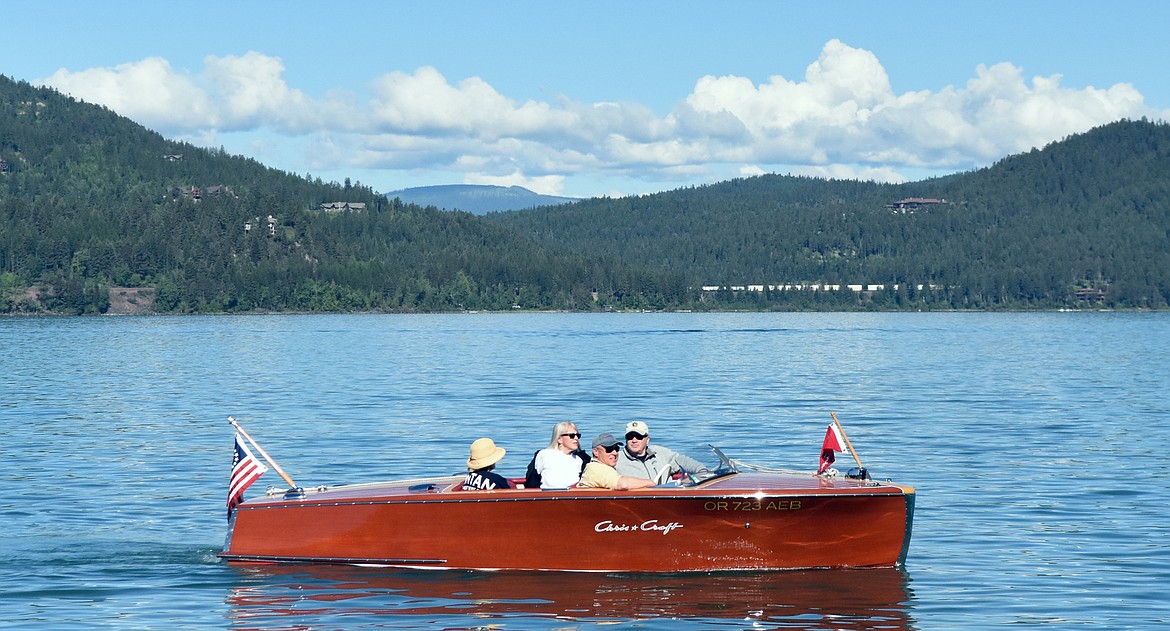 A wooden boat takes a cruise on Whitefish Lake in this file photo.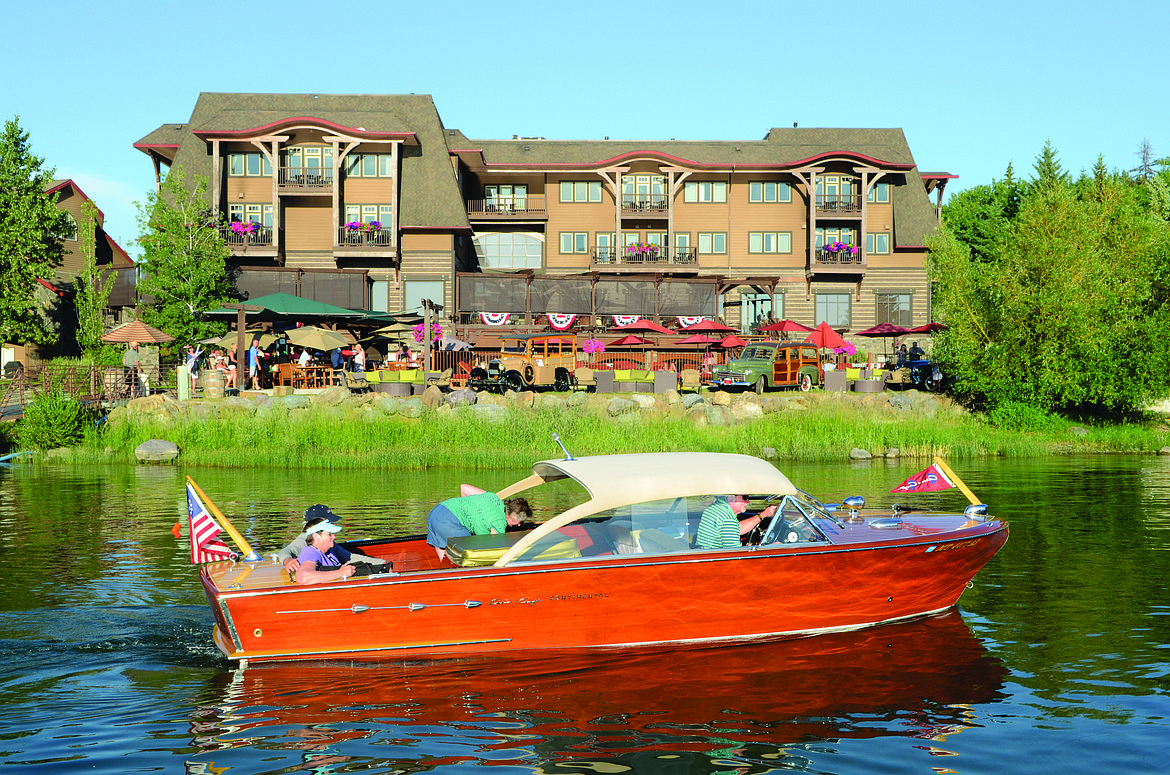 A wooden boat heads out on Whitefish Lake during the 2015 Whitefish Woody Weekend. (Whitefish Pilot FILE)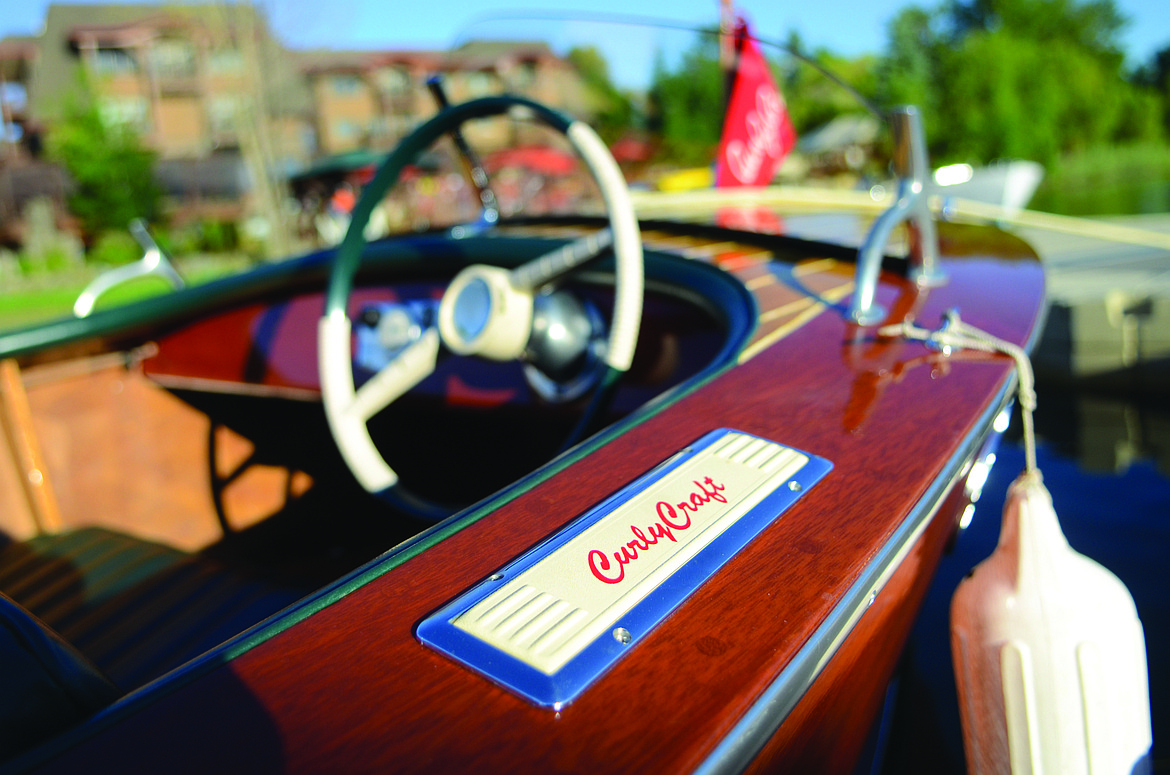 A closeup view shows the detail of a wooden boat on display for Whitefish Woody Weekend. (Whitefish Pilot FILE)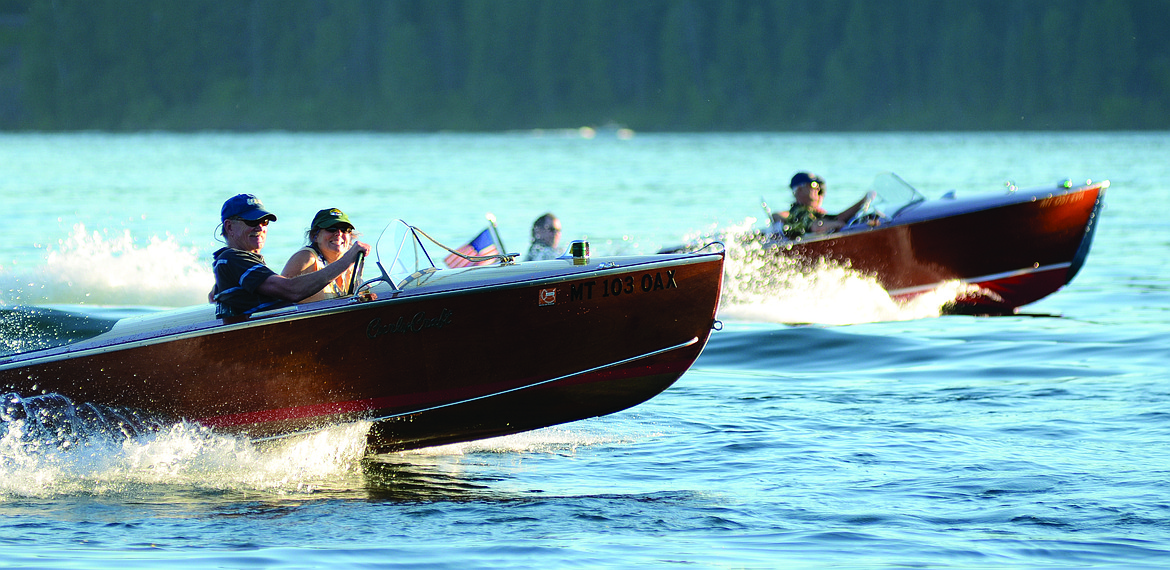 Wooden boats zip across Whitefish Lake. (Whitefish Pilot FILE)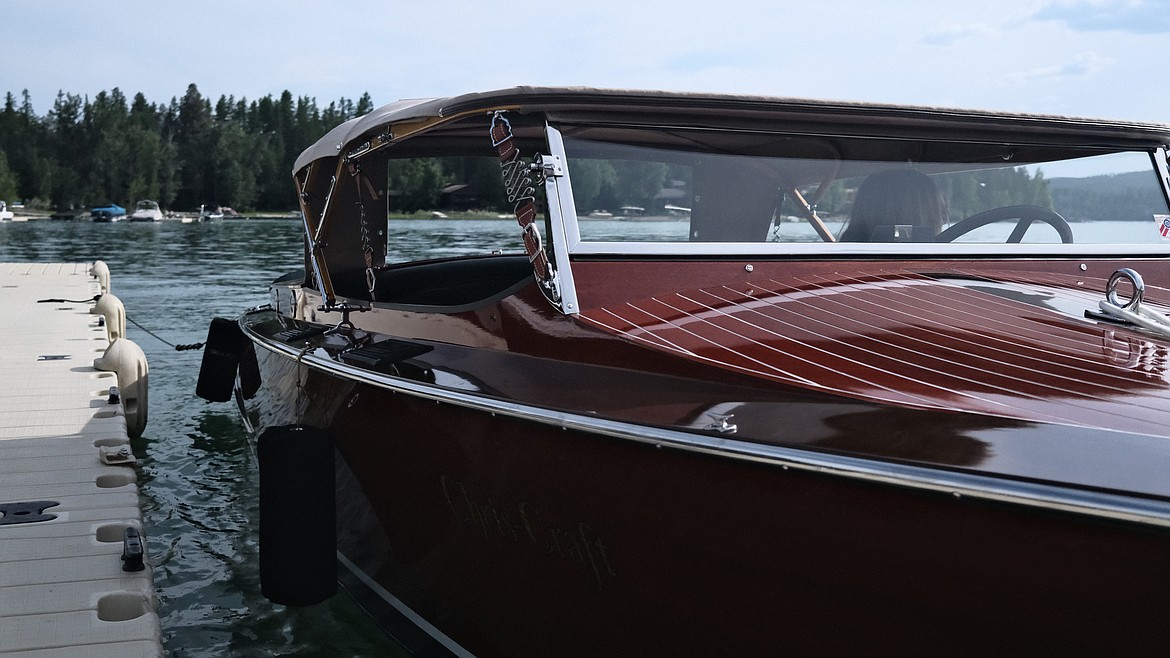 A 1930 Chris Craft 103 Roundabout sits docked at The Lodge at Whitefish Lake in Whitefish on June 7. (Adrian Knowler/Daily Inter Lake)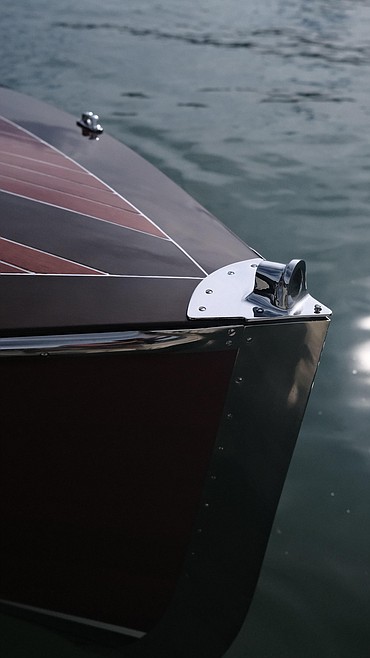 The bow of a restored 1930 Chris Craft motorboat in Whitefish Lake on June 7. The handcrafted mahogany hull is one of 627 built by the company from 1928-1931. (Adrian Knowler/Daily Inter Lake)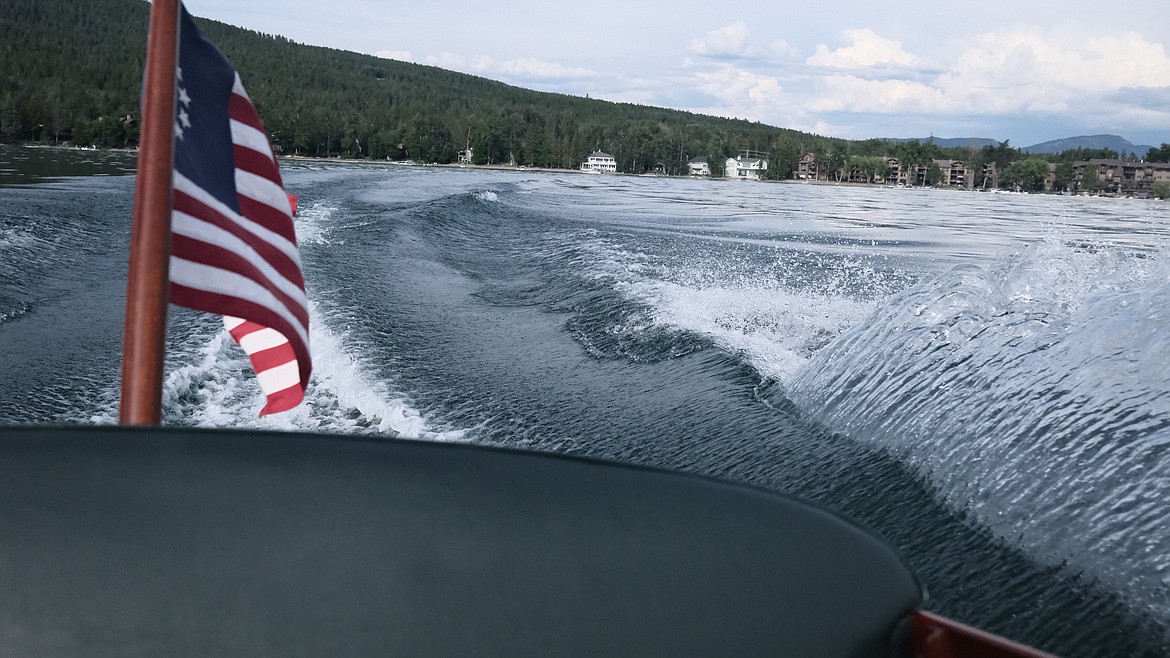 A classic motorboat cruises Whitefish Lake on June 7. (Adrian Knowler/Daily Inter Lake)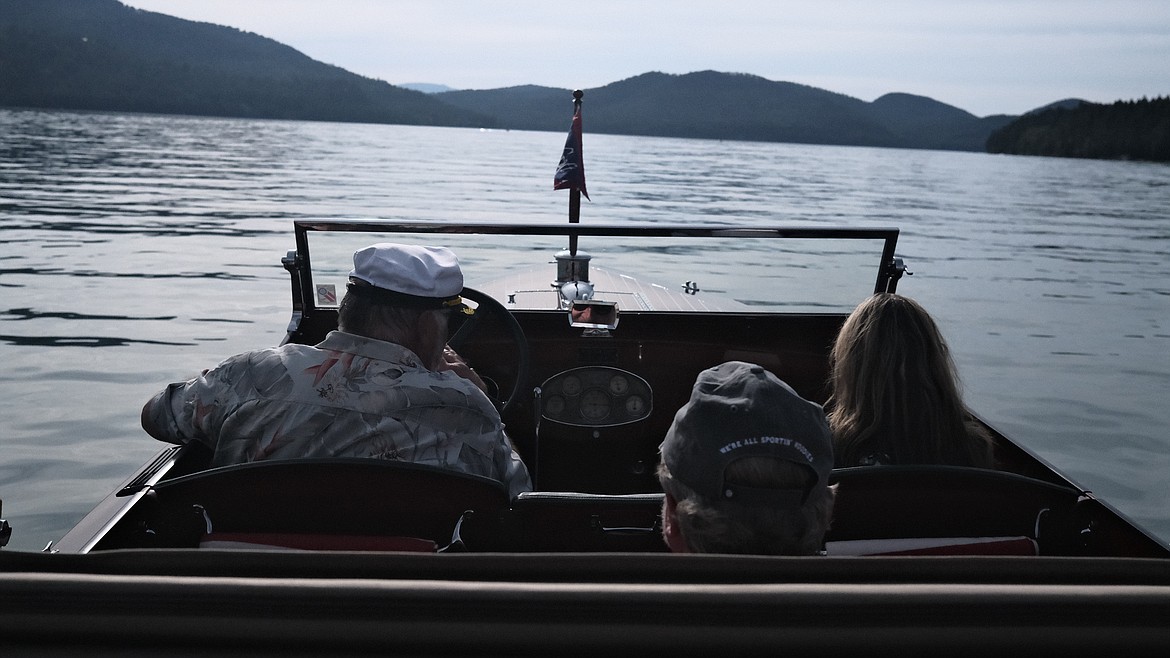 Ken Cook pilots his 1930 Chris Craft classic motorboat on Whitefish Lake on June 7. (Adrian Knowler/Daily Inter Lake)
Previous
Next
Ken Cook had his eye on a vintage Chris Craft 103 Runabout motorboat for 30 years before he finally found one to call his own.
His model needed some love, with the 24-foot mahogany boat — originally built in 1930 — suffering from some split seams and a gash in the hull. He replaced parts of the floor and the motor with a modern, powerful V8 engine tucked away under a mid-body wooden hood.
According to Lake Tahoe-based antique boat dealer Sierra Boat Co, Cook's is one of only 627 such hulls made between 1928 and 1931.
Today, the boat has been returned to its former glory and evokes luxury automobiles of its era, with a vintage windshield, and dashboard, as well as a beige cloth convertible top made by the same company that produced them for legendary automaker Duesenberg Motors.
Cook had long coveted the Chris Craft model, but he had already become a vintage wooden motorboat — or "woody" — enthusiast, with the addition swelling his collection to four similar boats.
"You get attached to these things," Cook said on a dock at The Lodge at Whitefish Lake on a warm early summer's evening.
Although his fleet is spread across the country, docked in locations from Florida to California to Montana, his love for the Treasure State and its lakes is obvious.
The Chris Craft, based out of Flathead Lake, is christened Oro-Y-Plata — Spanish for "Gold and Silver" — and is borrowed from the Montana motto that adorns the state flag.
His other crafts are emblazoned with similar Montana-inspired names, such as "Miss Montana," "Glacier Girl," and "Big Sky."
For Cook and other classic boat owners, the allure of the woody boat is in appreciating the small details and preserving and honoring pieces of boating history.
The boats' smell, sound and ride in the water simply can't be replicated by more modern constructions, Cook said.
After taking the boat out for a cruise on the lake, it's easy to see the appeal of the woody lifestyle. With the engine roaring and wake flying, riding in the Chris Craft is simultaneously thrilling and extremely calming.
"They seem like they belong here," Cook said of the wooden boat's harmony with its surroundings, pointing to the forested mountains surrounding Whitefish Lake.
Although some companies still produce classic-style wooden motorboats today, most were built before the 1950s, when manufacturers shifted to fiberglass hulls better suited to mass production, according to Tim Salt.
Salt is a local classic boat owner and organizer of the Whitefish Woody Weekend, an annual gathering of wooden boats and their operators. The event, presented by the Big Sky Chapter of the Antique and Classic Boat Society, is set for its 11th gathering on the lake on June 23-25.
At this year's event, Salt will be showing off his 1955 Chris Craft Continental hard-top, dubbed "Shady Lady," because of the boat's covered cockpit.
This year's edition will feature 42 classic boats, with owners coming to Whitefish from all over Montana, Idaho, Washington and California.
The event is free and open to the public, and Salt hopes the event will continue to grow the
fellowship of woody owners as well as expand the love for the crafts to those who may not have ever seen these beautiful boats out on the water.
"We are the caretakers of these boats," Salt said, gesturing to Cook's Chris Craft. "We try to find someone else who loves them as much as we do."
The events often feature owners helping other owners, sometimes by towing a boat that may have broken down or giving maintenance tips and tricks, Salt said.
Salt has a particular interest in boats with historical connections to local builders and has researched Northwest Montana's boat-building heritage. He's the proud owner of a Lee Craft boat manufactured in Somers, as well as a Hutchuck boat that was built in Whitefish, in a factory that is today the Downtowner Hotel.
Whitefish Woody Weekend kicks off June 23 at 6 p.m. at The Lodge at Whitefish Lake's Tiki Bar with live music and a sunset parade of boats cruising around the lake.
The boats can then be seen on Saturday, June 24 beginning at 9 a.m. at The Lodge and Sunday, June 25 the event closes with a barbecue on the beach for event participants. The public can vote for their favorite boats for the People's Choice Award. There will be drawings throughout the day for public boat rides on one of the classic beauties.
Reporter Adrian Knowler can be reached at 758-4407 or aknowler@dailyinterlake.com
Recent Headlines
---