District Judge Dan Wilson launches bid for state Supreme Court
Flathead County District Court Judge Dan Wilson is centering his newly launched campaign for the Montana Supreme Court on his experience, what he describes as a common sense approach to applying the law and by highlighting the importance of an independent judiciary.
Wilson, 59, began last week the process of filing to run for retiring Justice Dirk Sandefur's seat, which goes before voters in 2024. First elected to the high court in 2016, Sandefur told the Montana Free Press earlier this month he was passing on seeking a second eight-year term.
Chief Justice Mike McGrath has also decided against seeking reelection, citing his age, according to the Montana Free Press.
Wilson, who has served as a district court judge since January 2017, said he discussed campaigning for the state Supreme Court with his family upon learning of Sandefur's decision.
Wilson said he plans to run a traditional judicial campaign, "neither partisan nor controversial," and lean on his experience as a judge.
"When I talk to an independent voter, a Democrat or a Republican, the message is the same: experience and a proven track record for deciding cases and interpreting the law based on common sense," Wilson told the Inter Lake.
Prior to becoming a district court judge, Wilson served as justice of the peace in Flathead County Justice Court, elected to the position in 2010 and reelected in 2014. In his time as a lawyer, he worked as a deputy county attorney in Great Falls and chief deputy county attorney in Chinook.
Wilson came to Flathead Valley to work for the County Attorney's Office in 1995 and opened a practice of his own in 1999, where he broadened his scope to general practice, he said. Wilson kept his "courtroom skills sharp" by representing defendants charged with crimes in federal courts, he said.
"I think that it may be a simpler task for someone like myself, who has experience in the judicial branch, to offer up their experience as the primary reason for running," Wilson said.
As for those in the legal profession Wilson has turned to for guidance, he said he has learned from every lawyer or judge he has worked with in his career.
"Every lawyer I've ever encountered, whether good, bad or otherwise, every judge I've been in front of who either impressed me at the time or didn't, has taught me something about how to practice law, or how not to practice law," he said. "What I've loved about my career is that every day I've been in court, either as an attorney or as a judge, I came away understanding something that I didn't before or came away understanding something in more depth than I ever had before."
BEYOND HIS years in the courtroom, Wilson emphasized his approach to interpreting and applying the law. He starts with a reading of the plain text of the state Constitution or statute in question, he said. Then he applies common sense.
"... A commonsense approach to the law is that when you read the law or the opinion of the court it is not proper for a judge to go looking for a meaning they would rather find," Wilson said.
For an issue like abortion access, the public debate in Helena and elsewhere has orbited around interpretation of the state Constitution. Following the overturning of Roe v. Wade by the U.S. Supreme Court last year, Republican Gov. Greg Gianforte urged the Montana Supreme Court to revisit the 1999 Armstrong v. State decision, which applied the state's right to privacy to medical care. The most recent state Legislature, meanwhile, passed a slew of bills aimed at restricting abortion in Montana, which has set off another round of legal challenges in the court system.
Wilson believes the matter is straightforward.
"The abortion issue has been decided by our Supreme Court, first in the Armstrong case, recently affirmed, and Armstrong is precedent," he said.

Disagreements between the GOP-dominated state Legislature and Republican governor, on one side, and the state Supreme Court on the other — to include the debate around abortion access — were seen as helping to fuel last year's high-profile race between Justice Ingrid Gustafson and challenger James Brown of the Montana Public Service Commission.
Still, a second race for the state's high court, ultimately won by incumbent Justice Jim Rice, proved less contentious.
Wilson said the cost of the Gustafson-Brown race, deemed the most expensive in state history and ultimately won by Gustafson, factored little in his decision to run for state Supreme Court.
"I don't intend to make this campaign anything other than what I think it ought to be, which is a campaign to fill a seat on the Montana Supreme Court, hopefully in my case by someone who has direct experience in the judiciary," he said.
But he is cognizant of the politicking that consumed the previous election, just as he is aware of the debate in recent years about the nature of an independent judiciary.
"... For me, an independent judge and an independent judiciary means that we don't refuse to talk to people, we don't refuse to listen to people from all parts of the political spectrum, but when we are elected, when we are deciding cases, no one from a political party or even someone who says they represent the broad swath of independent voters can call us up and demand a particular ruling or result," Wilson said.
Simultaneously, judges and courts must guard against usurping the roles of the other two branches of government, he said.
"It's important to me that the judiciary remain not only independent, but that it remain mindful that neither it nor the other branches of government should try to do the work of the others," Wilson said.

The state Legislature passes the laws, and while they might come at the behest of one party or another, they all are printed in black-and-white text, he said. It's that text that judges apply.
"It has to do with a humble approach to the law," Wilson said. "I am firmly convinced that after 30 years — combined as a lawyer and a judge — that you never become truly a master of the law unless you learn how to stand humbly before it and come to the inescapable conclusion that the law is bigger than all of us."
News Editor Derrick Perkins can be reached at 758-4430 or dperkins@dailyinterlake.com.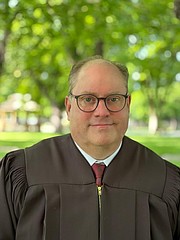 Recent Headlines
---