ImagineIF Libraries board asks state to change education requirements for directors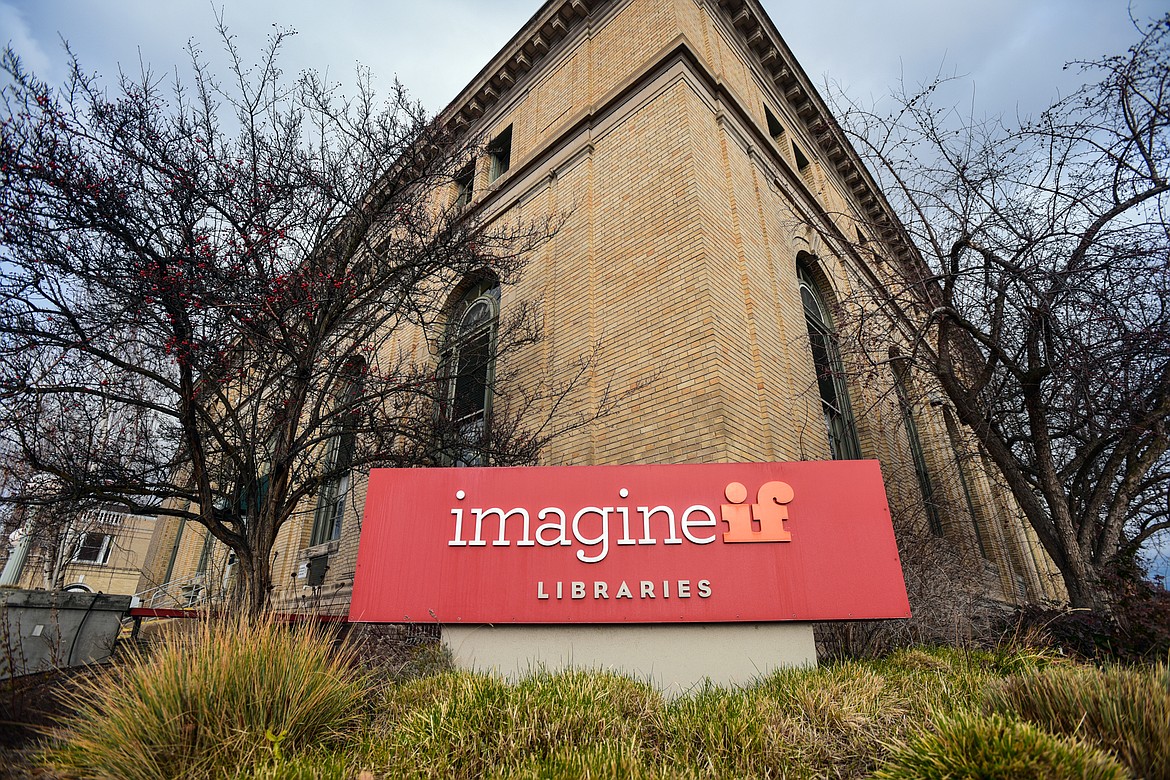 ImagineIF Library in Kalispell on Thursday, Dec. 2. (Casey Kreider/Daily Inter Lake)
The ImagineIF Library Board of Trustees is asking the state to change education requirements for library directors after last year's decision to hire a candidate without a master's degree cost the county library system funding.
Ashley Cummins came on as ImagineIF director in March 2022 following the departure of Connie Behe during the summer of 2021 and her interim replacement, Martha Furman, who resigned in December 2021 while citing growing tensions with the board.
Cummins is to finish her bachelor's degree and will then pursue her master's. But the state library requires that libraries serving more than 25,000 people employ a director with a graduate degree "in library or information science or its equivalent." The decision to hire Cummins resulted in the loss of $30,000 in annual funding.
In a letter, board Chair Doug Adams asked state library commissioners to consider amending the requirement. He said trustees went before the commissioners last year in Helena asking them to "improve the requirement that library directors must have Master of Library Science certification."
"We have no desire to lower standards of professionalism in the industry; we simply think that it restricts what some libraries are capable of, and the net result is in fact, a lower standard," Adams wrote in the letter. "Case in point: We hired the best director for our library system, and she doesn't have a Master of Library Science."
The letter argues that if the ImagineIF board adhered to that requirement, they would have been settling for a lesser candidate. If the state library commission keeps the standard, Adams writes in the letter that the board will appeal the decision to exclude ImagineIF from that funding.
Trustees unanimously voted to send the letter to the state library at a June 22 meeting.
Cummins has had a lot to navigate since starting her job at ImagineIF, including controversial book challenges that preceded her arrival, questions of safety at the Kalispell branch, balancing the wishes of the board of trustees and her staff. In a letter-to-the-editor sent by former Assistant Director Sean Anderson, who departed late last year due to tension with the board, he said he respects Cummins for "her passion for library services, her tenacity, her diplomacy and her grace in the presence of hostility is an inspiration."
In December of last year, it was revealed in a report by the Flathead Beacon that Cummins was potentially looking to take a library director position in Oregon, a move for which she later publicly apologized. Cummins has since said she plans to stay with ImagineIF "as long as she can."

Reporter Taylor Inman can be reached at 406-758-4433 or by emailing tinman@dailyinterlake.com
Recent Headlines
---