Speakers call for renewed commitment to debate, compromise at event celebrating state constitution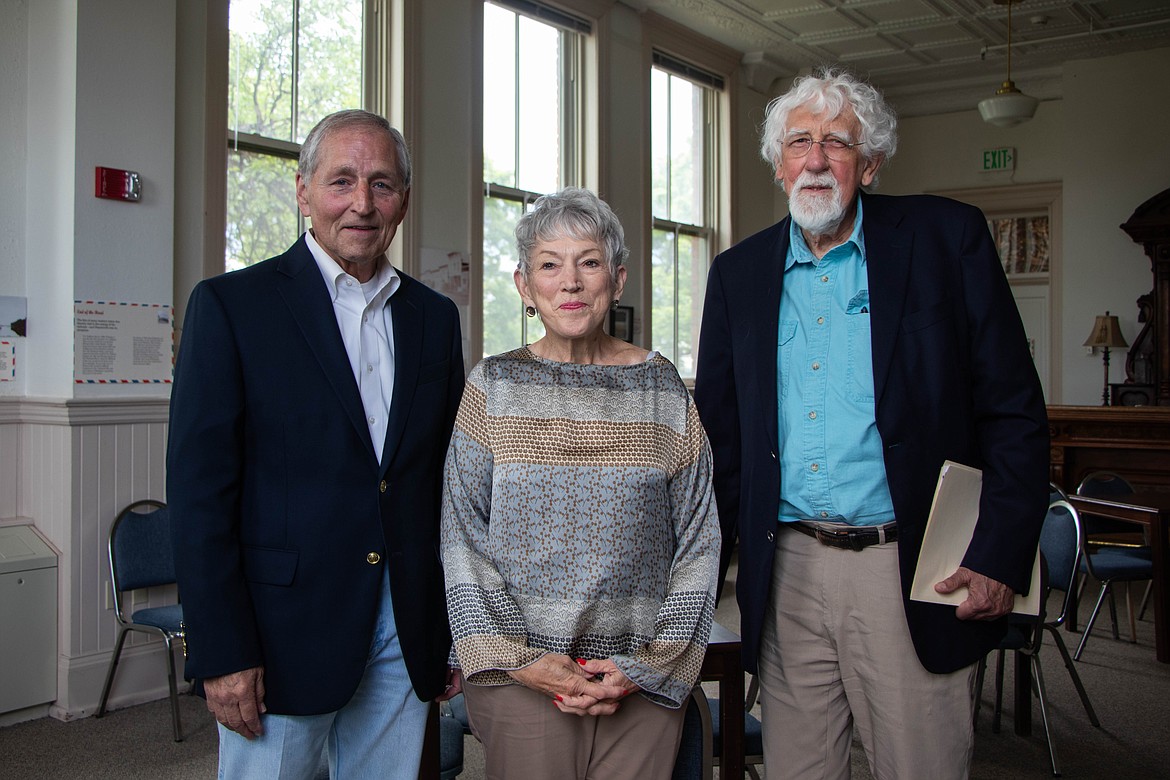 From left to right, former Gov. Marc Racicot, Mae Nan Ellingson and Daniel Kemmis at a forum celebrating and exploring the state constitution in Kalispell on June 25, 2023. (Kate Heston/Daily Inter Lake)
JoLynn Yenne, the daughter of a Constitutional Convention delegate and the host of a Constitutional forum, speaks to attendees on June 25, 2023. (Kate Heston/Daily Inter Lake)
Previous
Next
by
KATE HESTON
Daily Inter Lake
|
June 27, 2023 12:00 AM
Former Republican Gov. Marc Racicot argued that democracy works best when Montanans come together with good sense and fidelity at a forum on the state constitution in Kalispell on Sunday.
"Democracy is a dynamic institution, it's an optimistic institution as well, but it's always changing," he said. "It's also fragile and can dynamically deteriorate just as quickly as it can dynamically improve."
The bipartisan event, featuring three members of Friends of the Montana Constitution, a nonprofit group dedicated to promoting and enhancing the public's understanding and appreciation of the constitution, and hosted by the Flathead Democrats, had three speakers, nearly 100 attendees and was held at the Northwest Montana History Museum.
Racicot, the third and final speaker, argued that good sense, moderation and restraint in today's political landscape are lacking when compared to years past.
Racicot, who also served as Montana's Attorney General as well, urged attendees to return to deliberate democratic practices to both fulfill fidelity requirements and restore the belief in our state and country.
"Why is it that we think we can control or demand or expect control rather than [through] deliberation and discussion and respect accorded to those who see things differently?" he asked.
Being ambitious to achieve an accomplishment for the greater good differs from the ambition to beat another person or party, Racicot said. He said he hopes politicians don't act because they can, but rather because what they are acting upon is right and relevant.
MAE NAN Ellingson, another speaker, spoke first Sunday afternoon, focusing on the history of the 1972 Constitutional Convention and the history of Montana's statehood.
Ellingson was the youngest elected member of the 1972 convention. The convention came about after the 1971 Legislature commissioned a study to rewrite the constitution, to which voters overwhelmingly supported. The former constitution had a minimal Legislature, a weak government and a lack of accountability, she said.
A Republican from Missoula County, Ellingson reflected on the nonpartisan nature of the 1972 Constitutional Convention, where delegates sat alphabetically rather than by party. In an effort to do the best they could for the state, she said, they tried to leave their partisanship at the door. She said she is proud of the constitution they created, despite recent criticisms.
"With all due respect there is nothing socialist about this constitution," she said. "Unless you agree that giving people total control of their government is socialism."
Ellinsgson also pointed towards the amount of constitutional amendments that were introduced in the most recent legislative session. The 1972 delegates made the constitution easy to amend because they wanted it to remain a livable document, she said.
Ellingson, though, joined Racicot in critiquing the way modern-day reformers are going about amending it.
"They are just carving away at the intent of the constitution and they are enacting legislation that is, in fact, unconstitutional," she said of the Legislature. "They are told by their own legislative council that it is unconstitutional and they do it anyway. They do it so that they can blame the court."
Ellingson also stressed the importance of keeping the state Supreme Court independent and nonpartisan, as laid out in the 1972 Constitution. She expressed worry that the Legislature is straying further and further away from that notion.
"I believe, for some reason, that they are trying to take away the power of Montana's citizens," she said.
Daniel Kemmis, another speaker, and a former legislator and mayor of Missoula, spoke mainly about the importance of the preamble.
It begins with "we the people" and also mentions that the document is "for this and future generations," he said. These are two of the most important parts of the constitution, Kemmis argued.
"We are now in the third generation of governing ourselves under this constitution," he said. What we can do best to prepare for the future of the state is to ensure that upcoming generations have the knowledge and tools to continue to self-govern in a democratic way, he said.
What doesn't help ensure the benefit of future generations, Kennis said, is polarization and the tendency to demonize those with whom you disagree. That led him back into the first clause of the preamble: "We the people."
"As far as I can tell, it has not been more challenging [than now]... for us to say that word, we... to say it in a way that enables us to govern ourselves well," he said.
Democracy depends on the citizens' ability to deliver solutions and come to some kind of shared understanding, he said. Montanans must work to once again make that the reality, Kemmis argued.
Like Racicot, Kemmis spoke to the importance of collective action for democracy to work. What is brought to the Legislature shouldn't be what one legislator wants for themselves but rather what Montana, as a state, needs, he said.
We are one group of different Americans, not different groups of American people, Racicot said. Constitutionalism, and in turn democracy, are essential to self-governance and success, he said.
"Let us rediscover and refresh," Racicot said. "...with fidelity, so help us God."
Reporter Kate Heston can be reached at kheston@dailyinterlake.com or 758-4459.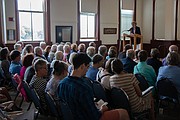 Recent Headlines
---