Flathead auto students complete decades-long Model A build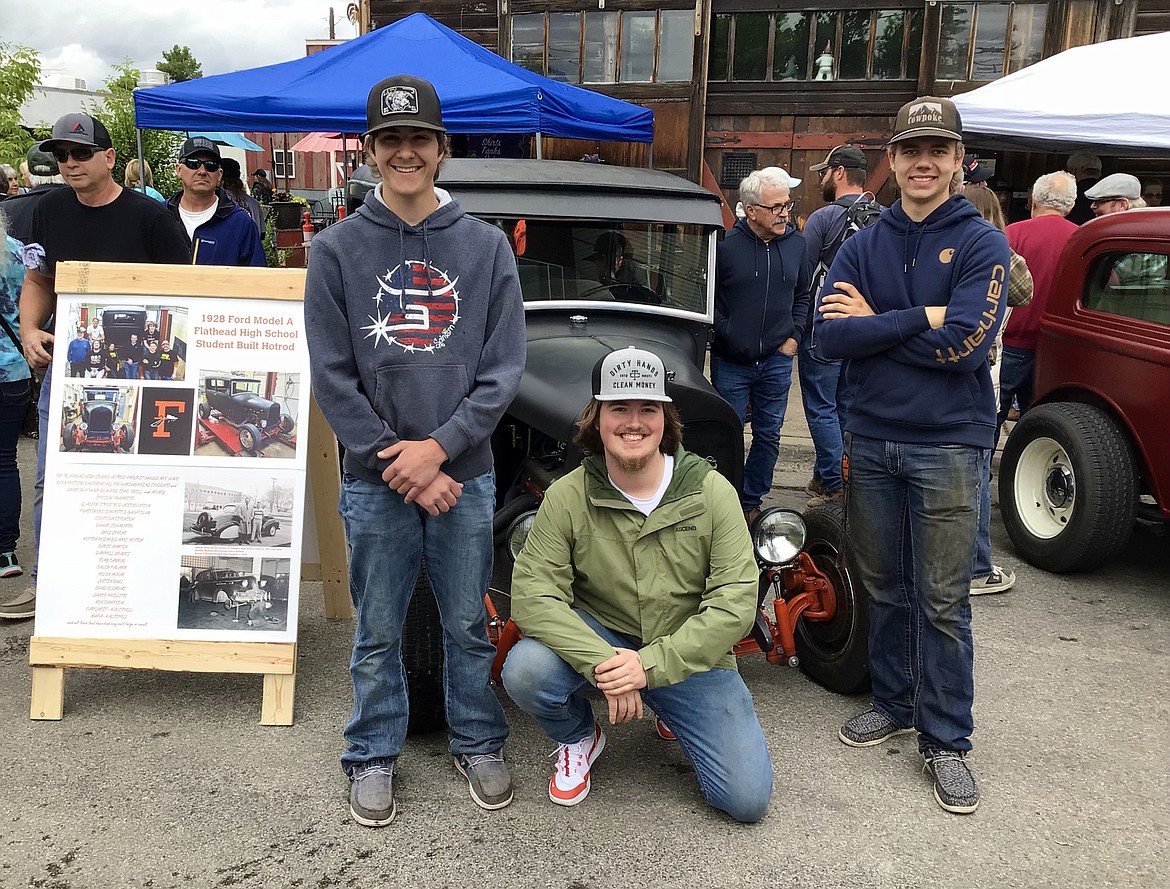 Flathead High School 2023 graduates Mason Dall, Zach Roker and Brock Sturm attend the Big Shindig car show with the 1928 Model A they had a hand in helping build in automotive teacher Rob Hunter's class on Saturday, June 17. The car show was hosted by the Glacier Street Rod Association and Desoto Grill to raise funds for Mikayla's Miracles and Blessings Foundation, a nonprofit that provides assistance and equipment to parents or spouses of individuals with special needs. (Hilary Matheson/Daily Inter Lake)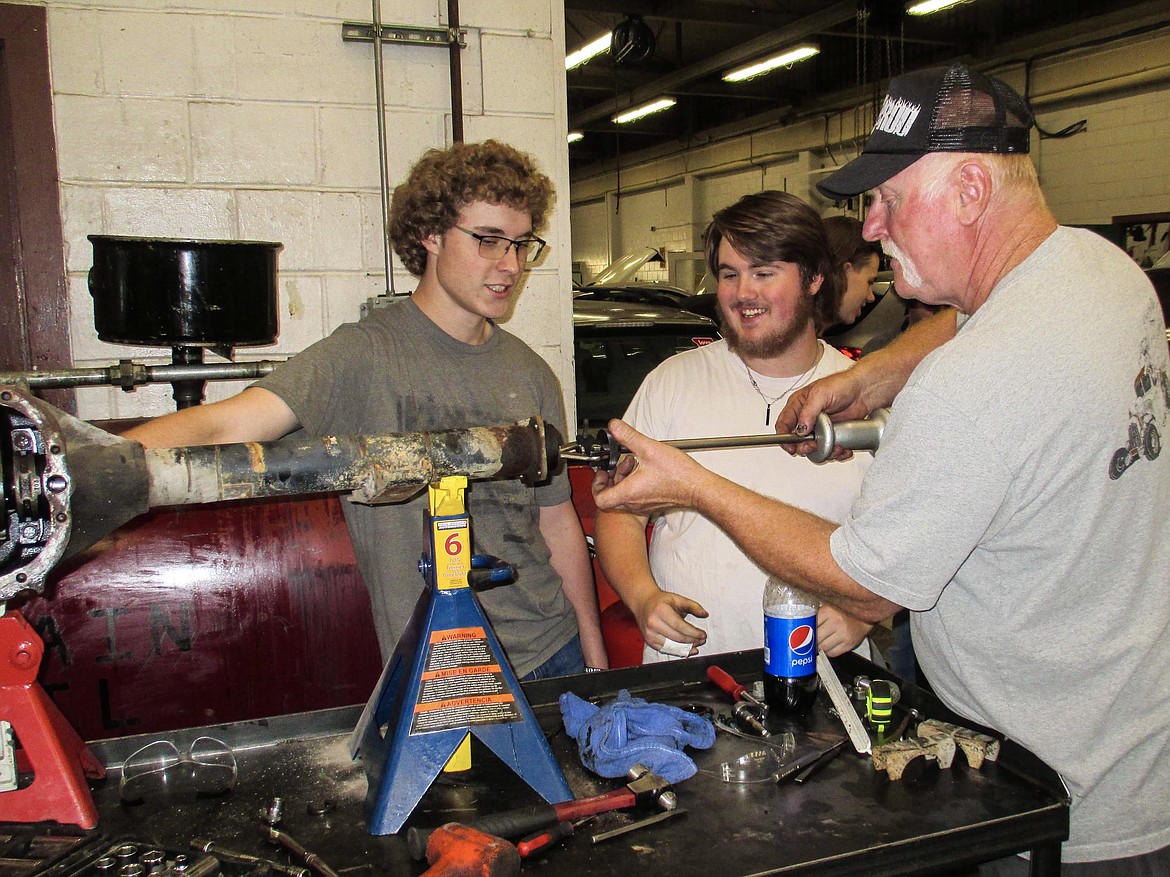 Volunteer and Glacier Street Rod Association member Greg Greene assists Flathead High School automotive students Tharen Gheen, left, and Zach Roker with a 1928 Model A project. (Photo courtesy of Rodney Bauman)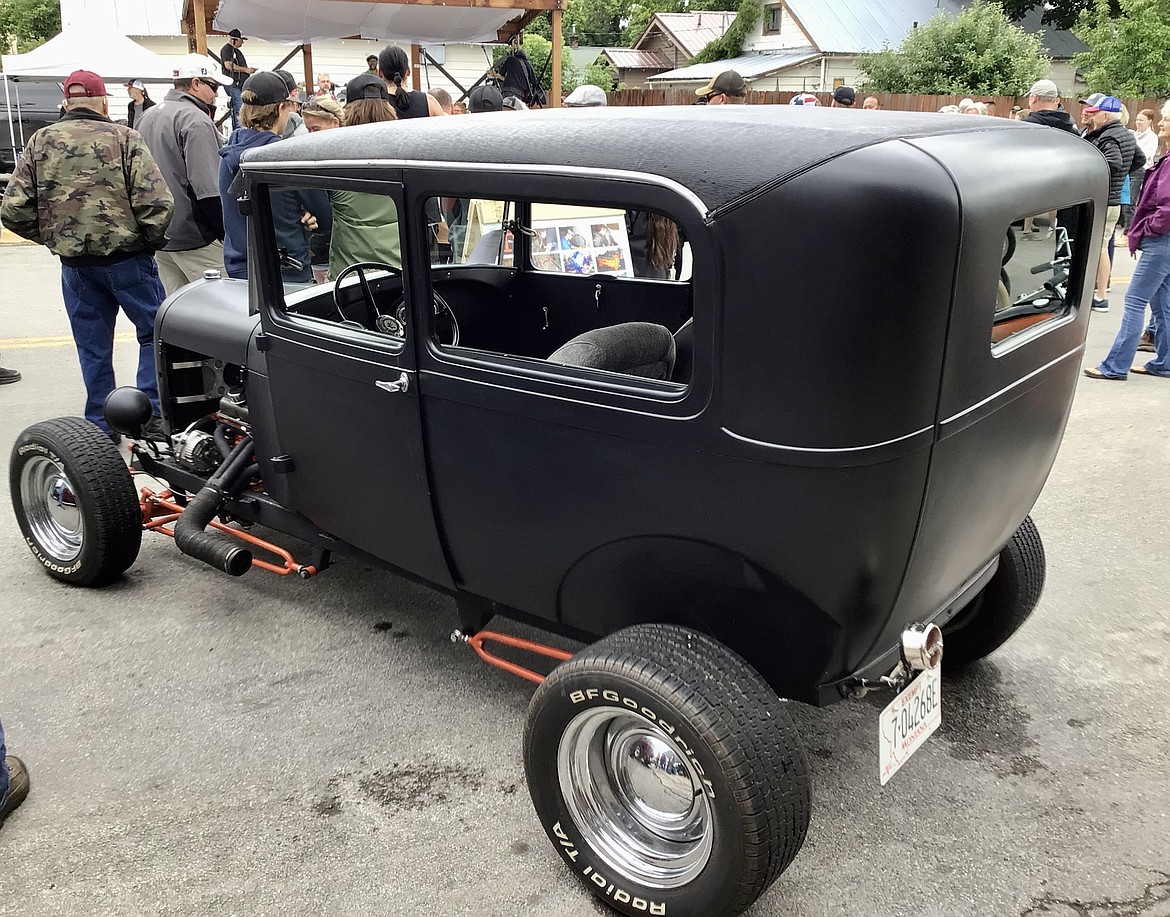 The 1928 Model A Flathead High School students in automotive teacher Rob Hunter's class built over the years was on display at the Big Shindig car show June 17. The car specifications include a hairpin suspension, dropped front axle, Vega steering box, front disc brakes, 350 CID Chevy engine, TH350 automatic transmission and a GM 10 Bolt rear end posi unit. (Hilary Matheson/Daily Inter Lake)
Previous
Next
by
HILARY MATHESON
Daily Inter Lake
|
June 30, 2023 12:00 AM
When Flathead High School automotive students realized the 1928 Ford Model A was finally completed after decades of work, it was a moment of excitement and relief.
"Probably the most satisfying part was hearing it start up for the first time," automotive student Brock Sturm said about working on the project.
Classmate Zach Roker said seeing the Model A from where it was to being driven on the road was another momentous occasion.
Roker, Sturm and classmate Mason Dall, all recent graduates, and Flathead automotive teacher Rob Hunter had the Model A on display at the Big Shindig car show in Kalispell June 17.
Hunter said the car was purchased in 1997 for $250, before he arrived at the school.
"We tore it apart in 2005 and started saving money and moving forward with it," Hunter said. "We've been doing it for years — just kind of waiting for money here and there, working on it little by little."
"I've seen the car since I was a freshman in high school," Roker said, smiling. "I mean, that car has been there since my dad was in high school … that car is just something we all drooled over."
"We had so many ideas for it too," Dall said.
Dall recently attended and competed in the SkillsUSA National Leadership and Skills Conference and championships held June 19-23 in Atlanta. He finished 32nd in the nation.
Hunter said having a vehicle to work for more advanced students to work on was a good opportunity for them to further their knowledge and apply the skills they already learned. He said students usually train on engines.
Volunteers, many of whom were from the Glacier Street Rod Association, came in to help with the build. This year volunteers came in twice a week. Mainstay volunteers over the years have included Greg Greene, Rodney and Marlene Bauman, Scott Christensen and Duane Schaeffer.
The original frame was retained (except for the firewall and inner fender wells), straightened, boxed and reinforced. The car specifications include a hairpin suspension, dropped front axle, Vega steering box, front disc brakes, 350 CID Chevy engine, TH350 automatic transmission and a GM 10 Bolt rear end posi unit.
"Everything is handcrafted basically," Hunter said. "They did a lot of welding and refabricating."
One of the unique features of the car, Sturm pointed out, was the exhaust.
"We welded oil filters on the end of the exhaust," Sturm said.
The group was in agreement that they had the opportunity to work on a 1928 Model A was unique in itself.
"It's a really old car that we brought to life," Roker said.
Hunter said next year's class will do some finishing touches on the vehicle with the goal to either sell it or raffle it off to fund another car build.
"And make it faster this time," Hunter said, having a better idea of how to plan out the next project.
"The value of having that thing around — even if it was a long project — it just excites kids; gets them interested," he said.
Reporter Hilary Matheson may be reached at 758-4431 or hmatheson@dailyinterlake.com.
Support local journalism — subscribe to the Daily Inter Lake today.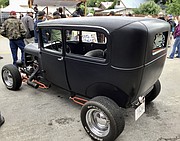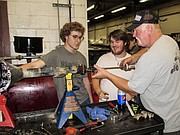 Recent Headlines
---