Flathead speech and debate earns top awards at nationals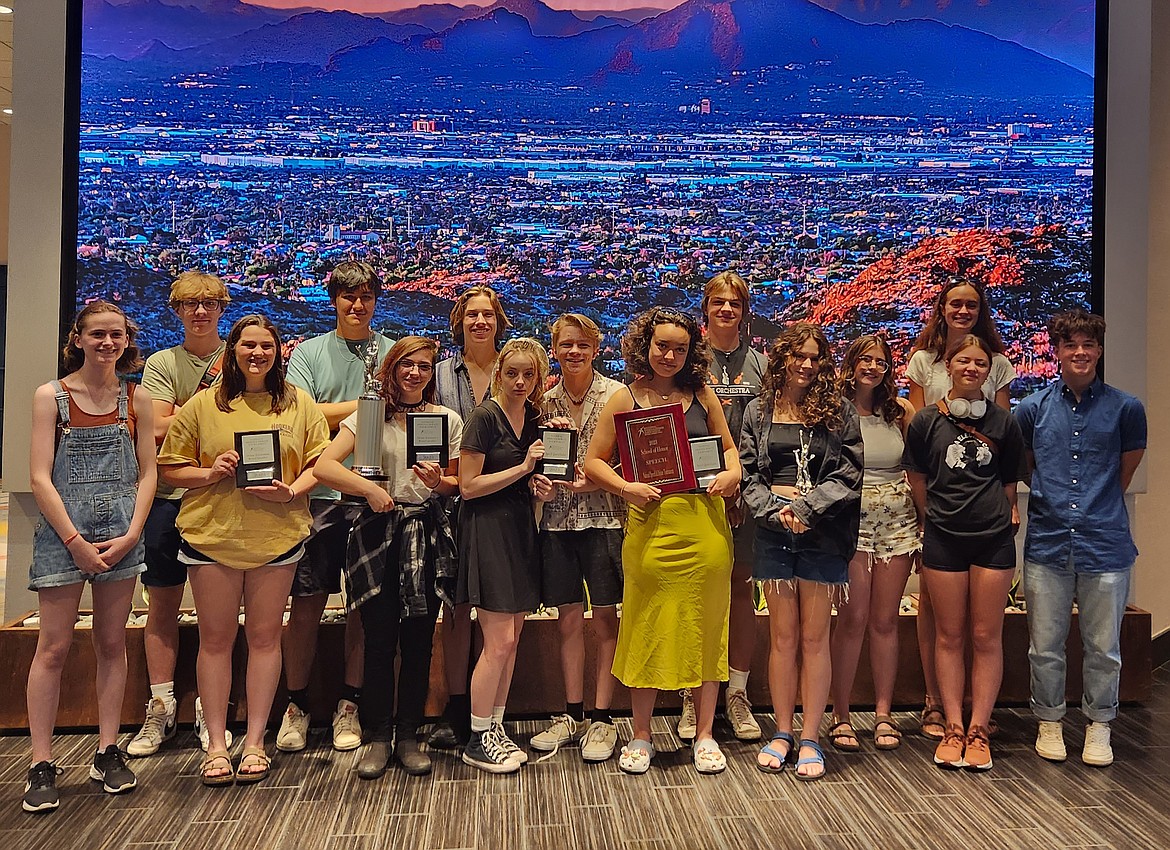 Flathead High School students hold some of the awards won at the National Speech and Debate Association national tournament in Arizona: Emmary Faerber, Rachel Ottman, Adina Olson, Collin Olson, Jasmine Anderson. There were 16 qualifiers from FHS who competed with the team bringing home the 2023 School of Honor Award. (Courtesy photo)
by
HILARY MATHESON
Daily Inter Lake
|
June 30, 2023 12:00 AM
Flathead High School Speech and Debate recently competed at nationals in Arizona with two individuals taking second and fourth place and the team earned the 2023 School of Honor Award.
The School of Honor Award recognizes the top 40 teams in the nation out of 1,230 competing schools in overall speech sweepstakes points, according to head Coach Shannon O'Donnell.
"This year's qualifiers won the most awards of any FHS delegation in the nearly 50 years the school has attended the national tournament," O'Donnell said. "It was a collective accomplishment, as the awards ranged from coaching recognition to individual competitive successes."
In World Schools Debate, the top 14 speakers were recognized with Flathead's Rachel Ottman earning second place out of 600 competitors following a tie-breaker for first place.
The five-person, multi-school World Schools Debate team finished 17th out of 188 teams. The debate team included Ottman and Emmary Faerber from Flathead, Quindy Gronley from Glacier High School, and, from Columbia Falls High School, Aiden Rohn and Brayden Crawford.
In main events, Flathead's Jasmine Anderson finished 21st in Humorous Interpretation while Collin Olson and Adina Lockwood came in 29th in Duo Interpretation. Neila Lyngholm made it to the top 60 in Impromptu Speaking. Around 250 to 300 students compete in main events, according to O'Donnell.
In supplemental events, Lyngholm placed fourth out of nearly 450 Extemporaneous Commentary competitors. Taylor Pooton, also from Flathead, broke into the top 30 Impromptu Speaking competitors out of 556 individuals. Tag Schow made it to the top 60 competitors in Storytelling.
Rounding out Flathead's achievements, Jasmine Anderson was recognized as a four-time national qualifier and O'Donnell received the 2023 Bronze Award for excellence in district leadership.
"I could not be more proud of the kids. It was a magical experience, full of teamwide support and exciting achievements. So many wonderful things happened for the kids this week, but to discover the team had placed among the top 40 speech programs in the nation was an absolutely incredible moment for everyone," O'Donnell said.
Glacier High School's Mac Adkins, who competed in Duo Interpretation and Extemporaneous Debate was also recognized as a four-time national qualifier. He and fellow competitor, Alden Lamson, advanced to the eighth round in Duo Interpretation. Competing in Impromptu Speaking, Brenna Ernst broke into the top 30 competitors.
Recent Headlines
---