Phillips Gallery features abstract portrait artist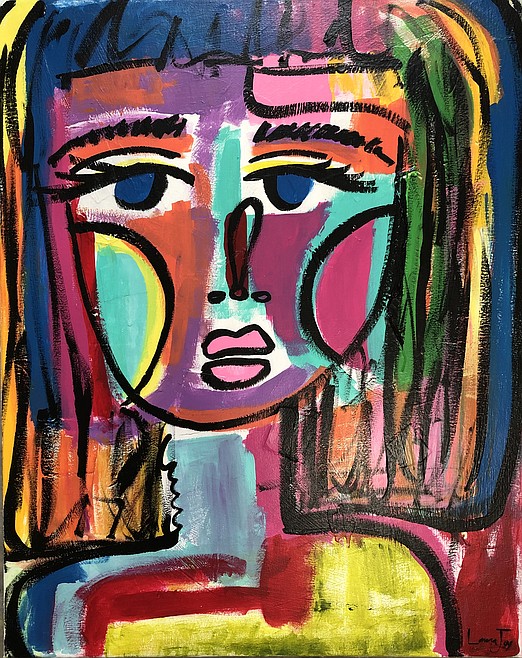 "The Island" by Laura Joy Baldwin
Phillips Gallery is hosting artist Laura Joy Baldwin with her exhibit titled Joy of Color for the month of March.
The public is invited to meet the artist on First Friday, March 3 from 5-7 p.m. at the gallery. The artist will be giving an informal talk about her work at 5:30 p.m.
The Kalispell artist was born in the beautiful San Francisco Bay Area, California. Her interest in art started at a young age and she was soon enrolled in art classes. She grew up with three very creative sisters, who enjoyed the art museums together, and they all developed their own creative styles in different ways. She is thankful to have had a childhood that encouraged her to express her artistic nature.
Baldwin originally moved to Hawaii to work with Youth With A Mission. While she was on missions she traveled around the world to India, New Zealand, South Korea, France, Spain, and the Philippines. She was deeply impacted by the beautiful colors, art, and the clothing of those countries. The culmination of the celebration of beauty and color is at the root of her inspiration in her work.
Baldwin began painting her signature style of abstract portraiture while living in Hawaii. This exhibit features her work in a combination of color field painting inspired by European modernism and in the emotional energy of gestural marks in abstract expressionism. Baldwin's paintings are sensual and deeply expressive. She finds inspiration in the work of Pablo Picasso and Alphonse Mucha.
Baldwin's exhibit titled Joy Of Color will be on display until April 1 at Phillips Studio and Gallery located inside the Kalispell Center Mall. The gallery is open Wednesday through Saturday 11 a.m. to 5 p.m. Visit the gallery website at www.phillipsfineartgallery.com.
Recent Headlines
---