No easy solution for Glacier's crowding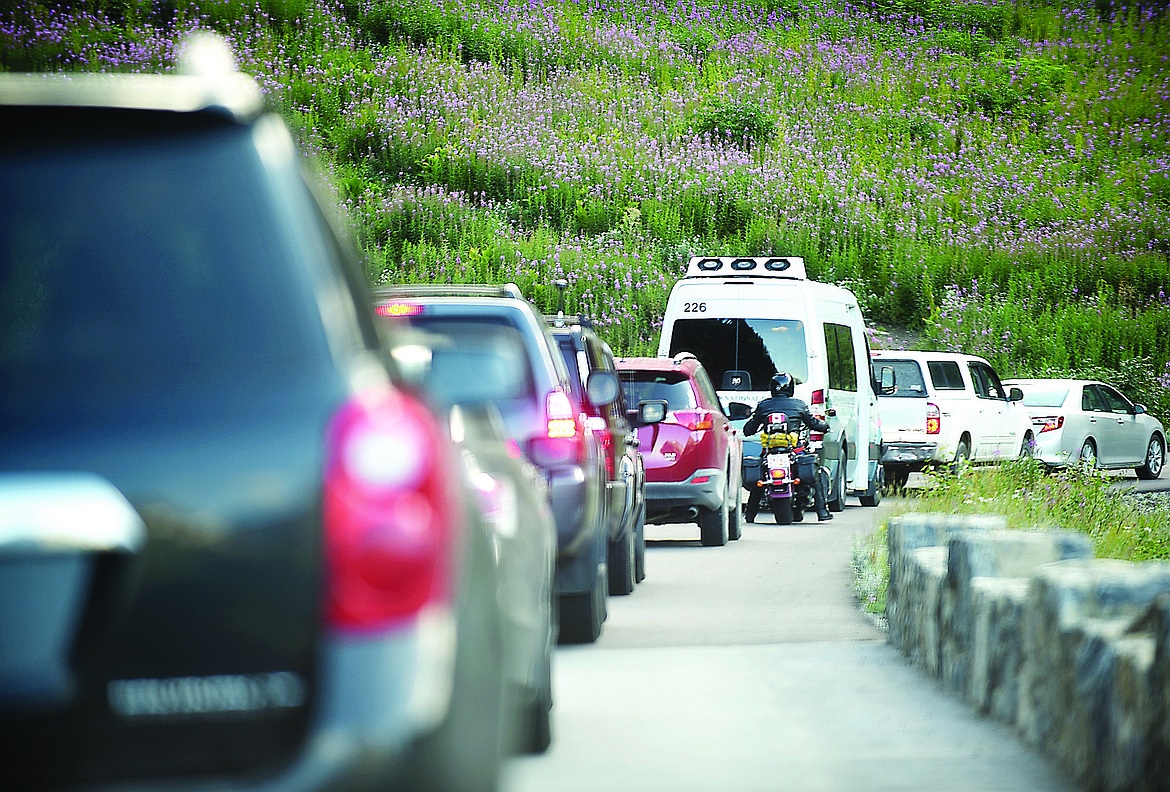 Traffic backs up on the Going-to-the-Sun Road in Glacier National Park in this 2019 file photo. (Daily Inter Lake)
by
Daily Inter Lake
|
March 5, 2023 12:00 AM
Congressman Ryan Zinke raised some ears last week when he took to social media to publicly air his grievances with Glacier National Park's ticketed entry program, flat out calling the online system "a total scam" that stacks the deck against locals.
This summer, a vehicle reservation is required to access Going-to-the-Sun Road, the North Fork entrance, Two Medicine and Many Glacier valley. About half of the reservations for July were made available online March 1 at 8 a.m.
The Republican congressman from Whitefish tweeted about his own failed attempt to reserve a Sun Road ticket and shared a screenshot that showed a message that no tickets were available for the selected July date, despite the Recreation.gov website saying they were available.
"The entire reservation system is a deliberate strategy to keep the public out of parks and this website is a total scam," he tweeted about an hour after the online reservation window opened.
His frustration isn't without merit.
The entire July block of advanced vehicle reservations for the Sun Road were scooped up within 30 minutes after they became available March 1. Vehicle entry tickets for Many Glacier, Two Medicine and the North Fork entrance went even more quickly, within 10 minutes of posting online. Anyone who missed out on the advanced reservations for July now has to wait until the day before they plan to visit, as the park will release the remaining tickets each day of the season — and rest assured, those tickets will go just as fast.
For longtime valley residents, this new reality for Glacier visitation is understandably disappointing. Long gone are the days when locals can sneak into the park on a summer whim for a midday hike or picnic.
But while the online reservation system is certainly flawed — and disproportionately unfair to the technologically challenged — the alternative is even worse. Without the ticketed entry crowd-control system, visitors would be dealing with desperately long waits at park entrance gates with no guarantee of getting inside, or grumbling about the obnoxious tourist stampede at the park's most popular destinations.
Glacier is simply too popular for unfettered visitation, and we begrudgingly admit that the ticketed entry system has made for a more enjoyable experience for park goers. Parking is easier to find and trails are far less crowded.
In speaking with the Hungry Horse News about his frustrations, Zinke did offer a possible alternative to reservations — a robust shuttle system that properly services the entire park. He envisions electric shuttles with the ability to open the top so people could enjoy the vistas and fresh air — a scenario that would be far more enjoyable than the notoriously undependable and stuffy bus system Glacier currently offers.
What's more, visitors might actually pay to use a shuttle that's reliable and enjoyable.
Of course, Zinke's proposal would come with taxpayer costs to install and maintain shuttle infrastructure, while also requiring sizable parking lots that may not be so popular either.
The bottom line is, there simply is no easy solution to Glacier's crowding conundrum.
We're glad to see Western Montana's Congressman engaged with the issue, and we encourage him to stay involved in Glacier planning discussions going forward. As the former Interior secretary, he knows better than most what it will take to make his vision a reality.
In the meantime, ticketed entry is the best tool the park has at its disposal to rein in the millions of tourists who converge on our corner of paradise each summer.
Glacier hopefuls should set their alarms for 8 a.m. on April 1, when the next batch of advanced reservations for August are released online.
Good luck, you'll need it.
Recent Headlines
---