Flathead Lake Cinemafest honors films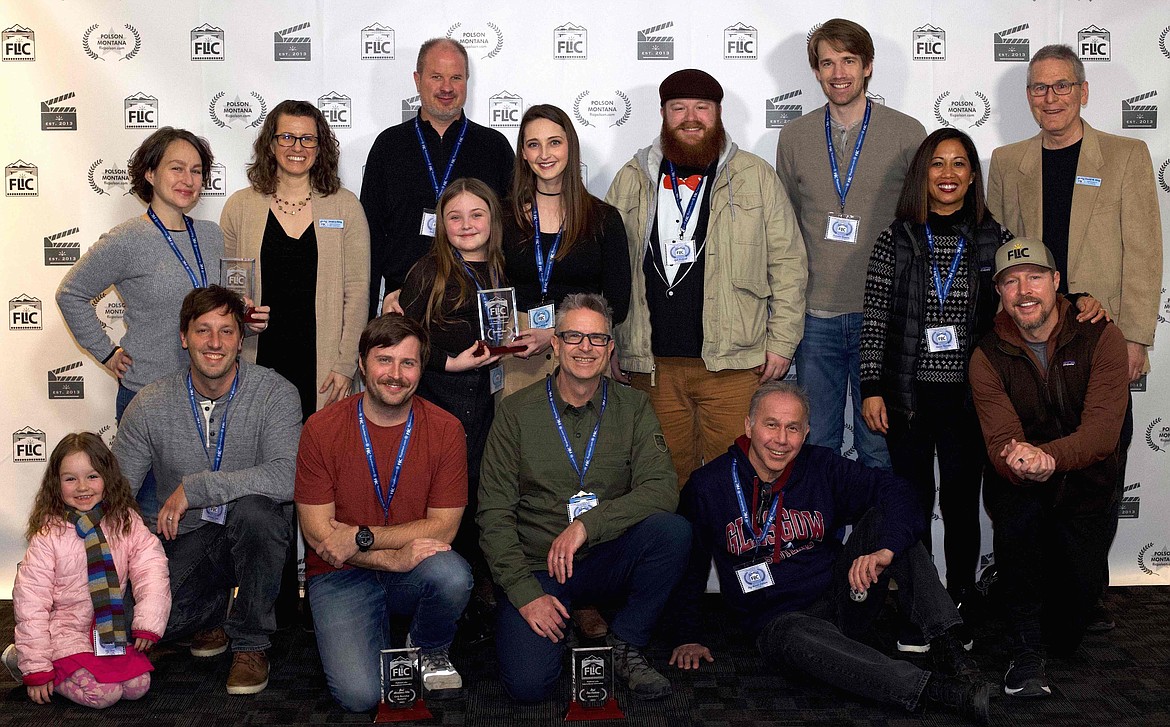 Filmmakers and organizers of the festival gather at the Flathead Lake International Cinemafest, top row left to right, Abby Berendt Lavoi, FLIC Producer Jessica King, Scott Sterling, Zuzu Weingart with her daughter Lily, Kyle Beckwith, Brandon Gaesser, Denise Thornton, with husband Matthew, and FLIC Director David W. King. In front from left, Lilly Lavoi with her father Jeremey Lavoi, Andrew Labens, Kelly Gorham, and Ray Nomoto Robison. (Photo courtesy of Alex Kowalchik, Vladi Media)
The 2023 Flathead Lake International Cinemafest wrapped up recently handing out a list of awards.
Now in its 11th year, FLIC held in Polson has become a destination film festival for filmmakers from across the globe. This year's film entries — including narrative shorts and features, documentaries and animated films — hailed from 17 countries.
About two-dozen filmmakers traveled from across the U.S. to attend the festival, and the regional FLIC audience in attendance was enthusiastic and supportive.
David and Jessica King, who co-produce FLIC, were pleased overall with how the festival weekend in late February went.
"FLIC is alive and well, and this year's festival is arguably the best yet," David said. "It's so fun to hear from filmmakers how much fun they had celebrating cinema in Polson, Montana. They also reveled in FLIC's numerous social mixer events, where new friendships were made." "There might have been single-digit temperatures outside, but it was warm inside the Showboat Stadium 6 as filmmakers and local movie lovers gathered around the warm glow of stories well-told on multiple screens," Jessica added.
The documentary film "Mavericks," which profiles the evolution of Olympic freestyle skiing in Montana, was a huge hit with FLIC's audience, according to the festival's organizers. It was also beloved by FLIC's judges, who gave "Mavericks" the Best Documentary Feature award.
Olympic freestyle gold medalist Eric Bergoust, as well as the film's producer/director Scott Sterling and producer/writer Kelly Gorham, all participated in a question and answer session following both Friday's and Sunday's screenings.
Awards were presented in numerous categories.
The FLIC 2023 award recipients:
Impact Award: Steven Pickel (Pickel's Photography)
Best Cinematography: Elliot Millson (The Magician)
Best Documentary Short: From Great Water – Kvichak Fish Co.
Best Picture Short: Touch
Best Actress: Joan Porter (The Seasons, Four Love Stories)
Best Actor: Hans Obma (A Question of Service)
Best Montana Film: Only Roundup Remains
Best Documentary Feature: Mavericks
Audience Award: Roots of Fire
Best Director: Cat Dale (Touch)
Best Picture – Feature: The Year of the Dog
Recent Headlines
---